WINNIPEG—So, what was it like on Monday night in Winnipeg, to silence 15,004 screaming Jets fans, a bunch of white-clad die-hards who'd been without playoff hockey for nearly two decades?
 
"When you can take the energy out of a building like that," said Ryan Kesler, "it feels good." He's probably the Most Hated Duck in Winnipeg, the guy now wearing a black Ducks hoodie, running shoes and shorts after an off-day skate. And that comment sure doesn't help.
 
"I know," he says, with a small grin.
---
STANLEY CUP PLAYOFFS: | Broadcast Schedule
Rogers NHL GameCentre LIVE | Stanley Cup Playoffs Fantasy Hockey
New Sportsnet app: iTunes | Google Play
---
 
The Michigan-born centre—who's been the subject of "Kesler Sucks" chants and signs here in Winnipeg—is certainly no more liked now, after he scored in the third period to tie things up in Game 3, forcing overtime, where Anaheim won its third straight. "After that OT goal, you could definitely hear a pin drop in the place," Kesler says. 
 
True. In the place that had been roaring all night, suddenly the only sound was "Woo!" from the ice as the Ducks celebrated, and the sound of footsteps as the MTS Centre emptied out in a hurry, but for a few fans who stared ahead blankly from their seats.

 
"As long as we stick together as a team, we'll be alright"
Speaking of blank stares, you've no doubt seen/heard Dustin Byfuglien's scrum on Tuesday in which he repeatedly said the Jets had to play as a team and stick together. Over and over.   
 
Big No. 33 didn't want to talk about the loss. He didn't want to talk about the stupid penalty he took, taking down Corey Perry after the Ducks captain scored on Monday night.
But did the topic ever elicit some gems from Jets coach Paul Maurice. He's known to be a funny guy more often than not, and he got going on Tuesday after the team's skate.  
"So, he doesn't like the fact that he has to speak to the media today," Maurice said. "I want you to fully appreciate the amount of F-bombs that he dropped on ya in the back of his brain that didn't come out, out of the sense of civility that he is a kind and civil and giving man. So the fact that he didn't tell ya how he really felt, I think is…I'm not winnin' this argument, I'll get killed for that. I don't care."  
Maurice was just getting started: "There've been lotsa games that I've come out and wanted to tell you what I'd like to invite all of you to do. It has nothing to do with you personally. Nothing…He did what he had to do. He spoke to the media. You didn't like the answer, you'll probably get over that."  
Still, not done. "He came out and has the right to say what he wants to ya, and I'm jealous. I'd love to be able to come up and have one of those days," Maurice said. "I get about five answers in my head to every question that's asked, and one of them's gonna be so profane and inappropriate. Like, my parents would disown me."  
The coach said his team will get its focus back for Game 4. "Then, if that doesn't work out," Maurice added, "I'm just gonna send Buff out to tell you what he thinks."  
Perfect.  
"We know we can beat this team"
The Jets need a win. That's it.
"We're not stupid," defenceman Mark Stuart says. "We know we got a tough hill to climb here, but we're still a confident group. It's not like we're sittin' here, 'Oh, we can't beat this team.' We know we can beat this team."
 
He adds: "There's definitely no quit. I mean, there's not even a question that there's definitely no quit in that room, to a man."
Stuart's looking forward to the "electric" atmosphere. 
 

Katy Perry
Corey Perry had no idea the crowd was chanting 'Katy Perry' during Game 3 until he read about it the next day. Leaned against a brick wall at the MTS Centre, in jeans and dress shoes and a blue button up shirt, Perry didn't know how to react to that news.
 
Maybe it's a compliment? "I guess," he says, laughing. "Maybe."
 
Boudreau thought they were yelling "Baby Perry." But on the last couple chants, "I caught the Katy," he says, smiling.
Can you hear me?
And despite the fact none of the atmosphere was for the Ducks—despite the fact they were subject to jeers and taunts and name-calling—they'll all tell you they're looking forward to Wednesday's crowd.  
"Winning in a place like this, it's heart-breaking for them," says Ducks forward Jakob Silfverberg, who's been exceptional, with four points this series. "But it's a lot of fun for us."  
The noise did at times pose a bit of a problem, though. "It's loud," Perry says (Corey, not Katy). "Bruce is in the middle of the bench, you're at the end, you don't know who's up, who's goin' with who."
---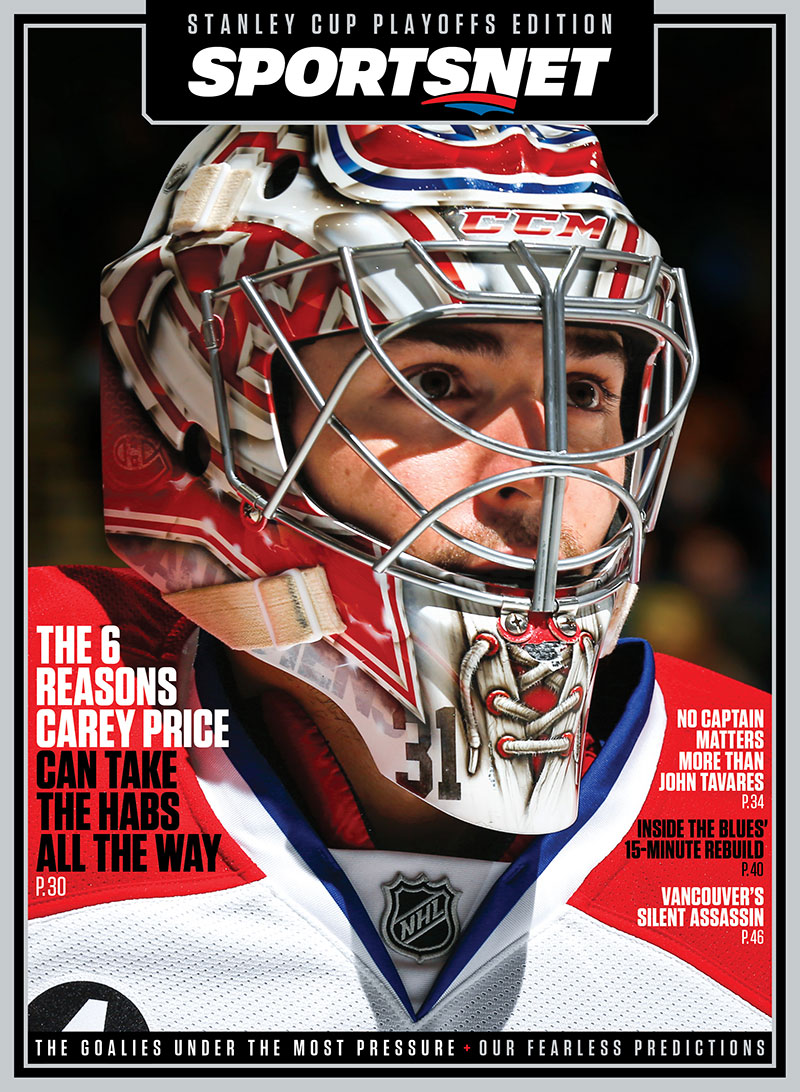 Sportsnet Magazine Stanley Cup Playoffs
Edition: The six reasons why Carey Price can take the Montreal Canadiens all the way. Download it right now on your iOS or Android device, free to Sportsnet ONE subscribers.
---
 
"It sure made me yell a lot louder behind the bench," Boudreau says. "And then [assistant coach] Brad [Lauer], who was beside me, would then go down the bench and yell it again. And I would be tapping guys on the shoulder and letting them know they're up just in case they didn't know."
 
Late-game magic
The story of this series has been the Ducks' ability to come back. They've held the lead for fewer than 10 minutes through three games. And yet, they're up 3-0.
 
Asked if the team subconsciously puts itself in that position, to be down heading into the third period, Boudreau says: "I don't know, I'm not that smart."
There is perhaps only one certainty heading into Game 4: It's gonna be loud. And Kesler will again be a focus of hate. He says it's like this in every Canadian rink, and he doesn't understand why. But he's not complaining.  
"I loved it. Embraced it," he says of Monday's taunts. "It brings my game to the next level, gets me goin'."  
The Most Hated Duck is looking forward to Game 4. "I'm sure they're gonna be loud again, and we're gonna have to do the same thing."
By 'the same thing,' he means take the air out of the MTS Centre, and end the Jets' playoff run in the fastest way possible.