When the Edmonton Oilers drafted Connor McDavid, the assumption for Ryan Nugent-Hopkins was that he would greatly benefit from avoiding opposing team's top checkers. However, last season ended up being a pretty big disappointment for him, struggling with injuries and seeing his point production drop a bit while posting a negative relative Corsi for the first time in his career.
With just seven points in 15 games to start this season, you could say Nugent-Hopkins hasn't yet assuaged fears that injuries over the last few seasons have slowed him down a little bit. Small sample sizes, especially at the beginning of a season, have a habit of not giving the best idea of what to expect over a full season.
The question for Nugent-Hopkins is two-fold: is his offensive game improved over last year and not yet translating? And is he driving possession the way he used to?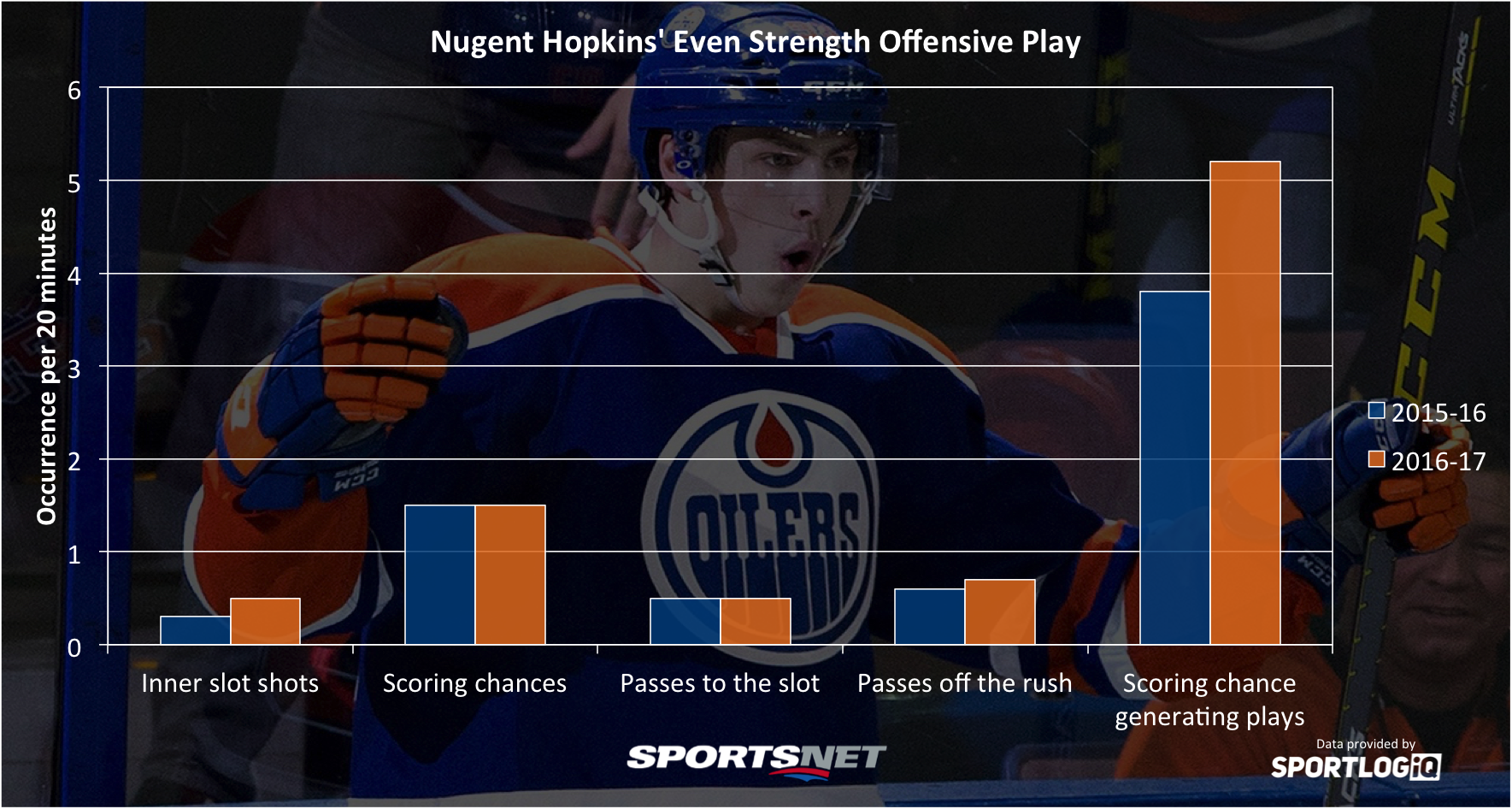 In terms of the finer aspects of creating goals, Nugent-Hopkins is mostly the same as last season, though he's shooting from the inner slot quite a bit more by comparison, and overall there is an upward trend. The big change this season is his involvement in creating scoring chances for his teammates, which has gone from third-line to a good second-line level. A positive sign.
What surprises me about Nugent-Hopkins though is how few successful passes he gets to the slot for someone known as more of a passer than shooter. Not that it's a fair comparison, but last season McDavid was completing over three times as many passes to the slot as Nugent-Hopkins, and this year that's risen to over five times as many.
Nugent-Hopkins doesn't need to be McDavid Light — his game can be successful in a vastly different way — but there aren't many top-six centres who create successful passes to the slot at a rate that low.
In terms of driving possession, much more is positive for Nugent-Hopkins as he is all-around improved from last year. Whether it's being healthy finally or a strategic decision, Nugent-Hopkins is carrying the puck much more, putting up an elite level transition game after being strong last year.
Another strong improvement is Nugent-Hopkins' ability to win loose pucks, with the biggest improvement there coming in the neutral zone — a key area to drive possession but also a mark of a great defensive forward. Winning neutral zone pucks prevents a lot of controlled entries against, and even if a player can't turn that into offensive rushes for their own team, it has value. As it happens, Nugent-Hopkins can turn those neutral zone pucks into offence with his ability to enter the offensive zone with possession, even if his offensive game is still lagging slightly.
So far this season, the improvements in Nugent-Hopkins' game haven't led to him being a positive relative Corsi player yet but he has improved from where he was last year fairly significantly.
While the early returns on Nugent-Hopkins this year aren't stellar, the inputs are, for the most part, there. He is by no means the kind of player who should be a concern at this point. Time and sample size should bear that out.