STONY PLAIN, Alta. — The boys are getting after it outside the Glenn Hall Centennial Arena an hour before puck drop, crushing a few red Solo Cup pre-gamers out in the parking lot. Call it Chinook League tailgating — there's a beer garden inside, but it's small and packed, and you know…. Better safe than sorry.
This is where 40-year-old Ryan Smyth's hockey journey has taken him, to a rink named after Mr. Goalie and a game against the Senior AAA powerhouse Bentley Generals. Game 3 of the Chinook League championship series, which bills itself as Canada's second oldest Senior hockey circuit.
He had to play. Somewhere.
"That year of retirement," Smyth said of the 2014-15 season. "It was like a death in the family."
Eight World Championships, two Olympic Games, a World Cup, a World Junior — and now a shot at an Allan Cup, though it's looking bleak after his Stony Plain Eagles lost 7-4 to trail 3-1 in their best-of-seven series with Bentley.
He earned the nickname Captain Canada over an 18-season National Hockey League career. In this forum however, it is more like Captain Canadiana.
It's an 8 p.m. start just west of Edmonton, and players from both teams arrive in their own vehicles. Smyth drives out from his southwest Edmonton home with his brother-in-law, whose short pro career wound down last season with the Fayetteville FireAntz of the Southern Professional Hockey League.
Although Senior teams have been known to sweeten the pot for the odd ringer over the years, there is no money in this for Smyth. The Generals give their Calgary-based players $50 for every 350-km round trip to Lacombe for practice and games. Plus sticks and beer, of course. "Fuel money" they call it.
"This goes back to those days when you're carrying your own bag," said Smyth, who closes his pregame warmup here the same way he did each of his 1,270 National Hockey League games: by tossing three pucks to kids in the crowd. (We always found this to be the least selfish superstitious ritual in hockey.)
There are no TV lights at Centennial Arena, a cinder block-and-timber edifice to prairie hockey, just a series of those tin-shrouded, 30-foot long heaters that deflect heat overtop the patrons. The heaters are turned off on a spring night in Alberta, but the long silver appliances still come into play for folks standing behind the highest row of seats, who must duck to see under the heaters for a view of the scoreboard.
"It's that deep passion. You do it for so long, it's hard to take it out of you," said Smyth, who asked why he's subjecting himself to this violent, hard-hitting brand of hockey after an NHL career that netted over $52 million (source: hockeyzoneplus.com).
"That first year of retiring was one of the toughest years I've had to deal with. I know my wife (Stacey) would say that for sure, because I was a grumpy bear. It took me a full year to get over that … and it was needed. Now, that compete, the battle you've done for so many years, it's second nature. My body was just going into shock. 'I'm not getting beat up. I need to get beat up.'"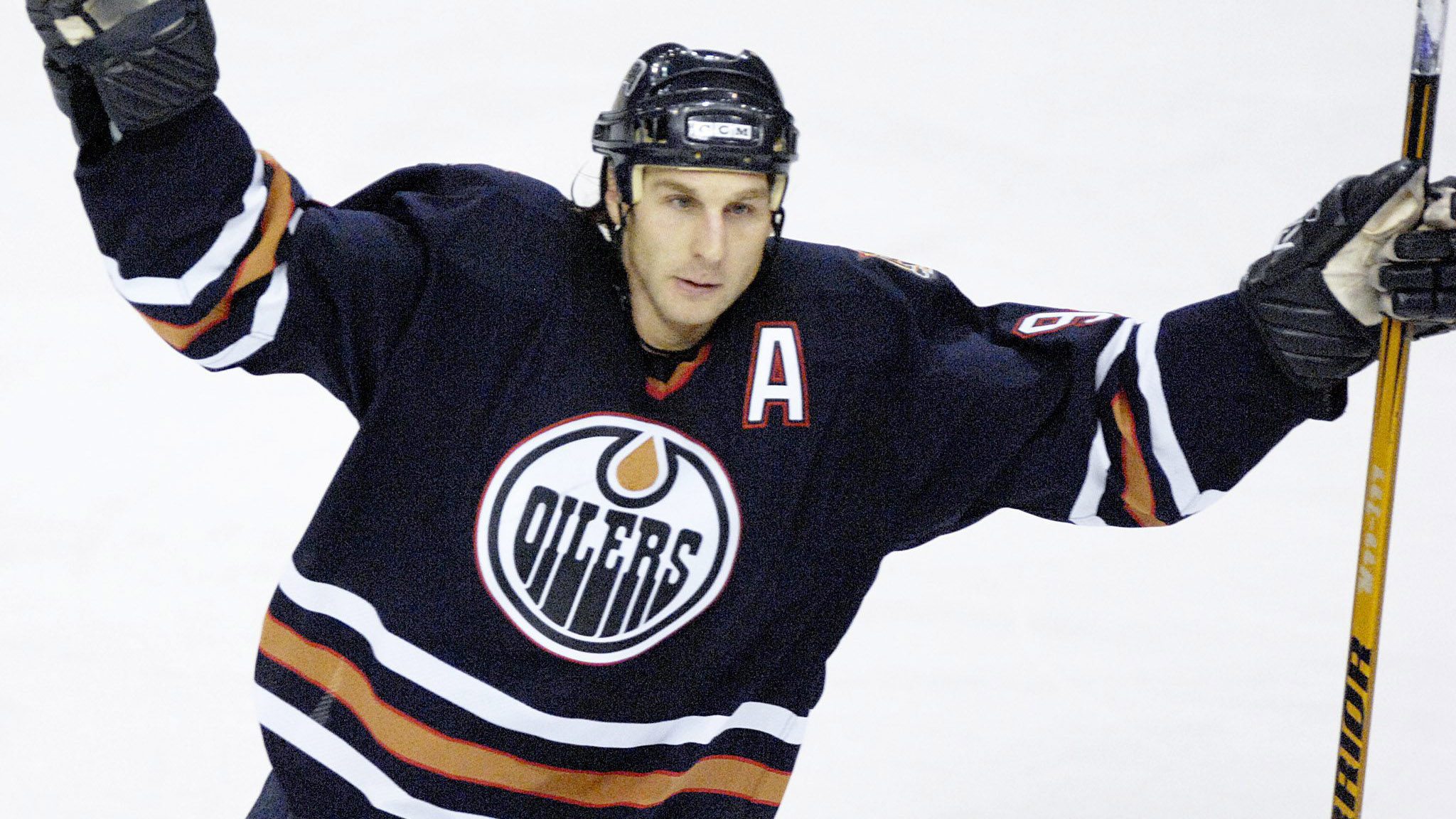 With four kids aged 12, 10, seven and two-and-a-half, Smyth found his way last winter to arenas around Edmonton he didn't even know existed. "Best car service here in the city," he laughed.
He turned down an invite from brother Kevin, who was coaching in Innisfail, to play Chinook League hockey last year, but this year his brother-in-law enticed him to a practice in Stony Plain.
"So I skated with them on a Wednesday, and that Saturday they were playing Innisfail. Three of the Vandermeer boys were playing. My brother was coaching… Lots of hype," Smyth smiled. "That was the one regular season game I could play, and now it's playoffs. We knocked Fort Saskatchewan out four straight, now its Bentley. Great hockey."
The lineups are full of ex-pros and ex-juniors — guys who have returned from the dream and are now working for a living, many in oil related businesses. Teammate Adrian Foster was a first-round pick of New Jersey's who never played an NHL game; Bentley defenceman Nathan Deck got in 33 games in the AHL; Mike Bayrack played 14 minor league seasons, often for three teams a year, and now wears No. 18 for the Generals.
Smyth starts the game for the Eagles and on his first rush of the night a hopeful wrist shot ramps up off the Bentley defenceman's stick and hits him in the face. As the Generals player writhes around on the ice (he'd later be fine) a Stony Plain fan nearby affirms to his wife, "That'll set the tone."
Through eight games Smyth leads the league in playoff scoring with 5-8-13, and watching him he looks no different than he ever did. He never did transport the puck, yet intuitively Smyth arrives on the net front scene at precisely the time a rebound is being spat out. Even at this level he loiters near the posts like a dog hangs around a hydrant, hunting for loose pucks like a ferret hunts for rodents.

It's the only game he knows how to play, and at 40, Smytty's style is as ingrained as his haircut, best described now as "mullet light."
"These guys have jobs, 9-5," Smyth says. "They work on weekends, then they come to the rink and play a game. And for me, I play one, maybe two games a week, and let my body recuperate."
His Eagles played one of the most undisciplined games these eyes have seen in some time, blowing a 4-2 third-period lead from the penalty box. We wondered if Smyth would take any more physical abuse than the other players, but to be honest, there was so much contact that no one player stood out as a target
"I'm sure there's a little extra on top of it," Smyth said of guys looking to lay out the former NHL star. "But that's to be expected."
It's hockey, after all.
It's what Ryan Smyth does.