Look for a flurry of activity surrounding this year's draft. Five teams possess two first round picks, while another six teams have multiple picks in the second round, led by Calgary with the 35th, 54th and 56th picks.
Multiple first round selections present teams with several options. First, you can afford to be a little more risky with your second first-rounder. Secondly, a team can really address an organizational deficiency by selecting two players at the same position. Conversely, you can broaden your scope by addressing needs at two positions. Lastly, the extra asset can be used in a trade scenario.
There seems to be a fairly strong feeling about the first 20-22 players in the first round, adding a premium to those slots. At No. 2, Winnipeg will have its decision made by Toronto, but things will be interesting with their 22nd overall selection. The Jets and Coyotes both have two picks in the top 22 and will get potential star players with their first selections – but keep an eye on what they do with their second first-round picks.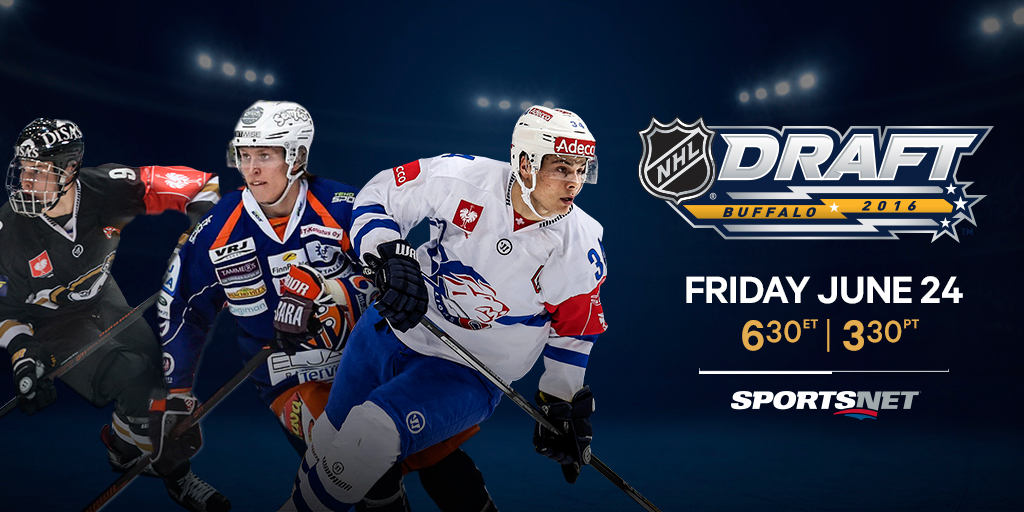 Just about every team will tell you that they will select the best player available, but when I look at Edmonton, it needs a defenceman, while Calgary needs to address its depth of skill at the forward position. But if the board falls the way I expect it, both of Alberta's teams will test the best-player-available mantra, as the top player available at No. 4 for Edmonton will be a forward, while Calgary will likely be presented with a defenceman as the best player with the sixth overall selection.
The 60 CHL teams should provide at least half of the first 30 players selected. Windsor and London should provide six first round selections, while the QMJHL and WHL should see up to five players selected from their leagues in the first 30 picks.
Here's how I see things playing out.

1. TORONTO MAPLE LEAFS
Auston Matthews, C, Zurich (Swiss), 6-foot-2, 216 pounds: Team greatness begins with greatness down the middle of the ice.

2. WINNIPEG JETS
Patrik Laine, LW, Tappara (Finland), 6-foot-3, 201 pounds: Few have ever done what Laine accomplished this season playing against the best in the world in and out of his age group.

3. COLUMBUS BLUE JACKETS
Pierre-Luc Dubois, LW/C, Cape Breton (QMJHL), 6-foot-2, 205 pounds: This is based on a belief this pick will move, and whomever gets it guarantees they'll get the player they desire out of Dubois, Tkachuk or Puljujarvi. Having said that, Dubois is as complete a player as there is in this draft. He learned to play centre mid-season, and has hockey in his blood.

4. EDMONTON OILERS
Matthew Tkachuk, LW, London (OHL), 6-foot-1, 202 pounds: Ferocious competitor, dangerous in front of or behind the net and equally as dangerous as a shooter or distributor.

5. VANCOUVER CANUCKS
Jesse Puljujarvi, RW, Karpat (Finland), 6-foot-3, 208 pounds: He's a big right shot winger who competes at both ends of the ice. Slight slippage due to thoughts about his hockey IQ.

6. CALGARY FLAMES
Alexander Nylander, LW, Mississauga (OHL), 6-foot-1, 178 pounds: The Flames are in need of organizational skill and Nylander is loaded with it.

7. ARIZONA COYOTES
Mikhail Sergachev, D, Windsor (OHL), 6-foot-2, 221 pounds: Has the highest ceiling of any defenceman in this draft.

8. BUFFALO SABRES
Olli Juolevi, D, London (OHL), 6-foot-2, 188 pounds: What you see is what you get and there's a lot to like in this highly efficient, smooth-skating defenceman.

9. MONTREAL CANADIENS
Logan Brown, C, Windsor (OHL), 6-foot-6, 220 pounds: Had a monster second half where he started to utilize his size and shooting ability. Was already a good skater with excellent vision.

10. COLORADO AVALANCHE
Tyson Jost, C, Penticton (BCHL), 5-foot-11, 190 pounds: There was no better interview at the NHL Combine. You get a pro player in every sense of the word.

11. NEW JERSEY DEVILS
Jakob Chychrun, D, Sarnia (OHL), 6-foot-2, 200 pounds: Has slipped due to concerns about his ability to process the game at a high pace. Pro body, pro skater, pro mentality.

12. OTTAWA SENATORS
Clayton Keller, C, USNDTP (USHL), 5-foot-10, 164 pounds: Ridiculous skill set, with high hockey IQ. Wants the puck in all the difficult situations hockey can provide.

13. CAROLINA HURRICANES
Kieffer Bellows, USNDTP (USHL), 6-foot, 197 pounds: Has the goal-scoring gift, and great hockey pedigree.

14. BOSTON BRUINS
Charles McAvoy, D, Boston University (NCAA), 6-foot, 199 pounds: Amazing freshman season playing against men, has just scratched the surface en route to becoming a pro.

15. MINNESOTA WILD
Jake Bean, D, Calgary (WHL), 6-foot-1, 168 pounds: Much like his defence partner Travis Sanheim two years ago, Bean has come out of nowhere to be a first round pick. Puck mover, skater, with unique ability to get pucks through to the net.

16. DETROIT RED WINGS
Mike McLeod, C, Mississauga (OHL), 6-foot-2, 185 pounds: Full speed, full-time. Once his mitts catch up to his boots, he'll impact the game in all three areas on the ice.

17. NASHVILLE PREDATORS
Dante Fabbro, D, Penticton (BCHL), 6-foot, 192 pounds: Slightly undersized, but extremely intelligent with the puck. Can move it with his feet or great first pass.

18. PHILADELPHIA FLYERS
Max Jones, LW, London (OHL), 6-foot-2, 206 pounds: Plays like his hair is on fire. Straight line power forward with unique combination of size and speed.

19. NEW YORK ISLANDERS
Luke Kunin, C, U of Wisconsin (NCAA), 5-foot-11, 193 pounds: Next-best interview at the combine, plays with edge.

20. ARIZONA COYOTES (FROM RANGERS)
Julien Gauthier, RW, Val d'Or (QMJHL), 6-foot-3, 231 pounds: A physical specimen who protects the puck well, has a deadly shot and skates like the wind.

21. CAROLINA HURRICANES (FROM LOS ANGELES)
Riley Tufte, LW, Blaine HS (Minnesota), 6-foot-5, 211 pounds: Tough to gauge with the back and forth between Minnesota High School hockey and the USHL.

22. WINNIPEG JETS (FROM CHICAGO)
Logan Stanley, D, Windsor (OHL), 6-foot-7, 224 pounds: Sneaky offensive upside that will come once he fully adjusts to a body that recently stopped growing.

23. FLORIDA PANTHERS
Brett Howden, C, Moose Jaw (WHL) 6-foot-2, 190 pounds: Has solid guidance from a brother that was picked in a similar spot in 2010. Playing for Tim Hunter has allowed the creativity to grow in his game.

24. ANAHEIM DUCKS
Dennis Cholowski, D, Chilliwack (BCHL), 6-foot-1, 177 pounds: Meteoric rise started at the World Junior A Challenge, he's a raw talent who has experienced a couple of growth spurts.

25. DALLAS STARS
German Rubstov, C, U-18 (Russia), 6-foot, 190 pounds: So many questions to be answered, but once you get past the luggage, there's a player in waiting.

26. WASHINGTON CAPITALS
Libor Hajek, D, Saskatoon (WHL), 6-foot-1, 205 pounds: Under the radar defenceman, has plenty of character, and performed admirably on a poor Saskatoon team.

27. TAMPA BAY LIGHTNING
Tage Thompson, C, U of Connecticut (NCAA), 6-foot-5, 195 pounds: Some have questioned 13 of 14 goals scored on the power play. Has impressed with his defensive play.

28. ST. LOUIS BLUES
Vitali Abramov, RW, Gatineau (QMJHL), 5-foot-9, 175 pounds: Has skill and bite in his game not unlike similar-sized Robby Fabbri who has turned out to be a gem for the Blues.

29. BOSTON BRUINS (FROM SAN JOSE)
Wade Allison, RW, Tri-City (USHL), 6-foot-1, 204 pounds: Had a chance to get a defenceman they liked at No. 14, now the Bruins can address the forward spot.

30. ANAHEIM DUCKS (FROM TRADE WITH MAPLE LEAFS)
Alex DeBrincat, RW, Erie (OHL), 5-foot-7, 160 pounds: Has 102 goals in 128 regular season games, only 34 of which have been scored on the PP.