Right from the start, an admission: Words cannot do this justice. There is absolutely no way this blog can adequately capture what was seen Friday night in downtown Saskatoon.
They honoured Gordie Howe here, in the province that will not debate who is the greatest hockey player ever. In Saskatchewan, it is their Favourite Son, Mr. Howe, and everyone else is so far behind they might as well be competing for third.
Hours before the formal dinner, at a media conference, Wayne Gretzky emotionally wiped at his eyes as Mark Howe described how poorly his father was doing less than three months ago.
"He basically had kind of shut down. His will to live had waned considerably, along with that went his personality. Along with that went an awful lot of things…When I got down there, just before Thanksgiving, the nursing people down there, they basically had him pretty much in a medically induced coma."
"And they said, 'It is just time to let him pass.'"
"I went down, I said, 'I don't think anybody knows my father better than me, I'll make that decision on my own,'" Mark Howe continued. "So I took dad off all his meds…When they would come to do therapy and all, he would just close his eyes and want nothing to do with it."
Gordie Howe's stem cell treatment is much-debated. Marty Howe admits he is "the pessimist" of the family, but, to them, what has happened here is nothing short of a miracle. They are not naive. Their father is 86 and battling dementia. "You never know what will happen tomorrow," Marty says.
But, when all hope was lost, the gift of his presence was extended. They — and the rest of their family — are more than thrilled to enjoy it. Mr. Howe still speaks very softly and, obviously, needs his rest. But, from the moment he arrived Thursday, you knew there was a chance for this to be very special.
Mr. Howe landed with his son, Dr. Murray Howe, on a private plane just after 10 p.m., approximately nine hours after originally scheduled. Mechanical and customs issues slowed down the process, and no one was expecting him to be spry.
The tarmac was dark, windblown, icy and treacherous. The staircase from the plane steep and tricky. He moved slowly, but comfortably. Put it this way: someone slipped, and it wasn't the guy born in 1928.
Howe engaged in the limo, quietly, but with a smile. When Murray joked it was past his own bedtime, his father mocked him by pretending to fall asleep. At the hotel elevator, he gave one of his patented elbows to someone standing beside him.
How many of us younger than 86 would be so playful after that travel experience?
---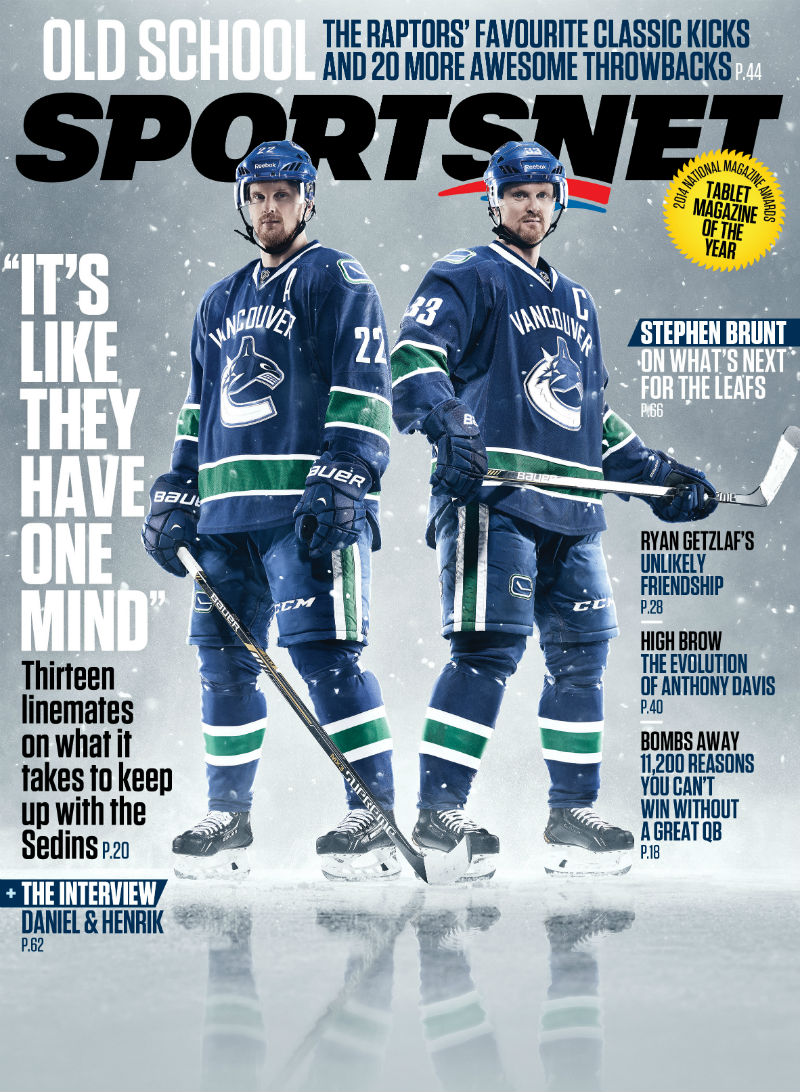 ATTENTION Rogers and Shaw customers. Already enjoying Sportsnet ONE? Now get access to digital editions of Sportsnet magazine at no extra cost.
---
Friday night would be even better. There were 172 sold-out tables at the Kinsmen Sports Celebrity Dinner, and Howe had to walk by half of them to get to his seat. No one was expecting him to do it without help, but he did, slowly and solidly.
Another proud Saskatchewan boy, Kelly Chase, who played 458 NHL games, was the emcee for the evening and did a superb job. Chase started with a story about himself as an undrafted free agent attending Hartford's 1987 training camp. The trip included a stop-over in Toronto, where Mr. Howe, who worked for the Whalers, was waiting near the gate.
"First I had to build up the energy and the emotion to just go over and say thank you for everything he'd done for the city and for hockey," Chase began. "He said 'sit-down son' so I sat down and I got talking. The lady came on the speaker, it was about 8:30 at night and she said unfortunately this flight's been cancelled, we're going to keep you here at the hotel in the airport. Come up and get your vouchers…She says, 'Are you two together?' and Mr. Howe says, 'Yes we are.'"
"Like you can send me home right now it's all over, I got one day and I'm rooming with Gordie, ok?
Because Chase had not been drafted, Howe advised him that no one in the organization would go to bat for him.
"He said, 'Make sure they know who you are when you're out there.' If you've got to be the goal scorer, and do a dance and they'll say, 'There's the goal scorer.' Or be the guy that does something special – there's the hitter or the fighter – if you gotta get your clothes off and skate naked down the ice they'll say, 'Hey, there's the naked guy, the naked guy scored,' make sure they know who you are."
"I said, 'Alright Mr Howe.' The first day of training camp I got in a fight with some college kid and I thought I did okay. And one of the veteran players, Billy Root, he came over, decided he's going to straighten me out. And I did pretty good against him, so I was 18 and feeling pretty good…We roomed with our veteran players and my veteran was Paul Lawless. He told me in the morning, 'Hey kid, make sure you keep your head up out there today,' and I'm like, 'Oh yeah,' right off the farm from Porcupine Plain, SK, what could go wrong?"
"Well, I got out on the ice and the puck dropped and this big defenceman wheeled around, who was a veteran, and smashed me right in the nose with a fist. And then dropped his gloves and…I didn't even get my gloves off and he had hit me I don't know how many times…but I was embarrassed on the bench for about 20 minutes. They wouldn't put me back on the ice and…I was getting more and more upset and I was thinking about what Gordie said. So I waited…until the halves were just wrapping up, and when the zamboni's went to flood…I just slipped in behind the Zamboni. This big guy was leaning on the net down in front of the far end talking to Steve Weeks, the goaltender, and when that Zamboni made the turn I come out from behind that Zamboni and let me tell you something…"
Now, the laughter is rising with every word.
"It was over the head, in with the stick, swinging for all I was worth. I got this guy and got him good, but what I wasn't thinking was all the veteran players that were going to get this kid again. So I spent the majority of the second half of that period fighting with these men and it made me sick to my stomach…in the locker room I could tell my own teammates didn't want to talk to me."
"Just as I was getting on the bus to go back downtown this big old arm came around me. It was Gordie Howe…he said, 'Kid, they freaking know who you are now.'"
With the audience in hysterics, that 19-year-old, now 47, turned to Mr. Howe. Not expecting any reaction, Chase received a "thumbs up." He stopped and his lips began trembling. A guy who spent the equivalent of 33 hours in NHL penalty boxes had his knees buckle at the sight of a small gesture from his hero. He needed a few seconds to recover.
Chase was so shaken, he forgot to finish the story. Howe told him to stay outside the bus. Those veteran Whalers, who'd fought with him or sneered at him, walked by. And there was Gordie Howe, with his arm around this shaken rookie, talking.
It went from, "Who is this idiot?" to "He's with Mr. Howe?"
There were more tears and plenty of laughs. Bobby Hull grabbed Mr. Howe's hand and called him, "My inspiration."
Gretzky told of attending a luncheon with Mr. Howe and former US President Ronald Reagan, where there were so many forks on the table, he didn't know when to use them all.
"I'm going to follow the President," Howe said. "You follow me."
This was the early 1980s, a high-time in the Cold War. Gretzky said President Reagan turned to Howe and said, "I don't trust those Russians," with Howe responding, "Neither do I."
Dennis Hull is commonly referred to as "the third-best Hull," or, as he says, "Fourth if they would have let my sister Maxine play." He may the third-best Hull, but he is unparalleled as a dinner speaker.
Before his commentary became unmentionable on a family website, Dennis was on fire.
"Five years ago, I joined the Big Brothers/Big Sisters," he said. "Every Sunday, Gordie takes me for a walk."
Dennis said his first NHL game was against Detroit, joking that he occupied the spot on the bench right next to the defencemen, so he knew he wouldn't play. Most of the night was limited to reaching out, touching Howe as he skated by. Then, coach Billy Reay tapped him to go in.
"'Get out there and watch Howe,'" Dennis Hull said Reay told him. "I said, 'I can see him fine from here.'"
Dutifully, he lined up with Bill Hay and Eric Nesterenko. "Hay won the draw, which was unusual," he continued, ending up with a chance out of it. "I was going to shoot top corner or in the second balcony, one or the other [this Hull was notoriously inaccurate]. Then Gordie grabbed me by the back of my pants with one hand and said, 'Where do you think you are going?'
Dennis Hull's reply: "Wherever you are sir."
But it was Gretzky, at the end of the evening, who brought down the house. Twelve hours after listening to Mark Howe describe how close this night came to never happening, Gretzky stood up and said of his childhood idol and hero, "He is, he was, he will always be the greatest of all time."
He meant it. And this crowd, this city, this province? They agree 100 per cent.