About a quarter of the way into the season, it starts to become clear which players started out the season unsustainably hot (looking at you, Richard Panik) and which are going to be able to maintain their performance and rack up the goals this year.
Goal scoring is an inexact science, but for the most part if you produce a healthy amount of good quality scoring chances you'll produce more goals. There are exceptions to that formula from players who are elite finishers. Steven Stamkos doesn't generate many great scoring chances, he likes to shoot from just outside the slot, but he's such a dangerous shooter that he'll push 40 goals anyway. However, Stamkos and players like him are exceedingly rare.
---
---
Looking at which players are producing scoring chances can give you a better idea of who will be leading the league in goal scoring at the end of the year than just looking at who the top scorers are right now. With that said, let's look at the current leaders in even strength goals per minute played and see how well they're producing chances.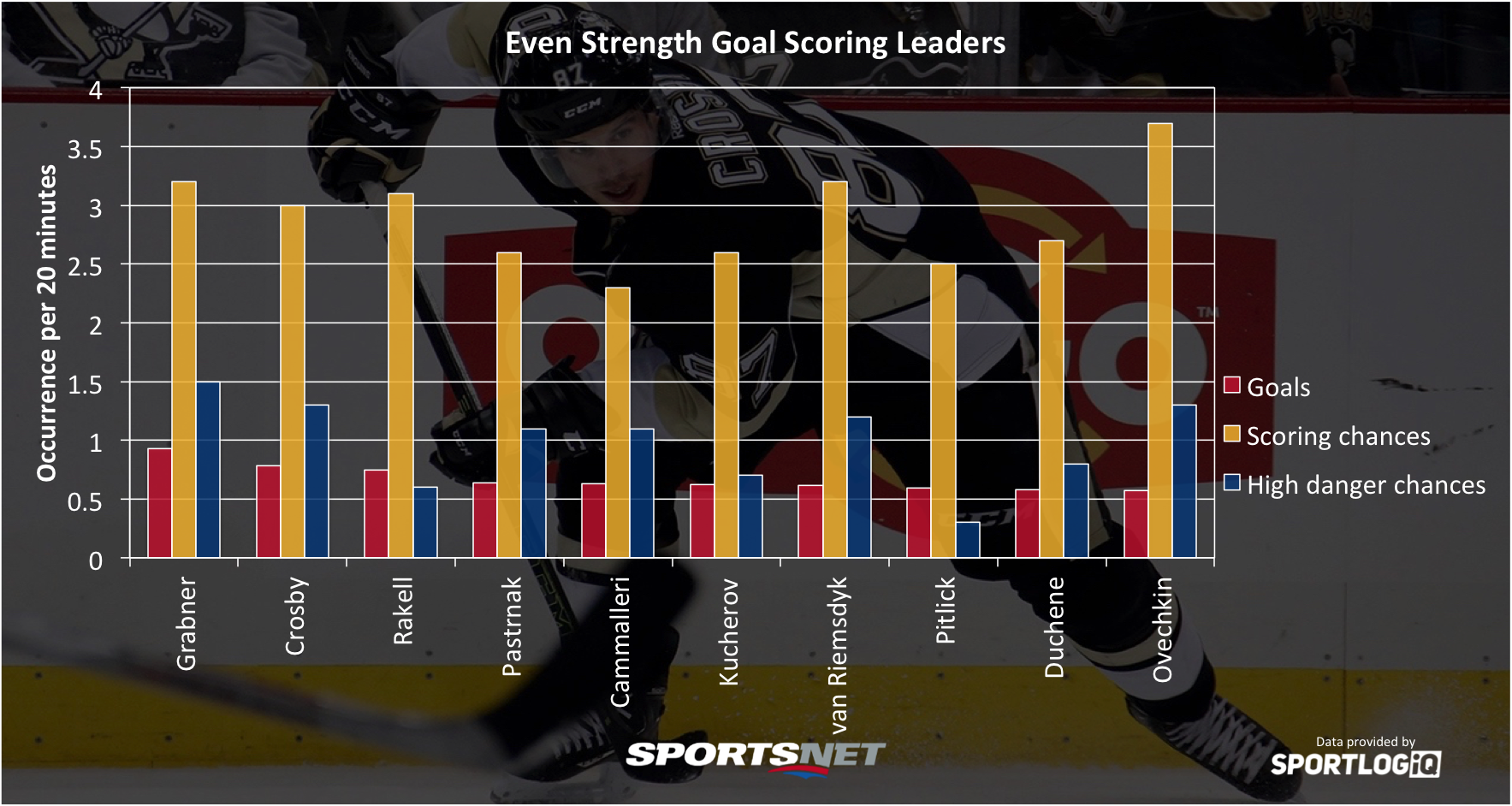 One interesting thing to note is that even at this stage of the season, every player in the top 10 is producing scoring chances at a top line rate at even strength. This is sort of surprising because usually in small sample sizes you get a couple of outliers — players who score in bunches, but don't get a lot of quality looks. That isn't the case here.
However, that doesn't mean they'll all continue to score at these rates, some players will see their space to create chances decrease as teams adjust, and then they'll fall back to earth.
Looking at the high danger scoring chances in that chart, you can see some players who might be due to fall off. For example, Tyler Pitlick is unlikely to continue scoring on such a high percentage of his shots without getting closer to the net.
If we want to know which players will be the top scorers by the end of the season, it's more worthwhile to look at who the leaders are in creating scoring chances.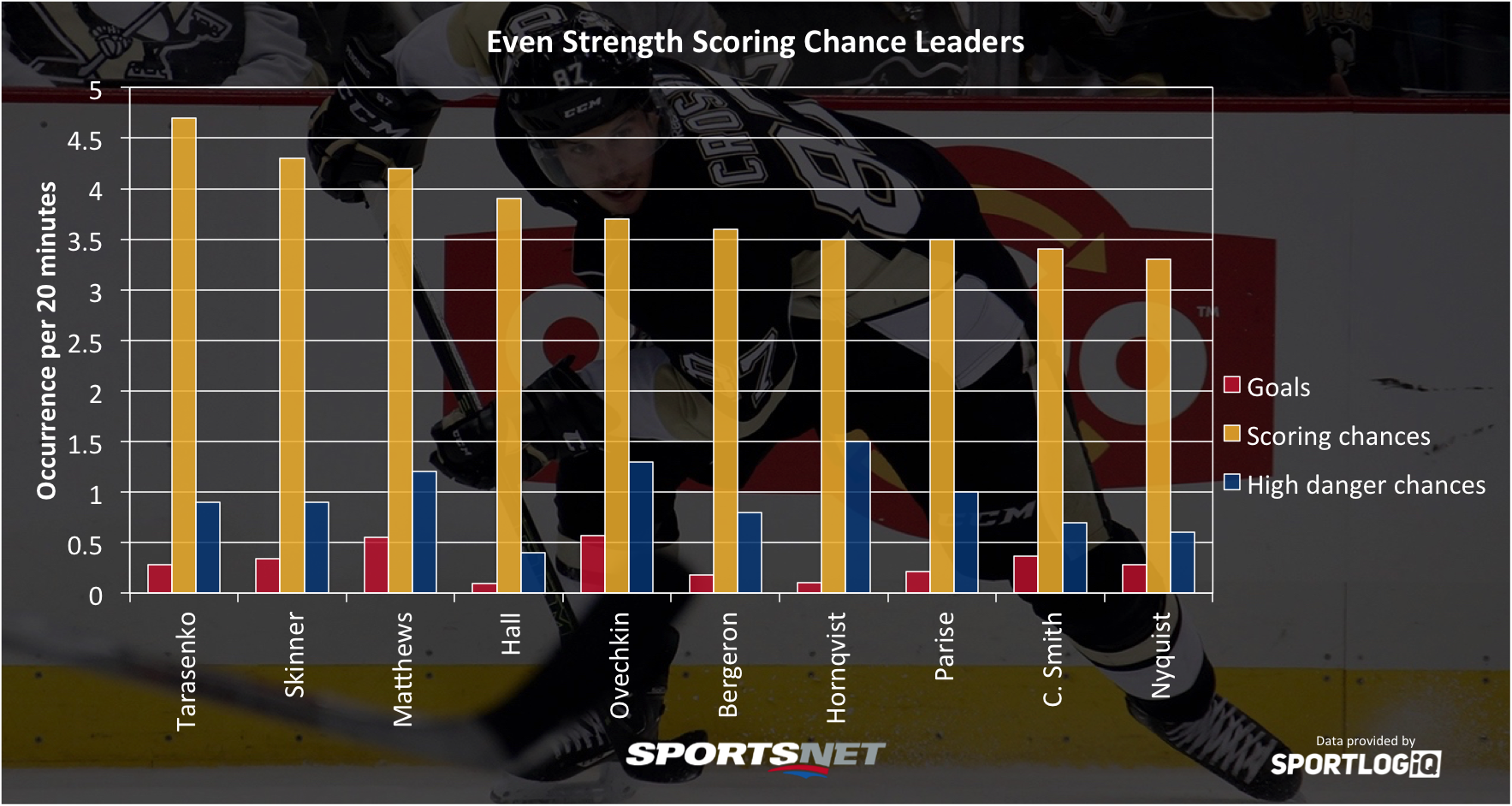 For the second straight season, Vladimir Tarasenko and Jeff Skinner are first and second in even strength scoring chances, though they are very different players. Tarasenko is a career 13.6% finisher, who is most dangerous from a middle distance when he shakes checkers. That means, like Stamkos, he doesn't need as many high danger chances as other players do to produce goals, and you should expect to see his totals skyrocket soon.
Skinner meanwhile, is a career 10.6% shooter, which is still good, but in my opinion he is better at roofing pucks from in tight than he is at beating goaltenders from the tops of the circles. So, in order to fulfill his scoring potential at even strength he needs to increase his high danger area shooting.
Two players who have the most potential to impress down the stretch are Taylor Hall and Patric Hornqvist, for different reasons.
Hall loves to attack off the rush, generating his scoring chances by carrying the puck East-West in the offensive zone and shooting while the goaltender is moving. These are high quality chances, but they aren't often registered as coming from the high danger area.
Hornqvist meanwhile, is one of the NHL's best net-front players, and is almost always playing with either Sidney Crosby or Evgeni Malkin. That allows him to be the beneficiary of tons of slot area passes, backdoor chances, and rebound opportunities. So far this season he's been snake bitten at even strength with just a single goal, but his underlying scoring numbers look similar to his first season in Pittsburgh where he was on pace for 24 even strength goals over 82 games. Expecting that sort of production from him wouldn't be unfair this season.
Speaking of Crosby, is his scoring pace sustainable? Probably not, but then again, there are reasons to believe a superstar such as him could keep this up. No one in today's game can score on 25.4% of their shots for long periods (as Crosby currently is), however Crosby has shot at 19.9% for a 41-game stretch in 2010-11. His career average shooting percentage is 14.7%, so it's possible he scores at ~18% for a full season. If Crosby were to maintain his current shooting and scoring chance rate, and score on 18% of his shots on goal over the remaining games for the Penguins, he would hit 50 goals.
The last thing I wanted to talk about was the only player who appears on both leaderboards: Alex Ovechkin. There have been a few people who have pointed out that his shot rates have decreased this season – as has his ice time – but he's producing more scoring chances than he did last year, and far more high danger shots, because he likes to shoot mostly from a middle distance.
Is there any surprise he's close to a 50-goal pace once again? Something to watch for with Ovechkin as he ages is if he changes his style in a similar way to Jaromir Jagr. Jagr's shot rate has crumbled in recent years, but the shots that he's not taking anymore are all from further out, while his scoring chance numbers stay steady. Since he's losing shot volume there will be a scoring rate drop, but if Ovechkin changes his game in a similar fashion as he ages, it may make scoring more sustainable for him.