KANATA, Ont. – Upon trading Erik Karlsson and infuriating an Ottawa Senators fan base already on edge, general manager Pierre Dorion was presented with a chance during his press conference to throw his support by the best two hockey players remaining after culling his roster over the past seven months.
Both Matt Duchene, the top-line centre Dorion traded a boatload to acquire in November, and Mark Stone, the best bet to succeed Karlsson as team captain, are impending unrestricted free agents.
Instead of raving about their value to the franchise and expressing a desire to lock up two of the best impending UFAs in their prime, Dorion said this:
"All I can tell you is both Matt Duchene and Mark Stone care a lot about this organization, and we know they want the Ottawa Senators to win. They love it both in Ottawa, and we'll just let nature take its course to see what happens in the future."
Hockey fans should be accustomed to what happens when you let nature take its course.
[relatedlinks]
Cody Ceci, another core member on an expiring contract, agrees there is concern regarding all the long-term commitments not being made in this town.
"Yeah, they'll need some sort of core to build around if they plan on doing a full rebuild. I'm curious to see what will happen," Ceci told Sportsnet.
"After January, will they start talking extensions and see what players they want to keep as the core? We'll have to wait and see. Coming to the deadline, they'll pick and choose the guys they want and probably end up chipping some guys out and getting some more younger guys and draft picks and stuff to continue the rebuild."
Duchene and Stone would make enticing rentals, to be certain, but neither is ready to write off the Sens' season before it begins. That's not in their nature.
In separate one-on-one conversations, we sat down with Ottawa's best two players standing — solid members of the club's leadership group on thin ice contractually — to chat free agency, rebuilds, dressing-room culture and life without Karlsson.
Ironically, these interviews took place in the same building at the same time Dorion was crossing the Ts and dotting the Is on what is "the most significant trade" in the rebuild.
Suffice it to say, it won't be the last.
MATT DUCHENE, UFA 2019
SPORTSNET: When you arrived, the Sens had come within a goal of the Stanley Cup Final. I would think you believed you were joining a winning team. Now, this week, the word rebuild is getting tossed around. How does that make you feel?
DUCHENE: I've been part of a few rebuilds and the roster has looked very different than this. I don't know if this is a full-on rebuild, just looking at the guys we have in that locker room. We have a lot of talented guys who are ready to take a big step right now. I think we're further ahead than the usual term "rebuild." We haven't stripped it down to bare bones. We have a lot of really big pieces. The key going forward is being able to keep those pieces together that are kinda core, and then surround them with already-established guys and young guys. It takes both. You can't win with all old guys; you can't win with all young guys. Hopefully we go in that direction.
What about Erik Karlsson?
That's a little different, and we're going to react accordingly. You're never going to replace a guy like that. You can go in a different direction and shore up other parts of your hockey club, but that's a piece you're not going to replace that way. The biggest part now is the other guys that we need to be here long term, we gotta make sure that's able to happen.
For yourself, how far did conversations toward an extension get?
There was none.
Do you wish there were negotiations?
I'm OK. I'm good with it. I just want to play hockey again. I felt so good at the end of last year in terms of my game. Obviously, the season was a disappointment for us as a group, and I was upset to not be in the playoffs and competing the way I thought our team would compete when I got here, but I felt all summer that I couldn't wait to get back on the ice and pick up where I left off. That's my main objective, and the rest will take care of itself.
When you watch John Tavares getting multiple offers and July 1 ending in a big paycheque, does your mind start churning about what it might be like to turn UFA?
You definitely pay attention. It's a situation of constant information-gathering whenever you're in a contract year. Johnny's a good friend of mine. We've come up together: same agent, same trainer, same equipment company, same draft, same everything. It's a guy I'm very familiar with and have a really good relationship with. I thought he handled the situation with extreme class and respect for everyone involved. I definitely took notes.
By talking to him or just observing?
Just observing. I left him alone. He probably had a thousand people trying to message him. I'm not looking into a crystal ball. I'm looking at [Friday] is our first day on the ice. Everything will fall where it may, and my biggest thing is being the best player I can be to help this hockey team. I'm happy to be in Ottawa right now. I want to help this team win and get back to where we believe it can be.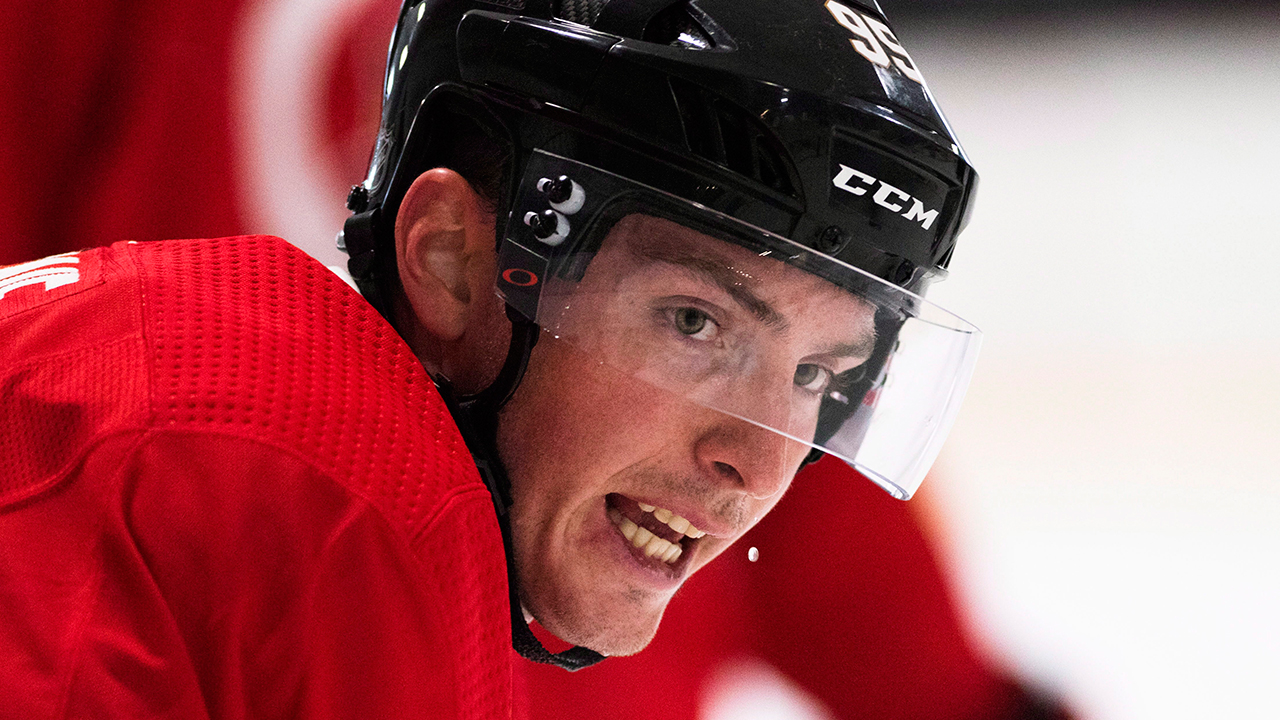 You've said the team needs to do more activities together off the ice in order to gel and prevent cliques from forming. What does that look like?
It's important. Dinners on the road. Get-togethers, parties, whatever — when it's the right time for that stuff. It's old school, but that's where teams become teams. I learned that at a young age from some older guys. I didn't get it then, but I get it now. Group dinners with the wives and the girlfriends are important because they're an extension of our family in the locker room. We can do a better job. When I said we're a quiet group, I meant that we don't have enough guys taking initiative and wanting to get together and do things in big groups. There's nothing wrong with that, but we can be better in that aspect. The more we get together, the closer we are, the more you want to go battle for your guys.
Attendance is a concern. How do you get fans rallying behind this team again?
There's tons of them around the city. Attendance is something that's a head-scratcher, but the ones that come out, we want to make sure we put on a great show for them and, yeah, hopefully attract more. I know [Kanata's Canadian Tire Centre] is far from the city and it's tough to get this way after work for a lot of people, but we appreciate all the season ticket holders and people who support us on a daily basis. We want to be a good team this year. We don't want this thing to be a complete teardown. It doesn't matter what language is being thrown around and by who. Us in that locker room want to win. We want to be the best team we can be.
—-
MARK STONE, UFA 2019
What comes to mind when you hear the word rebuild from management?
They're going to bring in new faces, bring in young guys. For a guy like me, it's what I make of it. I still feel we have good players on this team. We have some superstar talent. From the young-guys perspective, we have some high-end talent coming. Rebuilds can be two months, they can be six months, they can be years. It's what the team in that locker room makes of it, and we're going to gel as a 22-man group.
Does the plan surprise you considering how close you came in 2017?
Last year still surprises me that we were as bad as we were. I still don't understand, looking at the talent and the group that was in that locker room, how we were able to do that. At the same time, when you have years like [2017-18], you just can't deny it. You need to make change — and that's what looks like is going to happen.
What did go wrong?
A string of things. We didn't play well on the road trip after the Sweden trip. Things spiralled out of control and we just couldn't get it back.
A couple of players mentioned that things got cliquey in the room. As one of the leaders on this team, how do you guard against that and bring everyone together?
There were things that happened, but I don't think there are bad people in our room. There really isn't. I don't think anyone's had a problem with each other. Going into this season, it's about forming a group. You have to form a bond where 22 guys enjoying coming to the rink and being with each other. You're with each other every single day, and if you don't enjoy coming to the rink, then you're not going to succeed.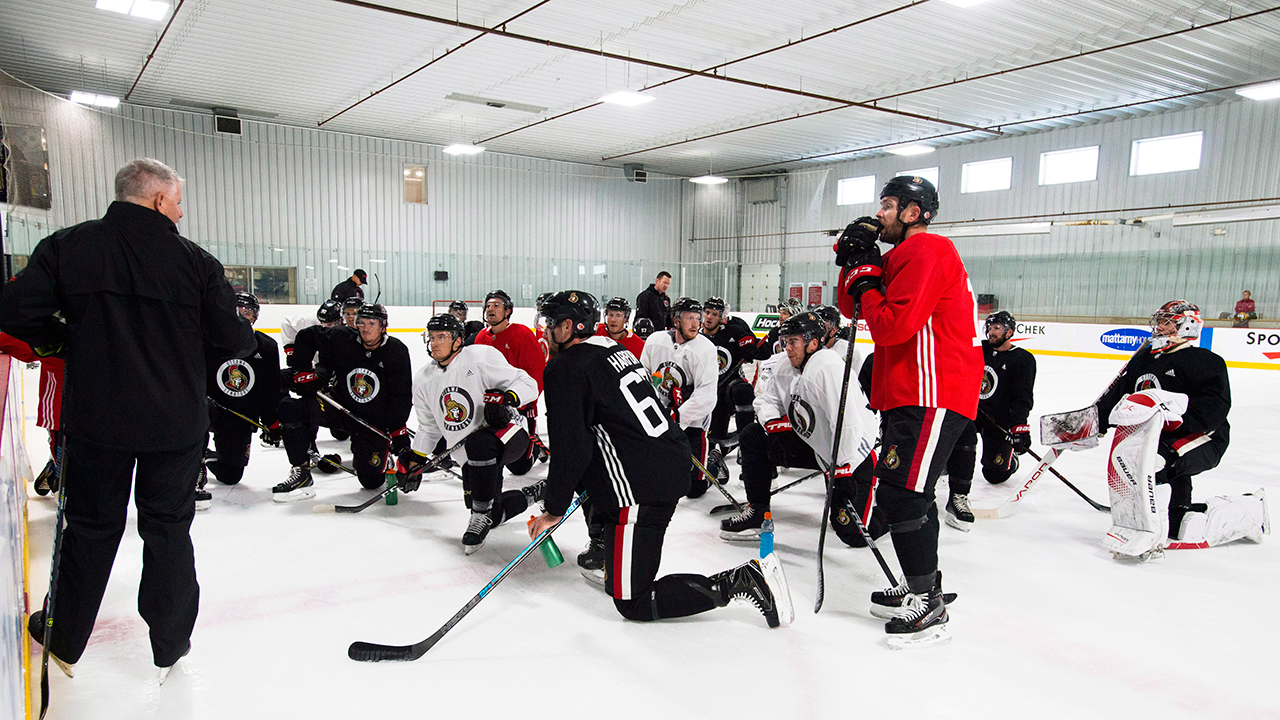 Have you come to terms with the idea of Erik Karlsson not being here when the puck drops?
You read, you listen, and you live it. Whether he's here or not, it doesn't change the way this team has to play. Yes, we'd love to have him on our team. He's a superstar player. He's our best player. He's our captain. But if he's not, then we'll have to move on with the group we have.
Describe how you felt during the countdown to arbitration this summer.
I understood the process going into it. I understand where they're coming from and where I'm coming from, so I think it was to be expected. We worked hard, long hours for all of July trying to get something done. I didn't, but Pierre and my agent, Craig Oster, worked long hours. We didn't come to agreement on a long-term deal, which is fine. Lucky for me, we were able to get something done before the hearing. We'll look forward to January to see if we can get something else.
Are you heavily involved in the process, or do you prefer to keep it at arm's length?
If I was going into the hearing, I'd want to know absolutely everything. As far as the [negotiations], I let the people I pay money to handle that. I trust Newport Sports and the staff they have. You kinda sit back and relax. Ultimately, it's my decision, but I'm glad I have the people in place to steer me in the right direction.
[snippet ID=4207345]
When you see Tavares take his time and knock it out the park with a big payday and have all that attention from contending teams, do you consider the possibilities for yourself next summer?
Every player on July 1 wonders what it'd be like to be a free agent. All the stars aligned for him. Toronto's an up-and-coming team, they had cap space, so it worked well in that situation. I don't think it'll be the same for every player every year, but you'd be crazy to say that on July 1 every year you don't wonder what it'd be like to go through that. I don't think about it during the season by any means.
How much will the fates of Karlsson and Duchene affect your own decision-making?
I don't think it does. I just want to see the team go in the right direction, and I want to be on a competitive team. We have lots of players here who are very competitive people, who can help teams win hockey games, and now we're going to incorporate a lot of youth that looks like they're going to help us win hockey games, so that's all I can really ask for.
What would be your message to fans discouraged by Karlsson's situation and the fact you only signed for one year?
I've said all along that I wanted to stay here. I don't think they understand that we tried to get a long-term deal done, and just because we weren't able to this summer. … I mean, we had a deadline. We were either going to arbitration or we were going to try to do something. All doors are open for me. As far as the team goes, we're young, we're excited and we're hungry. We want to rebuild on a positive structure. Obviously, last year was negative. There's going to be no excuses from our side this year. We're gonna play hard, we're gonna play fast, and there's not going to be one night when we're going to roll over and die.