For more than a quarter-century, the Colorado Avalanche has been one of those obscure western teams that hardly registered a pulse in Ottawa.
That changed dramatically in the fall of 2017, when Colorado, Ottawa and Nashville pulled off a blockbuster trade that sent Matt Duchene from Colorado to Ottawa, Kyle Turris from the Senators to the Predators, plus defenceman Samuel Girard from Nashville to Colorado, and Ottawa prospect Shane Bowers to Colorado. Vitally, the Avs also scooped Ottawa's 2019 first- and third-round picks — the first-round pick was determined after the Senators decided to keep their 2018 pick to select Brady Tkachuk fourth overall.
Fourteen months later, the ramifications of that trade loom at least as large today as they did on Nov. 5, 2017. For fans of the Senators, the sight of the Avs at the Canadian Tire Centre Wednesday is a cruel reminder that Colorado owns Ottawa's first-round pick, almost certainly a lottery pick.
That snowy Avs logo symbolizes it will be a cold day in hell before Ottawa gets its 2019 lottery pick back.
If Duchene's contract been extended by now, the blockbuster transaction would be viewed in a different light. But Duchene, acquired by Ottawa in a go-for-it moment coming off a trip to the Eastern Conference Final, is now a pending UFA on a rebuilding Senators team. If Senators general manager Pierre Dorion can't get Duchene signed prior to the Feb. 25 trade deadline, it will be his turn to maximize a return for Duchene. But because he is now a rental player, Dorion can't come close to cashing in the way the Avs did.
Give Dorion credit. He was on a bird to Los Angeles on Tuesday, scheduled to meet with Duchene's agent, Pat Brisson, to talk contract. This will get interesting.
Duchene's perfect storm
Wednesday was surreal for Duchene. He just became a first-time dad last week (to son Beau), and his birthday fell Jan. 16, just as he prepared to face his old Avalanche team.
"Crazy day," Duchene said. "I feel pretty old today, I'll tell you that.
"Being a dad and now 28 — it makes you want to puke a little bit. I came into the league at 18. It's crazy how fast 10 years have gone."
Colorado GM Joe Sakic, Duchene's boyhood hero, was very patient before delivering on Duchene's request to move out of Denver because he was tired of missing out on playoff appearances (he played eight post-season games with the Avs). Sakic provided yet another illustration of how to maximize a return on elite assets: move them in their prime, while they have term. If they gotta go.
It's not for the faint of heart. Duchene, Colorado's third-overall pick in 2009, was thought to be a future cornerstone for the Avs, along with fellow 2009 pick Ryan O'Reilly (33rd overall), 2011 second-overall pick Gabriel Landeskog and 2013 first-overall pick Nathan MacKinnon.
The future looked bright, but as often happens with major rebuilds (hello, Edmonton) there are setbacks. In 2013-14, Colorado won the Central Division with 112 points, second in the Western Conference, only to lose in the first round. By 2016-17, the Avs had hit rock bottom — finishing with 48 points, the lowest of any NHL team since the now-defunct Atlanta Thrashers of 1999-2000, who had 39 points.
Where they were in November 2017
It's worth a reminder where the three teams involved in the Duchene/Turris trade were in the fall of 2017, and what has become of them since.
Nashville, a symbol of excellence in the Western Conference the past three seasons, was coming off a trip to the 2017 Stanley Cup Final. The Preds were fine-tuning a potential Cup-winning roster and continue to do so.
The Senators were thinking highly of themselves, despite all manner of statistical evidence that their run to the conference final was not sustainable.
Over the next five months, it was as though the Avs and Senators traded places. That 98-point Ottawa team of 2016-17, second in the Atlantic Division, tumbled to 30th overall to close out 2017-18 with 67 points.
The Avs were convinced the trade of Duchene was key. Not that he wasn't a great player for Colorado, but because he clearly wanted out.
MacKinnon told Sportsnet at the time that the trade "did a lot" to improve the atmosphere in the room. MacKinnon remains good friends with Duchene, but he came into his own after Duchene departed, and MacKinnon recognizes how the trade has set up his club.
"We know things are still coming our way (from the trade)," MacKinnon said prior to the game against the Senators. "We have Shane Bowers at Boston University, and obviously the first-round pick (and a third) this year.
"We're not counting on anything."
No offence, Ottawa, but MacKinnon hopes you finish dead last to improve Colorado's odds of drafting first overall.
"The higher, the better for us," MacKinnon says. "We'd love to get Jack Hughes or (Kaapo) Kakko, whomever, but we can't count on that.
"I'd be lying if I said I didn't want them (the Senators) to finish last. If Detroit had it, I would want them to finish last, or Pittsburgh. Whoever. We just happened to do the deal with Ottawa."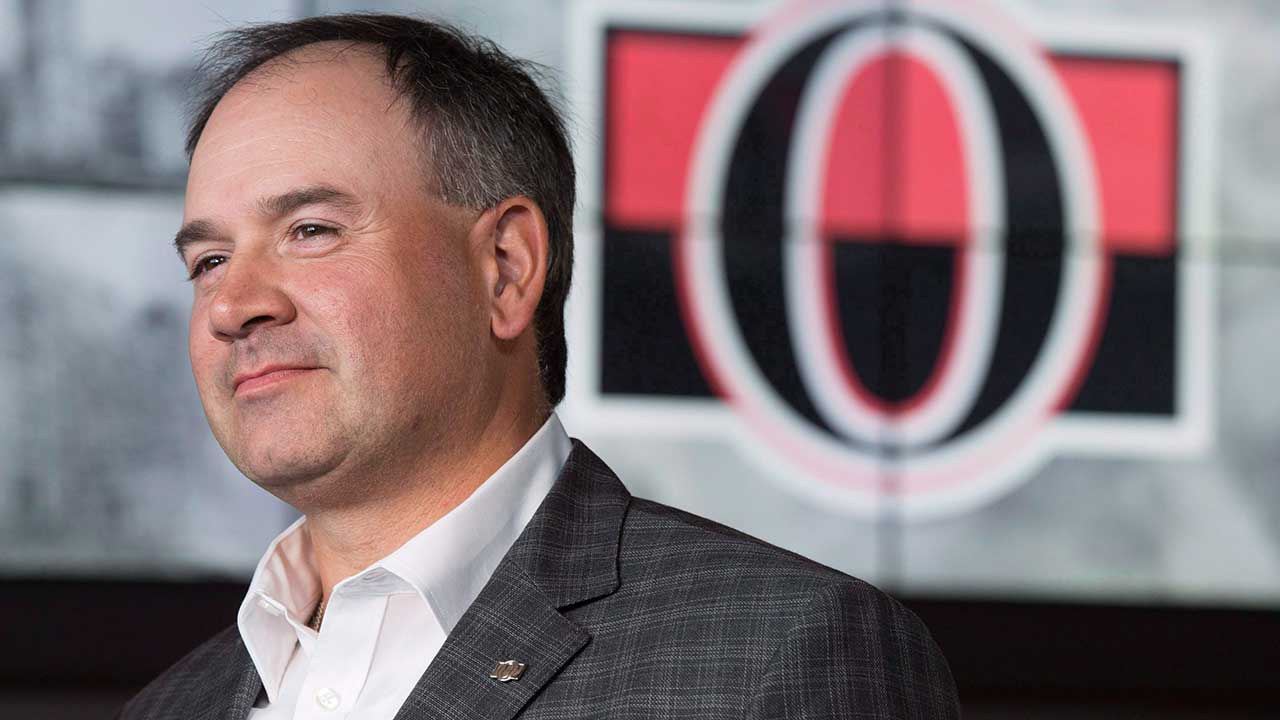 Girard came from Nashville in the deal and has stepped in to become a top-pairing defenceman alongside Erik Johnson. After the trade, Colorado nearly doubled its previous season's point total, from 48 to 95 points — fourth in the Central, 8th in the conference — only to lose in the first playoff round.
The one 2018 draft pick netted by Colorado, a second-rounder from Nashville, was flipped to Pittsburgh for a third- and a fifth-round pick, used to draft a Finnish goalie Justus Annunen and Russian defenceman Danila Zhuravlyov. It will take years to close the books on the Duchene deal, considering the two more Ottawa picks for Colorado.
This season, the Avs have run hot and cold, and lately more cold than hot.
Before Monday's impressive 6-3 victory in Toronto over the Maple Leafs, the Avs had posted one win in their previous 10, tumbling from fourth in the Western Conference on Dec. 21 to a more precarious wild-card position. That wasn't their first steep dip. On Dec. 6, the Avs were tied with Nashville for first in the West with a 17-7-5 record.
On their best days, Colorado's electric top line of MacKinnon, Mikko Rantanen and Landeskog dances and finishes and carries the team to victory. The big trio has scored nearly 50 per cent of Colorado's goals. On their worst, the Avs get lit up in their own end and can't find secondary scoring. Rantanen (69 points) and MacKinnon (66) are in the top five of NHL scorers.
At the moment, the Avs are tied for third in the Central with 50 points in a very fluid Western Conference playoff situation.