Hockey is a wonderful, cruel game at the highest level. It'll give in one game or one month or one season and then take the next.
We need look no further for an example of this than the Ottawa Senators. Last year, the Sens were a perfectly mediocre team that defied the odds to come within a game of the Stanley Cup final. This year, Ottawa is still a perfectly mediocre team, but are this time just two spots out of last place in the NHL.
Last year was a blessing in that the Senators had a magnificent playoff run that energizes fans and GMs and players work hard to achieve. Ottawa only went that deep twice during its decade as a legitimate top team in the NHL.
But last year was also a curse. The Sens finished just four points above the playoff cut line in the East and were even outscored during the regular season. Unless there is some overriding factor that dramatically changes things (a big trade, poor health, replacement-level goaltending, etc.), an 82-game regular season generally says what needs to be said about a team. A deep playoff run raises expectations, but doesn't change the underlying reality and that's a bad combination for job security across the board.
[snippet id=3317857]
In a lot of ways, the current Senators are not substantially different from the 2016-17 version.
One small but significant difference is that the closest games have gone the wrong way this year. Through the regular season and playoffs combined last season, Ottawa was 12 games above .500 in contests decided by a single goal (excluding empty-netters) but three games below .500 in contests decided by multiple goals. This year, the Sens are already seven games under .500 in those close decisions.
Much was made of Guy Boucher's system tipping the scales in close games, but when a team lives that close to the edge there's always a risk that the slightest push will bring everything tumbling down.
There's been basically no change on special teams. Last year with the goalie in, Ottawa had an overall combined rating of minus-5 between power play and penalty kill. This year the team is on pace to be minus-six. Under Boucher, the club's combined special teams rating has always been weak, even when it was enjoying success.
Most of the fundamentals are the same at even strength, too.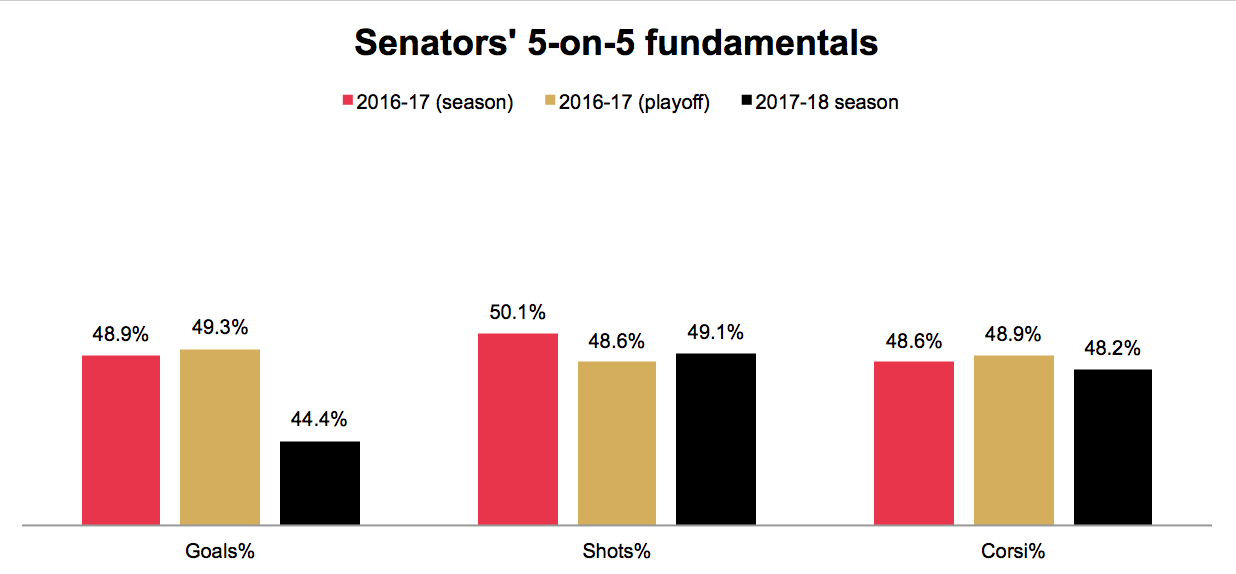 There sure is a lot in common between Ottawa's mediocre 2016-17 regular season, great 2017 playoff run and terrible 2017-18 season. All of them had a Corsi rating between 48 and 49 per cent, just shy of the break-even mark. On balance they were all slightly better by shots, ranging between 49 and 50 per cent.
Teams are capable of over- or under-achieving their shot metrics, but those puck possession totals form the baseline measure of performance. Even with great shooters and goaltending, teams around 50 per cent don't generally win the Cup.
Ottawa hasn't had a real problem with its shooters this year. The difficulty lies entirely on the preventative side of the puck: too many shots against are turning into goals against, despite Boucher's vaunted defensive system.
Some of this is explained by goaltending.
Craig Anderson is 36 years old and, while a proven starter, he has some history of bouncing around in terms of his performance. His current .897 save percentage is his worst number since arriving in Ottawa, but given his age it's not entirely shocking, either.
Mike Condon's .900 save percentage is even less surprising. Fans in Montreal will remember him posting a .903 number when thrust into the starting role after Carey Price was hurt in 2015-16, and 100-odd games into his NHL career his overall save percentage is a pedestrian .907. The surprise isn't that Condon is underachieving; it's that he was able to keep Ottawa afloat last year.
That's not the whole picture, though. It appears there's a defensive component to this as well that goes beyond shots against.
At 5-on-5, the Senators rank 12th in the NHL at preventing shots against. Corsica's expected goals against metric has them 17th in the league, though, while Natural Stat Trick's scoring chance system has them just 21st at preventing chances. Meanwhile, the heat maps at HockeyViz show a team that, like last year, is good at preventing chances in the high slot, but one which has had increasing difficulty in the crease area.
The primary culprits at this point are well-known. Erik Karlsson has not been completely healthy, but he has some of the best chance-against numbers on the team's blue line, though he's bleeding goals against. Johnny Oduya, a 36-year-old defenceman whose best days are well in the rearview mirror, has been among the worst performers. At the bottom of the barrel are Dion Phaneuf and Cody Ceci. Together, those players represent Ottawa's most common top-four blueliners this season.
There's no single easy solution there, but there are a bunch of things that could be done to slow the bleeding. History suggests Karlsson will come around. There's no reason for Oduya to be playing ahead of better, younger players, and if the coach won't stop leaning on a veteran crutch it's the GM's job to take it away from him.
Finally, splitting Phaneuf and Ceci and bumping the latter down to a more sheltered role seems an obvious move. The pairing was Ottawa's worst last year during both the regular season and playoffs, which is more than enough time to see it's not working.
Such steps may improve but will not radically transform the Senators. This is a playoff bubble-caliber roster just like last season, and there is no path to greatness as the team is currently constructed beyond hoping lightning strikes again and they can somehow win every close game they play.
With the hole they're in now, that much good fortune might not even save them.
[relatedlinks]