The controversial tenure of President and GM Peter Chiarelli is over in Edmonton after his dismissal midway through a game against Detroit Tuesday night. Arriving with much fanfare and high expectations, Chiarelli got the Oilers into the playoffs in 2017, and they even won a round. The team has fallen back since then, though, and a string of questionable signings and trades had his future in doubt for quite some time.
It wasn't all bad. For example, the signing of defenceman Oscar Klefbom to a seven-year contract with a $4.167 million cap hit is turning out to be great value for clearly the most important defenceman on the team. The Cam Talbot trade and extension may not have worked out in the end, but at the time, it was perceived as a good deal that paid off in a short playoff run.
But overall, the negative far outweighed the positive. The approaching trade deadline comes with a lot of pressure as the clear message from above is that getting back to the post-season is the priority. Given Chiarelli's future was already in doubt if they missed the playoffs, the team decided to move on with a month to go before the deadline.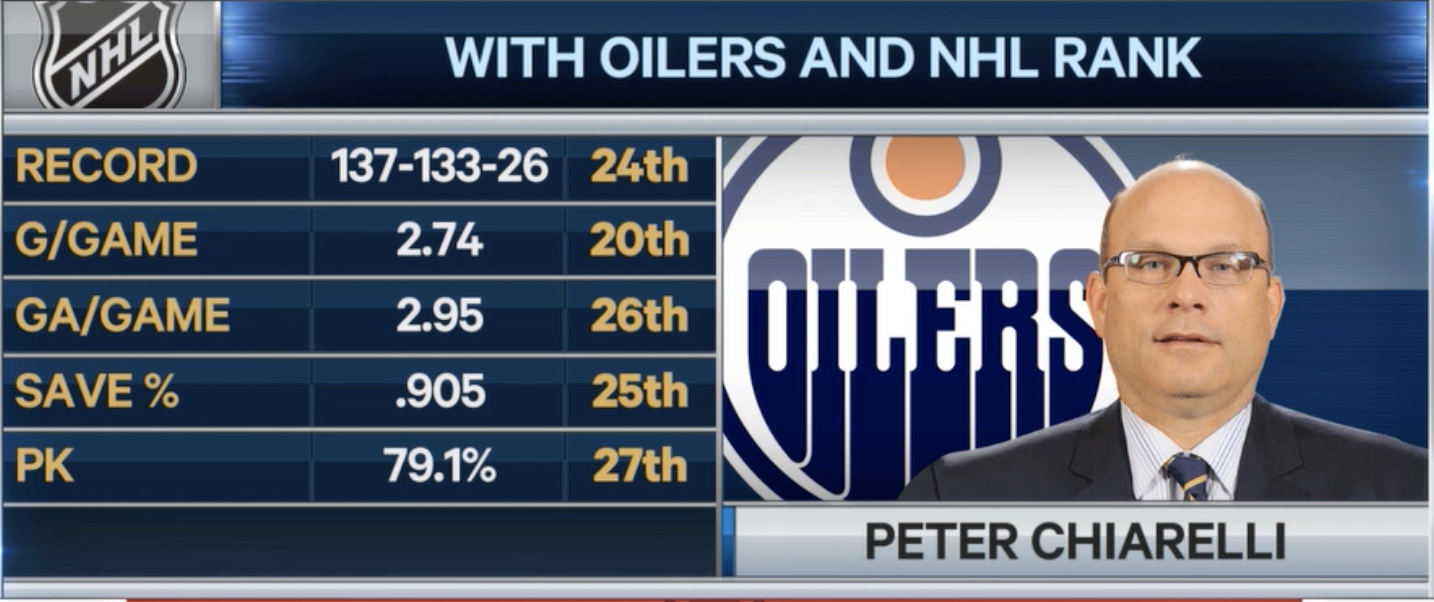 We hear a lot about the trades Chiarelli made in Edmonton. Here are seven of the most notable ones:
June 26, 2015
To Edmonton: Griffin Reinhart
To NY Islanders: 2015 first- and second-round picks
This was Chiarelli's first move as Oilers GM. Acknowledging a need to add defencemen (the Oilers traded Jeff Petry to Montreal at the deadline, one month before Chiarelli was hired), Chiarelli decided to target Griffin Reinhart. Reinhart was three years removed from being taken fourth overall in the NHL Draft, but had only played eight NHL games with the Islanders.
"We've been hunting for defencemen and there's a lot of intelligence on Griffin internally," Chiarelli said at the time. "I've always liked him as a player. He's been behind a lot of good defencemen in Long Island. I'd had discussions with Garth (Snow), on and off over the last month or so. We just kind of ramped up those discussions. I saw him in pro a couple times last year. I saw him in London at the Memorial Cup and he was just a horse. Happy to get him. We had some guys at 16 we liked, but this was something we decided to act on. He's ready to play and he's going to be a very good part of our D."
Reinhart played 12 games with Edmonton between Oct. 8 and Nov. 25 and then spent most of the rest of the 2015-16 season in the AHL. He returned to NHL action on March 8 and stayed with the Oilers through to the end of the regular season, averaging 18:04 of ice time.
After that, Reinhart never played a regular season game for the Oilers again. He got into one playoff game in 2017 and recorded an assist, but was ultimately lost to Vegas in the expansion draft.[sidebar]
On the other side of the deal, the picks Edmonton traded turned into Matt Barzal (16th overall) and Mitchell Stephens (33rd overall). Barzal won the Calder Trophy last season with 85 points, while the 21-year-old Stephens, a former Team Canada World Junior standout, is currently an AHLer in Tampa's organization.
Of course we'll never know if the Oilers would have taken Barzal had they kept the pick, but it is worth noting the players who were selected immediately after Barzal were Kyle Connor, Thomas Chabot, Evgeny Svechnikov, Joel Eriksson-Ek, Colin White, Ilya Samsonov and Brock Boeser.
June 27, 2015
To Edmonton: Cam Talbot, seventh-round pick
To NY Rangers: 2015 second-, third- and seventh-round picks
We'll call this one a win because at the time Edmonton desperately needed goaltending and Talbot looked ready to be a good No. 1. And it actually worked out pretty well in the first two years. Talbot's save percentage over those seasons was .918, which was tied for 12th-best in the league. And in Year 2, Edmonton returned to the playoffs with Talbot playing an impressive 73 games.
Whether it's because of the lacking defence in front of him or something in his own game, Talbot has gone through a deep decline in the two seasons since, posting a .908 save percentage last season and an .894 mark this season. Mikko Koskinen's extension will effectively end Talbot's time with the Oilers and opens up the possibility he'll be dealt before the trade deadline. He is on track to be a UFA this summer.
Only one of the three draft picks Edmonton moved have turned into NHLers so far as defenceman Jonas Siegenthaler has four points in 21 games with Washington this season.
December 28, 2015
To Edmonton: Zack Kassian
To Montreal: Ben Scrivens
Scrivens had played 57 games for the Oilers in 2014-15, but the arrival of Talbot pushed him out the door. In Kassian, the team got a big-body player they were after who had a 14-goal season in his past.
Kassian has filled a depth role for Edmonton the past four years and provided a physical presence. At the time of the deal, Kassian had just gone through the league's substance abuse program and Chiarelli said the player was on a short leash. In 2017, following a 24-point season, Kassian signed a three-year extension with the Oilers.
February 27, 2016
To Edmonton: 2016 third-round pick
To Pittsburgh: Justin Schultz
In each of Schultz's first three seasons with Edmonton, he averaged the most ice time of any Oilers blue liner and peaked at 11 goals and 33 points in 2013-14. In Chiarelli's first year at the helm, though, Schultz effectively became a third-pair blueliner who was also used on the power play. He scored just 10 points in 45 games, and his defensive play especially was criticized by the fan base. Eventually, the crowd even started booing him at home games.
Schultz, who was in the last year of his contract, was traded at the deadline to Pittsburgh. He returned to top-four status there and, in his first full season with the Penguins, posted career-highs in goals (12) and points (51).
The Oilers chose Filip Berglund with the draft pick they acquired; the 21-year-old remains with Skelleftea in Sweden.
June 29, 2016
To Edmonton: Adam Larsson
To New Jersey: Taylor Hall
One for one.
In one of the most shocking one-sided deals in NHL history, the Oilers shipped out Hall after a 26-goal, 65-point season in the third year of a seven-year contract. Larsson was the fourth overall pick of the 2011 NHL Draft, but hadn't scored more than 24 points in a season. A defensive specialist, Larsson averaged 22:31 of ice time for the Devils in his final season with the team.
"I've been very quite public in saying we're looking for some defencemen, we really gotta shore up our defence," Chiarelli said at the time of this trade. "We pounded the pavement and this is the price you have to pay. It's unfortunate it's a player of Taylor's caliber, but we're getting a really good player back."
Larsson has been a big-minute eater for Edmonton since being acquired, but of course, Hall won the Hart Trophy last season with 39 goals and 93 points. He has 37 points in 33 games this season, but has missed time with injury.
June 22, 2017
To Edmonton: Ryan Strome
To NY Islanders: Jordan Eberle
Eberle had a down season in 2016-17, scoring just 20 goals in 82 games with a career-low 9.6 shooting percentage. The Oilers had big contracts on the horizon to give to Connor McDavid and Leon Draisaitl, which Chiarelli cited as a reason why they needed to move out a player like Eberle, who was counting for $6 million against the cap.
"A function of a number of different things," Chiarelli explained about the trade, per the Edmonton Journal. "One: a chance to acquire a player like Ryan Strome. Two: No secret we have to clear up some space to sign both Connor and Leon. Three: There are times that these deals come about and you have to act on them…A trade has to make sense. You've seen it around the league with successful teams, these moves have to be made. We're fortunate in that we get a good player back."
Eberle rebounded to 25 goals in his first year with the Islanders, forming a strong second line with rookie Barzal as his centre. Ryan Strome scored 13 goals and 34 points in his only full season with Edmonton while failing to ever find a spot in the team's top six. His time with the Oilers didn't last long…
November 16, 2018
To Edmonton: Ryan Spooner
To NY Rangers: Ryan Strome
With just two points in 18 games, Strome was shipped to the Rangers for a player who actually had fairly decent offensive totals, though nothing that screamed a second-liner. Spooner had 41 points in 59 games with Boston and the Rangers in 2017-18, but got off to a slow start in his first full season with New York and never found a groove in Edmonton.
Just this week Spooner was put on waivers where the 26-year-old cleared.
[relatedlinks]