Whew, that was fun.
The Stanley Cup Playoffs came to a close Sunday as the Pittsburgh Penguins defeated the Nashville Predators, 2-0, in Game 6 of the Final to claim their second straight championship.
Here are some things we learned from the eventful evening.
Bonino's broken tibia
Nick Bonino was sidelined from the final four games of the Cup Final with a broken tibia in his left leg, he confirmed during an interview with David Amber following the game.
The centre sustained the injury blocking a shot from P.K. Subban in the first period of Game 2 and received an injection before trying to play through the pain. He returned to the game briefly before the swelling became too much, causing him to miss the remainder of the series.
Bonino did return to the ice on Sunday, though, to take part in the post-game festivities. He was asked about the Penguins' mindset while dealing with a wide range of injuries throughout the playoffs.
"I think everyone would. You have to," Bonino told Amber. "We faced a lot of injuries this year, starting with [Kris Letang]. Throughout the playoffs guys have gone down, [Sidney Crosby] went down in Washington. We found a way to win. When you want to lift the Cup like we did tonight, you have to be able to do that kind of thing."
Subban wants the loss to linger
Subban spoke to Amber following the game and his disappointment was evident. The Predators defenceman said he wanted to make sure his team remembers the agonizing feeling that Sunday brought.
"I don't think you want to fight it. Just let it sink in and take it because to get back here, that's what's going to drive us," Subban said.
"We'll be back again next year."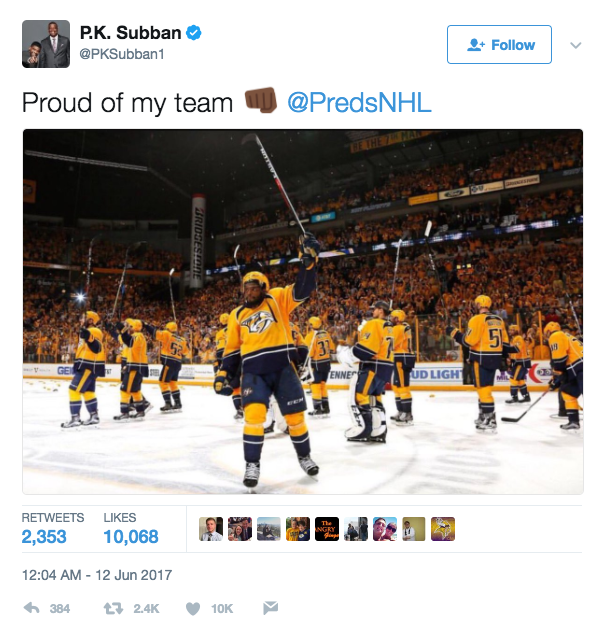 Who did Crosby hand the Cup to?
It's become a magnified question each year: Who'll be the first person offered Lord Stanley's Mug by the winning team's captain.
On Sunday, Crosby chose to hand it to defenceman Ron Hainsey.
It was a classy move by Sid to give the Cup to the 36-year-old Hainsey, who after 14 campaigns and 907 regular-season contests, finally got his first taste of the Stanley Cup Playoffs this spring.
Referee robbery?
A major talking point from Game 6 was the goal that never counted. (Read all about it here.)
Essentially, due to an early whistle, the Preds were robbed of a goal in the second period that would have given them a 1-0 lead.
It's a disheartening occurrence in an elimination game, but Nashville captain Mike Fisher was forgiving in his post-game comments.
Back-to-back for Sid, too
There's going to be a lot of talk in the coming days and weeks about Crosby. Rightfully so.
After capturing his second straight Conn Smythe Trophy, awarded to the playoff MVP, he's firmly reclaimed his position as best player in the world, and also makes a convincing case that he's one of the top five to ever lace up skates.
Oh, and it's also worth noting that he doesn't turn 30 until Aug. 7.
Shania is impressed … much
Canadian country music star Shania Twain is overjoyed with the success her nation's favourite sport is receiving in Music City USA.
"Our national sport is infectious," she told Scott Oake. "Nashville has the bug."
Check out the interview below and see if you can figure out why Twain is wearing sunglasses indoors … at night ¯\_(ツ)_/¯
Murray, forever a rookie
Penguins goaltender Matt Murray accomplished a feat never accomplished before by an NHL goaltender — the 23-year-old captured two Stanley Cups as a rookie.
He was a late-season call-up in 2016, when he backstopped the Penguins to glory. Then, after beginning these playoffs injured, he reclaimed his starting job from Marc-Andre Fleury to do it all over again.
Matt Murray just finished his rookie season…but he also just led the #Pens to a #StanleyCup victory for the second consecutive season… https://t.co/zLyb3bibdz