While there's nothing official from either the San Jose Sharks or Los Angeles Kings, designs for their respective Stadium Series jerseys appear to have made their way online.
The Sharks and Kings will meet at Levi's Stadium on Feb. 21, and now we may have an idea of what they will be wearing.
Hockey uniform and design blog Icethetics has served up renderings of the jerseys. Concept art for the Sharks' jersey (pictured above) was created by Matt McElroy at Icethetics.
A first look at potential designs for the Kings' sweater first surfaced at Mayor's Manor where artist Justin Cox put together a concept.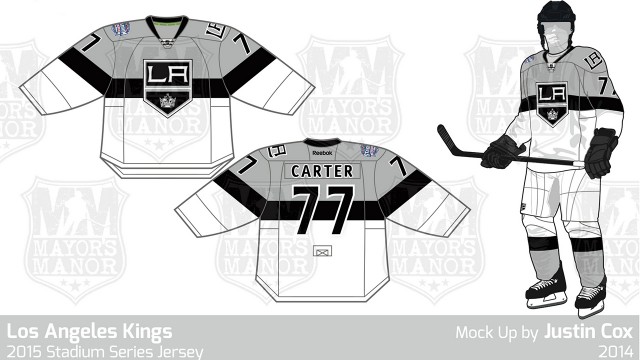 As you can tell, the designs are very similar save for the colour schemes.
Again, this is by no means an official announcement but both Icethetics and Mayor's Manor worked with detailed information they received regarding the designs.
---
More NHL on Sportsnet:
Subscribe: Rogers GameCentre Live
Rogers Hometown Hockey | Broadcast Schedule
Sportsnet Fantasy Hockey Pool
---