With all the great work being done in the NHL analytics world, it's frustrating to continually see intelligent hardworking analysis tripped up by faulty NHL data. Jennifer Lute Costella (JenLC) is one of my go-to bloggers when it comes to the Chicago Blackhawks, and she recently put together an expansive breakdown of Patrick Sharp's 2015 scoring struggles.
Diving into the rabbit hole that is war-on-ice.com, she argued that this slump was likely based on Sharp stringing together some poor shooting luck.
The problem, as always, is the reliability of the data we are analyzing.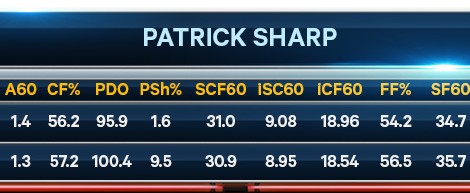 A review of Sharp's stats made it clear that his struggles came at even strength, and it's easy to see where and why the assumption of bad luck entered the picture. Sharp's goals are down and his PDO points to extremely poor luck based on his poor shooting percentage. His zone usage, scoring chances and possession numbers all match up with his previous season, where Sharp shot an above average 9.5 percent.
This is where things got interesting, as Darryl Belfry, an NHL skills development coach who has worked with Patrick Kane, entered the conversation.
"So what's wrong now," Belfry wrote, "well injuries derailed his momentum and mobility. As he worked his way back into he lineup he couldn't find his timing. In reaction to lack of production Coach Q drops him in the lineup. Once he plays a few shifts outside a line that doesn't have 88 or 81 the possession timing is thrown further out of whack. Now instead of sliding into seams, he is 'standing around' with longer and longer stretches of time where no passes are coming his way in those seams. In reaction to 'standing around' and the frustration of not getting the puck in those seam windows, he compensates by starting to 'chase the puck' for contact more to force more turnovers. Now instead of extending possession sequences he is in never-ending cycle of going from one board battle to the next."
As I reviewed and tracked Patrick Sharp's last two seasons some of Belfry's observations jumped out at me. Once Sharp was separated from Hossa and Toews, most of his even-strength minutes came alongside Andrew Shaw and Brad Richards. While I expected more pre-shot movement was the answer, neither season saw Sharp receiving one-timers or cashing in rebound opportunities. What I observed was Sharp not getting the puck in stride in transition. It affected his ability to fill seams and instead he became the main puck handler attacking the blueline.
In 2013-14, Sharp was able to free himself for 12 breakaways, the 2014-15 season has seen that number drop to two. Without Hossa and Toews feeding him in stride and opening up space for him, Sharp has maintained a high shot count, but the majority of the shots have come after crossing the blueline, pushing wide and firing pucks from all angles.
This is visually evident in his expected shooting percentages.
Remove the white noise of luck, and it becomes clear that Sharp just isn't generating the same type of opportunities he did in 2013-14. Last season, he converted even-strength opportunities at a slightly above average rate. In 2014-15, he hasn't met expectations.
Here, we run into collection issues again, as the tracking data provided by NHL.com is spectacularly inaccurate and lacks pre-shot movement.
Here is a side-by-side of Patrick Sharp shot charts, one assembled by visually tracking the co-ordinates through the use of NHL GameCenter and the other based on current logged locations courtesy of War-On-Ice.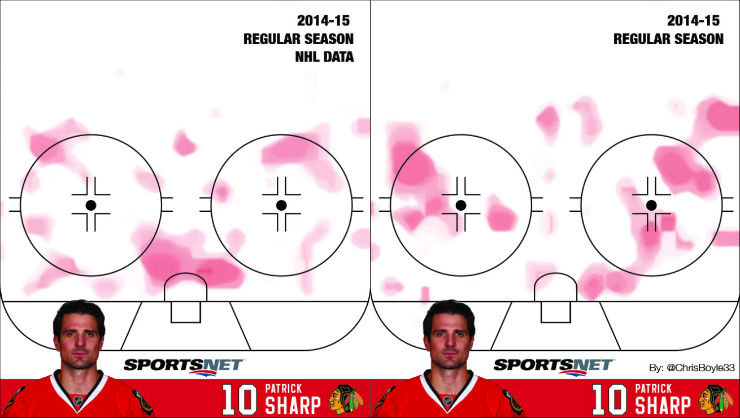 The NHL.com data inaccurately shows Patrick Sharp penetrating the home plate area, while visual tracking and research paint an entirely different picture, showing a player who is being contained on the perimeter because he is forced to shoot off the carry.
Over and over Sharp gains the zone. If the D provides him the spacing to shoot, he fires from above the hash marks. If he's pressured, he swings wide and fires from bad angles.
The difference in his shooting percentage becomes glaring when we compare and contrast it to the previous season, where he was able to maximize his asset base with Hossa and Toews.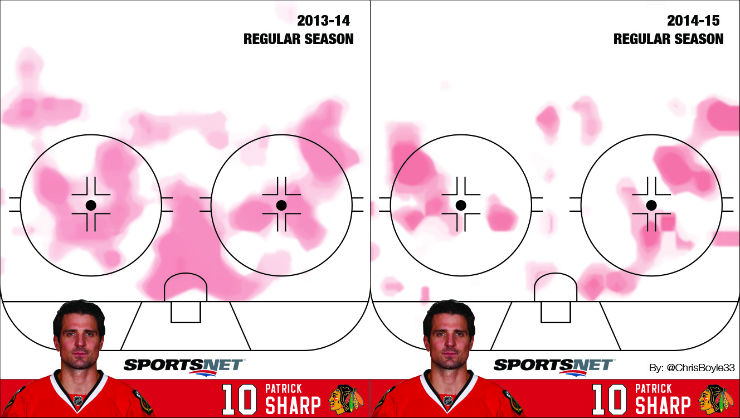 When we remove the noise created by inaccurate data, we begin to see a reason why his shooting percentage has crashed—beyond luck. In 2013-14, Sharp was consistently gaining the home plate area for high-quality opportunities. This year, those opportunities have virtually disappeared, which matches up nicely with the eye test provided by Belfry.
"What's wrong with Patrick Sharp is his current game habits are in conflict with his asset base," Belfry writes. "He is not a player who can dictate conditions on the ice, he is a partner on a line not a centrepiece. Must play with the right type of player—elite possession player—whom he can read their possession habits and dial in his timing with so he can do what he does best … Patrick Sharp is an unreal talent, however, like many players who play in the NHL, he must find a way to adapt his game to changing personnel, role and ice time and find a way to continue to stay true to his asset base."
Sometimes, in our rush to provide counter-intuitive observations and arguments, we ignore the answer right in front of us. Sometimes a slump isn't the result of poor play, but rather of the environment a player has been placed in. I referred to this in regards to Ben Scrivens early in the year, and Alexander Ovechkin last week.
Patrick Sharp remains a great player, but he needs to be placed in a situation that allows him to succeed. The Blackhawks simply haven't provided that this season.