Even though neither Connor McDavid nor Sidney Crosby currently leading the NHL in scoring, they are the two biggest offensive talents in the NHL today. Telling you they're both amazing wouldn't be very interesting, but as they face off for the first time this season, let's look at how they accomplish their dominance.
McDavid and Crosby are both capable of taking teams on their back and leading them to wins, but they play different styles. Both players like to attack off the rush, but McDavid is all speed and hands, while Crosby uses more diverse skating techniques to alter his speed, and protects the puck with his body to create space. Once in the offensive zone, Crosby is a forechecking demon who works the boards to create space for his teammates, while McDavid likes to hang on to the puck and deke around players — he's a little more patient.
Last season Crosby generated nine scoring chances for his teammates per 20 minutes at even strength, whereas McDavid generated 8.9, which were easily the top two marks in the NHL. We can dig into the data to see how differently those scoring opportunities were created. Because we're so early in 2017-18, we'll use last season's statistics for a better sample size.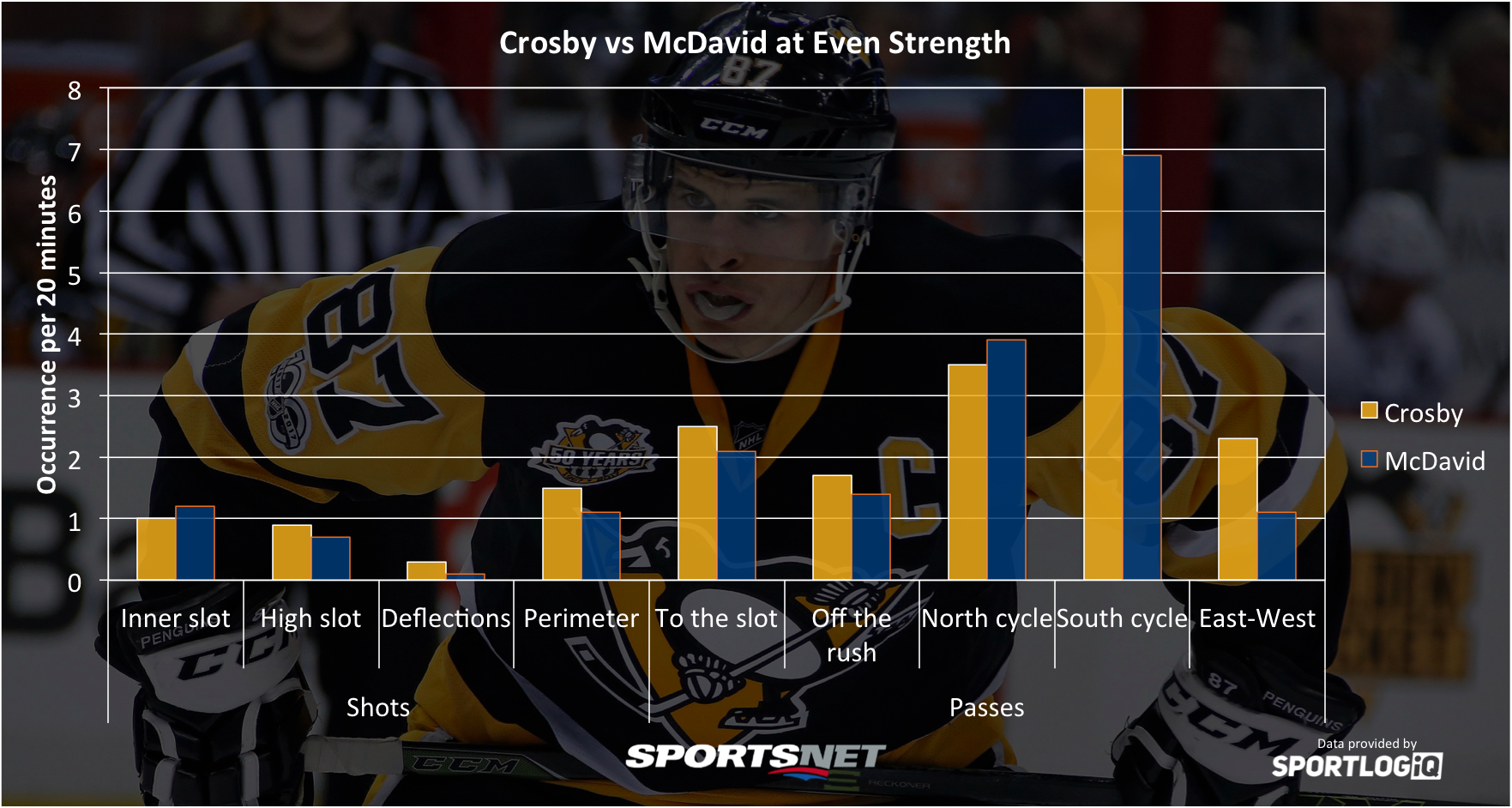 One thing that's apparent right away is Crosby is a bit more of a high-event player than McDavid. He makes more plays with the puck in the offensive zone per minute played, and shoots and passes more often.
McDavid, meanwhile, is a bit more exacting, getting more shots off in the high danger area, and shooting far less often from the perimeter. One of the reasons for this is that Crosby likes to shoot from sharp angles to catch goaltenders off guard. Those are low percentage plays, but because he's Sidney Crosby he's still able to generate a lot of offence with those perimeter shots.
Crosby also makes more of those dangerous passes to the slot and off the rush, and moves the puck East-West more often than McDavid, whereas McDavid sends the puck down low to start the cycle more often. Crosby usually plays down low in the corners and behind the net, so he passes up to the defencemen more often to create space for himself and other forwards down low.
From watching the two on the ice it's clear Crosby is the more aggressive player, and that holds up in the numbers. McDavid's style is a bit more cerebral — he waits to make the higher percentage play more often, or moves the puck in closer himself. McDavid completes a successful deke in the offensive zone 1.7 times per 20 minutes played, which is more than any other NHLer and almost double Crosby's 1 per 20 minutes.
McDavid's patience leads to a slightly higher pass success rate, as he completes 66.9 per cent of his offensive zone passes to Crosby's 64 per cent, which helps the Oilers maintain possessions in the offensive zone longer.
While Crosby completes more passes off the rush than McDavid, part of the reason for that is often McDavid's teammates can't keep up with him, as he leads the NHL in scoring chances off the rush with 1.5 every 20 minutes played, with Crosby down at 0.9 and 24th among forwards.
It's interesting to look at how different these two players are with the puck, and you can see it when you look at possession time as well.
McDavid has the puck about 45 seconds in the offensive zone for every 20 minutes of ice time, whereas Crosby has it for 41 seconds. That gap isn't big, but in those 41 seconds Crosby makes 48.54 plays on average, while McDavid makes 44.18 in his 45 seconds. It's a lot of plays no matter how you slice it, but Sid is much quicker moving the puck, where McDavid takes his time.
Another area of difference between the two players is play without the puck in the offensive zone; how do they go about keeping their team on the attack after they lose the puck?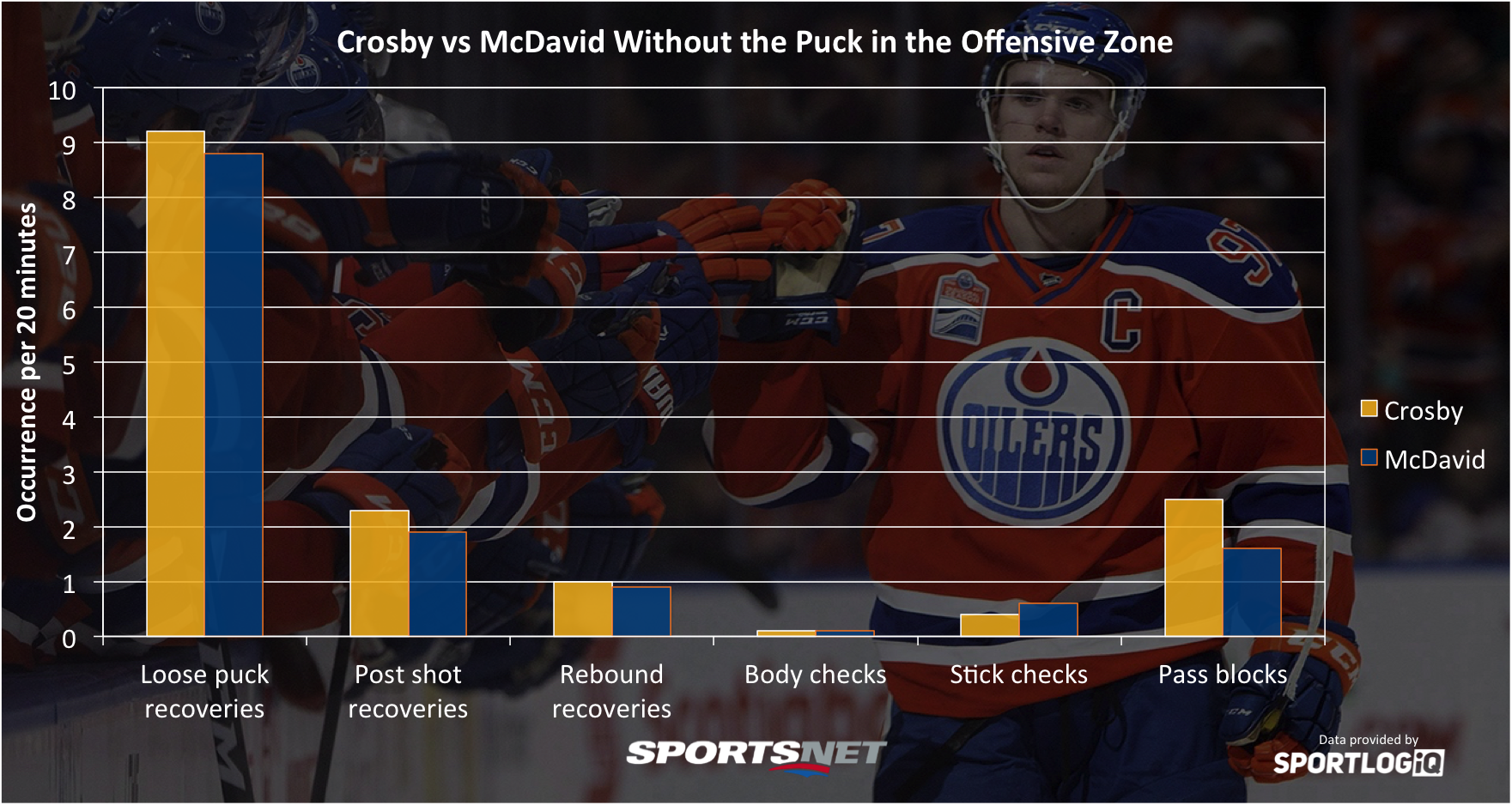 Once again Crosby's aggressiveness shows here, as he recovers more loose pucks, including after he or his teammates attempt a shot, and on rebounds to create second chances. The differences there aren't very large though.
Neither player is overly physical with their body to remove possession from opponents, but McDavid is more aggressive with his stick, using his quickness to get on players before they're ready to protect the puck, and causing turnovers.
Crosby prefers to get into passing lanes as teams attempt to break out and intercept those pucks to get back on the attack.
It's important to note that there's no better way to go about things here. Both players are generational talents and they simply have two very different approaches to accomplish similar goals. Crosby plays almost like a fourth liner with elite skill, and McDavid is closer to the typical style you expect from the best offensive players in the game.
Both are fun to watch and are special in their own way.