Joe Thornton's offensive production took a bit of a hit last season, dropping from an average of 74 points per season the prior three years to just 50 total in 2016-17. His biggest drop was his goal scoring, which was never his strength, but was always decent. Thornton scored 19 goals the year before, but only seven this past season, and three of those goals were on empty nets.
The resulting feeling surrounding Thornton — who is turning 38 a day after free agency opens on July 1 — is that his best hockey is behind him, though he's still a very good player.
The tricky thing about comparing Thornton to last season is that the percentages swung wildly for him year to year. In 2015-16 his teammates scored on 10.69 per cent of their shots on goal compared to 8.09 per cent in 2016-17. In 2015-16 Thornton accumulated points on 69.2 per cent of his team's goals while he was on the ice, compared to just 53.3 per cent this past season. Those are statistics that tend to vary wildly, meaning Thornton could easily see a reversal next year and get an increase in his point production.
Looking at those surface statistics it's tough to know how different Thornton played from one year to the next, but we can dig in and see how much, if any, decline there was in his game.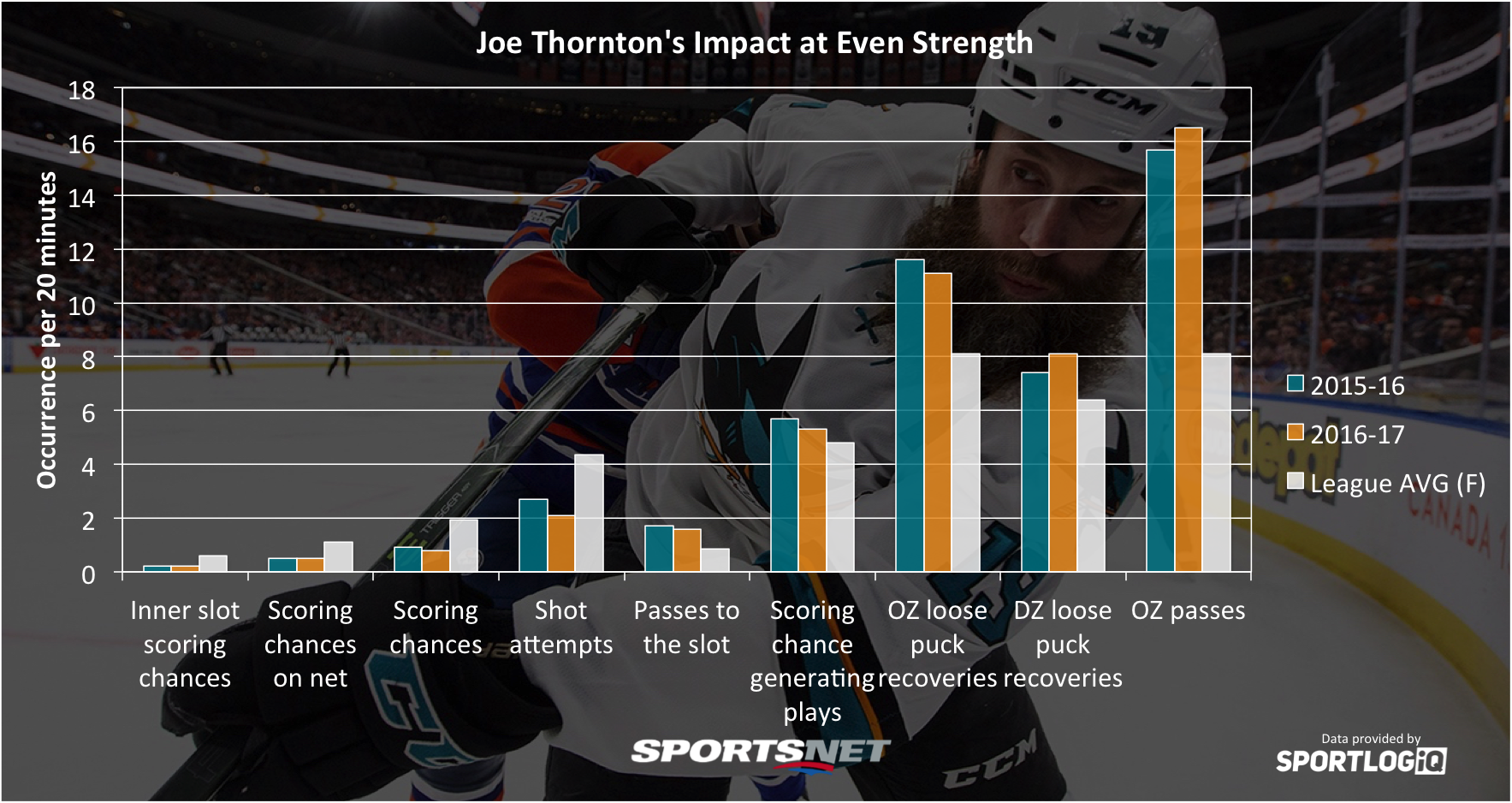 Here's the thing, there has been a little bit of decline in terms of what Thornton is doing on the ice per minute played at even strength, but he also spent more time in the defensive zone this past season than the prior one, and received fewer offensive zone faceoffs to begin his shifts. That could be enough to account for most of the decline in his offensive game, and when combined with the shift in percentages, a huge drop in point production.
Thornton at this stage of his career is a well below-average goal scorer, but his scoring chance numbers didn't shift by much year over year. Even though his personal shooting percentage at even strength dropped from 10.67 per cent to 5.56 per cent, he overperformed in 2015-16 and underperformed in 2016-17.
Thornton's overall shot rate is dropping, but again, his shooting was never what made him a special player, it was his playmaking. When it comes to that aspect, Thornton is still among the elite of the elite. Only 12 forwards produced more successful passes to the slot at even strength this past season, and no player in the NHL produced as many successful passes in the offensive zone overall.
To add to his playmaking prowess, Thornton remains one of the NHL's best puck battlers and forecheckers. Among forwards only Auston Matthews and Mark Stone recovered more loose pucks at even strength than Thornton, and no one recovered more loose pucks in the offensive zone.
Elliotte Friedman on possible destinations for Sharks dynamic duo
June 30 2017
Any decline Thornton has suffered offensively is lessened by his overall impact on the game. Thornton remained San Jose's strongest possession forward with a relative Corsi of +5.3 per cent this past season, a bit below his +6.7 per cent from the previous year, but still good for the 24th-best mark in the entire NHL among forwards with 500 or more minutes played at 5-vs-5 hockey.
Ultimately Thornton may be a 50-60-point player for the next couple of years instead of flirting with 80 points, but that's still borderline first liner production, and his impact on the rest of the game is so strong that he remains on the cusp of elite.
There aren't very many teams out there that wouldn't benefit from adding Thornton for a couple of years, meaning he'll likely get his pick of the litter at whatever asking price he wants.