TORONTO — Pavel Barber knows a thing or two about stickhandling.
The Toronto native's entire career is based upon that truth, in fact, as the slick-handed skills coach has become YouTube's preeminent source when it comes to breaking down and demonstrating the silkiest moves in the game.
In Part One of our series with Barber, the stickhandling specialist shed light on his off-season work helping NHLers like Jonathan Toews and Jake Virtanen fine-tune their on-ice ability. For Part Two, we asked Barber to break down the skill-sets of the 10 NHLers with the smoothest hands in the game.
Here's how it went down:
Barber weighed eight different variables to concoct his rankings, the culmination of which allowed for a judgment of the players who are the most effective with their stickhandling, rather than those who simply have the fastest or flashiest dangles.
The variables in question were as follows: (1) deception, (2) ability to shoot and pass out of handles, (3) ability to create space, (4) creativity, (5) puck protection, (6) small-area work, (7) soft touch, and (8) hand speed.
Here's how Barber's top 10 shakes out, and his thoughts on each of the game's best stickhandlers:
Barber: "Kane is No. 1. He took the longest time for me to understand what he's really doing with his stick and what made him so special. For him, he's just so unbelievably smooth with the puck and he's so efficient with his stickhandling movement … so good with that soft touch.
"They call him 'The Waterbug' because he's so good at entering the zone, just weaving and cutting through and setting up.
"He's one of the very few players in the NHL who can comfortably skate the puck across the blue line and set up and I think that's something where his hands are definitely a key contributor, although his skating is very good too."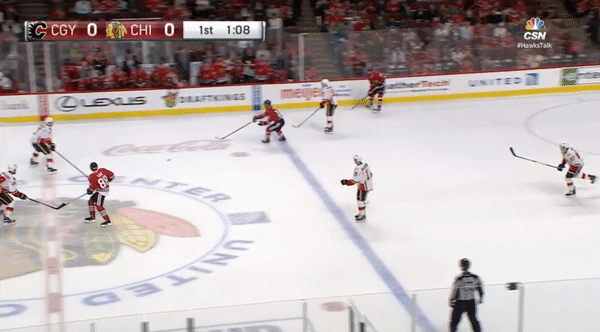 Barber: "Obviously everyone talks about his speed, but his stickhandling is incredible, especially given how fast he's going.
"To me, he's very good at not stickhandling too much — obviously being a fast skater, he doesn't over-stickhandle and he just knows how to use it at the right time. And just like Kane, he uses that quick handle of the puck to kind of throw defenders off to set up a shot or to set up a pass, or to cut back and switch the play, to go D-to-D or something like that.
"He's just one of the most deceptive players you'll see. I would probably say he's more deceptive with his body movements than Kane is. Just [trying to] understand where McDavid is going with the puck, it's unbelievable. I've seen him live three times and he'll cut back and go the other way and you'll be like, 'What? Where is this guy going?' It's nuts — he threw off everyone in the building. I've never seen anything like it."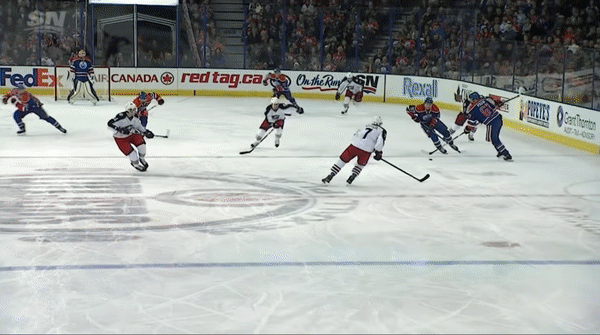 Barber: "I've been watching him since he was a Thunderbird and watching him tear up that league (the WHL). When he was in the world juniors, he was the last man back, putting the puck through the stick of defenders comfortably at the blue line.
"And to me, it wasn't a sign of cockiness, it was just, you know, 'I have this ability, I see this opening, and I'm going to take it.' That's one thing I really love about Barzal.
"And you want to talk about an elite skater, his skating is ridiculous. He's so good with the edge-work, being able to get into those tight spaces to set up plays, especially being such a good playmaker that he is."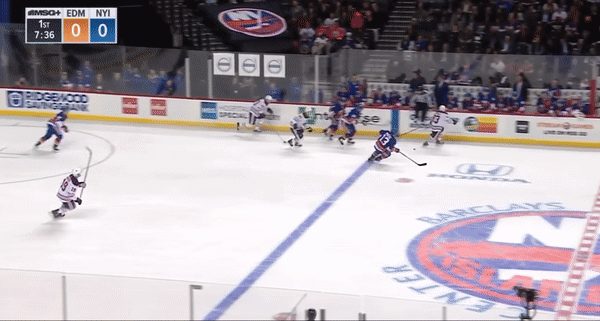 Barber: "Nathan MacKinnon, I thought he's been top five almost since he broke into the league. He's got such fast hands, but what makes him so dangerous is the fact that he also has crazy speed and a crazy good shot.
"I think there are very few players who can score from top of the circle and out, so the fact that he's got such a good shot leaves defenders having to over-commit a lot of the time.
"And he's got the stickhandling to back it up, so he can fake shots and just move around players, like we saw [against Nashville] — cutting in, faking the shot, pushing it out, faking another shot, another guy goes down. Just patient."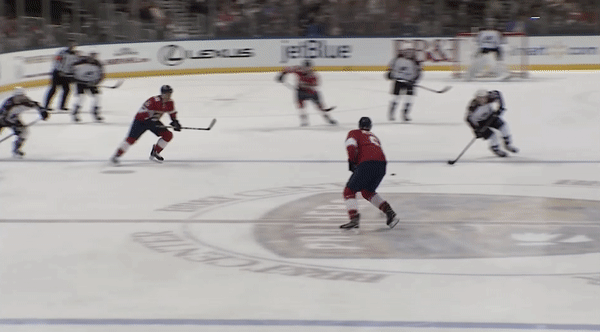 Barber: "I almost didn't put Crosby on the top 10 just because for him, he's more a player who uses his edges and body position and awareness to be good. But the way I judge good hands is having the right moves applied at the right time to get an effective result.
"He's the No. 1 puck protector in the world, which is the most important puck-control skill you can have, and you back it up with crazy hand-eye coordination that he's doing on a regular basis. Even tipping the puck, to me that's a big part of puck control and stickhandling — just having the ability to deflect pucks, bat pucks down and stuff like that.
"He's a bit underrated in the hands department because he's got such a flat blade, and the fancier moves that you see in highlight reels usually use the toe. With straighter curves, you rarely see players use the toe because you have to lift the heel so high up of off the ice and it's a little bit obvious. So he doesn't really do a lot of moves using the toe.
"But he can put the puck through a guy's stick, do a mohawk, and then use his body to push past. And he's so lower-body strong, so he's got those fundamentals to back up his stickhandling ability."
Barber: "Matthews, he's kind of like Kane in terms of how soft his hands are as well, and for a big guy — that's so rare to have a big guy with such good hands, so he's got the reach advantage and he's got good size.
"I'm not sure if you ever watch him in warm-ups, it's crazy just how quick and soft those hands are. And then in games, you'll see he's very good in the small areas.
"And just that toe-drag release shot — you know, that's a skill that you have to be very good with the toe and with good stickhandling to do, and he's obviously perfected it."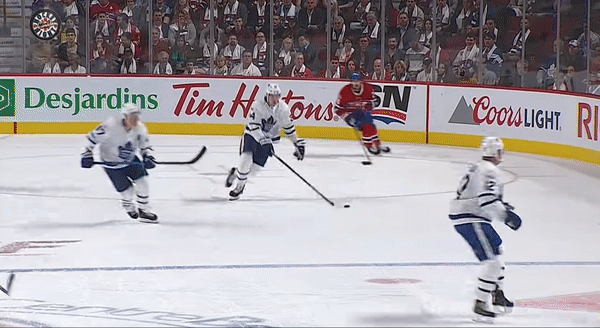 Barber: "In the past two years, he's really caught my eye. I was actually choosing between him and Brad Marchand, because they play together and they're both unbelievably skilled.
"But to me Pastrnak is such a creative player — we saw that goal he had earlier this year where he went between the legs but he had the outside leg leading, which isn't used a lot.
"I think it's such a smart move, because you can go between the legs and keep your feet moving that way, and it's very unpredictable because to a defender, it looks like you're going to keep going the other way. He reminds me a little bit of Datsyuk with just the amount of creative moves he's done."
Barber: "Yeah, that's an easy choice. I actually don't rank the shootout that high in my list either — obviously he's ridiculous in shootouts and we could talk all day about that — but he's another player that I think, especially for a big guy, you've got the reach, you've got the size.
"But he's so good down low with the puck. Winning 50-50 battles, getting the puck and just not panicking, being patient with the puck.
"For a tall guy, he uses a pretty tall stick too — having that little bit of extra reach, it's usually more difficult to stickhandle. But it doesn't look like it bothers him because he's pretty silky with the puck."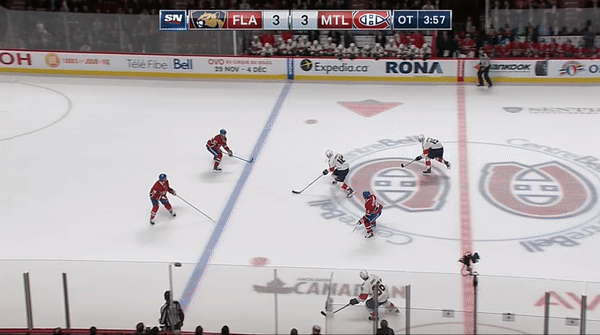 Barber: "Gaudreau, just his ability to always look up ice, see what's happening — he's able to gain the zone quite well, take on defenders one-on-one with extreme confidence, and he's a good setup guy as well. And it's something he says he works a lot on in practice, whether it's just setting up a line of pucks or things like that.
"I think as a small guy breaking into the league, you absolutely have to have top-of-the-line handles, and it's something that he's taken obviously very seriously in his training.
"He's a very fast player, very aware on the ice, but I think it's his stickhandling that really helps him achieve the success he's had in the game."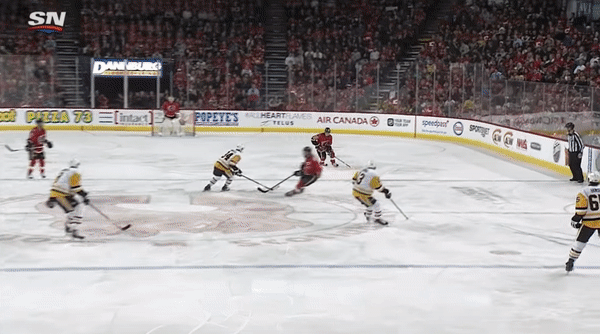 Barber: "He's such a good defensive forward as well, and those are always ones I have a special place in my heart for because of Pavel Datsyuk. But he's one of the guys again that's just so unbelievably creative with the puck — we see him do forehand pulls between the legs, backhand toe between the legs. Last year we saw him try the scoop play where he picked the puck up behind the net and tried to lacrosse-scoop it in.
"This is a guy who is very, very strong on the puck — he's a very strong body but he's also unbelievably creative. Again, going back to Datsyuk, that's one of the reasons I fell in love with him — he was doing something new every single game, but he was very effective so it wasn't like you would call him a showboat. He was just finding ways to kind of advance the stickhandling game and get results, and I see a lot of that in Filip Forsberg every time I watch him play. I just think he's so hard to contain, whether it's a small or a big area, and he's definitely a guy who keeps you on your toes and tries new things.
"That's something that I think a lot of players have to realize — you can't approach the game by thinking, 'What works now?' You always have to think about what's going to work later, and evolve with the game."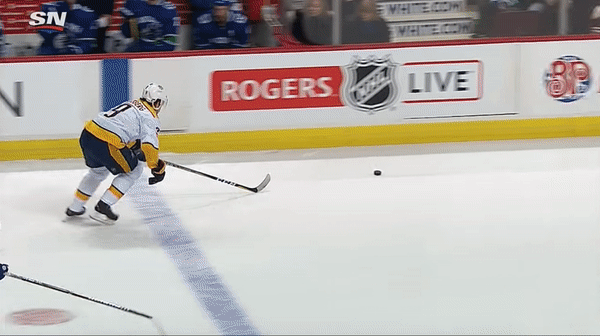 Most Underrated Stickhandler: Alex Ovechkin, Washington Capitals
Barber: "Not that he's an underrated player at all, but Ovechkin, he's obviously known for his shot, his one-timer in the slot. He's so fast, he's got such a good shot, but he's got incredible hands.
"The reason that I didn't put him on the top 10, and I almost did, is that his move set isn't as advanced as other players, from what I see. He doesn't have as many moves. But that's not even really a deterrent, and if I worked with him personally I wouldn't even tell him to change anything up, because with him, he's one of those players who can score from so far out that he's developed this fake shot — fake-shot forehand option, fake-shot backhand option — to perfection.
"It works for him, and that's one thing — if you have a laser beam of a shot, you really need to keep it simple, have the puck loaded on the toe as you approach the D, protect it a little bit behind your body, and then you've got to be able to read the play. And I've seen him do that so many times, and it's just like… what are you going to do as a defender in that situation?
"Obviously he's not as good with the soft touches as the top 10 guys I mentioned but I think high speed and just in terms of overall effectiveness, he might be a little bit underrated."
Honourable Mentions: Evgeny Kuznetsov, Evgeni Malkin, Artemi Panarin,
John Tavares, Brad Marchand, Taylor Hall
[relatedlinks]