As the hockey laureate of Canada, it's only fitting that Dave Bidini organize the concert at each and every Scotiabank Hockey Day in Canada.
The long-time author and musician is in charge of gathering performers and NHLers alike to write hockey-themed tunes to celebrate the game at the The Music of Hockey Concert, hosted by Ron MacLean at 7:30 p.m. local time Friday night. This year's Hockey Day event is being hosted by Kamloops, B.C., and six-time Stanley Cup champion Bryan Trottier will reprise his role at centre stage, having played the event twice before.
The Trottier family was a well-known touring group and Bryan played along from the age of five.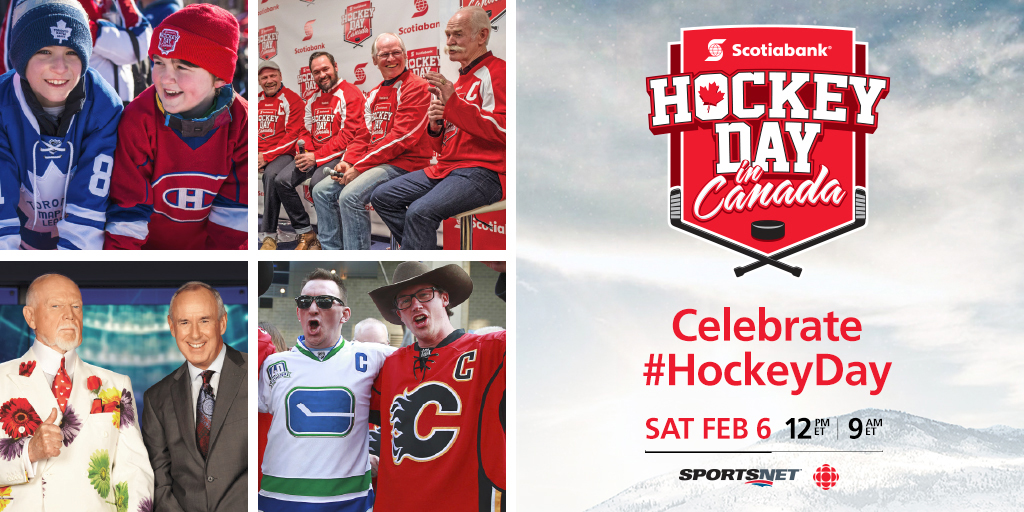 "Before Bryan was anything, his father Buzz was the s*** in Val Marie, (Saskatchewan)," Bidini told Sportsnet.
Bidini himself will perform alongside other Canadian musicians such as Craig Northey, Tom Wilson, Amelia Curran and Lindy Vopnfjord. The best part about writing hockey songs, Bidini says, is they're as versatile as the country itself.
"People have written ballads, country tunes," said Bidini. "They can be anything: metal, Cadence Weapon did a hip-hop thing, Rich Aucoin did this wild dance-chant-thing. There's a lot of ways you can go about it and that's part of the appeal. It's just gotta be tangentially about the game.
"It doesn't have to be an exclusively NHL thing either," he said. "Amelia Curran is writing about Marie-Philip Poulin. It's one of the best songs she's ever written and certainly one of the best to be a part of this series. It's also the first time anyone's ever written about a woman, which is great.
"I'm going to do my thing about Seth Martin who was a goaltender for the Trail Smoke Eaters when they won the world championship. They were maybe the first Pacific Coast team to make an impact on a national scale. He was considered by the Russians as the greatest goaltender they'd ever played against. When you look at all the other goaltenders that they did face, he probably played them harder than Dryden or Fuhr did — the Russians lit up both of those goalies. He's a Canadian hockey hero in Russia yet he only played briefly in the NHL.
"I talked to Seth for The Best Game You Can Name — he passed away last year and his life wasn't even celebrated."
---
Scotiabank Hockey Day in Canada Live: Latest articles, videos, social content
---
The songs understandably are personal for the artists and can reflect where they come from. Vopnfjord is a Manitoba native who will sing about the Winnipeg Falcons, an Allan Cup-winning club made up of the Icelandic community in Manitoba from the early 20th century that won gold at the Olympics after serving together in WWI. His grandfather was a big fan and he grew up walking the same streets as the immigrant players.
"When people hear their story, they're like, "What? How come nobody knows this?" Vopnfjord said.
Meanwhile, the unfolding John Scott story is one rife for future songwriting, according to Bidini.
"After the Players' Tribune piece, we found out more about his journey," he said. "Getting called up for the first time and not having his passport — imagine that? You wait to get called up your entire life and you forget your passport? Doing his engineering homework on the bus…I think there's a bit of folklore that emerges there."
The music is a reflection of the culture around the game of hockey, but is just one part of what makes the week for Bidini. Listening to stories and seeing former NHLers thrive in a different setting, bringing fans closer by stepping outside of the rink and on to common ground — this is when Hockey Day in Canada finds its stride.
"Darcy Tucker, Lanny McDonald, Wendel Clark: they're happy to sit and talk hockey all day if you want," said Bidini. "That's one of the fun things is you don't see them getting bored. They're fantastic human beings and I never would have known that if I didn't get a chance to actually talk to them. Jon Sim was out with us in Halifax (last year) and that guy…he told me that he loved me at the end of the night. I was like, 'Wow! Thanks!' We're all having a few beers, everybody's rockin', we're celebrating the game — they're at their finest, they're just sweethearts.
"In Halifax, our bass player Kevin got in a political debate — an argument, really — with Bobby Smith who was his childhood hero as a Habs fan. Stuff like that happens."
The location is ultimately the point of focus for the musicians. For Bidini, the long-distance travel to Kamloops is part of the appeal.
"The mountains — just an exceptional geographical part of the country and the world, really," he said. "You travel for thousands of miles, fighting through whatever weather you're dealing with. B.C. is the reward for getting that far, you know? And this will be the first time we're somewhere that isn't freeze-ass cold which is nice."
Hockey and music: a natural pairing. But what does a hockey song typically sound like? Vopnfjord said a song needs the speed and energy of the game. For some, the conversation stops and starts with The Hockey Song by Stompin' Tom Connors.
"The Ballad of Wendel Clark is basically The Hockey Song re-written," Bidini said of his Rheostatics' early-80s offering. "Same key, same chords. It's an anthem and there's so few, we don't really have a lot in Canadian culture. We end every Hockey Day concert with The Hockey Song."
---
The Music of Hockey Concert starts in Kamloops, B.C., Friday night at 7:30 p.m. local time. You can watch a live stream of the concert on Sportsnet's Facebook page.
---