With all due respect to Matthew Tkachuk, Brad Treliving's No. 1 priority this summer revolves around signing a pair of goalies.
While still compiling input and data in an effort to explain the Calgary Flames' first round face-plant, the GM has already done some footwork on a goalie gap that has the club without an NHL starter signed for next season.
No, we're not talking about the signing of 23-year-old Artyom Zagidulin out of the KHL this spring.
One of Treliving's first orders of business was talking to Mike Smith about the possibility of a return.
Indeed, the 37-year-old has made it clear he'd be game to suit up for Calgary next season.
At what price and whether there are better options are now the bigger questions.
At the all-star break, it would have been hard for anyone to envision a desire for the Flames to bring Smith back given his age, his disastrous finish a year earlier and his horrific start to the 2018-19 season.
However, the fitness freak dug deep to battle back from confidence and technique issues to finish the final two months on a high that translated into him being the Flames MVP through their five-game ouster courtesy of Colorado.
Because of it, he's a viable option to be David Rittich's stable mate once again.
Rittich is a restricted free agent whose contract should be easily ironed out, albeit with a hefty raise from the $800,000 he made last year as an unproven NHLer.
He's now almost certain to open next season as the Flames starter.
It says here he's ready.
Who to pair him with is the $2 to $4 million question.
That's the sort of window Treliving likely has to work with as he addresses the most important position in hockey.
Make note, Sergei Bobrovsky, Robin Lehner and Petr Mrazek do not fit into that budget.
Smith does, as he isn't in any position to demand the $5.66 million he earned each of the last six years on the back of a run to the 2012 West Conference Final with Phoenix.
His late season rebound and playoff brilliance has positioned him to extend his career at least another year as a mentor and tandem-mate who has the upside of starting potential.
Edmonton is the first team to come to mind that could use just such a veteran to help Mikko Koskinen, potentially upping the ante to get Smith re-signed.
They likely won't be the only ones, given Smith's relentless dedication to fitness, competitive drive and attitude through a pair of tumultuous seasons in Calgary.
Smith will undoubtedly want to try parlaying his recent play into a two-year deal, which could scare many potential suitors away. Another option is an inexpensive, one-year deal loaded with bonuses available to players 35 and older. Bonus money for 10 or 20 games played, for example, wouldn't be counted against the cap until the following year, giving the Flames cap relief this season.
Treliving said at his season-ending press conference he was content with the goaltending duo that finished 21st in team save percentage to land the Flames atop the west in points. Surely he has designs to improve upon that significantly, which may mean having to replace Smith.
Smith bounced back from a nightmarish start to the season to finish 23-16-2 with a 2.72 goals-against average. His .898 save percentage was, by far, the worst of his career, causing a crisis of confidence early that saw him lose his starting gig and prompt locals to boo him at times.
Rittich picked up the slack as Smith worked on his form, finishing 27-9-5 with a 2.61 GAA and .911 save percentage. Alas, for the second year in a row he faded as the season progressed, making Smith the starter for all five playoff games — three in which his name was chanted by Saddledome seat-warmers.
Asked if he thought Rittich, who will be 27 in August, was ready to shoulder the load as a No. 1 goalie in the league, coach Bill Peters said he thought so.
"I think he has the ability to do that, yeah," said Peters, who started Rittich 42 times and Smith 45, including playoffs.
"But until you've done it and been there, everyone is going to question it.
"He has a lot of confidence in himself, and that's earned. I thought he had a very good year. The most he's played in the NHL was this year, and he's looking to take that next step too. So if we have enough people take the steps individually, I think collectively we will take those steps."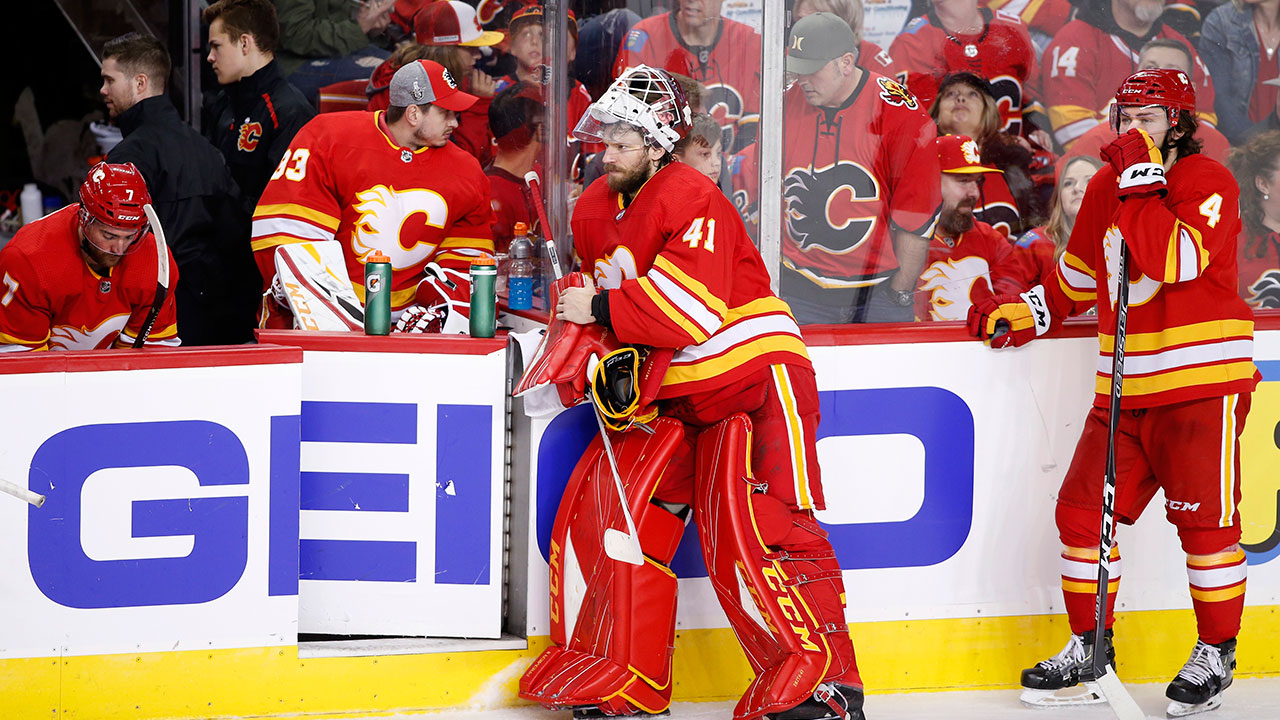 That certainly seems like the prudent plan for the undrafted Czech star, whose boyish charm and stellar play have made "Big Save Dave" a favourite in and outside the dressing room.
Whether he'll be handed the starting gig could also depend on who his tandem-mate is. It's important to note, he reveres Smith and the two have a wonderful relationship.
The list of viable free agents to pick from is slim, but this year's playoffs may have opened some doors on that front.
Jordan Binnington's heroics in St. Louis makes Jake Allen and his two years left at $4.35 million annually easily attainable via trade if you believe the 28-year-old can rebound.
Lehner's stunning, career-turning season puts him in line for a large payday, which could make someone expendable in whatever city he signs in, including Brooklyn where Thomas Greiss, 33, makes $3.33 million for one more season.
Semyon Varlamov will be available as a UFA thanks to Philipp Grubauer's late emergence in Colorado, presenting teams with the possibility of signing an inconsistent netminder with a big upside. At 31 he might be worth a gamble.
So might Curtis McElhinney, a former Flames draft pick in 2002, who at 35 years of age is considered to be one of the premier NHL backups after yet another solid season, this time in Carolina.
He may make the most sense, as it would give the team two solid options, while also leaving the team devoid of a proven starter.
What isn't an option is starting camp with signed prospects Jon Gillies, Tyler Parsons, Nick Schneider or Zagidulin vying for an NHL gig.
According to Capfriendly.com Treliving only has $14 million with which to sign two netminders (last year the duo came in at under $6.5 million), Tkachuk (projected to be at least $7-8 million), Sam Bennett (who has arbitration rights), Andrew Mangiapane, Garnet Hathaway and other role players.
It limits his options at a position the Flames have had as a weakness since Miikka Kiprusoff retired — a shortfall that has to be improved if the team is going to challenge once again in the west.