The NHL trade deadline is coming up on Feb. 26, so we've asked three of our NHL analytics writers (Dimitri Filipovic, Andrew Berkshire and Jonathan Willis) to give us their favourite trade deadline target and why.
The guys were not limited to picking rental players, but simply asked to give the player they would most likely pursue in the GM chair. It could be the best player available, or it could be a productive player who would come at a reduced cost.
So, here are the three players our analytics guys would target, why they would target them, and which teams should be trying to acquire them.
DIMITRI FILIPOVIC: MIKE HOFFMAN
Looking at this year's list of trade deadline fodder, there seem to be two notable takeaways:
a) It's a class that's certainly not short of intriguing options on the wing for teams sorely needing a shot in the arm offensively,
b) The most interesting names actually aren't your typical rental pieces that are customarily on the move this time of year, but instead players who have term on their contracts beyond this season.
One of the names that checks both boxes I keep circling back to is Ottawa's Mike Hoffman, who seems like he could realistically be had if the Senators decide to fully blow their team up and commence a full scale firesale.
If he really is available, suitors should be lining up for Hoffman's services. Goals are hard to find in today's game, especially in the playoffs when defences tighten the screws and attention to detail heightens. The value in having individual talent that can transcend that and find a way to break the game wide open is obvious. With his particular set of skills – both breakaway speed in transition, and a lethal shot that you need to account for as soon as he steps foot in the offensive zone – Hoffman is exactly the type of talent who could change the entire dynamic for any number of contending clubs.
Since becoming an NHL regular in 2014, Hoffman has been money in the bank when it comes to generating goals and has quietly turned into one of the league's most consistently prolific scorers.
| | Mike Hoffman Total 2014-2018 | League Rank |
| --- | --- | --- |
| 5-on-5 Goals | 61 | 24th |
| All Situations Goals | 98 | 23rd |
| 5-on-5 Goals Per Hour | 0.96 | 31st |
| All Situations Goals Per Hour | 1.21 | 27th |
(All numbers via Corsica and include only players with a minimum of 100 games played)
Of all the teams that would presumably be in the market for him, the one that could benefit the most is the Calgary Flames.
From an on-ice perspective his arrival would open all sorts of new doors for them to get creative in moving their chess pieces around up front. If they added him to the mix, they could experiment with moving Michael Frolik off the '3M' line, which would theoretically have a tantalizing trickle down effect.
Firstly, putting Hoffman next to Mikael Backlund and Matthew Tkachuk would give that unit a shooter who could take better advantage of all the opportunities they generate by never relenting control of the puck, and it would give the Flames a second scoring line to be accounted for. The trio of Backlund, Tkachuk, and Frolik have once again stood out as puck possession mavens this season (controlling nearly 59 per cent of all five-on-five shot attempts when on the ice), but they have actually been outscored 20-15 because they haven't been able to take advantage of all those looks. They surely won't keep shooting south of five per cent as a group if kept together, but it seems fair to wonder whether the players taking those shots are the optimal choices to be doing so.
Frolik himself is an imperfect player – he's shooting just 6.8 per cent this season, and for his career has been an astoundingly inefficient 7.9 per cent finisher with high volume. But the one thing he's always done well is move the needle territorially. On the third line, his relative lack of offensive touch would be a moot point – by just keeping the opposition pinned in their own zone and chasing the puck, they'd grind them down and set up the top two lines to feast.
Despite the fact they're currently on the outside of the playoff picture looking in, there's a lot to like about this Flames team. Add a dynamic offensive talent like Hoffman to that lineup, and suddenly they're that much more terrifying in a Pacific Division that, despite the regular season brilliance of the Golden Knights, is still there for the taking.
[snippet id=3317857]
ANDREW BERKSHIRE: MAX PACIORETTY
For some reason, Max Pacioretty has bore the lion's share of blame for the Montreal Canadiens' disastrous season, and as a result he appears to be available. He's not a typical trade deadline target since he has another year on his contract after this one and is not just a rental, but in my opinion, he's the best player on the market right now.
While Pacioretty is a phenomenal two-way player who would help a lot of teams next season as well, the main reason I key in on him as the best deadline pickup is his conversion rates on shots on net. Pacioretty, like most of the NHL's best goal scorers, shoots more from the high slot than in close to the net and that's where he has scored most of his goals from in his career. This season he's shooting more from the high slot than at any point since 2013-14, but he hasn't seen results.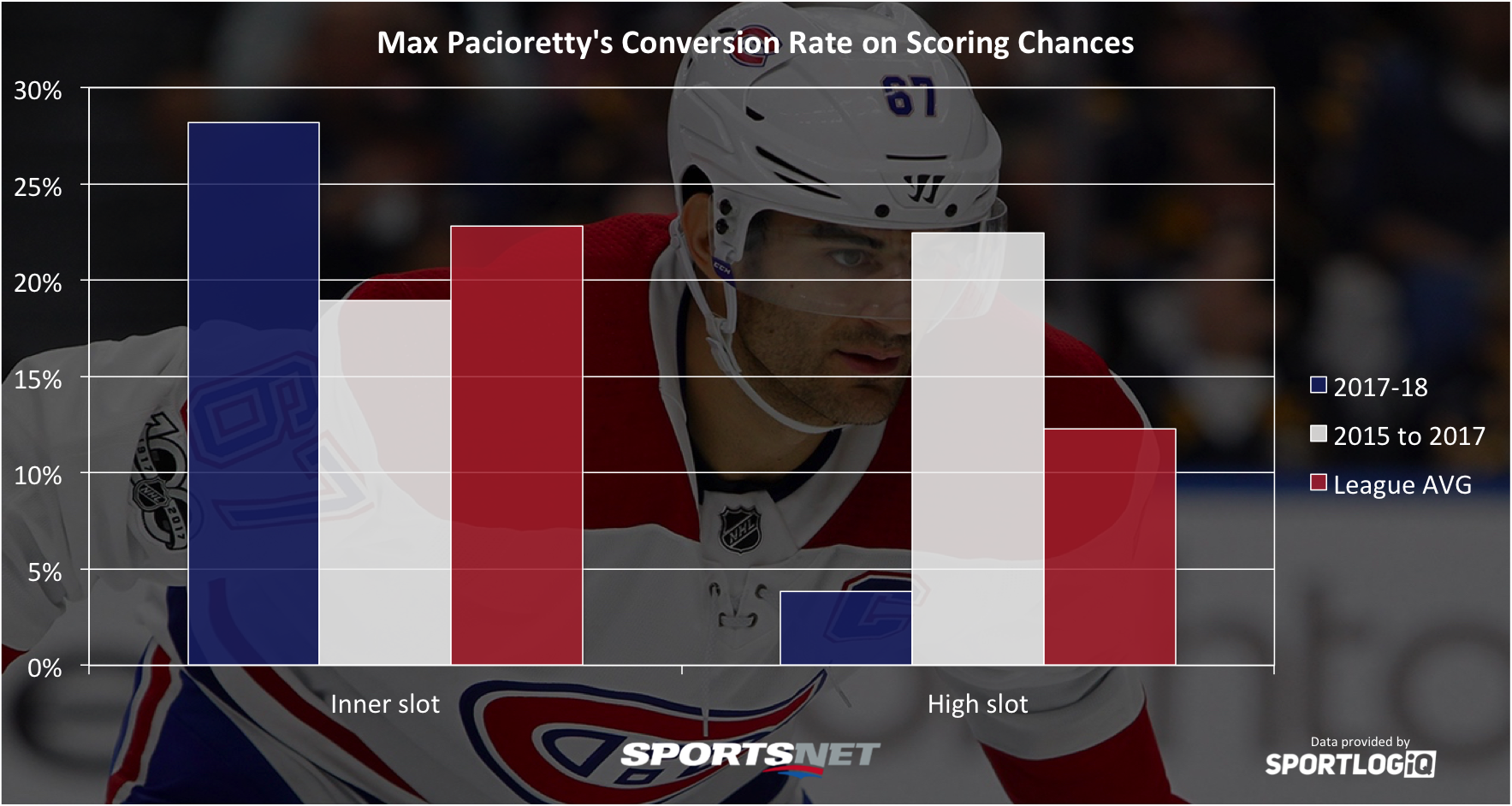 The two seasons before this one he has scored on 22.5 per cent of his shots from the high slot, but this season he's scoring on only 3.8 per cent, while his net-front presence has been a bit better, going from a 19 per cent to a 28 per cent conversion rate.
This is someone who can play tough minutes without a high end centre, kill penalties, and has been absurdly unlucky at his best skill. Typically deadline pickups are a bit overvalued, but in Pacioretty you have a player with the potential to score in bunches and all signs pointing to an impending offensive explosion. He could be the difference between a first round exit and a Stanley Cup.
Teams that should be interested in Pacioretty are primarily those in playoff position who have trouble scoring or accumulating scoring chances at even strength; including the Anaheim Ducks (28th in scoring chances), Minnesota Wild (25th), Los Angeles Kings (24th), New Jersey Devils (23rd), and Philadelphia Flyers (22nd). The rest of Pacioretty's positive attributes are just a bonus.
JONATHAN WILLIS: PAT MAROON
Patrick Maroon is not the absolute best rental winger available on the market this year, but he's better than he generally gets credit for. He's been a better scorer than Rick Nash this season, and is only a few points back of Evander Kane. Both Nash and Kane are likely to command a trade return that's an order of magnitude higher than what the Oilers can command for Maroon, who actually has the added bonus of a minuscule cap hit for teams near the upper limit.
There is something to be said for his playoff history, too.
Kane has never been to the playoffs. Nash has, but underachieved; a career 12 per cent shooter, he has scored on less than six per cent of his 261 career playoff shots. Nash has scored 0.76 points/game over his regular season career, and that dips to just 0.53 in the post-season.
Maroon goes the other direction, scoring 0.62 points/game over 42 career playoff contests, an increase on his career regular season number of 0.46. It's healthy to be generally skeptical about this kind of jump, but nobody is going to be surprised to find that a 6-foot-3, 225-pound power forward's game lends itself naturally to playoff-style hockey.
Maybe the most interesting thing about Maroon's work in Edmonton is how well he's done without Connor McDavid, his semi-regular centre: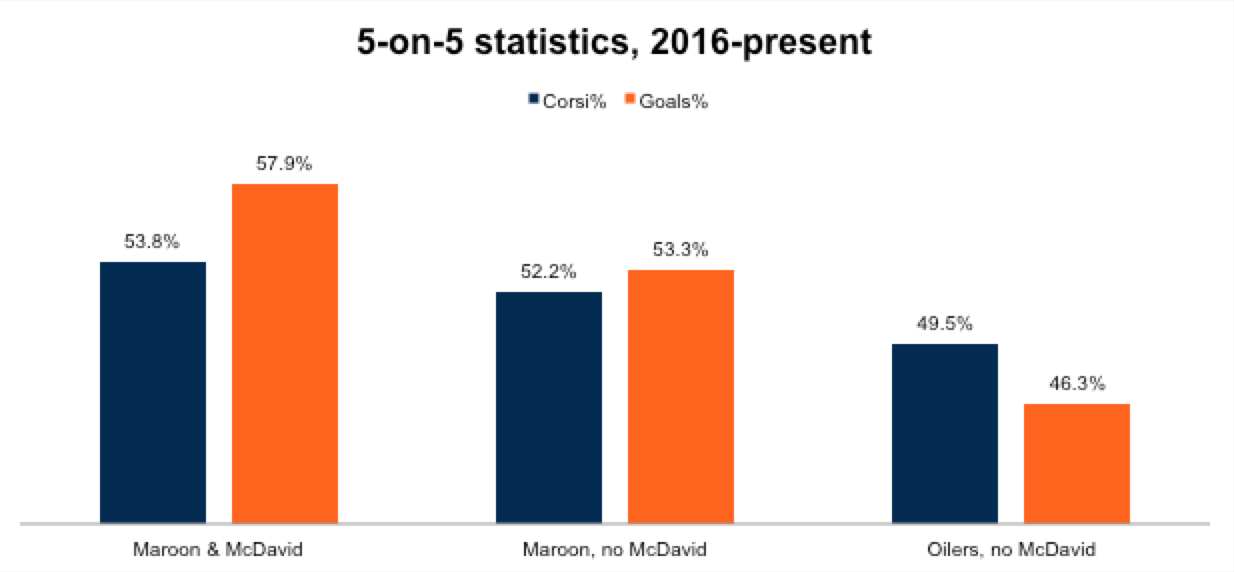 The Oilers have not managed to even tread water without McDavid on the ice, but Maroon has done better than that. In more than 12 hours away from McDavid at 5-on-5, he has been a 52 per cent Corsi and 53 per cent goals player.
Underrated, proven and cheap in both likely asset cost and cap space burned, Maroon is an excellent middle-six winger for a team in need of playoff help.
Should be targeted by: The Blues, Jets and Lightning.
[relatedlinks]