You like hockey, right? And you want a free, interactive digital issue of Sportsnet magazine that ranks the best 25 NHL games ever played, don't you? You do. Trust us. Got an iOS device? Click here to grab our app. Got an Android? Get the app right here.
The issue is waiting for you right at the top. It's absolutely free and has literally everything we could possibly think to cram into it–highlights, never-before-seen interviews, infographics, recreations, shot charts…everything from the best games that you, your parents, or your grandparents, have ever seen. Check it out. You'll like it, we promise. And if you don't…nah, you will.
You'll like it because it's a debate that NHL fans and pundits alike love to engage in. It's some of the best barroom banter around, because there is no clear answer, no set-in-stone, case-closed end to the argument.
Until now.
We asked hockey historians, league insiders and diehard fans to help us choose the 25 greatest NHL games of all time. It's totally interactive–a sandbox of hockey awesomeness you can play around in–and features highlights from every game, stories from the players who were there, infographics, gamesheets, photo galleries and all sorts of other surprises. You've never read a magazine quite like it, we promise.
The special edition is available at no charge for everyone who downloads the app, and a full digital subscription to Sportsnet magazine is available for both print subscribers and for Rogers and Shaw customers who subscribe to Sportsnet One.
---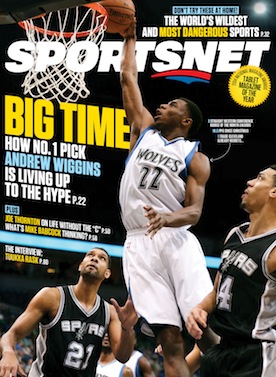 ATTENTION Rogers and Shaw customers.
Already enjoying Sportsnet ONE? Now get access to digital editions of Sportsnet magazine at no extra cost.
---
Before you say it: we know you're going to disagree with some of our picks. So make your case for the game we left out on Twitter—hit us up @Sportsnet. But keep in mind that some of these games are about moments as much as the entire 60 minutes (or, often, more), because they are the wins, losses, missteps and legendary performances that stick in fans' minds.
We've also sprinkled the issue with stories from Sportsnet personalities recounting their favourite games—NHL or otherwise. Damien Cox describes watching Doug Gilmour's wrap-around goal on Curtis Joseph in the 1993 playoffs; Jeff Marek remembers going to game three of the 1987 Canada Cup final; Chris Johnston explains what it felt like in Vancouver when the Canadian men won gold at the 2010 Olympic Games; and Cassie Campbell-Pascall talks about winning gold with Team Canada in Salt Lake City. Finally, Gare Joyce recalls the New Year's Eve tilt in 1975 between the Montreal Canadiens and the Red Army, a game that some still point to as the best hockey ever played.
So that's it—best games chosen, debate over. Or, really, let the arguments begin.