Ramping up to the world juniors isn't only fun for the fan, it is also a time when scouts can get several viewings of high-end, first-year draft eligible playing against older, stronger and extremely talented competition.
Being able to watch those players compete on teams where the talent level is elite also gives scouts the chance to see how much a player drives the play. After conferring with a network of hockey people ranging from scouts to agents, coaches and GMs, here's Sportsnet's December draft rankings.
Make no mistake about it, this class is high on defencemen. Teams picking early will have their choice of what type of defenceman they want. As has been the trend over the past few years, smaller, puck-moving and smooth-skating defencemen are spread out all over the first round.
1. Rasmus Dahlin, D, 6-foot-2, 183 pounds (Frolunda, SHL): Nothing has changed in the eyes of scouts and the Olympics will likely prove that he'll be ready to play in the NHL as early as next season.
2. Andrei Svechnikov, RW, 6-foot-2, 186 pounds (Barrie Colts, OHL): Despite missing more than 15 games, his stock hasn't fallen. Early-season viewings have everyone on board. He approaches the game like a pro both on and off the ice.
3. Adam Boqvist, D, 5-foot-11, 170 pounds (Brynas Jr.): Not as well-rounded as Dahlin in terms of his two-way game, but the offensive side is right in the neighbourhood. Has a knack for gauging the urgency of a play and adapting his puck skills to execute that play.
4. Filip Zadina, RW, 6-foot, 196 pounds (Halifax Mooseheads, QMJHL): Has transitioned well to the North American game with an intense will to get into the home-plate area. There are no deficiencies in his game and he's loaded with character. Zadina may not exactly be Nico Hischier, but he's not too far behind.
5. Brady Tkachuk, LW, 6-foot-3, 196 pounds (Boston University, NCAA): It took the underage freshman 14 games to score his first collegiate goal. Having said that, look for him to trend upward in the points department. Regardless of offensive production however, he's got size, grit and thoroughly enjoys being a net-front nuisance.
[snippet id=3700369]
6. Noah Dobson, D, 6-foot-2, 180 pounds (Acadie-Bathurst Titan, QMJHL): No one player has opened more eyes since the start of the season. He's experienced a meteoric rise up everyone's list. Offensively, there is no limit to what he can do. The package includes size, skating and the ability to pace the game from the right side.
7. Oliver Wahlstrom, RW, 6-foot-1, 205 pounds (USNDTP): As a go-to for the US under-18 program, Wahlstrom has positioned himself as a shoot-first option. He has size and strength and when he's on, his game has a pro-feel to it.
8. Quinn Hughes, D, 5-foot-9, 170 pounds (U of Michigan, NCAA): Hasn't scored since Michigan's season opener, but that hasn't stopped him from shooting. Dishing hasn't been an issue as he leads all Wolverines defencemen in assists. His greatest asset is his poise with the puck and world-class vision.
9. Rasmus Kupari, C, 6-foot-1, 183 pounds (Karpat, Finnish Liiga): Possesses a dynamic skill set. He gets around the ice well and can handle the puck at high speeds and while changing pace. Has shown strength and that is clearly evident in his shot. Making Finland's world junior team would go a long way in determining his final draft ranking.
10. Jared McIsaac, D, 6-foot-1, 195 pounds (Halifax Mooseheads, QMJHL): Hard-nosed kid who has settled in after a slow start to the season. Has an acute ability to raise his level of play when the competition calls for it. He has a solid defensive foundation that puts him near the head of this D class. [sidebar]
11. Joel Farabee, LW, 6-foot, 164 pounds (USNTDP): Super slick playmaker from the wing. He has excellent vision and playmaking abilities. Somewhat slight of frame, but is slippery enough to avoid big contact.
12. Ty Smith, D, 5-foot-11, 176 pounds (Spokane Chiefs, WHL): If the on-ice package isn't enough, look no further than character for this smooth-skating defenceman who projects to someday wear a letter in the show.
13. Bode Wilde, D, 6-foot-2, 197 pounds (USNTDP): Great skater, big shot, enjoys the offensive side of the game. Athletic genes have put him on a pro path since early in his minor hockey career.
14. Evan Bouchard, D, 6-foot-2, 193 pounds (London Knights, OHL): Thinks the game at such a high level that he never panics with the puck. Given more minutes with the opportunity to produce, he's responded to the challenge.
15. Grigori Denisenko, LW, 5-foot-11, 175 pounds (Yaroslavl, MHL): Injured early in the scouting season, Denisenko has returned with a vengeance. He's got magic hands, a good shot and is an unselfish player.
16. Joseph Veleno, C, 6-foot-1, 195 pounds (Saint John Sea Dogs QMJHL): It's hard to look at the numbers (28 points in 30 games) as a gauge for this third-year junior. What was impressive was his showing in both of the CIBC Canada/Russia series games with the QMJHL where he displayed a wide array of assets not dissimilar to his performance in the 2017 Mastercard Memorial Cup.
17. Mattias Samuelsson, D, 6-foot-3, 217 pounds (USNTDP): Size and NHL bloodlines always play when it comes to the draft. Add to that an old-school element to playing defence, mix-in some offensive upside, and you have a first-rounder.
18. Jack McBain, C, 6-foot-3, 196 pounds (Toronto Junior Canadiens, OJHL): Continues to prove that he is amongst the league's super elite. The upcoming 2017 World Jr. A Challenge will draw the eye of several scouts as he takes a step up in competition.
19. Vitali Kravtsov, RW, 6-foot-2, 170 pounds (Chelyabinsk, KHL): The youngest player to score a goal in the KHL championship, Kravtsov is highly skilled. From an offensive perspective, he's got sick skill that checks all the boxes.
[relatedlinks]
20. Isac Lundestrom, C/LW, 6-foot-1, 185 pounds (Lulea, SHL): A converted defenceman competing in his second SHL season, Lundestrom has been mentored by his older brother. He has an intense desire to excel at the pro level with amazing instincts and a unique ability to make plays under duress with great patience.
21. Barrett Hayton, C, 6-foot-1, 185 pounds (Sault Ste. Marie Greyhounds, OHL): A jack of all trades type of player who excels in the prototypical 200-foot game. Is making the most out of increased offensive opportunities.
22. Jett Woo, D, 5-foot-11, 205 pounds (Moose Jaw Warriors, WHL): Projecting what Woo will become has been problematic for scouts all season long and him missing the better part of a month to injury has not helped. At his best Woo is an agitator whose physical play forces you to be aware when he's on the ice. He has big character and compete, but just where does his offensive upside project? He has 17 points in 18 games this season.
23. Ryan McLeod, C, 6-foot-2, 200 pounds (Mississauga Steelheads, OHL): Scouts will be looking to see how he reacts to a role change with the return of his older brother Michael and Owen Tippett from the NHL.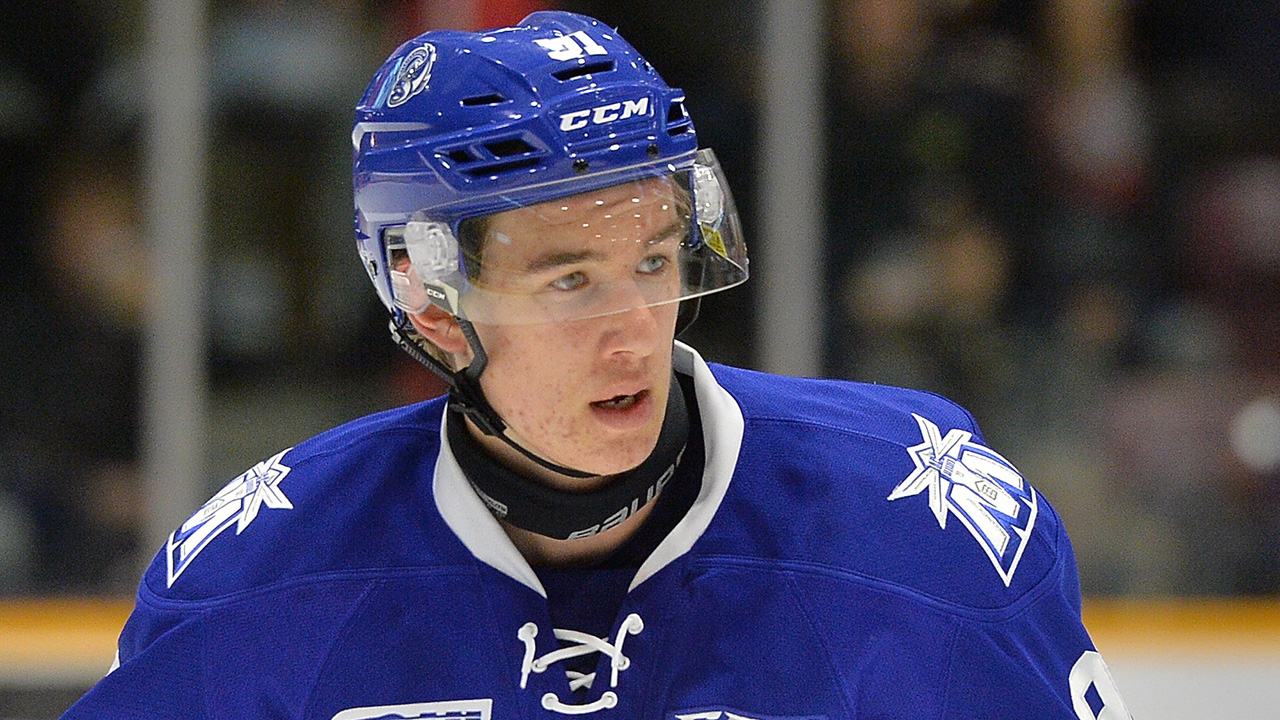 24. Jacob Olofsson, C, 6-foot-1, 192 pounds (Timra, Allsvenskan): Nothing about his game jumps out at you, but then again there are few if any glaring weaknesses. He does lean slightly towards the power forward end of the spectrum with his puck protection abilities and strength.
25. Serron Noel, RW, 6-foot-5, 201 pounds (Oshawa Generals, OHL): Was a bit of a surprise debuting in our October edition of the draft rankings, but he's a surprise no more. While consistency is a concern, there's no denying his nose for the net.
26. Ryan Merkley, D, 5-foot-11, 170 pounds (Guelph Storm, OHL): It's tough to extract the riverboat gambler out of his game, but then again, why would you want to? His defensive deficiencies are still overshadowed by his unique ability to do things offensively. He is extremely confident in magic puck-handling skills.
27. Benoit-Olivier Groulx, C, 6-foot-1, 192 pounds (Halifax Mooseheads, QMJHL): Being reunited with Max Fortier has allowed Groulx to speed up development in his offensive game. He has enough sneaky skill that when you consider his bite, it lets you project him in a variety of roles at the next level.
28. Alexander Alexeyev, D, 6-foot-3, 200 pounds (Red Deer Rebels, WHL): Red Deer head coach Brent Sutter isn't easily impressed, but Alexeyev has done it all for the Rebels in what has been a difficult first half. While he doesn't overly impress in any one area, he's been admittedly overplayed by Sutter.
29. Akil Thomas, C, 5-foot-11, 170 pounds (Niagara Ice Dogs, OHL): There is an element of him that leaves you wanting more, but having said that, what you see and what you get on a nightly basis is still pretty good.
30. K'Andre Miller, D, 6-foot-3, 206 pounds (USNTDP): Still viewed as raw, but talented. There is potential to add weight and strength to an already solid frame. His skill set isn't always on display, but it is present and as he grows into his body, Miller could turn into a sneaky late first-round pick
31. Dominik Bokk, RW, 6-foot-1, 180 pounds (Vaxjo, SHL): Chose to play in Sweden as opposed to coming over and following in the footsteps of German NHL star Leon Draisaitl. Has quickly risen through the ranks of the Vaxjo program thanks to his fine skating abilities.