Now that the World Junior Hockey Championship is done, a few things are coming into greater focus as scouts start to develop more of a consensus about this year's draft.
Still no surprise who's at No. 1, as Rasmus Dahlin is widely considered the most elite blueliner to come out of Sweden since Victor Hedman. As a matter of fact, as you talk to more scouts it seems the two names that keep coming up when discussing Dahlen are Hedman and Erik Karlsson as if he is some combination of both.
They're not wrong.
So, if your favourite NHL team is bad, pray that they are really bad. And a little bit lucky. There is a huge prize waiting for you at the end of all this pain if everything breaks your way.
And with that, here's our prospect list for January.
[snippet id=3700369]
1. Rasmus Dahlin, D, 6-foot-2, 183 pounds (Frolunda, SHL): After the WJC there is zero doubt who the top draft pick should be in June. Dahlin has everything you want in a defenceman in 2018. Can help turn a franchise around.
2. Andrei Svechnikov, RW, 6-foot-2, 187 pounds (Barrie Colts, OHL): Didn't get as much ice time at the WJC as many scouts would have liked, but his skills are undeniable.
3. Filip Zadina, RW, 6-foot-1, 192 pounds (Halifax Mooseheads, QMJHL): Zadina had a great tournament in Buffalo with seven goals and eight points. Was a threat every time he was on the ice.
4. Brady Tkachuk, LW, 6-foot-3, 196 pounds (Boston University, NCAA): Raised his stock immensely for those who doubted him due to a sluggish start at BU.
5. Adam Boqvist, D, 5-foot-11, 170 pounds (Almtuna, Allsvenskan): Loaded with talent. As one NHL scout recently told me "there's a lot of Karlsson in him."
6. Noah Dobson, D, 6-foot-3, 179 pounds (Acadie-Bathurst Titan, QMJHL): Scouts go out of their way to make sure they see Dobson. This season's big riser.
7. Rasmus Kupari, C, 6-foot-1, 183 pounds (Hermes, Mestis Finland): Would have been nice to see more of him at the WJC, but his skill very much keeps him in the top 10 mix.
8. Oliver Wahlstrom, RW, 6-foot-1, 205 pounds (USNDTP): Has outstanding skill and is an effective player with a high hockey IQ.
9. Bode Wilde, D, 6-foot-2, 197 pounds (USNTDP): Big, strong, can move his feet and competes hard. Stands guys up in the neutral and defensive zone and hits hard. Moves pucks quickly to the best option. Has a bomb of a shot.
10. Evan Bouchard, D, 6-foot-2, 193 pounds (London Knights, OHL): A smart player who never panics and has a cannon from the point. With his London Knights in rebuild mode it will be challenging for Bouchard to stand out on a weaker squad, but make no mistake, he is legit.
[snippet id=3816507]
11. Barrett Hayton, C, 6-foot-1, 185 pounds (Sault Ste. Marie Greyhounds, OHL)
12. Joel Farabee, LW, 6-foot, 164 pounds (USNTDP)
13. Jared McIsaac, D, 6-foot-1, 195 pounds (Halifax Mooseheads, QMJHL)
14. Ty Smith, D, 5-foot-11, 176 pounds (Spokane Chiefs, WHL)
15. Joe Veleno, C, 6-foot-1, 195 pounds (Drummondville Voltigeurs)
16. Quinn Hughes, D, 5-foot-10, 174 pounds (U of Michigan, NCAA)
17. Jet Woo, D, 5-foot-11, 205 pounds (Moose Jaw Warriors, WHL)
18. Grigori Denisenko, LW, 5-foot-11, 175 pounds (Yaroslavl, MHL)
19. Jesperi Kotkaniemi, C, 6-foot-2, 190 pounds (Assat, Liiga)
20. Benoit-Olivier Groulx, C, 6-foot-1, 192 pounds (Halifax Mooseheads, QMJHL)
21. Isac Lundestrom, C/LW, 6-foot-1, 185 pounds (Lulea, SHL)
22. Rasmus Sandin, D, 5 foot-11, 190 pounds (Sault Ste. Marie Greyhounds, OHL)
23. Jack McBain, C, 6-foot-3, 196 pounds (Toronto Junior Canadiens, OJHL)
24. Alexander Khovanov, C, 5-foot-11, 179 pounds (Moncton Wildcats, QMJHL)
25. Ryan McLeod, C, 6-foot-2, 200 pounds (Mississauga Steelheads, OHL)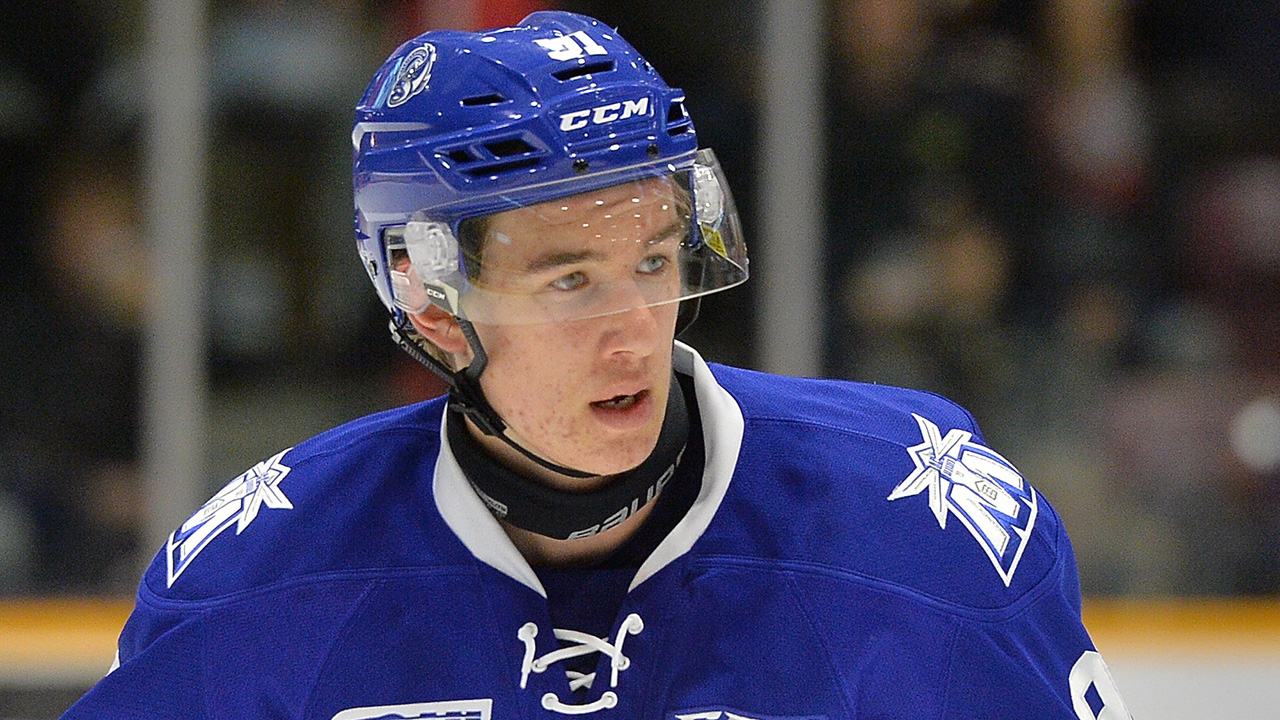 26. Serron Noel, RW, 6-foot-5, 201 pounds (Oshawa Generals, OHL)
27. Ryan Merkley, D, 5-foot-11, 170 pounds (Guelph Storm, OHL)
28. Jacob Olofsson, C, 6-foot-1, 192 pounds (Timra, Allsvenskan)
29. Calen Addison, D, 5-foot-10, 179 pounds (Lethbridge Hurricanes, WHL)
30. Mattias Samuelsson, D, 6-foot-4, 217 pounds (USNTDP)
31. Akil Thomas, C, 5-foot-11, 170 pounds (Niagara Ice Dogs, OHL)
[relatedlinks]