As we draw near the end of the season, NHL Central Scouting will present its final lists for both North American and European prospects.
For NHL teams, there's plenty of hockey left. As teams scramble to make sure they get final looks of players on teams whose seasons are about to end, there's plenty of other players who are preparing for international play.
Results from the NHL Draft Lottery will dictate where teams focus their final weeks of scouting. Regardless of order, the top two picks are predetermined, though there's plenty of debate remaining as to which name is called first: Jack Hughes or Kaapo Kakko. Vasily Podkolzin seems to be the consensus No. 3. Beyond that, however, there's great variance from team to team up to and around pick 12.
The last big scouting event is the IIHF World U18 Championship that begins April 18 in Sweden. This event unites players who have been spread all over the hockey landscape and pits them best-on-best, allowing scouts to compare apples to apples and oranges to oranges. Here's the lottery edition of the 2019 NHL Draft Rankings.
1. Jack Hughes, C, USNTDP, 5-foot-10, 168 pounds: At the head of a prestigious class as the most prolific point producer the USNTDP has ever seen. Headed to the U18s next, will he play at the men's worlds in May?
2. Kaapo Kakko, RW, TPS (Liiga), 6-foot-2, 194 pounds: Head-to-head against Hughes at the U18s would be every scouts preference. Since that won't happen, Kakko can level the playing field or jump to No. 1 if his game at the men's worlds is the same as it has been all season in the Liiga.
Canucks Central
Kakko and Hughes competing to go first overall in draft
March 22 2019
3. Vasily Podkolzin, RW, SKA St. Petersburg (MHL), 6-foot-1, 190 pounds: High character and off-the-charts compete combined with work ethic and skill make for a complete package.
4. Dylan Cozens, C, Lethbridge Hurricanes (WHL), 6-foot-3, 181 pounds: With the disappointment of an early and unexpected playoff exit, Cozens has a second life at the U18 worlds.
5. Bowen Byram, D, Vancouver Giants (WHL), 6-foot, 194 pounds: Has clearly separated himself as this draft class's top defenceman. Continued success in a long playoff run could cement him in the top five.
6. Alex Turcotte, C, USNTDP, 5-foot-11, 189 pounds: The best projected two-way game in this draft class. Has been hampered by injuries.
7. Trevor Zegras, C, USNTDP, 6-foot, 166 pounds: Think Patrick Kane in terms of puck-handling and playmaking.
8. Kirby Dach, C, Saskatoon Blades (WHL), 6-foot-3, 199 pounds: A cerebral game with everything in place to become a top-notched NHL player. Would love to see more consistent push-back.
9. Matthew Boldy, LW, USNTDP, 6-foot-1, 187 pounds: The size and skill combination projects a skilled power forward.
10. Peyton Krebs, C, Kootenay Ice (WHL), 5-foot-11, 180 pounds: Will better be able to show off his skills by playing with better players at the U18s. Should also find inspiration on a team that will have a chance to win.
[relatedlinks]
11. Arthur Kaliyev, RW, Hamilton Bulldogs (OHL) 6-foot-1, 190 pounds: The company for 50 or more goals scored in an age 17 OHL season include John Tavares, Steven Stamkos, Jeff Skinner and most recently Alex DeBrincat.
12. Thomas Harley, D, Mississauga Steelheads (OHL), 6-foot-3, 188 pounds: Philip Broberg (as we'll note in a bit) excelled at the Hlinka-Gretzky Tournament — Harley has played most of his season as well as Broberg did at the Hlinka, finishing with 58 points in 68 games.
13. Victor Soderstrom, D, Brynas (Sweden U20), 5-foot-11, 179 pounds: A hybrid of Adam Boqvist and Nils Lundqvist from last year's first round.
14. Cole Caufield, RW, USNTDP, 5-foot-7, 155 pounds: The best pure sniper in the draft, but the size will scare teams and likely make him a first-round value pick.
This #NTDP record-setting play featuring @jackhughes43 and @colecaufield is March's @BWWings hottest play of the month! pic.twitter.com/AY0wOd1heB

— USA Hockey's NTDP (@USAHockeyNTDP) April 1, 2019
15. Raphael Lavoie, C/RW, Halifax Mooseheads (QMJHL), 6-foot-3, 191 pounds: Has re-entered the conversation by playing the most inspired hockey of his career lately. The timing could not have been better.
16. Alex Newhook, C, Victoria Grizzlies (BCHL), 5-foot-10, 195 pounds: Decimated the competition in the BCHL scoring race and did it in fewer games than his five closest competitors.
17. Cam York, D, USNTDP, 5-foot-11, 171 pounds: There's some risk to his game, but an ability to defend well enough to project top four minutes with power play usage.
18. Philip Broberg, D, AIK (Allsvenskan), 6-foot-2, 199 pounds: Still living on currency earned at the Hlinka-Gretzky. Should feel comfortable enough at the U18 worlds to find that game again.
19. Spencer Knight, G, USNTDP, 6-foot-3, 197 pounds: Jake Oettinger, the 26th overall pick of the 2017 draft, would be the most recent and best comparable.
20. Jakob Pelletier, LW, Moncton Wildcats (QMJHL), 5-foot-9, 161 pounds: A true warrior who's not at 100 per cent, but whose contributions aren't always best measured by numbers.
21. Brett Leason, RW, Prince Albert Raiders (WHL), 6-foot-3, 200 pounds: Consistently in position to produce offence. Once his workouts become hockey-centric, there's no predicting his ceiling.
22. Ryan Suzuki, C, Barrie Colts (OHL), 6-foot, 178 pounds: Ridiculously skilled, extremely high hockey IQ, and sees the ice well. He'll have the U18s to prove he can take his game between the dots and shoot the puck more frequently.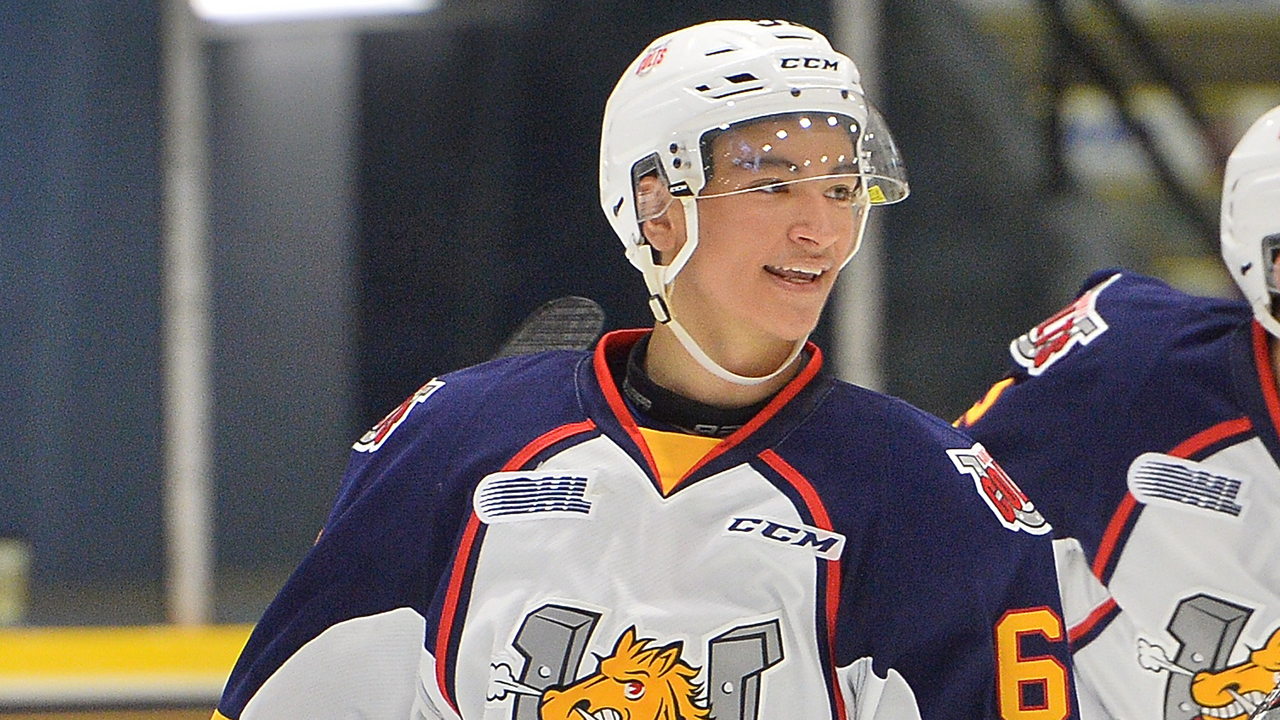 23. Philip Tomasino, RW, Niagara IceDogs (OHL) 5-foot-11, 178 pounds: Has breakaway skating ability and a nose to both create and finish.
24. Ville Heinola, D, Lukko (Liiga), 5-foot-11, 178 pounds: Plays a sound game at the pro level and is only limited by his lack of strength, which will improve with age.
25. Egor Afanasyev, LW, Muskegon Lumberjacks (USHL), 6-foot-3, 201 pounds: Good size with a pro-style game and a big-time shot that makes him a legit threat from the dots down.
26. Moritz Seider, D, Mannehim (DEL), 6-foot-3, 183 pounds: Will remain with his Mannheim team instead of playing in the B pool of U18s, which will somewhat limit his opportunity to show a more dynamic side to his game.
27. Connor McMichael, C, London Knights (OHL), 5-foot-10, 172 pounds: Was a force early- to mid-season, but has taken a step back of late as others have bypassed him for high-leverage minutes.
28. Alex Vlasic, D, USNTDP, 6-foot-5, 193 pounds: A big man who can skate will always have a place. More of a projection pick in terms of what he will do offensively down the road.
29. Samuel Poulin, RW, Sherbrooke Phoenix (QMJHL), 6-foot-1, 206 pounds: Plays a pro style of game predicated on hard work and smarts with enough skill to do some damage offensively.
30. Lassi Thomson, D, Kelowna Rockets (WHL), 6-foot, 188 pounds: Plays bigger than his size. His shot plays well on the power play and skates like the wind.
31. Matthew Robertson, D, Edmonton Oil Kings (WHL), 6-foot-3, 201 pounds: Scouts want to see more urgency and jam in his game. They also are having a hard time projecting what he will be at the next level.