TORONTO–As five Canadian teams prepare to do battle for hockey's most coveted trophy, Sportsnet unveils its 2017 Stanley Cup Playoffs first round broadcast schedule.
All Stanley Cup Playoffs coverage will be available on TV on Sportsnet, CBC, Sportsnet ONE or Sportsnet 360, and via live stream on Sportsnet NOW and Rogers NHL GameCentre LIVE. All Calgary Flames and select Toronto Maple Leafs games will be available on the Sportsnet Radio Network. (See full broadcast schedule below).
"There is no better time to be a Canadian hockey fan," said Scott Moore, president of Sportsnet & NHL Properties, Rogers Media. "Canadians have a strong desire for in-depth, world-class playoff hockey coverage in real-time and across multiple platforms. That is exactly what Sportsnet will be providing throughout the Stanley Cup Playoffs."
Stanley Cup Playoffs on Sportsnet NOW
Ready for playoff hockey? Stream every single game of the 2017 Stanley Cup Playoffs with Sportsnet NOW.
As home of hockey's brightest stars, Sportsnet's coverage of the 2017 Stanley Cup Playoffs begins Wednesday, April 12 with five can't miss games:
• New York Rangers vs. Montreal Canadiens, 7 p.m. ET (CBC)
• Boston Bruins vs. Ottawa Senators, 7 p.m. ET (Sportsnet)
• Columbus Blue Jackets vs. Pittsburgh Penguins, 7:30 p.m. ET(Sportsnet 360)
• St. Louis Blues vs. Minnesota Wild, 9:30 p.m. ET / 6:30 p.m. PT (Sportsnet 360)
• San Jose vs. Edmonton Oilers, 10 p.m. ET / 7 p.m. PT (Sportsnet)
Sportsnet's multiplatform coverage of the 2017 NHL post-season includes:
Television
Hockey Central Playoff Preview Show
• Helping fans get into the post-season mindset, Hockey Central Playoff Preview Show kicks off on Monday, April 10 at 8 p.m. ET / 5 p.m. ET on Sportsnet and Sportsnet NOW.
• Hosted by Hockey Night in Canada's David Amber alongside Elliotte Friedman and Doug MacLean, the one-hour preview will feature:
• An essay by Scott Morrison celebrating the NHL's Centennial and 125 years of the Stanley Cup
• In-depth previews of all first round Stanley Cup Playoff series, highlighting series featuring the five Canadian NHL teams
From The Studio…
• From opening puck-drop to the hoisting of Lord Stanley's Cup, Sportsnet's world-class roster of hosts, reporters and analysts will bring Canadian hockey fans closer to the action at ice-level:
• Hockey Night in Canada host Ron MacLean will be joined by analysts Friedman, Kelly Hrudey and Nick Kypreos to deliver in-depth analysis throughout the playoffs
• Amber and analyst Doug MacLean will also provide up-to-the-minute analysis during Sportsnet's coverage of the Stanley Cup Playoffs
• Don Cherry joins Ron MacLean for regular installments of Coach's Corner
• Harnarayan Singh, Randip Janda, Bhupinder Hundal, and Harpreet Pandher deliver Hockey Night in Canada: Punjabi Edition to hockey fans coast-to-coast on OMNI
• Nightly editions of Sportsnet Central will have full highlights, analysis and reaction from every series
• Tim & Sid will set the tone weekdays, beginning at 5 p.m. ET / 2 p.m. PT on Sportsnet and Sportsnet NOW
Radio
• Sportsnet 590 The FAN will air select Toronto Maple Leafs playoff games, with veteran announcer Joe Bowen calling the play-by-play alongside analyst Jim Ralph. Gord Stellick and Todd Hlushko host Leafs Nation post-game coverage following every Leafs game.
• All Calgary Flames post-season games will be available on Sportsnet 960 The FAN, with play-by-play announcer Derek Wills and analyst Peter Loubardias in the broadcast booth
Digital
• All Stanley Cup Playoff broadcasts will be available to hockey fans on-the-go via Sportsnet NOW
• Sportsnet's NHL Insiders provide daily analysis and commentary on the NHL postseason, exclusively on Sportsnet.ca and the Sportsnet app
• Readers can stay up-to-date with the biggest story lines with 30 Thoughts, Elliotte Friedman's popular weekly column
• Analysis-meets-humour in weekly installments of Down Goes Brown
• Canadians can challenge their friends and family by joining Sportsnet Fantasy Playoffs Pool
• Stay engaged with behind-the-scenes Facebook Live broadcasts and nightly Instagram stories
Play the Sportsnet Fantasy Playoffs Pool for your chance to win $5,000 cash if you are crowned the champ! It's FREE and easy to play.
EASTERN CONFERENCE:
Montreal Canadiens (A1) vs. New York Rangers (WC1)
• Play-by-play: Paul Romanuk; Game Analyst: Garry Galley; TV Reporter: Kyle Bukauskas; sportsnet.ca: Eric Engels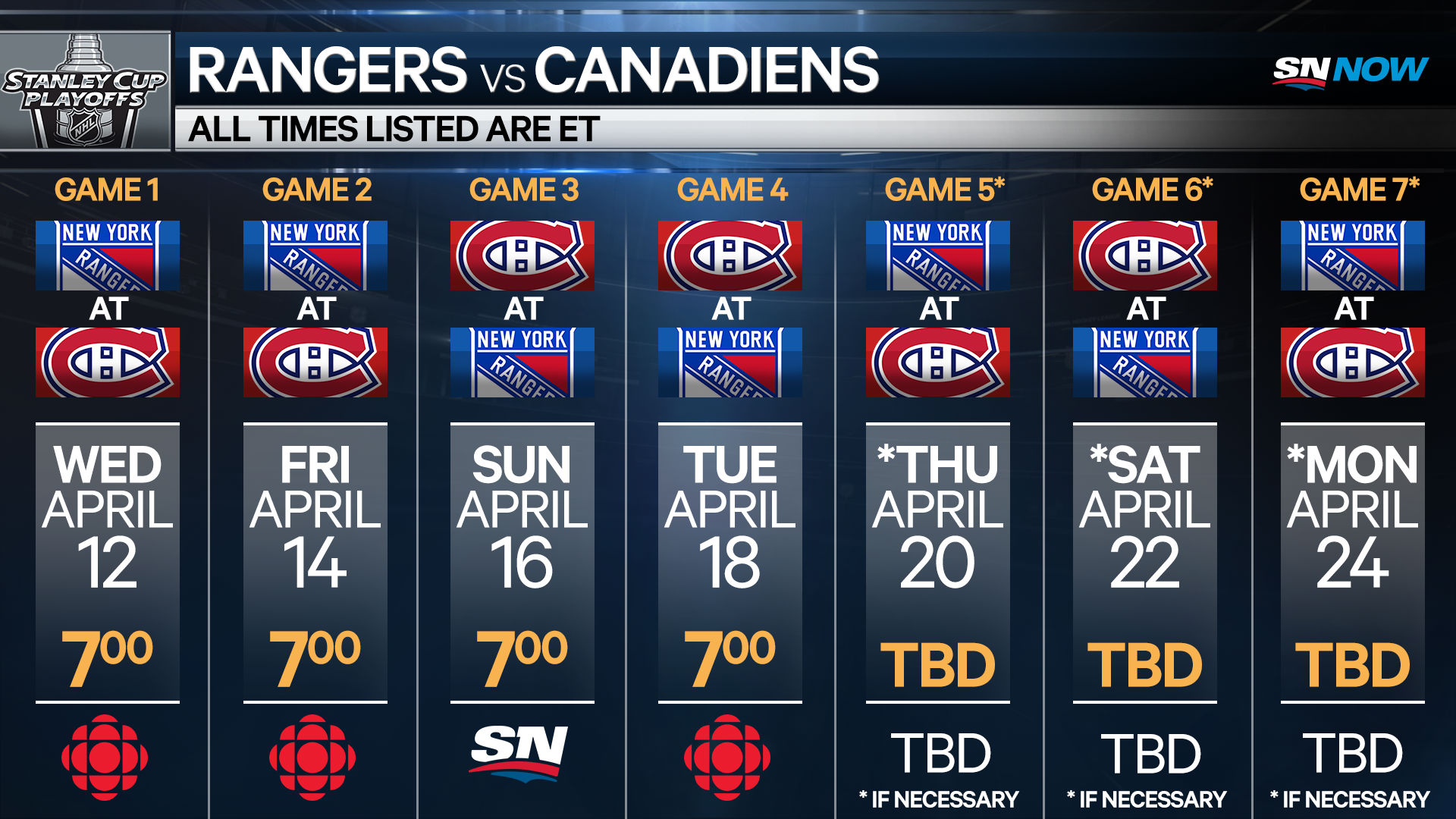 Ottawa Senators (A2) vs. Boston Bruins (A3)
• Play-by-play: Bob Cole; Game Analyst: Greg Millen; TV Reporter: Christine Simpson; Sportsnet.ca: Kristina Rutherford
Washington Capitals (M1) vs. Toronto Maple Leafs (WC2)
• Play-by-play: Jim Hughson; Game Analyst: Craig Simpson; TV Reporter: Scott Oake; sportsnet.ca: Chris Johnston
• All games all available on Hockey Night in Canada: Punjabi Edition on OMNI
• Select games will air live on Sportsnet 590 The FAN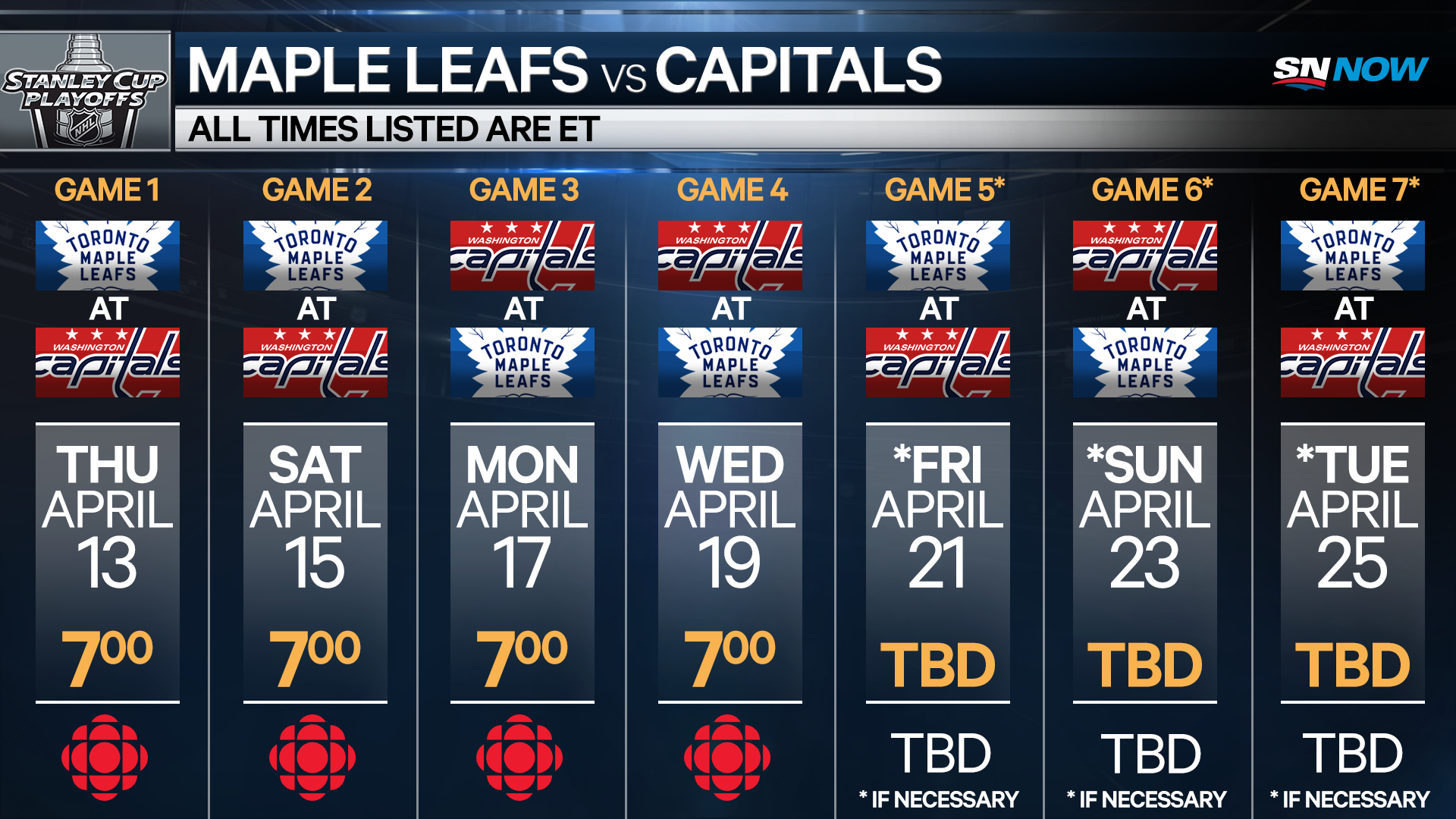 Pittsburgh Penguins (M2) vs. Columbus Blue Jackets (M3)

WESTERN CONFERENCE:
Edmonton Oilers (P2) vs. San Jose Sharks (P3)
• Play-by-play: Dave Randorf; Game Analyst: Louie DeBrusk; TV Reporter: Cassie Campbell-Pascall; Sportsnet.ca: Mark Spector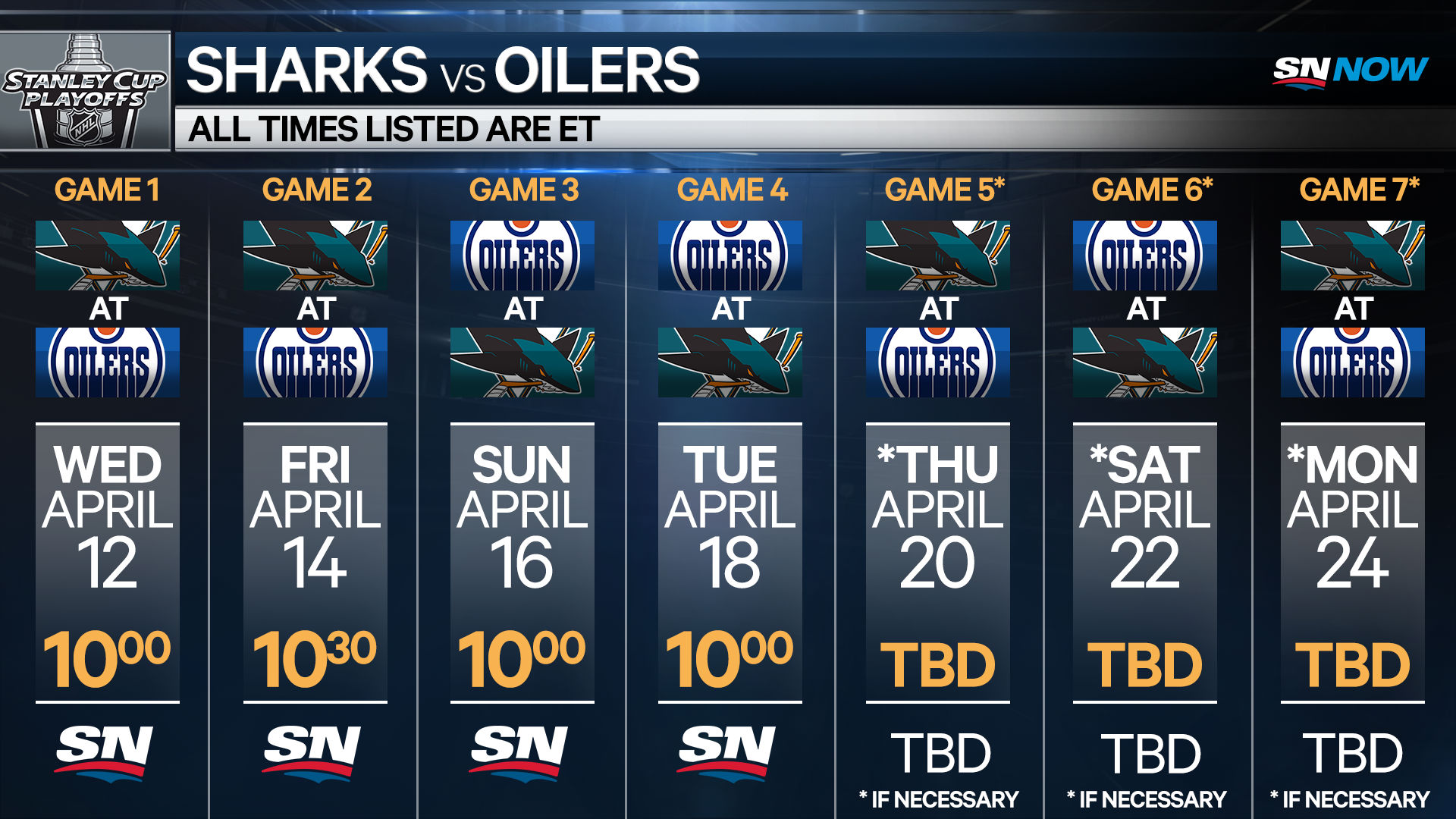 Minnesota Wild (C2) vs. St. Louis Blues (C3)

Calgary Flames (WC1) vs. Anaheim Ducks (P1)
• Play-by-play: Rick Ball; Game Analyst: John Garrett; Reporter: Roger Millions; Sportsnet.ca: Ryan Dxon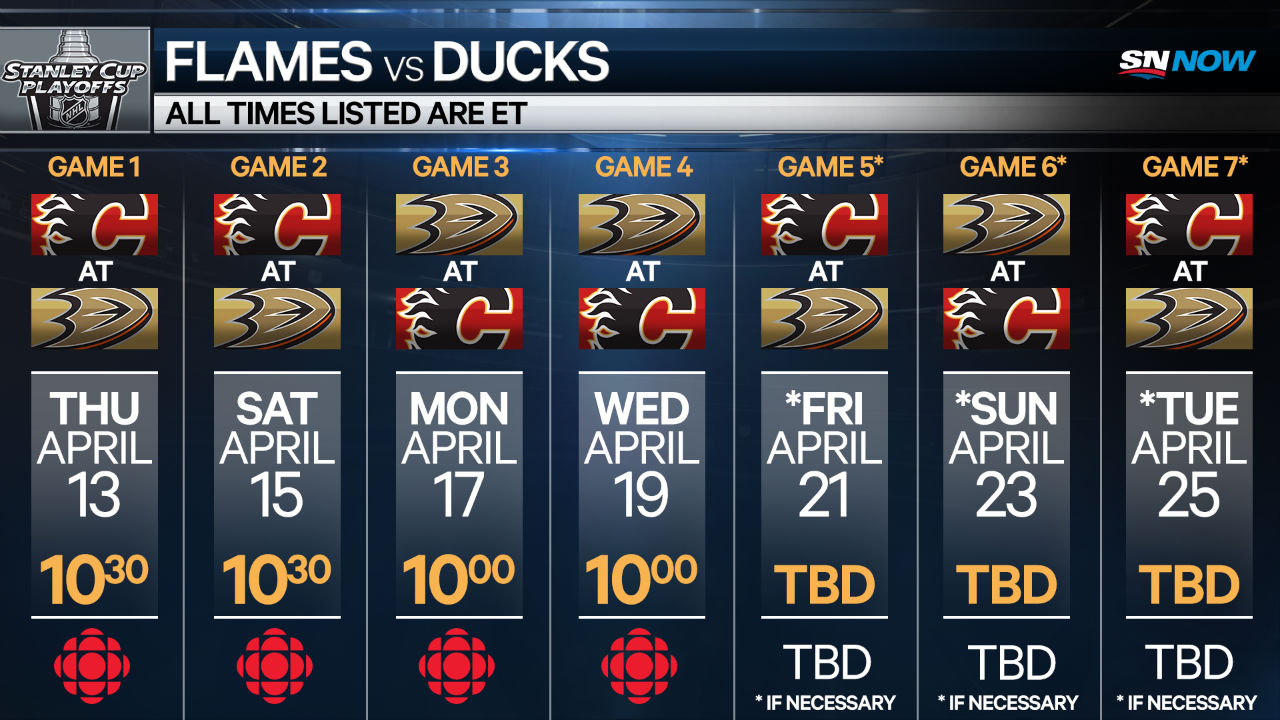 Nashville Predators (WC2) vs. Chicago Blackhawks (C1)