And it all comes down to two.
As the draft in Chicago approaches, all eyes will be on the race for first overall between Brandon's Nolan Patrick and Halifax's Nico Hischier. While the Ontario Hockey League has generally been considered the elite CHL league for hot housing high-end draft picks, this year the O gives way for a race between the top prospect in the WHL and the lead horse in the QMJHL.
And there's really no wrong answer between the two, either.
With Patrick you get a safe, high-end, right-shot centre who gets the tap on the shoulder no matter what the situation the game is in.
And with Hischier you get a solid two-way player who drives the offence and has the ability to bring fans out of their seats.
Think Jonathan Toews lite vs. Pavel Datsyuk lite. (Side note: Hischier wears number 13 both as a tribute to his brother who wore the same number and the former Red Wing Hischier patterns his game after.)
Below you'll find our final top-10 list of the season. We'll fill out the rest of the list in the coming weeks. In the meantime here's a few things we should note.
After the second pick, it's jump ball.
[snippet]
Regardless of who goes at No. 2 it looks like the fun begins with the third pick. In a season where there aren't any franchise altering players what we've found, after talking to a number of NHL teams, is everyone's draft list is radically different than everyone else's.
Patrick and Hischier have clearly cemented themselves in the top two positions but after that could we see teams start to draft for position? There are plenty of forwards at the top end of the draft this year but what if you're a team desperate to redo your blue-line? At last year's draft, we saw both Detroit and Nashville deliberately target blueliners in the first two rounds. I don't think it will shock many to see other teams go this route as well.
The Finnish program continues to pump out high-end talent after Patrik Laine, Jesse Puljujarvi and Olli Juolevi led the way at last year's draft. It looks like the year the blueliners will carry the day for Finland. We may see as many as five Finnish defencemen called in the first round. For sure we'll have Miro Heiskanen, Juuso Valimaki and Urho Vaakanainen taken in the first but don't be surprised if Henri Jokiharju (who was excellent at the CHL/NHL Top Prospects game in Quebec City) and Robin Salo picked also. Other Finnish defenceman to pay attention to is six-foot-seven Eemeli Rasanen of the Kingston Frontenacs.
Goaltenders are in a unique camp again as teams generally tend to stay away from using a first-round pick on one. Expect that to remain the same this draft. Having said that, there are some intriguing options in net this year.
We have Jake Ottinger of Boston University at No. 1 as he's been all season, followed by Stuart Skinner of the Lethbridge Hurricanes. Many scouts rave about six-foor-four Finnish netminder Ukko-Pekka Luukkonen and Windsor's Michael DiPietro has turned heads all season long as well.
Here's our top-10 list of draft prospects for the season, with the player's last ranking in parentheses.

1. (1) Nolan Patrick, C – Brandon Wheat Kings (WHL): A coach's dream who plays in all situations. Has good bloodlines with his father Steve and uncle James both having played in the NHL. The right-hand shot centre won't blow you away with any one specific skill, but just does everything really well. We've had him as the top-ranked prospect all season despite injuries in both the regular and post-season and see no reason to change now that his season is done.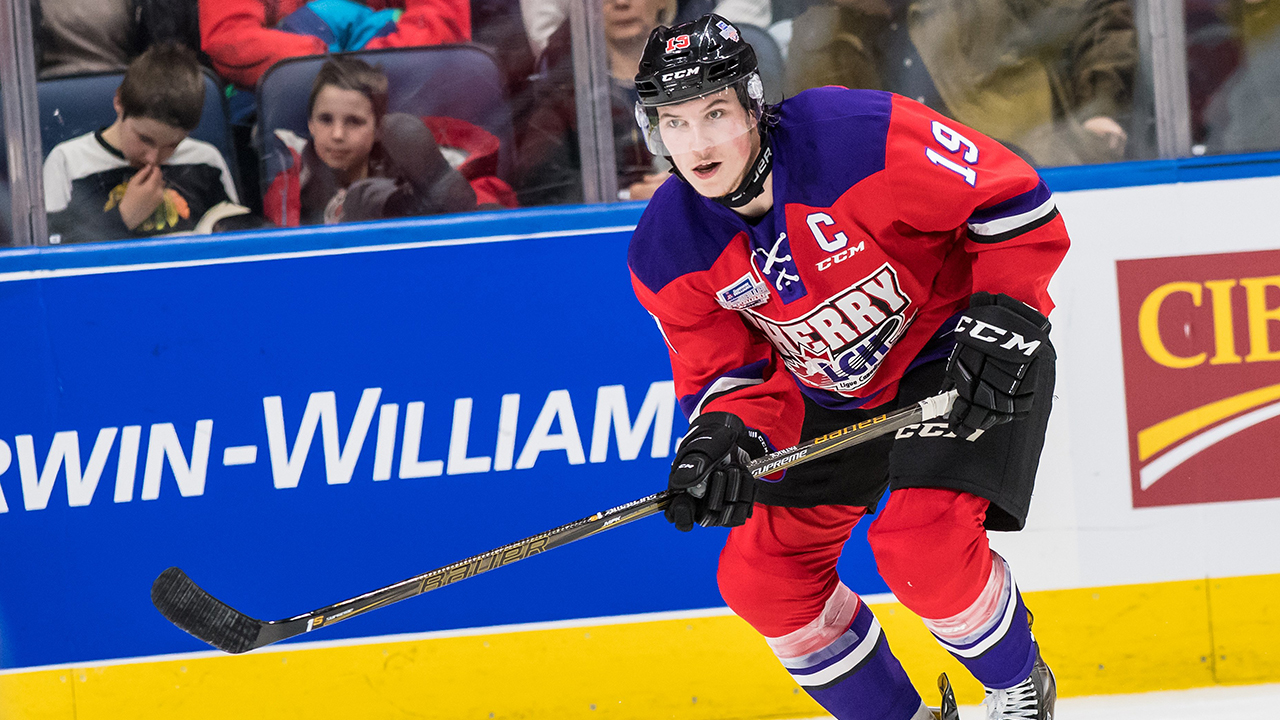 Vincent Éthier/QMJHL Media

2. (3) Nico Hischier, C – Halifax Mooseheads (QMJHL): He's a playmaker that pushes the pace and drives/attacks off the rush. Can drive offence for a line. He thinks and processes information fast.

3. (13) Miro Heiskanen, D – HIFK (Liiga): Top D-man in the draft. A steady riser all season. Plays a panic-free game and never throws pucks away. A real smooth skater with good power who can play big minutes. A first pairing blueliner.

4. (4) Owen Tippett, RW – Mississauga Steelheads (OHL): Has a shoot first mentality who's able to get his shot off in just about every situation. Has a great burst in his first three strides and possesses great breakaway speed. Can change a game in one shift.

5. (16) Cody Glass, C – Portland Winterhawks (WHL): Great vision and feel for ice. His game has risen all season long as he's come from way back of the pack to a top-five position here. Does a really good job creating open spaces for his line.

6. (5) Gabriel Vilardi, C – Windsor Spitfires (OHL): Had a year battling through injuries (knee) and illness (appendicitis), yet still developed his abilities. His ability to score improved as did his possession game. Down low is strong on the puck which should serve him well at the next level. His skating, which has been a knock, has improved all season.

Terry Wilson/OHL Images

7. (3) Timothy Liljegren, D – Timra (Allsvenskan): A strong and well balanced skater who possesses a really good shot. Good puck mover who likes it on his stick a lot. Some scouts feel he'll be better around better talent.

8. (6) Casey Mittelstadt, C – Eden Prairie (Minnesota High School): Has great puck skills and an ability to create offence. Many scouts were disappointed when he chose to go back to high school to try to win a state championship as that level of hockey didn't challenge him. Was at his best playing for Green Bay of the USHL. A big kid who has speed and a creative gift with the puck. Should do well at University of Minnesota next season.

9. (10) Cale Makar, D – Brooks Bandits (AJHL): Has a tremendous ability to transition pucks out of his end quickly with skating and passing. Can pull away quickly and gain the offensive zone. This mobile defender can easily quarterback a power play.

10. (8) Martin Necas, C – HC Kometo Brno (Extraliga): Plays both centre and wing. A tireless skater who has handled big minutes with both his junior and men's team in Czech Republic.
[relatedlinks]