It was undeniably slow, but most of the big time contenders for the Stanley Cup this season ended up making moves to bolster their lineups at the NHL trade deadline. There's no way to get a complete picture of what kind of impact these new players will have on their teams in the playoffs, but at a glance we can look at which teams are most likely to see big improvements due to their additions.
Based on a variety of criteria, the teams I came up with as the biggest contenders for the Cup this season are, in no particular order: Tampa Bay, Boston, Winnipeg, Nashville, Vegas, and Dallas. Five of those six teams made additions, so we can look at those moves specifically to see what to expect.
Starting with the forwards, here's the general offensive impact that can be expected from the contenders who added players.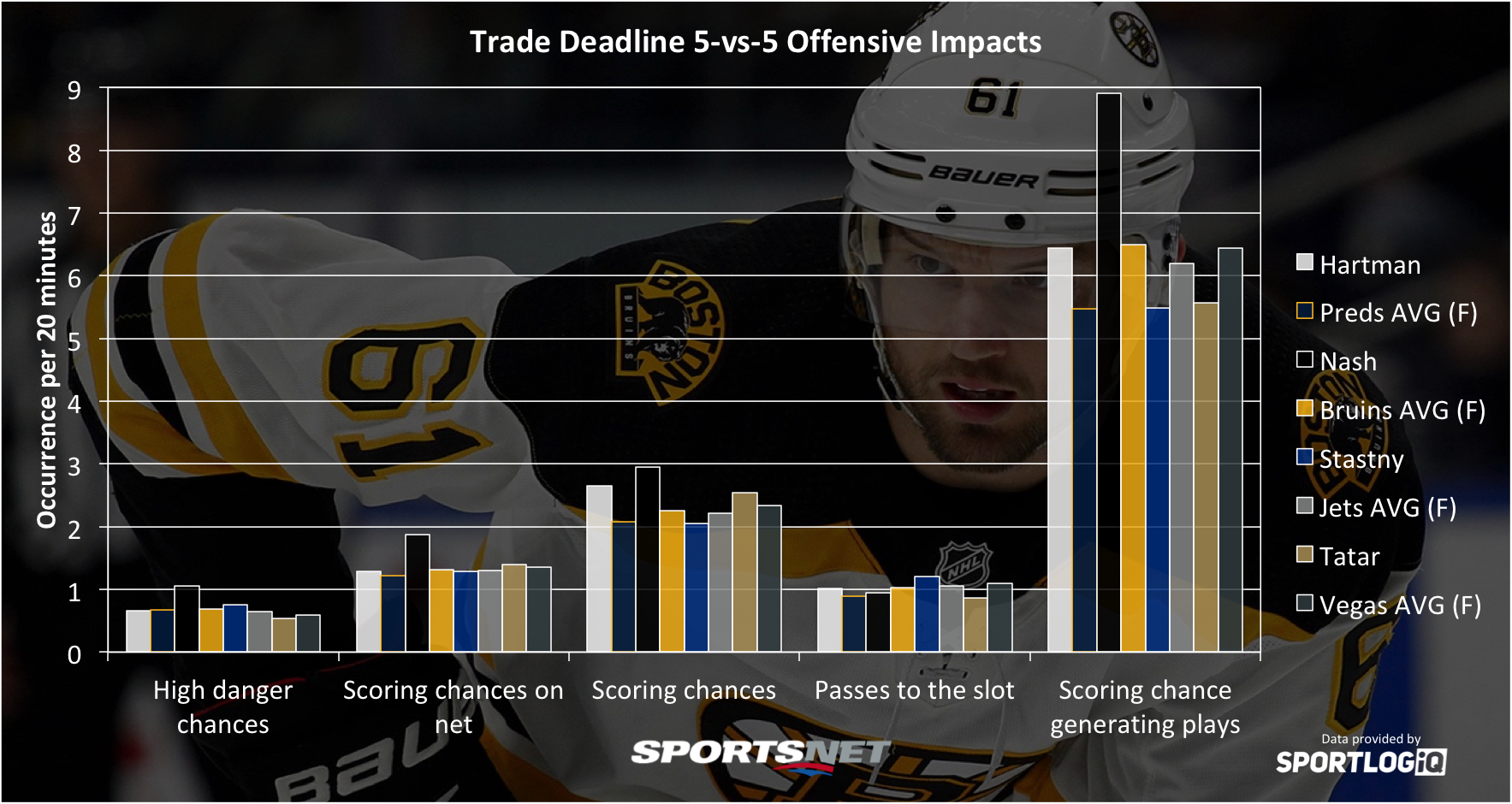 The Predators paid a steep price for Ryan Hartman, whose 25 points this year undersells his offensive impact. Not only is he a very impressive possession driver, but he gets to the slot way more than the average Predators forward, and makes passes there more often as well.
He was sheltered in Chicago, but won't be asked to play high quality minutes in Nashville either; he's likely going to be on their third line where he'll bring some physicality and net front presence with significantly above average playmaking to boot. Considering Hartman is just 23 years old, you can sort of understand why GM David Poile felt it was worthwhile to pay the heavy price to bring in a piece that could help Nashville for years.
Rick Nash doesn't finish at the rates he used to, but he's an offensive powerhouse at 5-on-5, as only 12 players put up more high danger scoring chances per minute than Nash. His shots also create a ton of scoring chances for his teammates — only 15 players create more than Nash. A little bit of regression in Nash's percentages could see an avalanche of goals for the Bruins, even though they gave up a really good player in Ryan Spooner to get him.
Paul Stastny isn't a big-time shooter, but he's an excellent playmaker who creates high-quality scoring chances for his teammates, and joins a Jets team that's already very good at creating pre-shot movement. By adding to an already existing strength the Jets aren't addressing a weakness, but by getting even better in a spot they were already good, while adding depth at an important position down the middle, Winnipeg becomes an even tougher out.
Tomas Tatar is having a down season for himself, and while he's still an above average shooter, he doesn't look like a huge impact player for the Golden Knights. However, over the past three years he ranked as the 14th-best left winger in the game based on my comprehensive rankings project from September. Offensively Tatar is more of a second liner, but he's a brilliant transition player and extremely underrated defensively. With three more years left on his contract after this one, Vegas is thinking about more than just this year.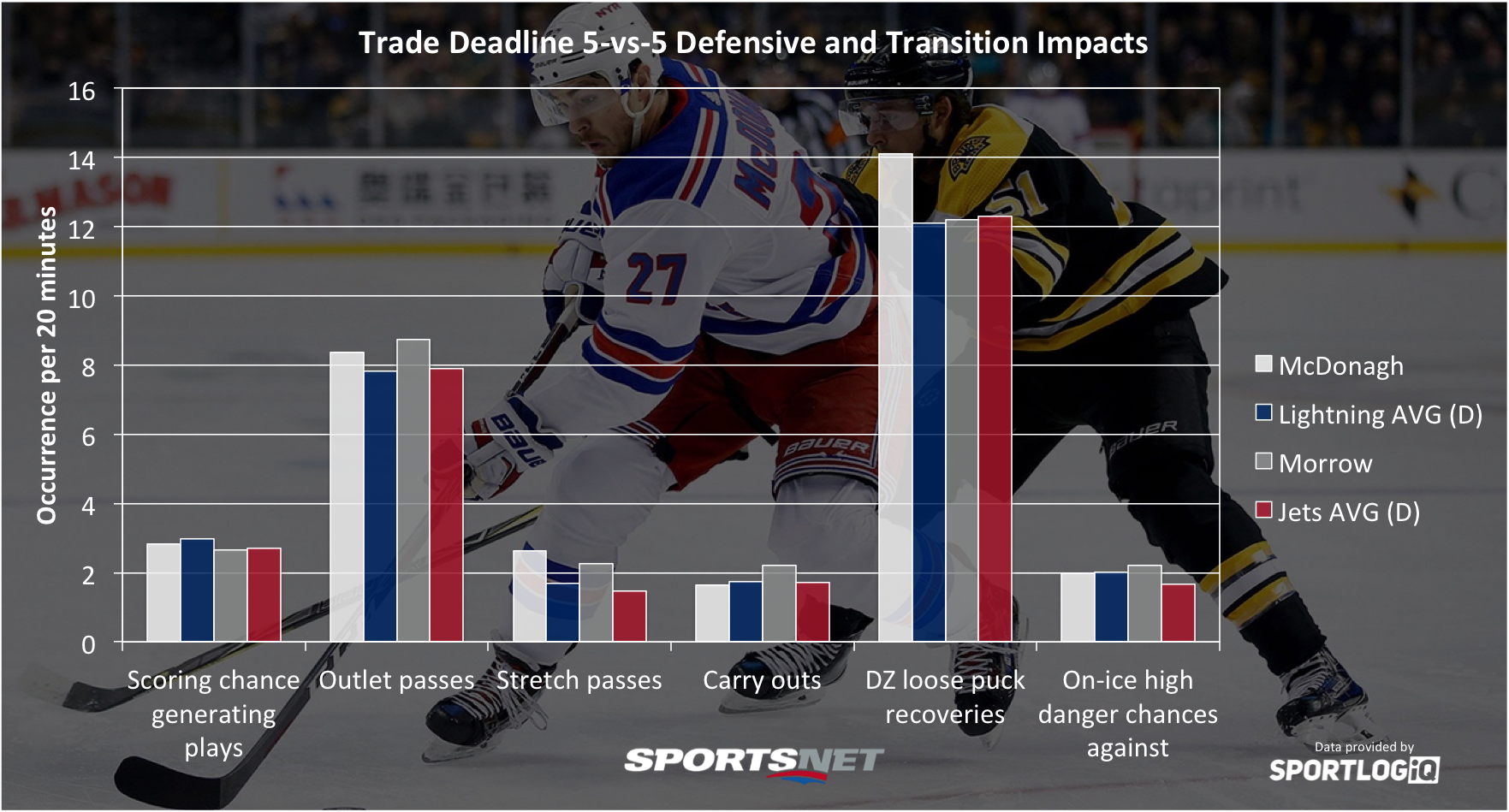 The last trade to go through on deadline day was the Tampa Bay Lightning paying a huge price to get Ryan McDonagh, and also getting J.T. Miller (this detail came along too late to add to the previous look at forwards). McDonagh isn't above team average offensively, but Tampa's average is mostly driven by Victor Hedman and Mikhail Sergachev putting up incredible numbers — McDonagh is still a huge upgrade over the rest of the roster.
In transition, McDonagh brings a lot of great passing to the table, but isn't as big on carry outs as his smooth skating would have you believe. Luckily for Tampa, he's also a stalwart defensively, facing top attackers every night, beating them to loose pucks and effectively limiting chances against. The Lightning's biggest weakness as a team were the minutes in their own zone at 5-on-5 played by anyone other than Hedman or Anton Stralman. This move is of incredible value because it gives the Lightning an instant second pairing that can compete with almost any team in the league, provided Jon Cooper doesn't saddle McDonagh with Girardi like the Rangers did.
Joe Morrow is actually a pretty decent transition player, and can contribute offensively by joining the rush, but he is extremely porous in the defensive zone. This leads to tons of shots, chances, and high danger chances against while he's on the ice, despite the fact he's sheltered. He's particularly open to being beat by passes to and through the slot, and his ability to win pucks in dangerous areas is not great. Positioning and gap control are a consistent problem.
I'm not sure I see the upside of the Morrow acquisition for Winnipeg other than being sparingly used in a depth role, but the McDonagh trade, especially considering the Lightning also added the speedy and versatile Miller up front, has to be the ultimate winner of the day.
[relatedlinks]