After rallying back in Game 6 to eliminate the Vancouver Canucks, the Flames are onto the second round of the Stanley Cup Playoffs for the first time since 2004.
Calgary will draw the top-seeded Anaheim Ducks, who have won 20 consecutive games over the Flames on home ice. Can the resilient Flames reverse the trend or will the Ducks power through a second straight Canadian team?
The Flames will certainly have revenge on their minds, especially goaltender Jonas Hiller. The Flames netminder spent the majority of his career in Anaheim before leaving as a free agent this past summer. Hiller allowed 12 goals on 118 shots in the regular season against his former team.
Here's a look at how the two teams match up.
---
STANLEY CUP PLAYOFFS: | Broadcast Schedule
Rogers NHL GameCentre LIVE | Stanley Cup Playoffs Fantasy Hockey
New Sportsnet app: iTunes | Google Play
---
ANAHEIM DUCKS: 51-24-7. 1st in Western Conference

CALGARY FLAMES: 45-29-7. 6th in Western Conference


Head-to-head:
Anaheim: 3-1-1
Calgary: 2-3-0
Last game played head-to-head: On Mar. 11, the Flames fought back from an early two-goal deficit to beat the Ducks 6-3. Johnny Gaudreau and Matt Stajan scored two goals apiece while defenceman Kris Russell registered three assists.
LEADING PLAYOFF SCORERS
Anaheim: Corey Perry (7 pts), Jakob Silfverberg (6), Ryan Kesler (5)
Calgary: Jiri Hudler (6), Johnny Gaudreau (6), Sean Monahan (5)
ADVANCED STATS (regular season)
Anaheim: 5on5CF% – 51.1; 5on5Sv% – .919; 5on5Sh% – 8.53; PDO = 100.4
Calgary: 5on5CF% – 44.4; 5on5Sv% – .922; 5on5Sh% – 8.96; PDO = 101.2
FIRST ROUND
Anaheim: Beat Winnipeg Jets 4-0.
Calgary: Beat Vancouver Canucks 4-2.
LAST TIME THEY MET IN THE PLAYOFFS: The Ducks and Flames haven't faced off in the Stanley Cup Playoffs since the 2005-06 season. It was an intense back-and-forth affair with the two clubs trading victories through the first six games of the series.
The Ducks got a big boost from goaltender Ilya Bryzgalov, who filled in for an ineffective Jean-Sebastien Giguere. Bryzgalov shut out the Flames in a decisive Game 7 victory to wrap up the series for Anaheim.
---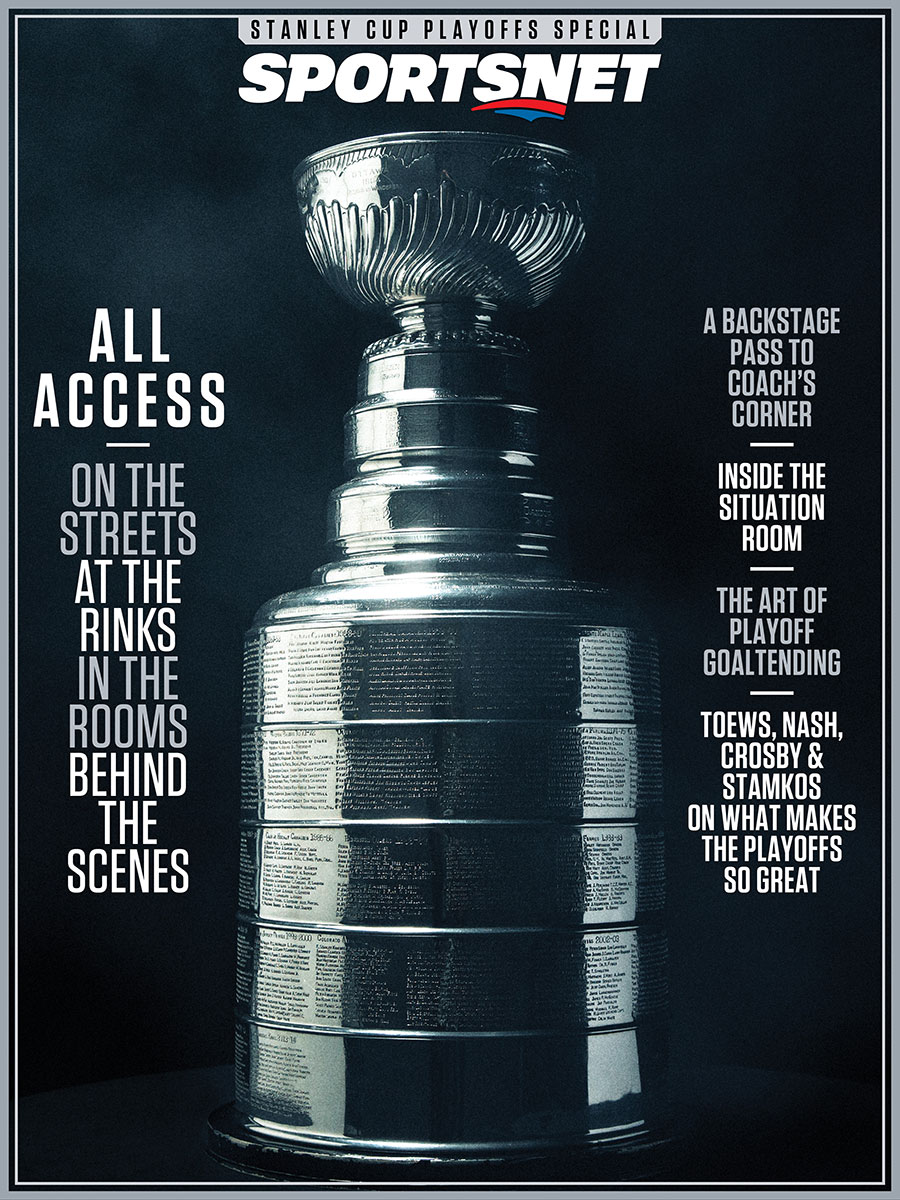 Sportsnet Magazine: An all-access pass to the Stanley Cup Playoffs, including a behind-the-scenes look at Coach's Corner and exclusive camera angles in Montreal. Download it right now on your iOS or Android device, free to Sportsnet ONE subscribers.
---
ANAHEIM'S HIGHLIGHT OF THE PLAYOFFS
Ducks forward Emerson Etem walks through defenceman Jacob Trouba with a ridiculous individual effort to score the goal of the post-season.

CALGARY'S HIGHLIGHT OF THE PLAYOFFS
Johnny Gaudreau finishes off a perfect pass from Dennis Wideman in the slot on the power play.

KEY INJURIES
Anaheim: Nate Thompson (day-to-day: upper-body injury), John Gibson (day-to-day: hand)
Calgary: Lance Bouma (day-to-day: upper-body injury), Raphael Diaz (day-to-day: undisclosed), Mark Giordano (IR: torn biceps), Paul Byron (day-to-day: lower-body injury), Ladislav Smid (IR: neck)