The Anaheim Ducks shook off a horrific start to the season to climb all the way atop the Pacific Division. For their efforts they get the Nashville Predators, finished in the Western Conference's first wild-card spot.
The Ducks hold home-ice advantage for the series.
Here's a look at how the two teams match up.
ADVANCED STATS:
Anaheim: 5on5CF% – 52.5; 5on5Sv% – .922; 5on5Sh% – 6.6; PDO = 98.8
Nashville: 5on5CF% – 52.5; 5on5Sv% – .922; 5on5Sh% – 7.26; PDO = 99.5
(via stats.hockeyanalysis.com)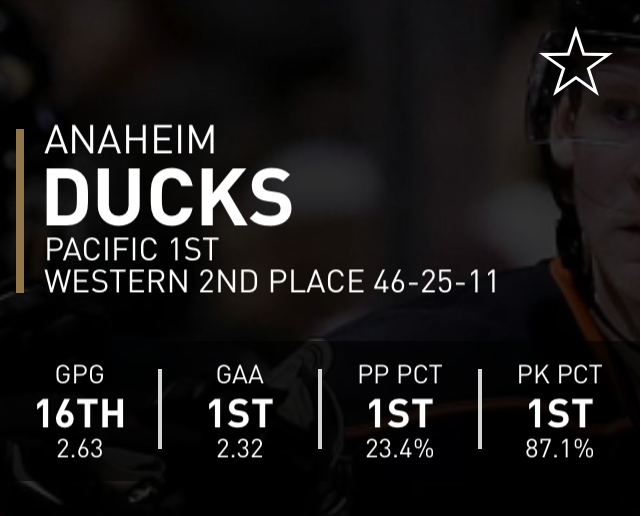 Head-to-head
Anaheim: 1-2-0
Nashville: 2-1-0
LAST GAME PLAYED HEAD-TO-HEAD:
The Predators beat the Ducks at home all the way back in November.
LAST TIME THEY MET IN THE PLAYOFFS:
In 2011, the Predators advanced to the second round for the first time in franchise history after beating the Ducks in six games.
ANAHEIM'S HIGHLIGHT OF THE YEAR:
He's considered day-to-day with an illness right now, but if healthy, Rickard Rakell can be a huge difference maker this series. Here he is going through the Edmonton Oilers to win a game in overtime.
NASHVILLE'S HIGHLIGHT OF THE YEAR:
How about Filip Forsberg going between his legs to put a rebound home just five days ago? Honourable mention goes to Shea Weber's 108.1 m.p.h. slapshot to defend his hardest shot title at the 2016 NHL All-Star Skills Competition.