The Ottawa Senators and Montreal Canadiens will face off in the Stanley Cup Playoffs for the first time since the nasty series from 2013.
Between Carey Price, P.K. Subban, Erik Karlsson, Andrew Hammond, and emerging forward Mark Stone, there is plenty of intrigue in the all-Canadian match-up.
Is this the year that Montreal can return to the Stanley Cup Final or will the Hamburglar and Co. pull off the upset?
(A1) vs.
(WC1)
G1 Wed., April 15 Ottawa @ Montreal, 7 p.m. ET CBC
G2 Fri., April 17 Ottawa @ Montreal, 7 p.m. ET CBC
G3 Sun., April 19 Montreal @ Ottawa, 7 p.m. ET CBC
G4 Wed., April 22 Montreal @ Ottawa, 7 p.m. ET CBC
G5* Fri., April 24 Ottawa @ Montreal, TBD CBC
G6* Sun., April 26 Montreal @ Ottawa, TBD CBC
G7* Tues., April 28 Ottawa @ Montreal, TBD CBC
• Play-by-play: Paul Romanuk; Game Analysts: Mike Johnson and Glenn Healy; Reporter: David Amber
• Chris Johnston, Eric Engels & Shannon Proudfoot cover the series for sportsnet.ca
• GamePlus features available in Rogers NHL GameCentre LIVE
OTTAWA SENATORS: 43-26-13. 7th in Eastern Conference

MONTREAL CANADIENS: 50-22-10. 2nd in Eastern Conference

---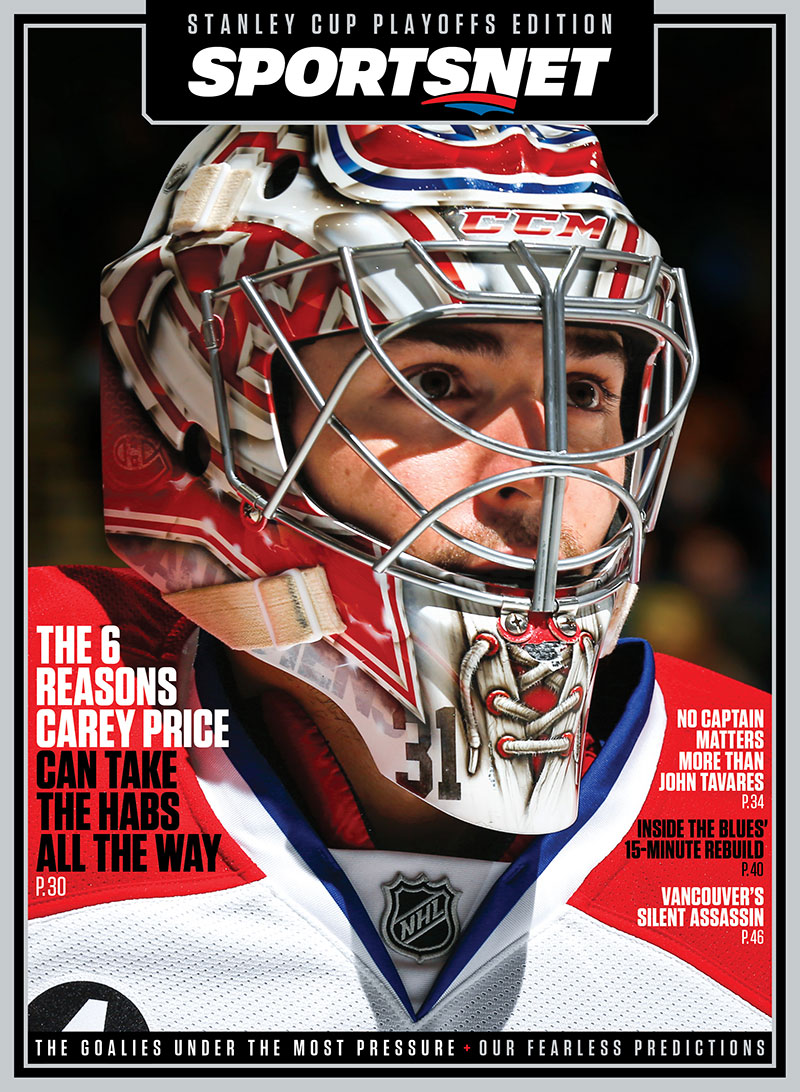 Sportsnet Magazine Stanley Cup Playoffs
Edition: The six reasons why Carey Price can take the Montreal Canadiens all the way. Download it right now on your iOS or Android device, free to Sportsnet ONE subscribers.
---
Head-to-head:
Ottawa: 3-1-0
Montreal: 1-3-0
Last game played head-to-head: On March 12, Hammond improved to 8-0-1 with a 27-save performance in a 5-2 win over Montreal. Erik Karlsson scored twice as Carey Price had a rare off night, allowing five goals on 28 shots.
LEADING SCORERS
Ottawa: Erik Karlsson (66), Kyle Turris (64), Mark Stone (64).
Montreal: Max Pacioretty (67), P.K. Subban (60), Tomas Plekanec (60).
ADVANCED STATS
Ottawa: 5on5CF% – 50.3; 5on5Sv% – .929; 5on5Sh% – 8.06; PDO = 101.0
Montreal: 5on5CF% – 48.4; 5on5Sv% – .939; 5on5Sh% – 7.84; PDO = 101.7
(via stats.hockeyanalysis.com)
PAST 10 GAMES
Ottawa: 6-2-2
Montreal: 5-2-3
LAST TIME THEY MET IN THE PLAYOFFS: In 2013, Ottawa and Montreal faced off in a highly-spirited affair. The Senators took the first series in the modern era between the two Canadian clubs 4-1 thanks to a dominant performance from goaltender Craig Anderson. But the series is most remembered for the blooming rivalry. Between the line brawl in Game 3, Eric Gryba's monster open ice hit on Lars Eller, or Brandon Prust calling then-Senators coach Paul MacLean "a bug-eyed walrus", there were plenty of story lines in the five-game series.
OTTAWA'S HIGHLIGHT OF THE YEAR
Kyle Turris shows off some slick handles before he sets up Mark Stone for an overtime winning goal against the Carolina Hurricanes.
MONTREAL'S HIGHLIGHT OF THE YEAR
Where would Montreal be without Carey Price? So obviously the team's best highlight involves their best player. He absolutely robs rookie Kevin Fiala as he makes a diving backwards save.

KEY INJURIES
Ottawa: Milan Michalek (day-to-day: head), Matt Puempel (day-to-day: lower-body), Robin Lehner (IR: concussion), Chris Phillips (IR: undisclosed)
Montreal: Max Pacioretty (day-to-day: head), Tom Glibert (day-to-day: upper-body)