With less than three weeks to go in the regular season, also-rans are quickly falling out of the picture while pressure is beginning to mount on a variety of teams, including the two we focus in on today: Arizona and Columbus.
Here's a look at the playoff races ahead of a seven-game Tuesday.
EASTERN CONFERENCE
If the regular season ended today…
(A1) Tampa Bay vs. (WC2) Montreal
(A2) Boston vs. (A3) Toronto
(M1) Washington vs. (WC1) Carolina
(M2) NY Islanders vs. (M3) Pittsburgh
Team in focus: Columbus Blue Jackets
While Vegas reeled in the biggest fish and contenders such as Winnipeg, San Jose and Washington fine tuned their depth charts ahead of the playoffs, Blue Jackets GM Jarmo Kekalainen threw caution to the wind at the trade deadline. Despite facing the possibility of missing the playoffs and the likelihood that his two best players will leave via free agency, Kekalainen added three more expiring contracts: Matt Duchene, Ryan Dzingel and Adam McQuaid.
The first two needed to add the most to this team, so how are the former Sens doing compared to the rest of the Blue Jackets since the deadline?
| PLAYER | GP | G | A | PTS | SF% | HDCF% |
| --- | --- | --- | --- | --- | --- | --- |
| Josh Anderson | 14 | 4 | 7 | 11 | 50 | 53.85 |
| Zach Werenski | 14 | 2 | 8 | 10 | 50.73 | 48.35 |
| Artemi Panarin | 14 | 1 | 8 | 9 | 50.98 | 47.06 |
| Ryan Dzingel | 14 | 2 | 6 | 8 | 44.67 | 45.95 |
| Boone Jenner | 13 | 4 | 3 | 7 | 52.05 | 53.33 |
| Cam Atkinson | 14 | 4 | 2 | 6 | 47.72 | 46.27 |
| Oliver Bjorkstrand | 14 | 5 | 0 | 5 | 60.15 | 50 |
| Seth Jones | 14 | 2 | 3 | 5 | 50.91 | 45.83 |
| Matt Duchene | 14 | 2 | 2 | 4 | 48.36 | 47.83 |
Brought in to be complementary contributors, Dzingel has done a solid job in that regard. In fact, he leads all Blue Jackets in even strength points with eight and is second to Artemi Panarin in primary assists with three. And though the Blue Jackets allow more 5-on-5 shots against when Dzingel is out there, the percentage of high danger chances goes up at least a little bit.
Duchene hasn't stood out as much and doesn't have any primary assists as a Blue Jacket yet. But the problem with identifying him as a hindrance to this offence right now is that it ignores the fact Panarin hasn't been himself since Feb. 25 either. With only one goal in 14 games, his ill-timed slump has affected centre Pierre-Luc Dubois, who doesn't even show up here with three points in 14 games.
It's hard to pin Columbus' offensive struggles on either of the new guys. Dzingel is actually playing rather well and though Duchene's numbers aren't there, the same is also true about the top-line players he was brought in to support. In fact, it's the third line of Boone Jenner between Oliver Bjorkstrand and Josh Anderson that is keeping this whole operation from caving in completely.
Columbus has just 32 goals in 14 games since the deadline – a tough pill to swallow given they had 42 in the 14 games before then. At least one of their lines is scoring right now, but now they need one of the top two units to rediscover its scoring touch.
Here's what the Eastern Conference standings look like today:


What'd I miss?: Well, if you didn't see Monday's Boston-Tampa Bay showdown then shame on you. While the Bruins for most of the game showed why we should maybe consider them as a team that could take down the Lightning in the playoffs, Tampa Bay pulled off yet another unfathomable comeback in a thrilling third period that had all the playoff buzz you could ask for in what was, in essence, a meaningless regular season game.
With the win, Tampa Bay brought its winning percentage to an astounding .450 when trailing after two periods. The next-most successful team in these situations are the Calgary Flames with a .267 winning percentage. Never count out the Lightning.
Fun fact: Need another reason to buy into Tampa's title run? No Eastern Conference team has beaten them more than once this season. The NHL's best team, which could still set the all-time single-season wins record, is 41-6-0 within their own conference. Three teams have beaten them more than once in the West though: Minnesota, Nashville and St. Louis.
Tuesday's Clinching Scenarios
The Washington Capitals will clinch their spot if they win, in any fashion, against Carolina and both Montreal (vs. FLA) and Columbus (vs. NYI) lose in regulation.
"I think match-up wise, the Leafs are giving up a little bit on the back-end obviously, but I can see them coming out much more ahead in this series."@reporterchris on this year's #Leafs vs. #Bruins match-up @SNJeffBlair #LeafsForever #BlairShow.

: https://t.co/BroTuY34qr pic.twitter.com/Y4DulFahZb

— Sportsnet 590 The FAN (@FAN590) March 26, 2019
WESTERN CONFERENCE
If the regular season ended today…
(P1) Calgary vs. (WC2) Colorado
(P2) San Jose vs. (P3) Vegas
(C1) Winnipeg vs. (WC1) Dallas
(C2) Nashville vs. (C3) St. Louis
Team in focus: Arizona Coyotes
This week is a huge one for the Coyotes, whose offence has suddenly dried up. Granted this team's strength has been defence and goaltending all year, but when they went 13-4-0 from Feb. 9 to March 15, Arizona averaged 2.88 goals per game. Last week, an 0-3-1 stretch, the Coyotes scored just four times against Tampa Bay, Florida, New Jersey and the Islanders.
In a star-driven league, Arizona's biggest issue with its offence is that they don't have a stud to lean on. Clayton Keller, while great, is the lowest leading scorer of any of the NHL's 31 teams with 46 points in 76 games. In that Feb. 9 to March 15 stretch of success when goals were coming at a good rate, Vinnie Hinostroza, Oliver Ekman-Larsson and Alex Galchenyuk were the team's primary contributors. They may not have one stud, but in theory they have various weapons that could get hot.
Last week, Arizona was still shutting down the competition by allowing an average of just 26 shots against per game — they even had more high danger chances than Tampa Bay in that 4-1 loss. There's no issue with that side of their game. This week Arizona plays three teams they're directly competing against for a playoff spot: Chicago, Colorado and Minnesota. Considering Arizona's last two games of the season are against Vegas and Winnipeg, this week's schedule will probably make or break their season. The offence has to come back ASAP.
Here's what the Western Conference standings look like today: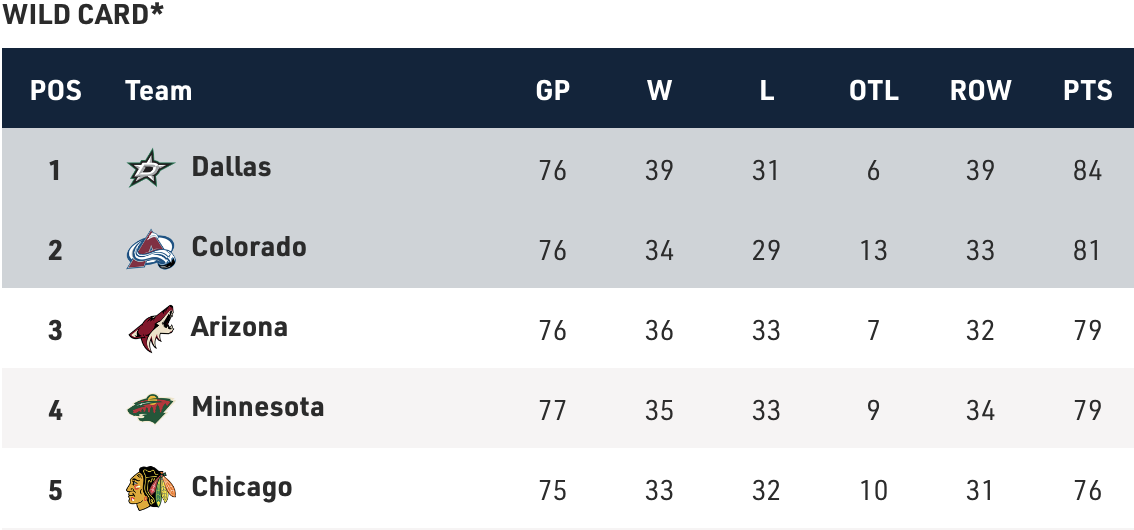 What'd I miss?: Some big Central Division matchups played out Monday night. The Dallas Stars had one of their good games, but the problem with them is you never know what team will show up the next time out. With a 5-2 win over the Jets in which they outshot the division leaders 37-23, the Stars gave themselves a five-point lead on the teams sitting just outside of a playoff spot.
Nashville, meanwhile, clinched its playoff spot and stayed within two points of the Jets for first place with a 1-0 win against a Minnesota Wild team whose season is teetering on the edge of elimination. The Wild will be thankful to head out on the road now because they've had a difficult stretch at home, but their first stop is Vegas on Friday night, followed by Arizona on Sunday.
Fun fact: With Pekka Rinne getting blown out by Winnipeg on Saturday and Juuse Saros earning the third shutout of his season Monday for the Predators, it's worth pointing out what the numbers have been for Nashville's two netminders since Jan. 1. Who would you go with in Game 1?
| PLAYER | RECORD | SV% | GAA |
| --- | --- | --- | --- |
| Juuse Saros | 2009-04-01 | 0.936 | 2.07 |
| Pekka Rinne | 2011-09-03 | 0.909 | 2.74 |
Tuesday's Clinching Scenarios
The St. Louis Blues are idle, but will clinch a playoff spot if the Coyotes lose in any fashion to Chicago. The Blues, tied for last in the NHL on Jan. 1, are 26-9-4 since and just two points off Tampa Bay's league-leading pace in that time.
The Vegas Golden Knights are also idle on Tuesday, but an Arizona loss would lock them into the playoffs for the second season in a row.
[relatedlinks]