A night after the Tampa Bay Lightning were the only Eastern Conference team in action and clinched the Presidents' Trophy, there are 10 games on the NHL schedule.
In the East, the New York Islanders and Boston Bruins are two playoff-bound teams that may never meet in the post-season, but both should be considered dangerous at this time of year. In the West, Minnesota has a chance to move back into a wild-card spot, while Colorado could find themselves in a hole that will be difficult to dig out of with a loss.
Here's our look at Tuesday's schedule with an eye on what these games mean for the run towards the Stanley Cup Playoffs.
Senior Writer Ryan Dixon and NHL Editor Rory Boylen always give it 110%, but never rely on clichés when it comes to podcasting. Instead, they use a mix of facts, fun and a varied group of hockey voices to cover Canada's most beloved game.
EASTERN CONFERENCE
If the regular season ended today…
(A1) Tampa Bay vs. (WC2) Columbus
(A2) Boston vs. (A3) Toronto
(M1) NY Islanders vs. (WC1) Carolina
(M2) Washington vs. (M3) Pittsburgh
Team in focus: Carolina Hurricanes
With a 7-2-1 record in their past 10 games, the Hurricanes might finally get to the playoffs for the first time in a decade, but there's still a tough road ahead. Although they have played the fewest amount of games in the league at 71, Carolina is also only in a playoff spot by four points with one of the toughest remaining schedules. Per NHL.com, Carolina's remaining opponents have a combined points percentage of .591 — only Washington (.600) and Montreal (.605) had tougher finishes. The Canadiens, of course, are currently on the outside and one of the teams chasing Carolina.
For years the Canes have been a favourite pre-season playoff pick because they've always had strong possession numbers that, once translated into goals, seemed to indicate a team on the rise. That's finally happening this season, especially in the second half. Carolina ranks 15th in goals per game in 2018-19, but since Jan. 1 they're scoring an average of 3.57 goals, which ranks third league-wide in that span behind only Chicago and San Jose.
"The puck started going in the net, but not that we actually played any better," Rod Brind'Amour said on Hockey Central Saturday. "I thought our first 20 games this season was our best 20 games that we played and we couldn't buy a goal."
| Year | CF% | Shots | SH% | GF/G |
| --- | --- | --- | --- | --- |
| 2013 | 51.53 (10th) | 1545 (3rd) | 8.2 (23rd) | 2.65 (13th) |
| 2013-14 | 50.3 (15th) | 2561 (9th) | 8 (25th) | 2.5 (22nd) |
| 2014-15 | 52.41 (9th) | 2524 (12th) | 7.2 (29th) | 2.23 (27th) |
| 2015-16 | 51.45 (11th) | 2451 (14th) | 8 (29th) | 2.39 (27th) |
| 2016-17 | 51.31 (6th) | 2493 (14th) | 8.5 (20th) | 2.59 (20th) |
| 2017-18 | 54.48 (1st) | 2780 (4th) | 8.1 (28th) | 2.74 (23rd) |
| 2018-19 | 54.38 (1st) | 2468 (2nd) | 8.5 (27th) | 2.97 (15th) |
| 2018-19 (since Jan. 1) | 53.02 (7th) | 1056 (13th) | 11.2 (5th) | 3.57 (3rd) |
But if the Canes finally finish on the right side of the playoff cut line, goaltending might be the bigger factor — and few, if any, saw that coming with failed No. 1 Petr Mrazek and backup cast-off Curtis McElhinney as this year's tandem. The truth is they've both been outstanding, exceeding any expectations, and given Carolina the confidence to play more freely in front of them — which, in turn, could be contributing to an uptick in goal luck.
"That's been the single most (improved area) of our group from years past is the consistency in net," Brind'Amour said. "Petr Mrazek and Curtis have been phenomenal really just stabilizing things when we have breakdowns. We're going to have them. At the end of the day when they stop them it allows you to just keep pressing forward."
Rod Brind'Amour: Curtis McElhinney and Petr Mrazek are so key for us
March 16 2019
Cam Ward may have led Carolina to its first Stanley Cup in 2006, but staying loyal to him through an obvious decline may have been the single biggest factor holding Carolina back. It looked like the same script could have been followed this season with a couple of cheap, unproven goaltenders leading the way.
But when the Canes claimed McElhinney off waivers from Toronto in October it turned out to be a key move to get them on track for the post-season. Mrazek, who took a one-year prove-it deal in Carolina, has come out of nowhere.
| Year | SA/G | 5-on-5 SV% |
| --- | --- | --- |
| 2013 | 32.2 (26th) | .912 (25th) |
| 2013-14 | 30.9 (10th) | .926 (11th) |
| 2014-15 | 27.3 (3rd) | .909 (29th) |
| 2015-16 | 27.6 (5th) | .915 (28th) |
| 2016-17 | 28.3 (5th) | .913 (29th) |
| 2017-18 | 28.9 (1st) | .909 (30th) |
| 2018-19 | 28.4 (1st) | .919 (12th) |
The Hurricanes have a key game Tuesday at home against Pittsburgh, who is also getting strong play from goaltender Matt Murray of late and really turning a corner as a team. Carolina has two games in hand of the Pens and sit just three points back of them for third in the Metro.
Here's what the Eastern Conference standings look like today: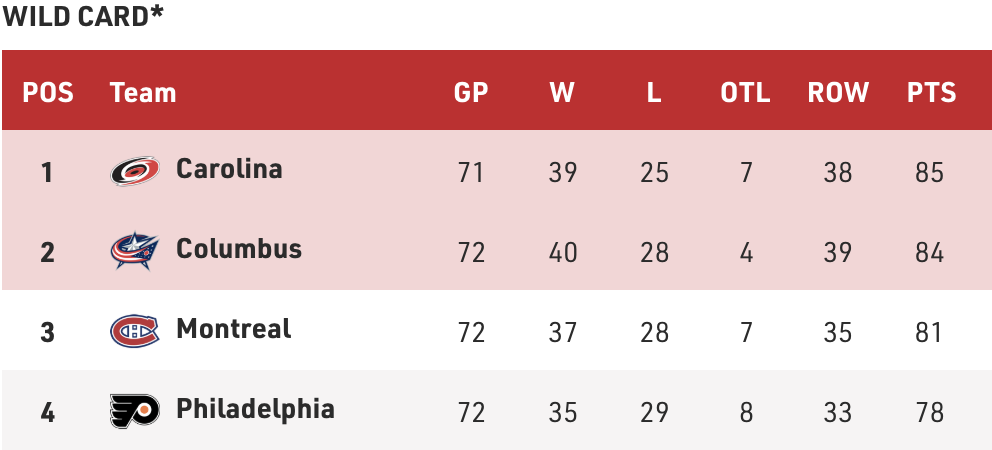 What'd I miss?: There was only one Eastern Conference team in action Monday night and the Tampa Bay Lightning put it to good use. Their 4-1 win over Arizona clinched Tampa's first Presidents' Trophy in team history and they did it at near-historic speed. Only the 1995-96 Detroit Red Wings clinched their place as the NHL's top team in fewer games than the Lightning's 73.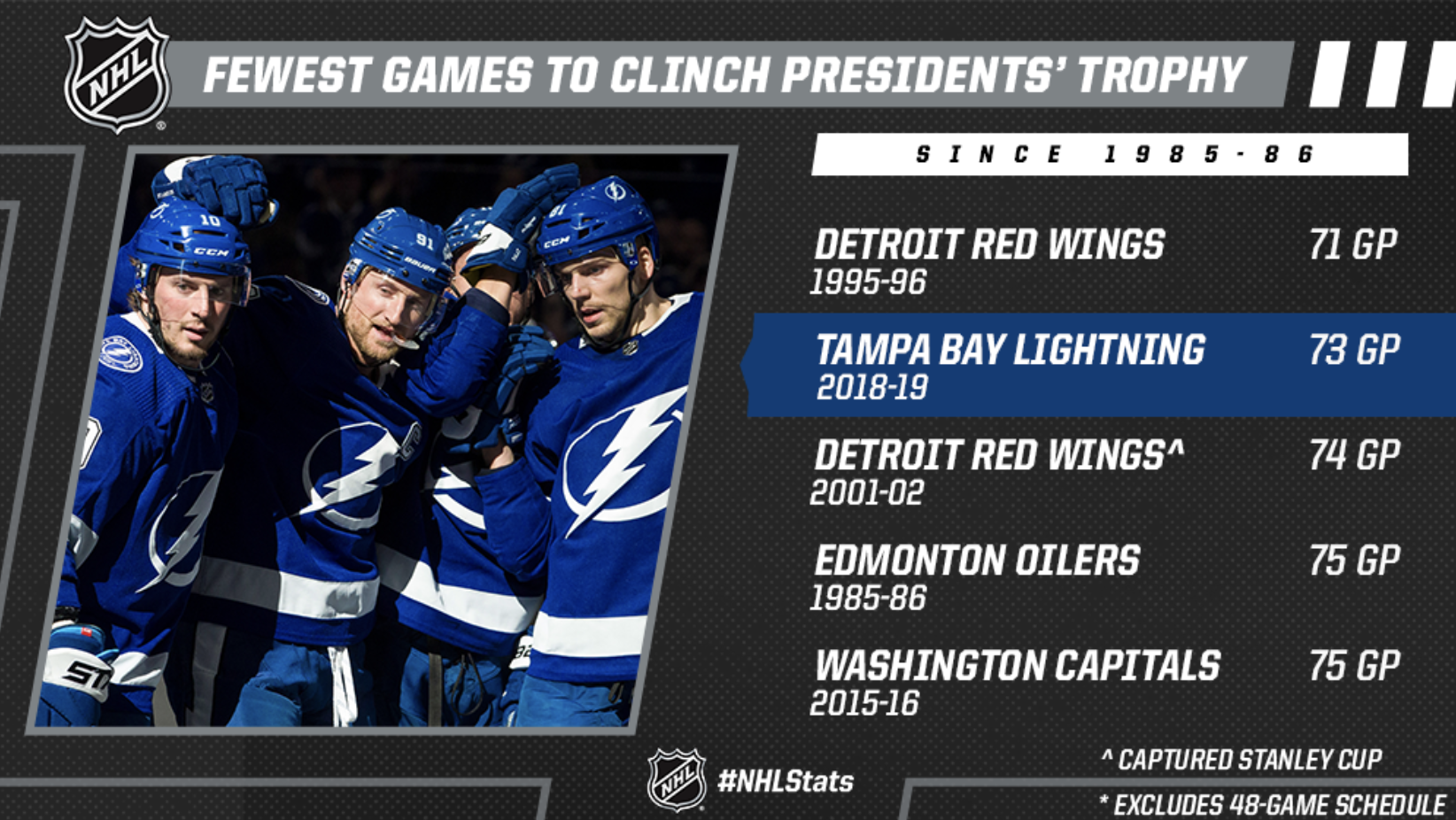 Fun fact: As we wind down the regular season the Lightning have set themselves apart in every way, and while you might think they have nothing left to play for, they have a shot to set a new NHL wins record. Jon Cooper's club has nine games left and need seven wins to surpass that same Red Wings team and finish with 63 wins on the season. The remainder of the schedule will likely be viewed as an opportunity to rest players, but you wonder how much of a motivation that is in the room.
While winning 63 games would be a new record, we'd hesitate to call them the best regular season team ever given that there are no ties in this era. For example, the 1976-77 Montreal Canadiens lost just eight times in 80 games, but had 12 ties. The 62-win Red Wings lost 13 times in 82 games and tied seven games. These Lightning, meantime, have already lost 13 in regulation plus another four in overtime or shootout. If Tampa wins every one of its final nine games they'll set a new points record of 134, eclipsing the '76-77 Habs by only two — and Montreal got to 132 points in two fewer games.
Game to watch: Toronto at Nashville
A couple of struggling teams that, while they won't miss the playoffs, have something to prove. Nashville has been just over a .500 winning record since Feb. 1, but coming off a strong 4-2 win on the road in San Jose. There has to be some concern creeping in about defending Vezina Trophy winner Pekka Rinne. Since Jan. 1 he's 10-8-2 with a .904 save percentage that ranks 24th among goalies with at least 15 games played.
Toronto's struggles are well-documented and started to take hold when Jake Gardiner and Travis Dermott left the lineup. An already weak part of the roster was left exposed and, even worse, Frederik Andersen started to go through his own March struggles that looks a lot like last season, when he had an .885 save percentage in the month. Andersen has allowed 14 goals in his past three starts and been pulled in two of them.
WESTERN CONFERENCE
If the regular season ended today…
(P1) Calgary vs. (WC2) Arizona
(P2) San Jose vs. (P3) Vegas
(C1) Winnipeg vs. (WC1) Dallas
(C2) Nashville vs. (C3) St. Louis
Team in focus: Calgary Flames
It's so important for the Flames to claim the top spot in the Pacific to avoid a first-round matchup against Vegas and these next two weeks provide a decent opportunity to get some space between them and the second-place Sharks.
First, San Jose has already lost 7-3 at home to Vegas this week and they play them again Saturday, Mar. 30. Calgary, meantime, plays five of its next six at home and only two of their games in the next couple of weeks come against playoff teams (Columbus and Dallas). Their only road game is in Vancouver.
The Flames are a mediocre 5-5-0 in their past 10, though, and questions about their goaltending have started to creep in. David Rittich is no longer the rock he was when he took over the top job in October, posting an .889 save percentage and 3.12 GAA since Feb. 1. It's still his net, with Smith playing one half of back-to-backs more often than not, but there's more worry there than before.
At the same time, Vegas has the best offence in the NHL since picking up Mark Stone at the trade deadline and they've lost only once since then — a 6-3 decision in Calgary. San Jose finishes its season with games in Vancouver and Edmonton and then wrap up at home against Colorado, while Calgary goes on a California road trip before finishing at home against Edmonton. For the easiest road through the west, it's imperative to win the Pacific Division, and it seems these next two weeks are a window for the Flames to pull away a little bit.
Here's what the Western Conference standings look like today: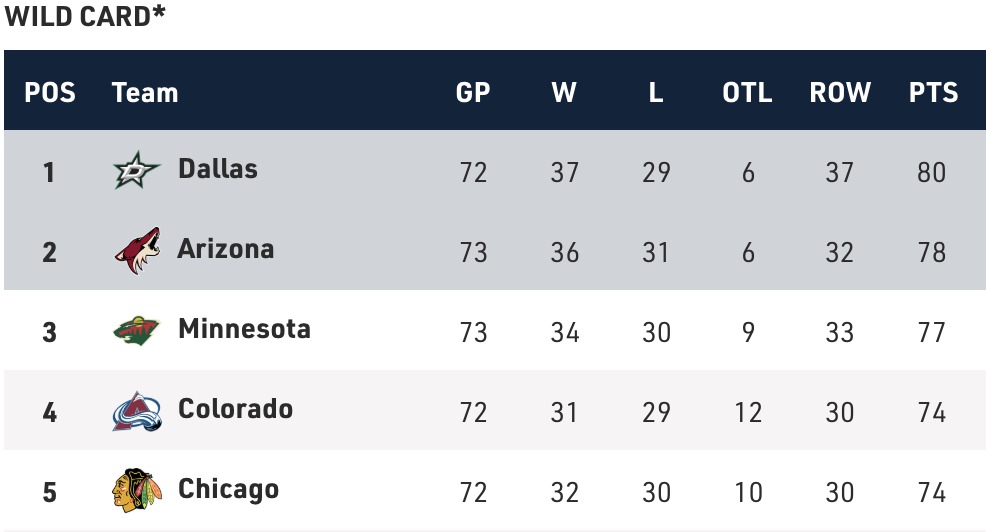 What'd I miss?: The Golden Knights continue to steamroll all comers and took it to the Sharks in a 7-3 Monday win in which backup Malcolm Subban played both halves of his team's back-to-back games. As great as it is for the Golden Knights that the Max Pacioretty-Paul Stastny-Mark Stone line is clicking, if last year's top unit can also up its offence Vegas might have to be the favourite in the West.
On Monday Jonathan Marchessault and Reilly Smith, two-thirds of that line, each scored a career-high four points and helped Vegas record six goals in back-to-back games. The only other team to accomplish that this season is the Washington Capitals.
Fun fact: If the Blackhawks somehow come back and make the playoffs, Patrick Kane could make the Hart Trophy discussion a bit more interesting. Right now it looks to be Nikita Kucherov's award, but Kane became the third NHLer to hit 100 points this season with two assists Monday night. With that, he also became just the second Blackhawk in team history to cross the century mark after celebrating his 30th birthday (30 years, 119 days). Bobby Hull, also 30 years old, was the only other Chicago player to do it.
Game to watch: Colorado at Minnesota
A loss here could unofficially be the end for the Colorado Avalanche, who are 2-2-0 since losing Gabriel Landeskog for the season. With Arizona idle, the Wild could jump them for the last wild-card spot with a win.