Wednesday didn't have much in the way of playoff implications, although one Canadian team may have finally played its way out of the race. Thursday, however, offers up a 10-game slate that will change the way we look at the standings Friday morning.
Here is a closer look at the picture in both conferences.
EASTERN CONFERENCE
If the regular season ended today…
(A1) Tampa Bay vs. (WC2) Columbus
(A2) Boston vs. (A3) Toronto
(M1) Washington vs. (WC1) Carolina
(M2) NY Islanders vs. (M3) Pittsburgh
Team in focus: NY Islanders
One of the best stories in the NHL this season. Are things starting to unravel, at least a little, for the Islanders? Don't get us wrong, New York is still 11-8-1 in its past 20, which is about a 94-point pace and Barry Trotz is still the frontrunner for and likely winner of the Jack Adams Award. But that pace is far closer to the level of a wild-card-bubble team than a division winner, and now that the Islanders have given up first place in the Metro with both Pittsburgh and Carolina hot on their heels, are they lining up to head into the playoffs in a lull?
The story behind New York's season has been a vastly improved defence and much stronger goaltending. The team went from averaging a league-high 35.6 shots against per game last season (the third-highest mark of the salary cap era) to 30.7 this season, which today ranks 11th-best in the league. A slightly worrying trend, however, is that their high-danger-chances-against average has been increasing as the season has gone along:
| DATE | HDCA/G |
| --- | --- |
| Oct. 3-Dec. 31 | 8.8 |
| Jan. 1 to today | 9.12 |
| Feb. 1 to today | 10.2 |
| Past 10 games | 11.8 |
(Stats from Natural Stat Trick)
Less surprisingly, scoring has also been a recent sore spot for the team. In their past 10 games against teams either in a playoff spot, or still very much alive in the race, the Islanders have 23 goals — including six in one game against the Leafs. They're 5-5-0 against those teams and have won just one of their past four games against still-relevant division rivals. The Islanders have the 20th-ranked offence in the season, averaging 2.84 goals per game, and that's moving down.
The goalies are still playing well, and that's the great equalizer come playoff time, but, as the finish line draws near and everyone in the division around them is heating up, there is at least some reason to start worrying a bit about the Isles.
Here's what the Eastern Conference standings look like today:


What'd I miss? The Maple Leafs continued to worry their fans Wednesday with a 5-4 loss to Chicago, which, despite a frantic finish, was over after they dug a 4-0 first-period deficit. Two nights after saying their loss to Tampa Bay was a "wake up call" the Leafs players came out with an opening frame that Auston Matthews said was unacceptable.
There's something about this team and bad first periods that will leave them exposed by Boston or Tampa Bay in the first two rounds of the playoffs. Toronto is plus-19 and plus-22 in second- and third-period scoring, but just plus-4 in first periods this season. Over the past two games, they've been outscored 6-0 in the first.
Fun fact: Toronto's Mitch Marner added assists 59 and 60 Wednesday night, becoming the first Maple Leaf to record that many helpers in a season since Doug Gilmour did it in both 1992-93 (95) and 1993-94 (84).
Game to watch: Montreal at NY Islanders
We've already talked about the Islanders, who very well could be tied with the Penguins in points (though with a game in hand) if they lose Thursday. The Canadiens, though, are .500 over their past 10 games and are 3-5-1 against teams currently in a playoff spot since Feb. 1. Montreal's Tuesday win against Detroit was as much a guaranteed two points as can be this time of the season, but the raucous Nassau crowd and the pesky Islanders will give the Habs something much closer to a playoff atmosphere tonight. Columbus and Carolina are both idle, so while Montreal can't fall further back of the wild card, a loss would leave it with more games played than both of those teams and put it at a disadvantage in the coming days.
Senior Writer Ryan Dixon and NHL Editor Rory Boylen always give it 110%, but never rely on clichés when it comes to podcasting. Instead, they use a mix of facts, fun and a varied group of hockey voices to cover Canada's most beloved game.
WESTERN CONFERENCE
If the regular season ended today…
(P1) San Jose vs. (WC2) Arizona
(P2) Calgary vs. (P3) Vegas
(C1) Winnipeg vs. (WC1) Dallas
(C2) Nashville vs. (C3) St. Louis
Team in focus: Minnesota Wild
Last week we had the Wild as a team on the rise, but left it as an open-ended question because, while they had been winning games recently, it followed a horrid stretch. Today, we're back questioning just what the heck this Wild team is all about.
One point out of a wild-card spot held by Arizona, Minnesota hosts Dallas Thursday, a team with a game in hand but that sits just three points ahead in the first wild-card position. The issue is that the Wild have been awful at home recently, and very far off the success they had at Xcel Energy Center in 2017-18.
Minnesota is 1-5-3 in its past nine home games and hasn't won a regulation game in front of its own fans since Jan. 19. Just last year, the Wild went 27-6-8 at Xcel, but this season they've been far better on the road. Making matters worse is that their power play has been shutout six games in a row, and has gone 0-for its past 18 opportunities.
The Wild sold at the trade deadline, followed it with wins against Winnipeg, Calgary, a couple of extra-time losses against Nashville, and then became the first team to earn a shutout regulation win against Tampa Bay this year. But in their past two games they've been outscored 9-2 in losses to Florida and San Jose. Consistency has been lacking all year for the Wild, which makes it hard to get a handle on just what this team is.
Injuries have also been a factor of late and there was, for a brief moment, seemingly good news on that front as Matt Dumba was seen skating this week. He's been out since mid-December and was the league's highest-scoring defenceman with 12 goals when he went down. He's still top 10 in goals at the position despite all the missed time, so a return would be huge for Minnesota, but still not on the radar. Although he skated, coach Bruce Boudreau said Dumba was "just bored."
Deputy Dumba patrolling the ice at Tria Rink today. #mnwild pic.twitter.com/dBrC9wXE9F

— Ryan Carter (@Ryan_Carter22) March 13, 2019
Here's what the Western Conference standings look like today: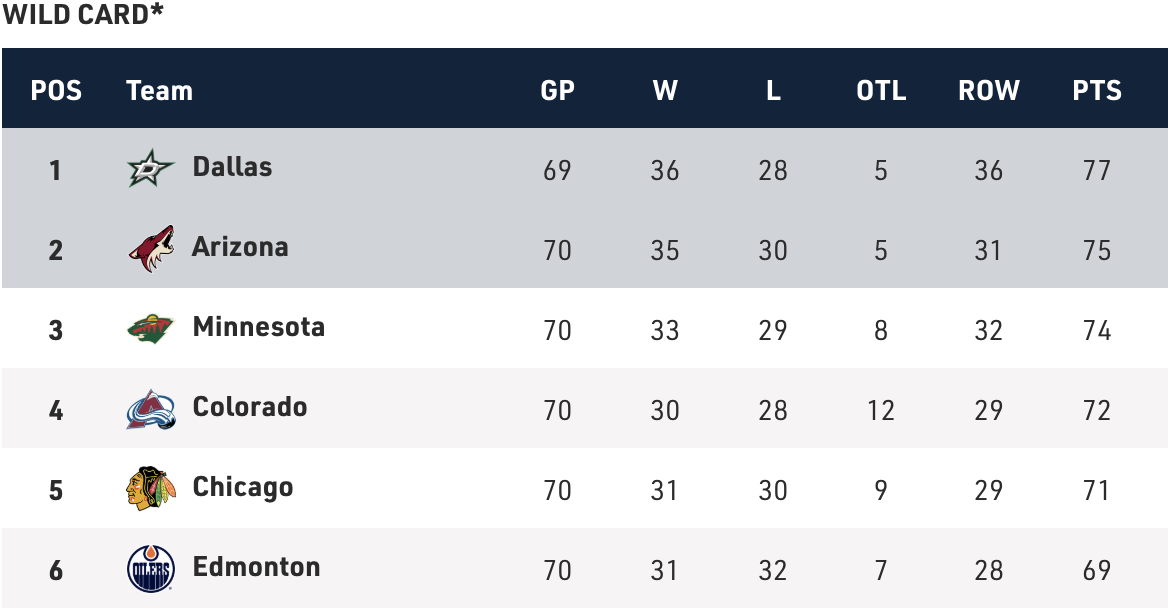 What'd I miss? If the Edmonton Oilers were still in the race, those hopes were all but dashed with Wednesday's loss to the lowly New Jersey Devils. Edmonton was outscored 4-1 by New Jersey in periods two and three and Mikko Koskinen, who was pretty good of late, got pulled after allowing three goals. It's clear the Oilers will go as far as their inconsistent goaltending will take them and, when you're chasing a playoff spot at this time of year, you just can't have instability in net.
Edmonton remains six points out after this missed opportunity and plays back-to-back road games this weekend, against Arizona on Saturday and Vegas on Sunday. Those will be two much bigger tests than what they faced Wednesday, and though Edmonton isn't mathematically eliminated, dropping two points to the Devils makes the climb back so much harder.
Fun fact: On a positive note for Edmonton, Connor McDavid hit the 100-point plateau for the third season in a row, becoming just the 19th player in league history to accomplish that run. He's also just one of six active players with multiple 100-point seasons in their careers (Joe Thornton, Sidney Crosby, Evgeni Malkin, Alex Ovechkin, Nikita Kucherov).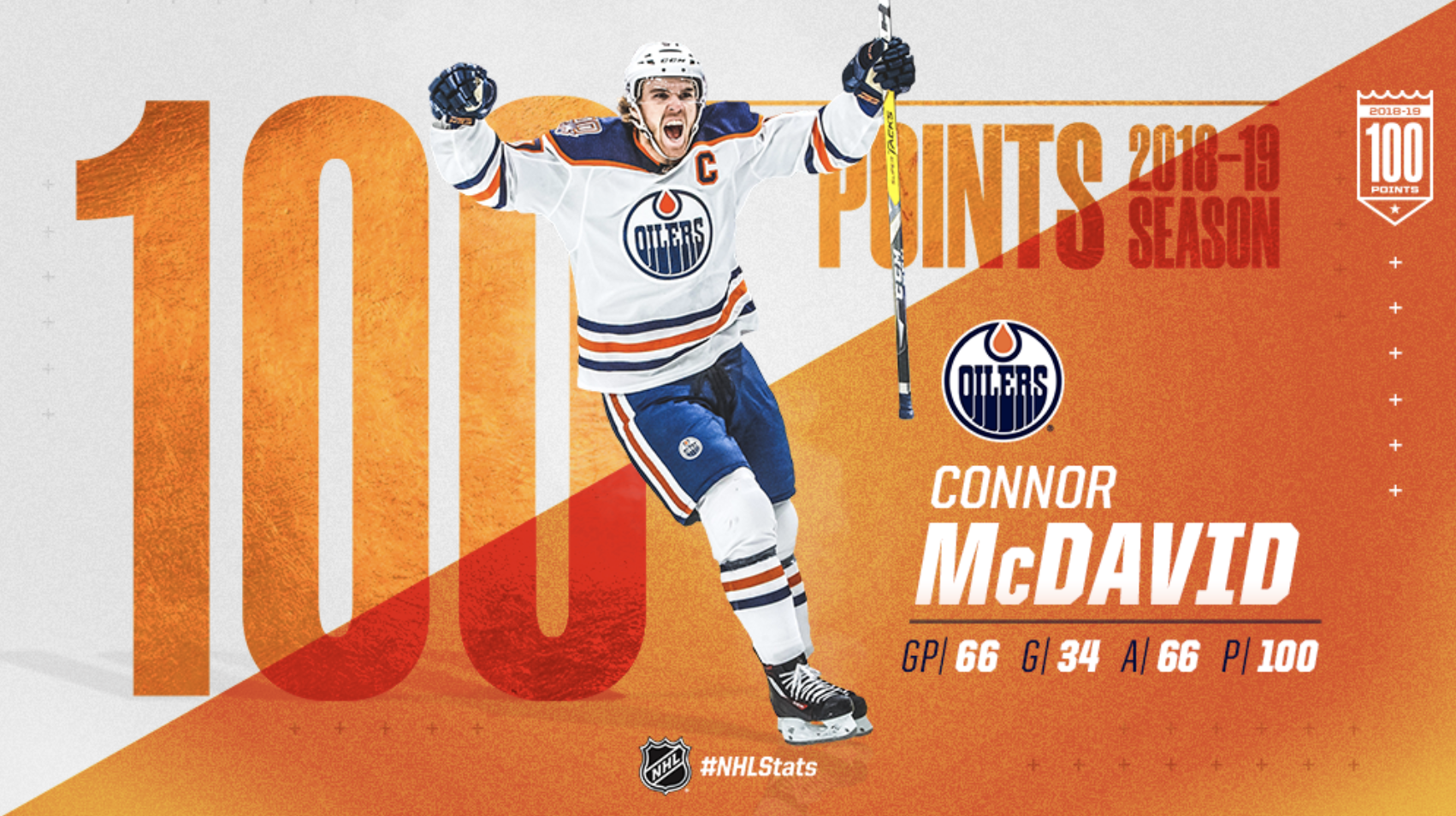 Game to watch: Arizona at Anaheim
Can the Coyotes keep this thing going? While this is a very different team from the one that last tried to chase down a playoff spot, it's worth noting that in 2013-14 the Coyotes went 9-3-1 over a stretch in March that put them in the thick of the race, only to finish with one win in their last nine games and miss out by two points.
Until they get in for the first time since 2012, there is reason to doubt the long-struggling franchise. Of course, it's amazing they're even holding a wild-card spot today considering they have the second-most man-games lost to injury this season, but it's games like last week's 3-1 loss at home to Anaheim that lead to doubts they can finish the job. On Thursday they have a chance to avenge that loss as they host the Ducks again. A win tonight would mean the Coyotes would either be tied in points with Dallas for the first wild-card spot, or three up on Minnesota Friday morning.