With the trade deadline in the rear view mirror and the newly acquired players having an impact — for better or worse — in their new surroundings, we're starting to turn our attention to the Stanley Cup Playoffs.
With a little less than five weeks left in the season, we'll be doing playoff race check-ins a few times each week and build up to daily updates over the final seven days. We'll give you the playoff outlook, series we'd love to see and games to watch on the schedule that will have an impact on what the standings look like the next morning.
Here's our first look. And although there are still a lot of games to go, we're beginning to get a sense of the possibilities we could see in April.
EASTERN CONFERENCE
If the season ended today…
(A1) Tampa Bay vs. (WC2) Montreal
(A2) Boston vs. (A3) Toronto
(M1) Washington vs. (WC1) Pittsburgh
(M2) NY Islanders vs. (M3) Carolina
Series we'd love to see: Capitals vs. Penguins
On one hand, it may not be optimal to have the two teams that have combined to win the past three Stanley Cups meet in the first round of the playoffs, but then again, every time Washington and Pittsburgh face off in a best-of-seven it's great hockey from start to finish. In fact, these two met in the second round of the playoffs in each of the past three seasons, with two of the series lasting six games and one going the full seven.
When they met last season, the Caps outscored the Pens 16-14, with half of Pittsburgh's goals coming from the Sidney Crosby-Jake Guentzel combination. Evgeni Malkin missed the first two games of the series from an injury sustained in their first-round showdown with Philadelphia and scored just once upon returning to the lineup.
Washington, which dropped the first two games of its first-round series and then rebounded to win the next four, fell behind 1-0 in their second round series against Pittsburgh as well. This series was actually tied 2-2 and in Game 5 the Capitals even trailed 3-2 heading into the third period, then scored four unanswered goals to pull away for a 6-3 win. Then, in Game 6 back on the road in Pittsburgh, Evgeny Kuznetsov scored in overtime to clinch the series. It was the first time the Capitals had beaten the Penguins in the playoffs since 1993-94 and the first time they moved past the second round in the Alex Ovechkin era.
Here's what the Eastern Conference standings look like today:



What'd I miss? With Toronto winners of two in a row and 6-3-1 in their past 10, and the Boston Bruins cruising without a regulation loss in 16 games, it's now all but a certainty these two rivals will again meet in Round 1 — it's just a matter of who will have home-ice advantage.
The Leafs were the only one of the two that played Monday night and they came away with an impressive 6-2 road win against the Calgary Flames. Tyler Ennis scored his first career hat trick, which is a huge performance from the bottom-six, but Mitch Marner also earned a three-point night that had a buzz of his unresolved contract future in the air again. Recognizing an opportunity to rile up the opposing fans, Bruins pest-extraordinaire Brad Marchand weighed in with his thoughts on a cap-strapping scenario.
It's never too early to set the tone for what should be an exciting playoff series.
Fun fact: We'll admit this is only "fun" for the teams competing against Columbus for a wild card spot or third place in the Metro, but the Blue Jackets have a combined three points (all assists) from their trade deadline acquisitions and Ryan Dzingel has the only primary assist so far. Dzingel, Matt Duchene and Adam McQuaid (a scratch Tuesday night) are a combined minus-7 and backup goalie Keith Kinkaid hasn't got into the net yet. The Blue Jackets are 1-3-0 since the trade deadline and are now two points out of a playoff spot. They play New Jersey Tuesday night.
Game to watch: The game of the night could very well be Tampa Bay and Winnipeg and is possibly a Stanley Cup final preview, but in terms of a game that will have an impact on the playoff race in the Eastern Conference, Boston and Carolina is it. Since Feb. 1 the Bruins (12-0-2) and Canes (12-3-0) are the second- and fourth-best teams in the league. The Canes even now sit third in the Metro and a win tonight, along with an Islanders loss, would pull Rod Brind'Amour's club to within one point of second in the Metro and home-ice advantage.
The biggest factor behind Carolina's recent success? The goals are finally coming. Always a strong team by Corsi, Carolina hadn't finished any better than 20th in offence the past five years and they were tracking that way for much of this season as well. But since Feb. 1 they are averaging 3.73 goals per game and five players have scored at least five goals in that 15 game stretch.
Senior Writer Ryan Dixon and NHL Editor Rory Boylen always give it 110%, but never rely on clichés when it comes to podcasting. Instead, they use a mix of facts, fun and a varied group of hockey voices to cover Canada's most beloved game.
WESTERN CONFERENCE
If the season ended today…
(P1) Calgary vs. (WC2) Minnesota
(P2) San Jose vs. (P3) Vegas
(C1) Winnipeg vs. (WC1) Dallas
(C2) Nashville vs. (C3) St. Louis
Series we'd love to see: San Jose vs. Vegas
In a re-match of last year's second-round series, having Vegas and San Jose meet up in Round 1 would set the tone for what should be a tough road out of the Western Conference. Through the season Vegas hasn't seemed to have the same "magic" it carried through its inaugural season, but in the absence of mysticism GM George McPhee has brought in some measurable gains. The Paul Stastny-Max Pacioretty-Mark Stone line has clicked instantly in a seriously game-changing way.
At the same time, San Jose made its own trade deadline pickup, though Gustav Nyquist doesn't have a point yet. The Sharks already had a pile of scoring, though, and that acquisition was more about committing to three lines of strong scoring skill than the need for an upgrade.
The biggest difference between the two is goaltending. The Sharks have been the more consistent of the two teams overall this season, but between Martin Jones and Aaron Dell, they have the worst 5-on-5 save percentage in the league. Marc-Andre Fleury is a lock to be a Vezina finalist to many and has allowed just one goal over his past three starts, with two shutouts in a row. Could that ultimately be the difference in a series between the two? Vegas will play either Calgary or San Jose in Round 1 and, right now, sure look like a team both would want to avoid at all costs.
Here's what the Western Conference standings look like today: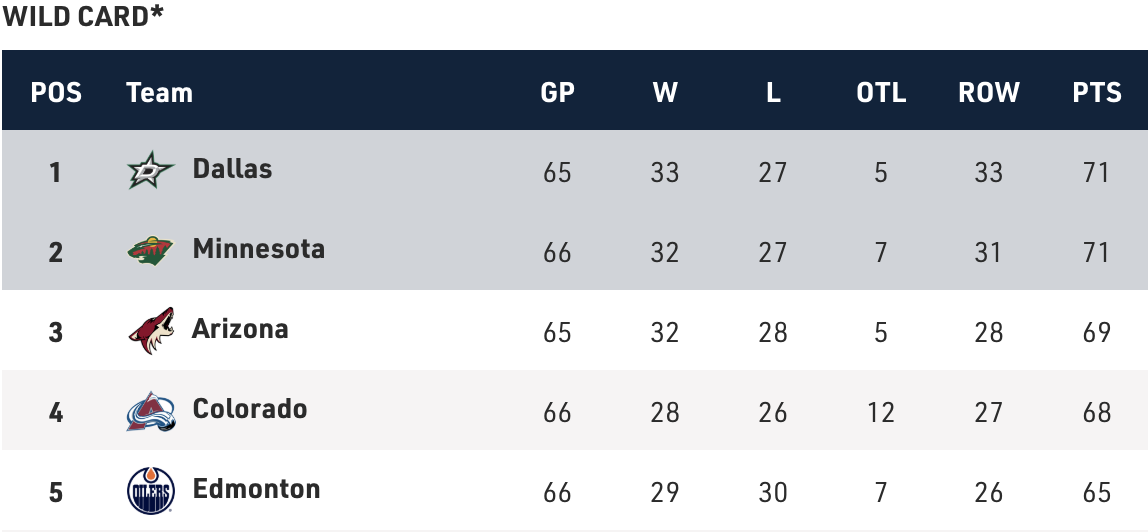 What'd I miss? After winning seven games in a row, the Calgary Flames' 6-2 loss to Toronto marked the first time they had lost back-to-back games in regulation since November. It was also the second game in a row the home fans turned on their goalie, this time giving David Rittich the gears, just two nights after Mike Smith got his own Bronx cheer. This is possibly starting to be an issue for the Flames. Since Jan. 11, Rittich has a .882 save percentage and a 3.20 GAA, much worse than his stats prior to that (.921, 2.42). Smith won five starts in a row last month, but can the 36-year-old fully rebound in time for a playoff run?
Fun fact: Remember when Vladimir Tarasenko was struggling out of the gate with 11 goals in 37 games? Since the calendar flip to 2019 Tarasenko is top 10 in both goals (16) and points (32), which is a 48-goal, 96-point full-season pace. There's a lot that has turned St. Louis' season around, but Tarasenko returning to this kind of elite level hasn't received the same attention as Jordan Binnington's play.
Game to watch: It's possible the Arizona Coyotes will be in a playoff spot by the end of the night. For a team that doesn't have an individual superstar, it's amazing the Coyotes are here given they also have the most man-games lost to injury in the NHL. Tuesday night they play the second-most injured team in Anaheim, which has had a much worse go of things with just six wins in the past two months.
A couple things need to break the Coyotes' way tonight. First, Minnesota needs to lose in regulation to Nashville, and the Preds did just beat the Wild 3-2 in a shootout at Xcel Energy Center Sunday, outshooting Minnesota 43-26 in the process. If that happens, Arizona just needs to earn two points in any fashion. Although the Wild currently have an advantage of three ROWs over the Coyotes in a tie-breaker scenario, a Wild regulation loss and Arizona win tonight would bring them even in points — and since the Coyotes would have a game in hand and one more win, they would hold the second wild card spot Wednesday morning.
If that happens, it would be the latest point in the season the Coyotes have held a playoff spot since March 31, 2014 when they were a point up on Dallas. The Coyotes went on to win just one of their last seven games that season and fell two points short of the playoffs. That was also the last season in which they were known as the Phoenix Coyotes.