The Anaheim Ducks return to their second conference final in three seasons and will meet the Nashville Predators, an exciting and quick team that has reached the third round for the first time in franchise history.
These two teams have met in the post-season twice before, with the last series coming in 2015-16 and ending in a seven-game win for the Predators.
NHL Playoffs Round 3 Preview
May 11 2017
Anaheim, a 105-point team, are the veteran-laden squad with a long track record playing the role of Stanley Cup contender, but not actually being able to take it across the finish line since 2007. At that point, Ryan Getzlaf and Corey Perry, two key cogs of the current lineup, were young support players on an older roster. Now, they have unfinished business of winning a Cup as the leaders of a team with another young core on its way up that includes Rickard Rakell, Hampus Lindholm, Cam Folwer and Nick Ritchie.
Nashville came in as the eighth seed in the West, but has rolled through the dynastic Blackhawks and a transitioning Blues team that rode a hot goalie into Round 2. The Preds can give Anaheim a run for its money with an equally deep blue-line unit, and they play an up-tempo style similar to Edmonton, who came within a whisker of knocking off the Ducks. Not to mention, the Preds are riding an incredibly hot goaltender of their own.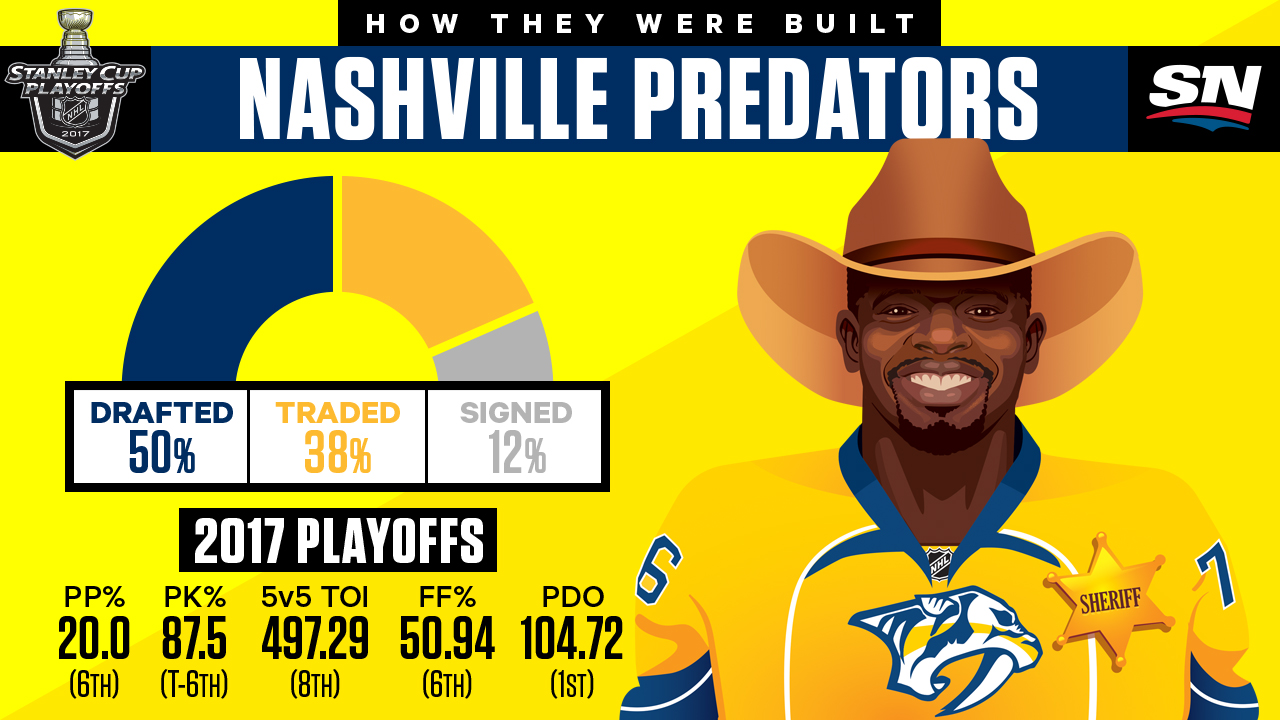 BROADCAST SCHEDULE
Game 1, Friday, May 12: Nashville at Anaheim, 9:00pm on CBC
Game 2, Sunday, May 14: Nashville at Anaheim, 7:30pm on Sportsnet
Game 3, Tuesday, May 16: Anaheim at Nashville, 8:00pm on Sportsnet & CBC
Game 4, Thursday, May 18: Anaheim at Nashville, 8:00pm on CBC
Game 5, Saturday, May 20:* Nashville at Anaheim, 7:15pm on CBC
Game 6, Monday, May 22:* Anaheim at Nashville, 8:00pm on CBC
Game 7, Wednesday, May 24:* Nashville at Anaheim, 9:00pm on CBC
ADVANCED STATS (playoffs)
Nashville: 50.27 5on5 CF% (8th), .955 5on5 Sv% (1st), 9.21 5on5 Sh% (2nd)
Anaheim: 53.08 5on5 CF% (4th), .936 5on5 Sv% (6th), 8.01 5on5 Sh% (4th)
TEAM STATS (playoffs)
Nashville: 20.0 PP% (6th), 87.5 PK% (6th), 2.8 GF/G (6th), 1.4 GA/G (1st)
Anaheim: 13.9 PP% (13th), 69.0 PK% (15th), 3.18 GF/G (2nd), 3.0 GA/G (12th)
HEAD-TO-HEAD RECORD
Nashville: 1-1-1
Anaheim: 2-1-0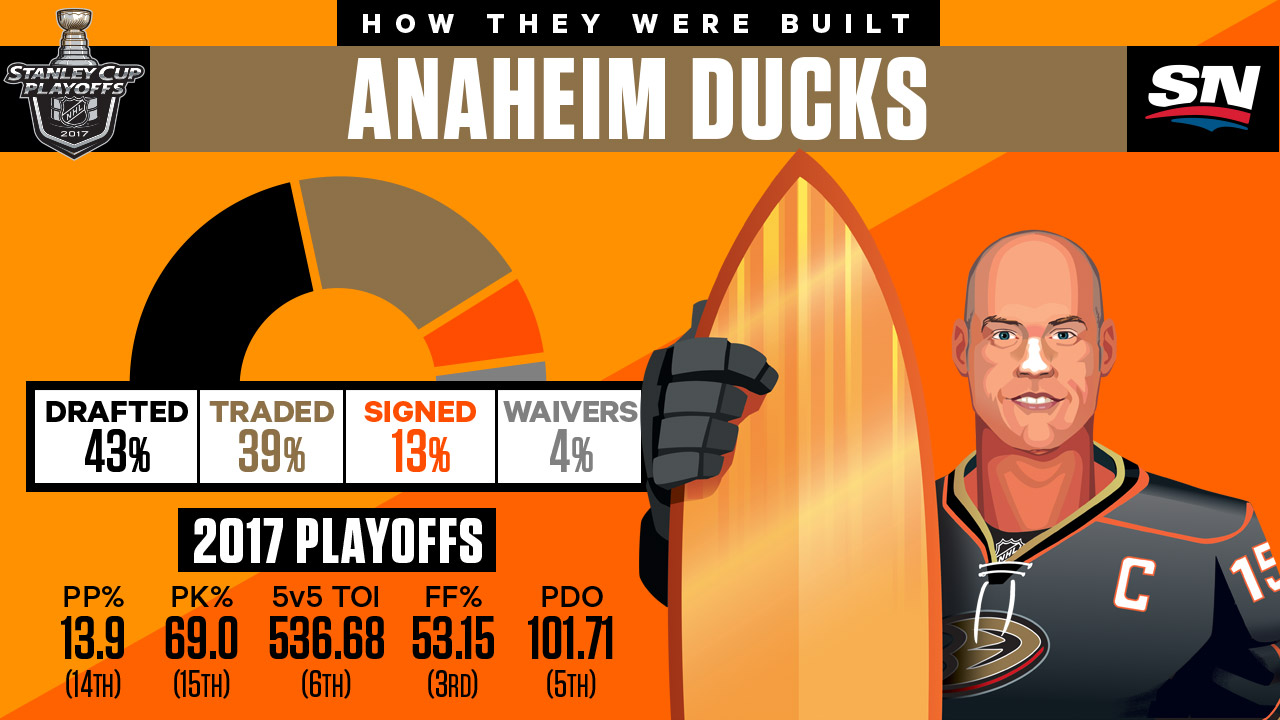 Round 1&2 Strengths for Nashville: At this point in the post-season, rest will work as a strength for the Preds who reached the conference final in just 10 games, fewer than any other team. But let's talk about Pekka Rinne, who has an absurd .951 save percentage, which is so good it's challenging all-time best rates. And not to take anything away from Rinne's contribution, but Nashville's vaunted defence has left its impression on the Stanley Cup Playoffs — the Preds average 28.8 shots against per game, which is the lowest rate of any team still around.
Round 1&2 Strengths for Anaheim: The Ducks swept the Calgary Flames in Round 1 without minute-eating defenceman Cam Fowler, but got him back in the second round where he scored five points and didn't play fewer than 23 minutes in any game. Even without Fowler, the Ducks still boast one of the better and deeper blue-line units in the game, with Hampus Lindholm, Josh Manson and Sami Vatanen all playing key roles. Add to that Shea Theodore, a 21-year-old with seven points in 11 playoff games who spent most of the season yo-yoing between the NHL and AHL, and you have one heck of a back end to contend with. Anaheim has plenty of weapons to choose from up front, too, from the irritating Ryan Kesler to the surging Jakob Silfverberg. But we'd be remiss to not mention Ryan Getzlaf, who is coming off a 10-point series against Edmonton, which tied a Ducks franchise mark.
Round 1&2 Weaknesses for Nashville: We're going to nitpick a bit here, because the Predators blew through the Blackhawks in four games and had a 3-1 series lead against St. Louis before bouncing them in six. But with an average of 2.80 goals for per game, the Predators have the least productive offence left and will need their forwards to convert more often. Nashville has scored 28 goals in these playoffs and 32.1 per cent of those have come from defencemen. Ryan Ellis and Roman Josi have both scored four times to lead the team, while depth options Colin Wilson, Calle Jarnkrok and Mike Fisher have combined to score twice.
Round 1&2 Weaknesses for Anaheim: There aren't many cracks in the foundation here, but if there's one area with the potential for a let down, it's in net. John Gibson limited the Oilers to one goal in Game 7, but also only had to face 11 shots over the final two periods. In Game 6, with the Ducks trying to close it out, Gibson didn't even make it halfway through one period before getting yanked in an eventual 7-1 loss. The 23-year-old has the lowest save percentage of any goalie left, with a subpar .903 mark.
Predators X-Factor: As they look for a little more offence, specifically from up front, the name Viktor Arvidsson is one you could be hearing a lot of this series. The 24-year-old Swede had a break out 31-goal, 61-point season, but was kept off the score sheet for nearly the entire series against St. Louis. Arvidsson scored four points against the Hawks, but managed just one assist in Game 6 versus St. Louis and needs to have more of a presence in the conference final. Another forward with room for more output is Mike Fisher, who hasn't yet registered a playoff point, while averaging 17:08 of ice time and getting second power play unit time.
Ducks X-Factor: While Anaheim's conference final opponent is clicking on special teams, the Ducks have been struggling. So far, they have the second-worst PK unit in the post-season and third-worst power play. Against Edmonton, the Ducks went just 2-for-21 on the man advantage. If they have any shot of cooling off Rinne, Anaheim needs to do better on the power play.
PLAYOFF TEAM LEADERS (G-A-PTS)
Nashville: Ryan Ellis (4-5-9), Ryan Johansen (2-7-9), Roman Josi (4-4-8), Filip Forsberg (3-5-8), P.K. Subban (1-6-7).
Anaheim: Ryan Getzlaf (8-7-15), Jakob Silfveberg (7-4-11), Rickard Rakell (6-4-10), Corey Perry (2-7-9), Shea Theodore (2-5-7)
[relatedlinks]