The Stanley Cup Playoffs begin Wednesday. Here is everything you need to know from an analytics perspective on the Eastern Conference matchups.
Montreal vs. Ottawa

The skinny
The MVP versus the Hamburglar. A goaltending duel seems likely. Carey Price has posted otherworldly numbers this season for Montreal, posting a league high .933 save percentage, winning a share of the Jennings Trophy with the lowest team goals-against average, and lifting the Habs to second in the Eastern Conference. Oh, and he set a Canadiens win record along the way with 44—besting the 42 posted by legends Ken Dryden and Jacques Plante.
Price is the best in the league this year by virtually any measure you can think of. But even with his amazing heroics this season, the Canadiens are playing with fire by relying too much on their superstar goalie. And Ottawa is a changed team in the second half.
Andrew Hammond has performed admirably in a third-string role, posting similarly stellar results and running the table with a 20-1-2 record and .941 save percentage to close out the season. A major question surrounds if or when Hammond crashes back to earth and sees a dip in his numbers. If that happens, the Sens might not survive past the opening round.
MORE STANLEY CUP PLAYOFFS: | Broadcast Schedule
Rogers GameCentre LIVE | Stanley Cup Playoffs Fantasy Hockey
New Sportsnet app: iTunes | Google Play
This series offers and opportunity to witness two of the best defenders in the NHL. P.K. Subban and Erik Karlsson have won a Norris Trophy and are again candidates to do so this year. Expect both of the key cogs on the blueline to feature prominently in this series.
If we look past the goaltending Ottawa has been vastly improved under Dave Cameron since he replaced Paul MacLean behind the bench mid season. They reorganized their lineup and kids are playing far more prominent roles.
Player to watch
Rookie Mark Stone is tied for third in points/60 minutes in all situations since January 1 with MVP candidate Alex Ovechkin (3.34). Only Jamie Benn (who posted 15 points in his last 6 games) and John Tavares who led the NHL in scoring for long stretches of the season were better. Did I mention Stone is a rookie?
Prediction: Ottawa in six
Tampa Bay vs. Detroit

The skinny
This should be an extremely exciting showdown between the Red Wings model and its 24 consecutive seasons of playoff hockey and its up-and-coming imitator the Lightning. These are the two best shot suppression teams in the playoffs tourney this year so it should be a tight checking affair.
Ken Holland and Mike Babcock have constructed a less offensively explosive unit that's played lockdown defence for most of this season. They allow the fewest shot attempts of any team in the playoffs.
---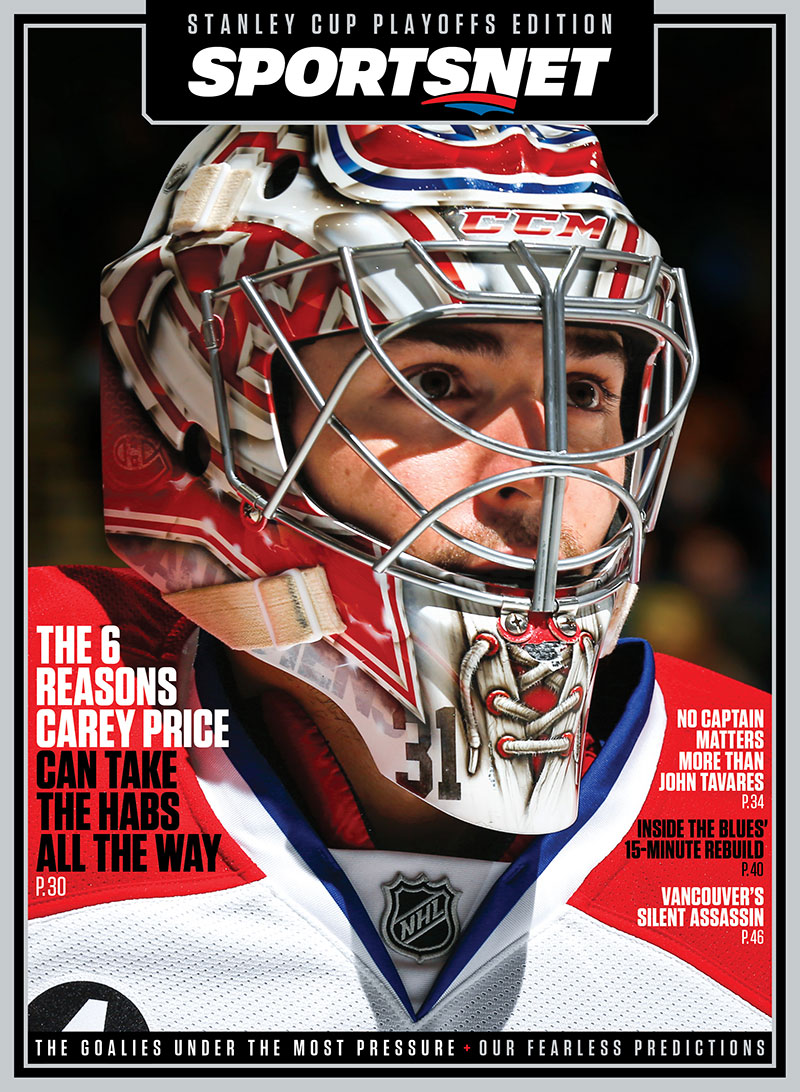 Sportsnet Magazine Stanley Cup Playoffs
Edition: The six reasons why Carey Price can take the Montreal Canadiens all the way. Download it right now on your iOS or Android device, free to Sportsnet ONE subscribers.
---
Steve Yzerman and Jon Cooper have laid the foundations for a dominating possession side similar to the Red Wings teams Yzerman captained to glory. The Lightning allow the second-fewest shot attempts of any team in the playoffs after Detroit, so it will be interesting to see if offence is at a premium in the series. The Lightning led the league in scoring this year and feature an amazingly balanced attack with what easily amounts to the NHL's best second line: Tyler Johnson between Ondrej Palat and Nikita Kucherov. The young trio will be a headache for the Wings defensively and, with five points in his two games back, Johnson seems recovered from his injury issues.
Detroit has surprised with its effectiveness this season, but the Bolts won the season series three to one. Using two different predictive models, one gave a very slight edge to Detroit thanks to their underlying play with regressed shooting and goaltending, while another that takes shooting and goaltending quality into account gave the clear edge to Tampa Bay. With Johnson and top blueliner Victor Hedman both healthy, the skill on the Lightning should carry them through.
Player to watch
Keep a close eye on Detroit's Tomas Tatar who has developed into an offensive force this season. He plays an exemplary 200-foot game, is leading the team with 29 goals and is being groomed to lead the next generation of the team as Pavel Datsyuk and Henrik Zetterberg approach retirement.
Prediction: Lightning in seven
NY Rangers vs. Pittsburgh
The skinny
The Presidents' Trophy may not be considered meaningful, but given how Pittsburgh's offence has lost its way to close out the year, we might want to contrast that with how strong the Rangers have been for much of the season.
The Penguins are the superior puck-possession team in this matchup by a surprisingly wide margin. When it comes to generating offence, people tend to think of their big guns Crosby and Evgeni Malkin. Unfortunately they also rely heavily on the likes of Kris Letang, Christian Ehrhoff and Olli Maatta to steer the offensive ship from the blueline. Much of the late season swoon by Pittsburgh can be attributed to the shell of a D-corps they have had to run with down the stretch minus those top top puck movers.
New York in contrast has thrived on percentage-based play this season—leading the NHL in PDO at 101.9. The Rangers finished the year with the fifth-highest team shooting percentage and third-highest team save percentage—largely thanks to an exemplary half season by Cam Talbot when (recently returned) No. 1 Henrik Lundqvist went down to injury. The Rangers only ranked 18th in Score Adjusted Possession at the end of this season, though, and that could put them at a large disadvantage. Since January 1st, New York has seen an even higher PDO, again tops in the NHL at 102.2, while Pittsburgh is at the other end of the spectrum, wallowing in 26th at 98.1. Most of that is due to only shooting 7.5 percent over the final half of the year.
This series will hinge on whether the Penguins can reclaim their scoring touch against Lundqvist, while at the same time maintaining their amazingly strong defensive form. Since the start of 2015, Pittsburgh has allowed the third-fewest score-adjusted shot attempts, and the only two teams better than them didn't qualify for the post season (L.A. and Carolina). Despite what the possession battle suggests, when we adjust for shot locations and ignore the impacts of percentages on game play, the Rangers are still a solid pick to win this series.
Player to watch
Chris Kunitz seems to be a shell of his former self offensively. He is still a very effective possession player, benefiting his club both in both shot generation and suppression. But his finish has dried up, and while some may theorize we're witnessing an age-based decline I'm not so certain. His shot-generation rate is in line with the past seven years, the main difference is his shooting percentage, which is at an absurdly low 5.79 percent at 5v5. Kunitz has been shuffled down the lineup and has surrendered his spot on Crosby's wing to the recently acquired Daniel Winnik—another effective possession player who lacks finish. But a shooting percentage in line with the norm could be a big boost.
Prediction: Rangers in six
Washington vs. NY Islanders
The skinny
A battle between teams featuring two of the league's top scorers—Alex Ovechkin and John Tavares—that both went through significant overhauls last off-season and have seen significant improvement in results this year.
Washington signed former Penguins Matt Niskanen and Brooks Orpik to patrol the blueline and brought in long-time Nashville Predators coach Barry Trotz behind the bench. The changes have seen a drastic improvement in Washington's defensive play.
The Islanders poached their top defensive pair, Nick Leddy and Johnny Boychuk, from the cap-crunched Chicago Blackhawks and Boston Bruins respectively. They also upgraded via free agency with goaltendender Jaroslav Halak and forwards Mikhail Grabovski and Nikolai Kulemin.
New York flew out of the gates early, but as the playoffs approached their scoring-chance generation declined and the number of shot attempts they allowed ballooned. The Islanders also surrender a surprisingly high proportion of high-danger shot attempts as a team, which in large part explains the goaltending results we've seen from Halak this season.
When we ignore shooting and goaltending, underlying play suggests that the Islanders should win this series about 60 percent of the time. But New York's shooters are scoring less frequently than they should. At the other end of the rink, Ovechkin and the Capitals score more than you would anticipate, and Braden Holtby has put in another excellent season between the pipes. In other words, this series should be closer than possession metrics might indicate, making it a virtual toss up.
Player to watch
Keep a close eye on Ryan Strome for the Islanders. A top scorer in the OHL and AHL ranks, he finished second on the team in scoring as a sophomore and contributed heavily to shot-attempt generation this season. In fact he was on the ice for more than 100 shot attempts more than what his usage would predict—those are the sorts of numbers we only see from players like Sidney Crosby and Patrice Bergeron.
Prediction: Islanders in five