When you're the Edmonton Oilers, the temptation is to bill this second round of playoff hockey as "playing with house money," as head coach Todd McLellan said after dusting off the San Jose Sharks on the weekend.
But really, if they could compete with the Sharks — Edmonton won four of the last five games in that series — why not expect to compete with the Anaheim Ducks? The Ducks didn't claim first place in the Pacific over Edmonton until the third period of their 82nd game this season, so there isn't much to choose between their seasons.
The Oilers start their second playoff series in forever with fresh young legs, no major injuries, and in Cam Talbot they'll get the edge in goal. They also have Connor McDavid, the NHL's only 100-point player this season, and won three of the five games these teams played this season.
Anaheim has tons more playoff experience, but so much of it is negative, having lost the last four Game 7s played at the Honda Center. But they're steeled, and as the best remaining team in this conference, the Ducks are quietly looking at the path ahead and seeing themselves in their second Stanley Cup Final since winning this franchise's only Cup in 2007.
Anaheim is on an unbelievable 15-0-3 run going back to the regular season, and swept Calgary out of Round 1. That's a tad deceiving though — Calgary's goaltending was awful, and people who followed the series say the Flames should have had a split through the first four games.
Anaheim's centres are stronger, bigger, and way better in the faceoff circle than Edmonton's, though Edmonton is a faster team. The Ducks will want to grind it out in the Oilers zone, while the Oilers want a track meet.
Whose style will prevail?
BROADCAST SCHEDULE
Game 1 — Edmonton at Anaheim: Wednesday, April 26 at 10:30 p.m. on Sportsnet
Game 2 — Edmonton at Anaheim: Friday, April 28 at 10:30 p.m. on Sportsnet
Game 3 — Anaheim at Edmonton: Sunday, April 30 at 7 p.m. on Sportsnet
Game 4 — Anaheim at Edmonton: Wednesday, May 3 at 10 p.m. on Sportsnet
Game 5* — Edmonton at Anaheim: Friday, May 5, TBD
Game 6* — Anaheim at Edmonton: Sunday, May 7, TBD
Game 7* — Edmonton at Anaheim: Wednesday, May 10, TBD
ADVANCED STATS (regular season)
Anaheim: 49.65 5on5 CF% (19th), .931 5on5 Sv% (5th), 7.73 5on5 Sh% (15th), 100.78 PDO (8th)
Edmonton: 49.85 5on5 CF% (18th), .927 5on5 Sv% (8th), 8.29 5on5 Sh% (9th), 101.00 PDO (7th)
TEAM STATS (regular season)
Anaheim: 18.7 PP% (17th), 84.7 PK% (4th), 220 GF (18th), 197 GA (3rd)
Edmonton: 22.9 PP% (5th), 80.7 PK% (17th), 243 GF (8th), 207 GA (8th)
HEAD-TO-HEAD RECORD
Anaheim: 2-1-2
Edmonton: 3-2-0
Play the Sportsnet Fantasy Playoffs Pool for your chance to win $5,000 cash if you are crowned the champ! It's FREE and easy to play.
Round 1 Strengths for Anaheim: Facing the Flames, the Ducks were adept at scoring, in coach Randy Carlyle's words, the "dirty" goals — meaning they persisted in getting to the net to jam the puck in, scoring off wraparounds and bounces. That may not have made for beautiful goals, but making the most of second chances proved vital in a series that saw three of four games decided by one goal.
Anaheim also showed composure; when the team fell down 4–1 in Game 3, the Ducks rallied to an overtime win.
Round 1 Strengths for Edmonton: In the playoffs, opposing teams will really focus in on line-matching against McDavid in a bid to shut down Edmonton's best scorer. And although no one will truly shut down McDavid (he leads the team with four points through six games), it will be hard for him to score as much and as consistently as he did in the regular season. For the Oilers to go far, they'll need production from their depth guys, some of which they got against the Sharks. Zack Kassian scored two big goals and was a physical force, Mark Letestu put up three points, Milan Lucic got two, and David Desharnais played overtime hero. The team will need more of that, whether it comes from the same guys, or others such as Ryan Nugent-Hopkins and Patrick Maroon.
Round 1 Weaknesses for Anaheim: Anaheim's penalty-kill success rate versus the Flames was an unspectacular 62.5 per cent — they allowed goals on six of Calgary's 16 chances on the man advantage.
There's also the old rest-versus-rust conundrum: Will too much time off between series hurt the Ducks? The team has been on a real run — they last suffered a regulation loss on March 10, versus the St. Louis Blues — so there's a concern that too much down time could kill their momentum.
That said, this is a hard-working team with remarkable resilience, so weaknesses are hard to come by.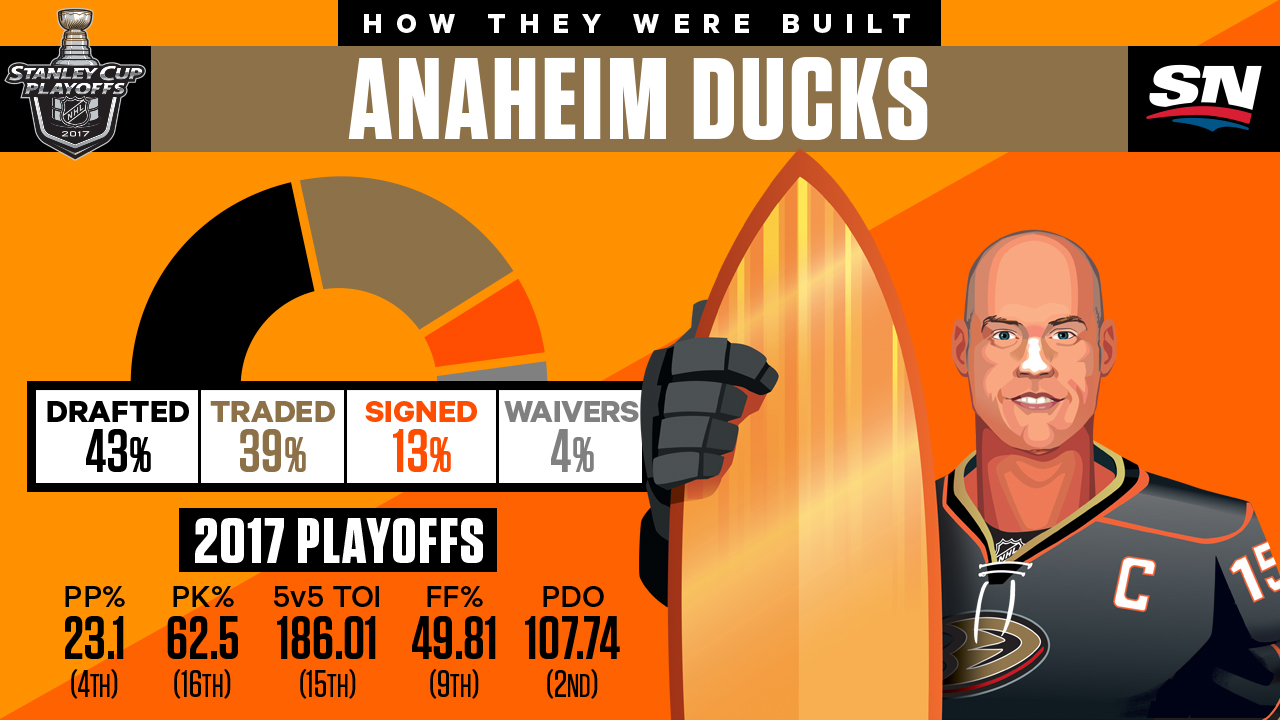 Round 1 Weaknesses for Edmonton: Since playoff games are so tightly contested, it's imperative for teams to take advantage of any favourable situation. The Oilers, who had the fifth-best power play in the regular season, converted on just three of 16 opportunities in Round 1 for a 12.5 per cent conversion rate that ranks better than only New York and St. Louis. The Ducks bring a defence and a goaltender that will be tough to solve, making the power play an important area of improvement for Edmonton.
Ducks X-Factor: The Ducks had big contributions from two unlikely heroes in the first round: defenceman Shea Theodore and forward Nate Thompson.
So the X-Factor here comes from the return of a more likely hero, Cam Fowler, who was injured in the final week of the regular season after a knee-on-knee collision with Calgary's Mark Giordano.
Though it's unclear whether he'll be ready for Game 1, Fowler is expected back for Round 2, which will help Anaheim on the penalty kill especially.
The Ducks were also missing defenceman Sami Vatanen after he suffered an upper-body injury in Game 1 versus Calgary. He, too, is expected back to face the Oilers.
Oilers X-Factor: Talbot. Anaheim will win more faceoffs, and thus have the puck more — especially on special teams. Talbot has to be the best goalie in this series, and the Oilers' top penalty killer, for Edmonton to win. He was the best goalie in their Round 1 series, and needs to outduel John Gibson, or the Ducks will win. Another factor, Ducks backup Jonathan Bernier is playing some of the best hockey of his career. If for some reason this one comes down to the No. 2s, Bernier will have a major advantage on rookie Laurent Brossoit.
TEAM LEADERS (G-A-PTS)
Anaheim: Ryan Getzlaf (3-2-5), Shea Theodore (2-3-5), Rickard Rakell (2-3-5)
Edmonton: Connor McDavid (2-2-4), Oscar Klefbom (2-1-3), Mark Letestu (1-2-3)
Stanley Cup Playoffs on Sportsnet NOW
Ready for playoff hockey? Stream every single game of the 2017 Stanley Cup Playoffs with Sportsnet NOW.