The third round of the Stanley Cup Playoffs brought us some fresh powers in the West, a surprise Game 7 return, and another chance for Sidney Crosby's Penguins to win a championship. We recount the story of hockey's Final Four through 50 statistics.
8 Canadians on the Tampa Bay Lightning — the fewest of any club in the conference finals.
18 Canadians on the roster of the St. Louis Blues, who requested our country's support:
O Canada! Need a team to root for in the #StanleyCup Playoffs? Here's why you should choose us! #NHL17Tarasenkohttps://t.co/SYHsdGN3hT

— St. Louis Blues (@StLouisBlues) May 14, 2016
10 years since St. Louis No. 1 goalie Brian Elliott and San Jose No. 1 centre Joe Pavelski won an NCAA championship together as University of Wisconsin Badgers:
So… this series between San Jose and St. Louis will be interesting.

May the best Badger win. #OnWisconsin pic.twitter.com/IhLi5G93Nv

— Wisconsin Hockey (@BadgerMHockey) May 15, 2016
58 the number emblazoned on the back of Kris Letang's sweater, which served as a bull's eye for Ryan Callahan on this controversial Game 1 hit — a hit that did not result in an hearing with player safety:

29 years since a playoff game featured two goalies aged 21 or younger, as Matt Murray and Andrei Vasilevskiy broke the streak in the Eastern Conference Final. (Patrick Roy vs. Bill Ranford, 1987)
$40 price of a straight razor shave with hot towel treatment at Johnny D's Barber Shop in San Jose, where Joe Thornton could get a lot of bang for his buck in two weeks — and avoid tugs like this one from David Backes:

11 hits thrown by Backes in Game 1, more than any other player in a single game in this post-season.
500 lucky Sharks fans who received black cat towels during Game 1's viewing party in honour of Jo Paw-velski, the good-luck stray cat who found an adopted home.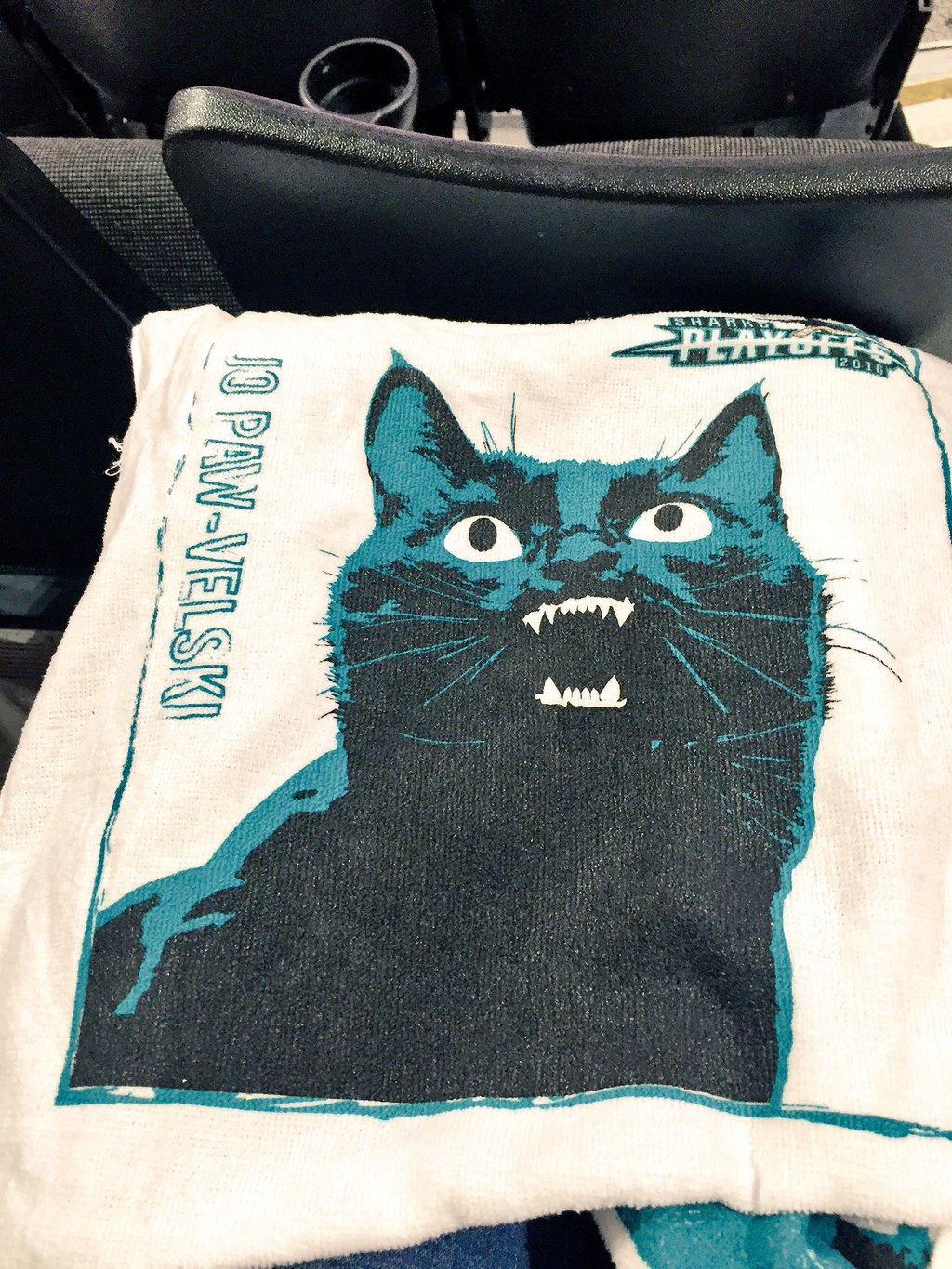 45 combined playoff points for the Pittsburgh Penguins' "HBK Line," comprised of Carl Hagelin, Nick Bonino and Phil Kessel — and approved by Shawn "Heartbreak Kid" Michaels, the original HBK:

3 different meats in the HBK sandwich (hotdog ham, bacon, kielbasa) created by iconic Pittsburgh joint Primanti Bros. in honour of the line.
Cheer HBK. Live HBK. Now eat HBK w/ our ham, bacon & kielbasa sandwich, available for Game 4! #HBKSandwich #HBKLine pic.twitter.com/GO19Tnt3dY

— Primanti Bros (@primantibros) May 19, 2016
73 times we watched Anton Stralman's Game 2 goal to see if it actually went through Matt Murray's glove.
40 seconds of overtime Sidney Crosby needed to put Game 2, his eight-game goal drought, and some whiners to bed:
6,626 retweets for Alex Ovechkin's endorsement of Vladimir Tarasenko for the NHL 17 cover:
Fans retweet this to put my boy @tara9191 on the cover of NHL 17!!!!! :))))))#NHL17Tarasenko

— Alex Ovechkin (@ovi8) May 14, 2016
0 shifts missed by Tarasenko, whose wife Yana wisely chose the lull between Games 1 and 2 in St. Louis to give birth to their first child, Aleksandr.
24 points by Logan Couture, the most ever by a San Jose Sharks player in one post-season.
3 three-point games by Couture in these playoffs, with each one arriving in a series-clinching victory.
2 other players to accomplish that feat: Wayne Gretzky and Jari Kurri
20 points by Brent Burns (in 18 games), the most ever by a Sharks defenceman in one post-season.
3 highest spots atop the playoff scoring leaderboard held by Sharks (Burns, Couture, Pavelski).
38 wins by road teams in the 2015 post-season.
42 wins by road teams in the 2016 post-season, with one more round to go.
12 the age, in years, of Western Conference Final Game 2 play-by-play "man" Wyatt Nelson, who hails from Saskatoon:
3 Penguins game-winners scored in Round 3 by Crosby, including his first-ever playoff overtime goal.
0 playoff overtime goals scored by Mario Lemieux.
48 shots faced by an under-siege Vasilevskiy in Game 3's loss, resulting in this display of frustration:
91 career playoff assists for Jumbo Joe, perhaps none of which are more beautiful than this one that eighty-sixed the Blues in Game 3:

Jumbo's pass to @TomasHertl48 for 3rd goal was a thing of beauty! Nice to see that all 3 goals came from up and coming kids.

— Larry Robinson (@19LarryRobinson) May 20, 2016
4 Shark nipples, presumably, covered by the Hockey Night in Canada towel after Game 3's home victory:
Nice towel placement. #HNIC #ShirtlessSharks pic.twitter.com/PdJVJ5SIwW

— Christine Simpson (@SNChrisSimpson) May 20, 2016
153:57 shutout streak for San Jose's Martin Jones, who came up short of Evgeni Nabokov's franchise playoff record of 178:14, which dates back to 2004.
1 mouthwash ranking, according to dentists who recommend stuff, of Listerine:
For all that "bad breath"… pic.twitter.com/YDYfp7ABy1

— Pittsburgh Penguins (@penguins) May 20, 2016
$24 cost of this sly new Thornton T-shirt, by Breaking T: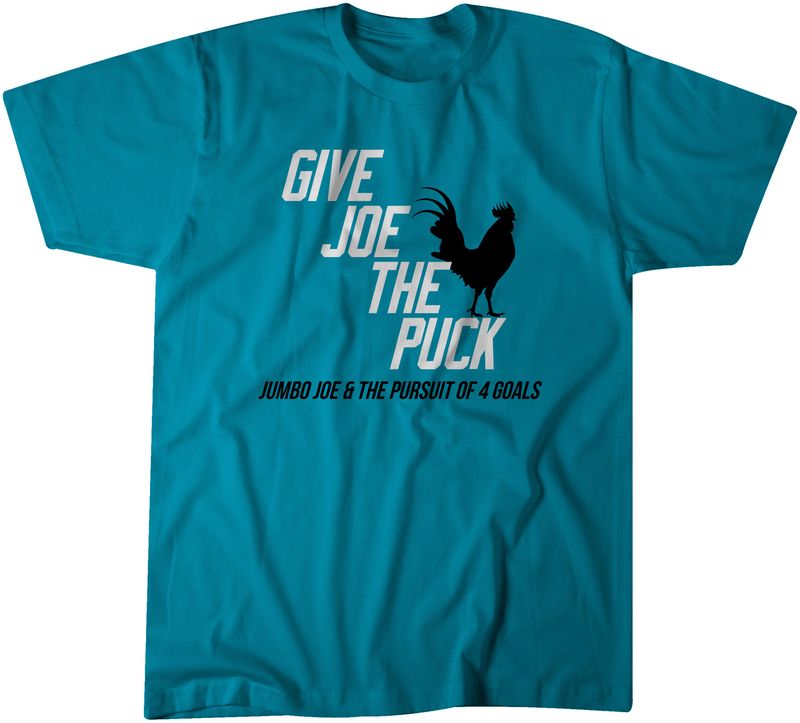 1:43 amount of time tip-maestro Pavelski needed to score both the tying and winning goals in Game 5:
7 three-point playoff games for Pavelski, the most in franchise history
17 women with whom Don Draper — played by Blues fan Jon Hamm — was intimate during the TV series Mad Men.
Did you think Jon Hamm was going to miss this game? Neither did we! #stlblues #StanleyCup #WeAllBleedBlue pic.twitter.com/orW0XzISs8

— St. Louis Blues (@StLouisBlues) May 24, 2016
8 goaltenders who saw playing time in the conference finals, the most since 1980.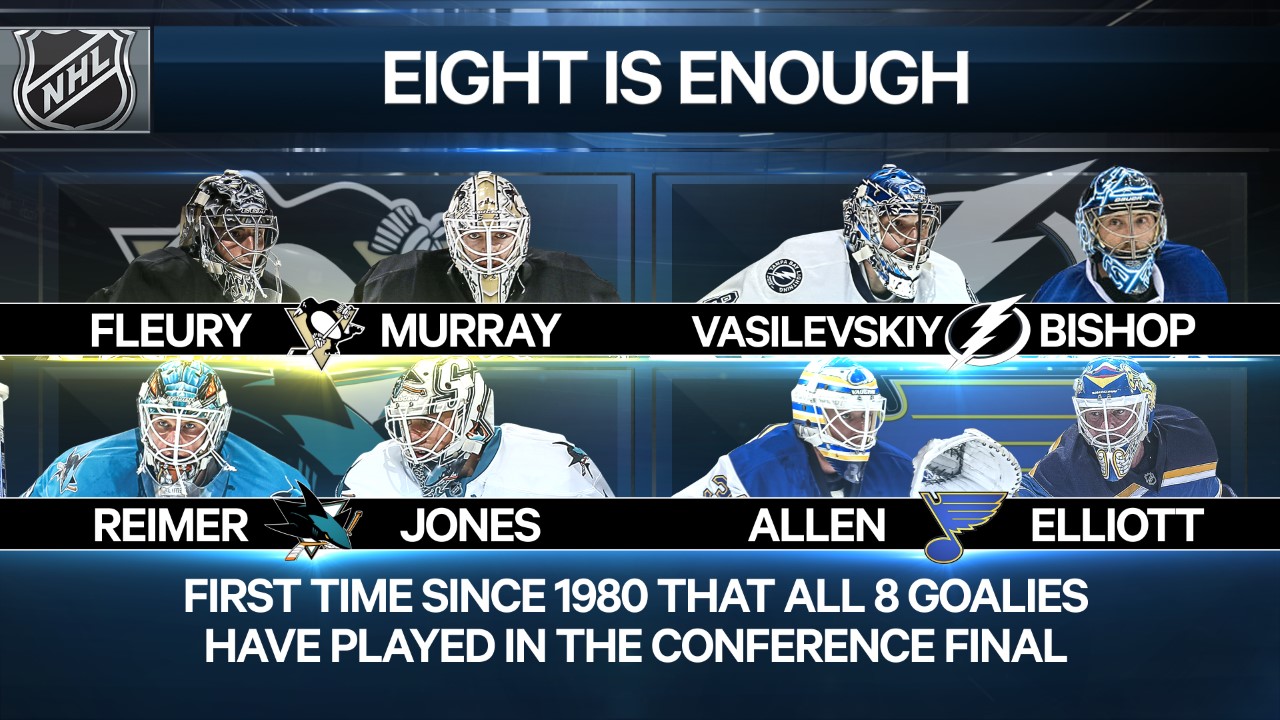 52 days between starts for Pittsburgh's Marc-Andre Fleury, who lost Game 5 and was supplanted by rookie Murray for Game 6.
53 seconds of overtime Tyler Johnson's butt needed to win Game 5, the fastest overtime in Lightning playoff history:
22:08 average ice time per playoff game for Trevor Daley, the second most among all Penguins. Daley's season ended when he broke an ankle in Game 4.
3 NHLers in history to score 10 or more goals in multiple post-seasons before turning 23 years old: Jeremy Roenick, Evgeni Malkin and Nikita Kucherov.
19° Celsius, the ideal hockey-watching weather for Canadian songstress Anne Murray:
19 degrees C, a full moon, home in Nova Scotia & watching Stanley Cup hockey. What could be better?

— Anne Murray (@annemurray1) May 22, 2016
8 spelling errors in Emily Grace Kerber's adorable yet shamefully sloppy letter to the St. Louis Blues:
I love this! This is the note waiting for me on the counter when I got home after game 5! Bring on game 6!! #LGB pic.twitter.com/Q04oFse5F0

— Chris Kerber (@chriskerber) May 24, 2016
2 of the most recent 2 teams to reach the Cup Final after missing the playoffs the previous season coached by Peter DeBoer.
30 teams that decided not to draft Joel Ward, who scored the series-clinching goal and now has four career playoff game-winners and is a general beast every post-season.
100 career playoff points for San Jose by Joe Thornton.
40 players, the rosters of both the Penguins and Lightning, Thornton said he was willing to take on after the Sharks advanced to the final.
1,576 games (playoff and regular season) played in San Jose by Patrick Marleau before reaching his first final.
19 years after being drafted in the Civic Arena (w/Olli Jokinen), Joe Thornton & Patric Marleau head to a Cup final: pic.twitter.com/DN99Wf1IsU

— Seth Rorabaugh (@emptynetters) May 26, 2016
18-0 combined Game 7 record for Lightning players Anton Stralman, Brian Boyle and Matt Carle heading into Game 7 in Pittsburgh.
11:55 ice time, total, played by Steven Stamkos in these playoffs.
4 regular-season goals for Penguins rookie Bryan Rust.
5 post-season goals for Rust, including both the Penguins' goals in Game 7: