The Stanley Cup Playoffs begin Wednesday. Here is everything you need to know from an analytics perspective on the Western Conference matchups.
St. Louis vs. Minnesota

The skinny
The Blues have been one of the NHL's most dominant teams all season. Given that, they may find it a little unfair that their sterling performance entitles them to a first-round series with the team that has been the best in the league for nearly three months now. Then again, there really isn't a good draw in the Central Division.
Since January 15, when goaltender Devan Dubnyk made his first start for the Wild, Minnesota as a team has gone an incredible 28-9-3, collecting seven points more than the Blues managed in the same stretch. Over the same time period, in all situations, the Wild have an NHL-leading plus-43 goal differential. That's a dozen better than the next-best team, the Presidents' Trophy-winning New York Rangers, and it is fourfold what the Blues managed in those same months.
MORE STANLEY CUP PLAYOFFS: | Broadcast Schedule | Rogers GameCentre LIVE | Stanley Cup Playoffs Fantasy Hockey
New Sportsnet app: iTunes | Google Play
St. Louis's hopes rest on some of the things powering Minnesota's resurgence slowing down. Devan Dubnyk is a career .914 save percentage goalie, and his numbers dipped back to that level in five games in April. The Wild have also had a 9.4 even-strength shooting percentage since Dubnyk's arrival, after converting at a 7.9 percent clip in the first half of the year, 7.9 percent last year and 7.7 percent in 2012-13.
St. Louis should win, because the percentages powering Minnesota's improbable run should eventually return to their historic levels, but if they don't the Blues are in serious trouble.
Player to watch
Devan Dubnyk has had a slow (by the standards of recent history) start to April; Minnesota's Stanley Cup hopes depend on him returning to Hart Trophy candidate form.
Prediction: St. Louis in six
Nashville vs. Chicago

The skinny
The Blackhawks had a somewhat underwhelming 2014-15 campaign. It wasn't quite as underwhelming as the one put together by the team that beat them in the Western Conference Final in 2014, but by Chicago's lofty standards it could have been better. A big part of the problem is that the team struggled to convert on its even-strength opportunities.
---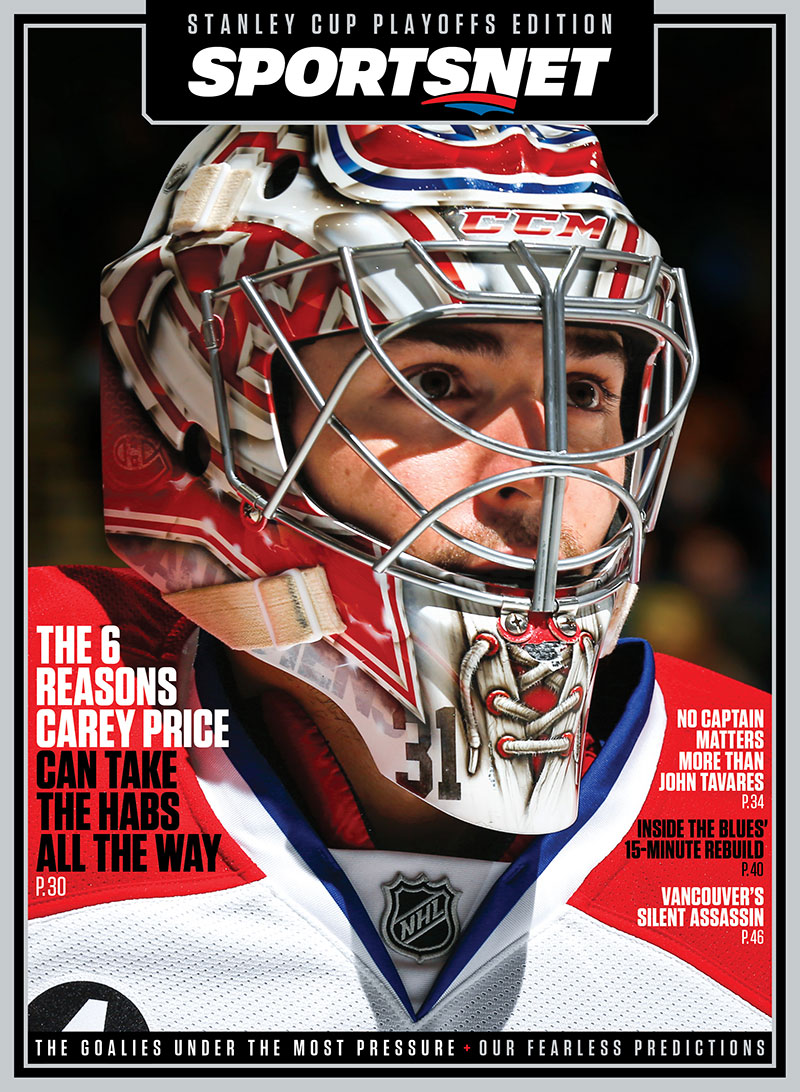 Sportsnet Magazine Stanley Cup Playoffs
Edition: The six reasons why Carey Price can take the Montreal Canadiens all the way. Download it right now on your iOS or Android device, free to Sportsnet ONE subscribers.
---
Since the Blackhawks won the Cup in 2010, they have never fired at less than an 8.0 percent clip at even-strength. They've hit 8.0, 8.2, 8.3, 8.4, even a crazy 9.1 percent in the lockout shortened 2013 season. This year they were at 6.9. These might seem like small numbers, but it's important to realize that these shooting percentages are multiplied across thousands of shots. So the difference between even a mediocre 8.0 percent and the 6.9 percent Chicago shot this year is the equivalent of 25 fewer goals on the season; that's a massive gap, more than the Predators' entire positive goal differential on the season.
Key players—Brad Richards, Marian Hossa, Patrick Sharp—saw their personal shooting percentages fall anywhere from 25 percent to 50 percent from where they were last season. History suggests that they will rebound, and when they do Chicago will get a lot more dangerous. Nashville is a good, even a very good, team, but the Blackhawks are elite and if they play to their potential the Predators will be in very tough.
Player to watch
No player has seen his fortunes fall more than the trigger-happy Patrick Sharp. A year ago he was scoring on 9.6 percent of his even-strength shots; this year it's just 4.3 percent. Whatever the cause, he can be much better than he has been and the Blackhawks need him to be what he's been in the very recent past.
Prediction: Chicago in six
Anaheim vs. Winnipeg

The skinny
The key number here isn't anything fancy: It's just goal differential. In all situations over the 82-game 2014-15 NHL season, the Anaheim Ducks scored 10 goals more than their assembled opponents. The Winnipeg Jets, playing in a tougher division, doubled that. So do the standings here do a better job of indicating the favourite, or should we be leaning in favour of the team that did the superior job of outscoring its opposition?
Anaheim has a slight lead in goals for (236 to 230), but the Jets have surrendered 16 fewer over the course of the season than the Ducks. So we may plausibly rate both teams as having similar offensive potential, but Winnipeg has the advantage on the defensive side of the puck. That's particularly key given the Ducks' inexperience in net. John Gibson is an NHL rookie; Frederik Andersen was pulled after a disappointing performance in his first post-season action last year.
Both teams struggled with injuries this season, and both are somewhat healthier now and have benefited from upgrades made at the NHL trade deadline. The Jets, however, stand a very strong chance of making this series an upset and perhaps even of crossing over from the Central and winning the Pacific Division crown.
Player to watch
It's easy to forget after several disappointing years for a lousy Buffalo team, but there was a time when Drew Stafford was a fairly reliable 50-point man. The six-foot-two, 214-lb. winger has the size to match up well with the Ducks and has been reinvigorated since his arrival in Manitoba (19 points in 26 games).

Prediction: Winnipeg in six
Vancouver vs. Calgary

The skinny
The Flames have been a pretty mediocre even-strength team this season, with ugly underlying numbers and even a negative (minus-two) goal differential. Given that their special teams numbers are nothing special, the only way they've managed to come out on top is through incredible discipline: They draw far more penalties than they take. That's a real talent, albeit one that doesn't come up often in analysis, and it's one that should have them in good stead against a Canucks team that has the opposite tendency.
The problem for the Flames is two-fold. First, as a rule, referees put their whistles in their pockets with far greater frequency during the playoffs, and fewer penalties called means less chance for Calgary to leverage its special talent. Second, Vancouver's great strength is its special teams. The Sedins drive a power play that was No. 9 in the NHL and which is good enough to take advantage of its few opportunities, while the Canucks' penalty kill was the second-best unit in 2014-15.
Vancouver's special teams dominance will go a long way toward neutralizing Calgary, and the Canucks' advantages at even-strength should do the rest.
Player to watch
Radim Vrbata is the top unit power-play triggerman for Vancouver, and lately he's been the offensive leader for the team's scoring depth, anchoring the Canucks' second line. He'll be critical in Vancouver's efforts to advance past the first round.
Prediction: Vancouver in five