The Canadian Women's Hockey League's season begins this Saturday, October 17th. As puck drop draws near, Canadian Olympic gold medalist and forward for the CWHL's Toronto Furies Natalie Spooner has partnered up with Fuelling Women Champions.
I spoke to Natalie about the new initiative, as well as the upcoming CWHL season, Olympic memories, Ronda Rousey, and included some fan questions, as well. Enjoy!
Steve Dangle: What is the Fuelling Women Champions initiative all about?
Natalie Spooner: Canada's dairy farmers have started this multi-year initiative where in the first year we shine a light on the women in sports and help promote young girls staying active and having a healthy lifestyle. We're also having some of us high-performance female athletes to inspire them and want to keep them in sports. They've also partnered with the CWHL so that's pretty exciting for us. We're doing a skills clinic tomorrow at the Mastercard Centre with a lot of young girls on the ice. They're also helping to sponsor our game on Saturday and get people in the seats and come out to watch our game. That'll be a pretty big game for us, home-opener against Boston, so we're pretty excited.
SD: Did you reach out to Fuelling Women Champions or did they reach out to you?
NS: They approached me. I'm just really excited and honoured to be a part of it because it's something that is definitely needed. We don't get the recognition that women need in sports. I think it's fantastic that they've come on board with this multi-year initiative. They say there's 19 per cent of girls that play sports and only 4 per cent get their recommended daily activity. Anything that they can do to try to keep girls playing sports longer, it definitely helps with not just being healthy but also learning a lot of other things. I think that it gave so much to me growing up that hopefully now I can give back and inspire these other girls to want to stay in sports longer.
SD: You mentioned a few numbers. One that blew me away was that 99.6 per cent of sports sponsorship goes toward males. Did you ever experience a hardship in that sense growing up and trying to advance through sport, and do you see any change or progress?
NS: I think growing up I obviously didn't really think about it because I was just having fun playing the sport. Definitely now, later on in life, being an adult, you start to realize that – obviously the NHL, they have a career out of playing hockey and can do that quite comfortably. Whereas women in the CWHL are obviously not getting paid yet. It's definitely building toward that but it's definitely harder for us to be able to just play hockey and have that be the only thing we focus on. A lot of the girls in our league have full-time jobs that they go to during the day and then play at night. It's hard that so much goes toward the men, but I think it's changing. This program is definitely going to help to hopefully bring more awareness to women in sports, especially hockey. That they're on board with the CWHL – it's amazing. Hopefully one day we'll get paid and have a career out of hockey.
SD: Are you excited to be in the role that you're in? I listened to an old interview of yours and you referenced one time you met Jennifer Botterill when you were younger and that was kind of a turning point for you.
NS: Yeah I mean it's kind of crazy, I think. When I think about that, I'm here and now I'm the one talking to little girls and they're kind of looking up to me because I was definitely that little girl meeting Jennifer Botterill and all those Olympians that I looked up to. Now it's kind of crazy. I guess it happened pretty fast, but I just try to be myself and hopefully it inspires them to want to play hockey or play for the Toronto Furies and the CWHL.
SD: Speaking of that, the home opener is coming up on Saturday, October 17th. What do you expect playing the reigning champion Boston Blades, even if their roster is pretty different?
NS: I think it'll be a good game! Hopefully we get a lot of fans out to watch it and even new fans that want to keep coming back. Once we get people out to the games, they'll notice how entertaining it is and how good the hockey is, and that will make them want to come back for more. I think it's just getting more bums in seats and more people cheering us on.
SD: There's a reason I'm here today. You're Natalie Spooner. You're a very big name in women's hockey and there are a few very recognizable names; Shannon Szabados, for example. Who's the best player or the player you're most surprised people don't quite know about yet? "The next big thing" if you will.
NS: That's a really hard one. I feel like there are so many great young players coming up now and you never know how it's going to pan out before the next Olympics. There's so many who have been really good. If you look at the Calgary Inferno: Jessica Campbell. Look at Toronto: Kelly Terry. I feel like every team has their young player that is going to be really good and they're just going to keep developing now.
SD: The Olympics – you really don't need to hype that sort of thing up, but with the growth of the CWHL and now the NWHL as well, do you think that will even build more hype?
NS: I mean I hope so, yeah. It was obviously a bit of a shock that the NWHL came along, but I mean I think any kind of publicity for women's hockey is good. People just knowing that we're playing, where we're playing, when we're playing in non-Olympic years is a big goal. In Olympic years we obviously get a lot of people watching us, a lot of people cheering us on. The other years, people have no clue who we are or where we're playing, what we do. If we can just get more people out to watch us in non-Olympic years that would be awesome.
SD: What do you think about your new coach in Toronto, Lex Hoff? She was a Furies player last year.
NS: It'll be really good. I was definitely shocked that she was stepping down as a player and moving into that coach's role, but she's just so awesome that it'll be good to still have her on the team. If that's the role she wants to take, I think she'll be great for us on defence. Obviously she played the game, she knows it pretty well, so bringing that to the coaching side now, she'll be awesome.
SD: You've done some coaching of your own. What was that like a few weeks ago? You were playing against, and totally schooling, the students that you train at UOIT.
NS: It was definitely different. It was exciting for me, like obviously being at a practice with them before and then playing against them. It was pretty exciting. We played against York the next day so I got to come back and be like "This is what you have to do against York" and then them going and beating York, I got so excited for them and so pumped. I'm just super excited to be helping out, that the team is doing really well so far, so hopefully they can keep it up and keep it rolling.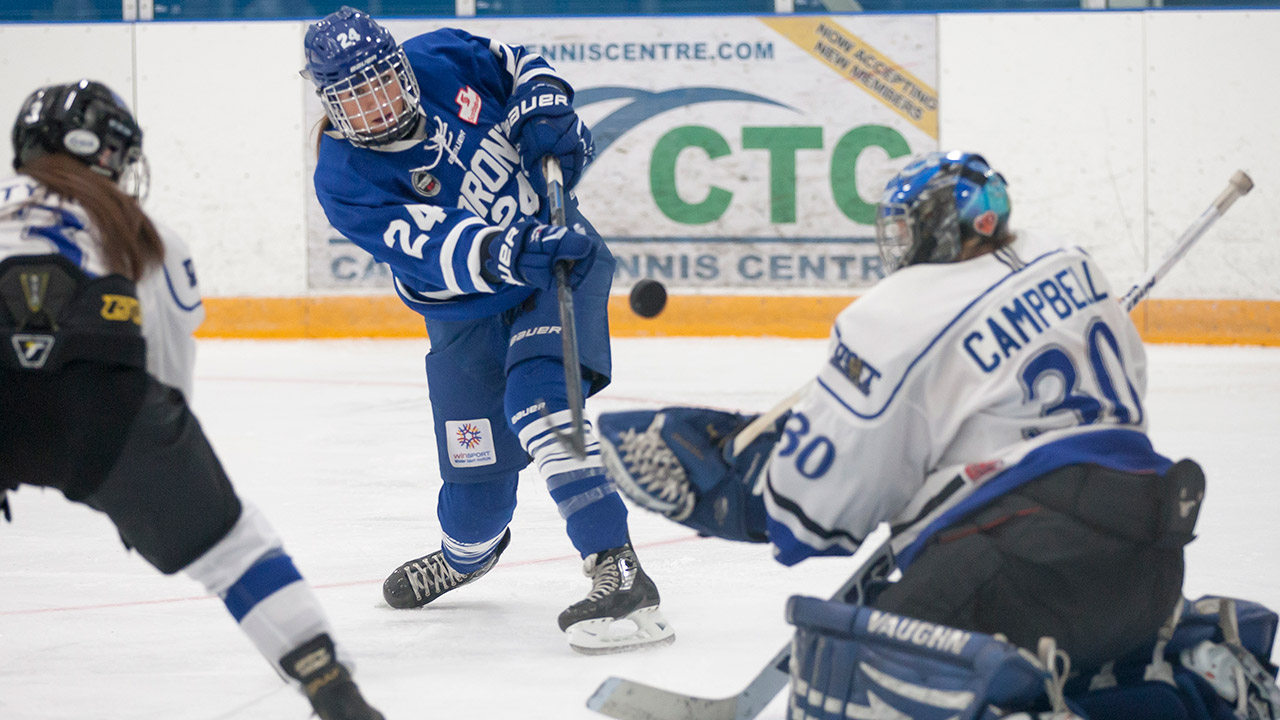 SD: What do you think fans can expect from the Furies this season?
NS: They're going to be exciting games. I think the games in the CWHL are always pretty exciting and fast-paced. We have some really skilled players so hopefully they'll just be really exciting games for fans to come out and watch.
SD: Mikalya wants to know what has kept you inspired to work hard, especially when it's so hard for girls to play hockey as a career?
NS: I think what's kept me inspired is just wanting to be the best, wanting to be the best in the world. When we lose a tournament or lose to the U.S. you definitely don't want that feeling again, so everybody's gotta work harder to want to win. I think just personally wanting to be the best player I can be and wanting to help my Toronto Furies team out and my Team Canada team to be the best team that we can be together and beat the U.S.
SD: Who is your favourite non-hockey athlete?
NS: Right now I'd probably have to say Ronda Rousey. I think she's doing so much for women and being strong, and powerful, and just accepting that. She's a beast in the octagon; she's pretty crazy. She's probably one of my favourites that I try to follow along with, what she's doing.
SD: Do you think we'll ever see a women's hockey equivalent of Ronda Rousey? Because she makes the most money in the UFC and I don't think it's close, and there's a reason for that.
NS: I don't know. It's definitely different because hockey is a team sport and there's a lot of people playing, and everyone kind of has their own part to it, whereas she's in an individual sport that's really just her doing the butt-kicking. For us it's a team effort. I don't know if we'll ever see like an equivalent to that but maybe as a team we could be that good.
SD: Do you ever think Ronda Rousey would drop the puck at a Furies game?
NS: Ooh I would hope so. If we could get her into Toronto to drop that puck that would be pretty cool. Maybe get her on skates to have like a hockey fight…I would still be scared. I'd probably skate away really fast.
SD: Who is the toughest goalie to score on in the CWHL and why?
NS: I think there's so many good goalies in the CWHL. Playing Boston, Genevieve Lacasse, it's always really hard to score on her. Charline Labonte for Montreal, also really hard to score against, so I mean they're both great goalies. I don't know if I could pick one goalie. I feel like every team we play has a good goalie.
SD: Nigel wants to know what three moments in your life, hockey or non-hockey, will you cherish the most so far and why?
NS: One of the moments would obviously be winning the gold medal in Sochi. The second one would probably be around that, also. My whole family got to come out to Sochi, so I think just celebrating with them afterward was definitely really special. My brothers still tell me it was the best time they ever had, so that was really fun. And the third one…That's really hard… Can I have a tie?
SD: Sure.
NS: Maybe going to college at Ohio State. It was really fun. The other one would be my niece and nephew, they're four and two now, so when each of them were born, and then getting to meet them, and now they have personalities and getting to hang out with them when I do.
SD: I watched your appearance with Tim & Sid. I mean that was awesome. "Gold medal in the face" and everything. I couldn't believe it – you had just gotten back from Sochi, I didn't know how you were even awake. It was a great interview, but it sounded like you hadn't quite processed it yet. You've had a while now. How do you remember Sochi?
NS: It was all pretty crazy. It was definitely an amazing experience. One of the first things I remember that actually kind of hit me that I was there was walking into the opening ceremonies. There's so many people and you're kind of just trying to wave everywhere and you don't know where to look. So that was a pretty cool moment, probably my second-favourite moment of all-time at the Olympics. The games were all so much fun. Obviously the last game was very stressful. I felt sick from my knees to the top of my head. I was so nervous. The last few minutes was definitely exciting and then winning, I definitely didn't process that for a couple months after, that it actually happened. It all went by pretty fast; a bit of a whirlwind.
Once again, the Toronto Furies' CWHL season kicks off this Saturday, October 17th.