Economic activity in Canada related to hockey is worth over $11 billion annually, with more than $1 billion in tourism revenue flowing into communities of less than 100,000 people.
Those are among the findings presented in a new report: Ice Hockey In Canada, 2015 Impact Study: The Economic, Social, Community and Sport Benefits of Canada's Favourite Game.
The research was led by Canadian sport business researcher, Dr. Norm O'Reilly, the Richard P. & Joan S. Fox Professor of Business in the Department of Sports Administration at Ohio University. The report was commissioned by Scotiabank and Canadian Tire.
It's stated goal was to "provide a conservative yet accurate assessment of the impact of hockey and thereby its influence on a number of stakeholders involved in the sport, including hockey organizations, leagues, clubs, athletes, coaches, corporate sponsors, tourism organizations, governments, and researchers."
The study's results estimate that $2.6 billion moves directly between communities in Canada each year as a result of hockey, with the division of revenue breaking down as follows:
· Tourism: 52%
· NHL clubs and major events: 31%
· NHL salaries that come back home: 10%
· Corporate sponsorships: 6%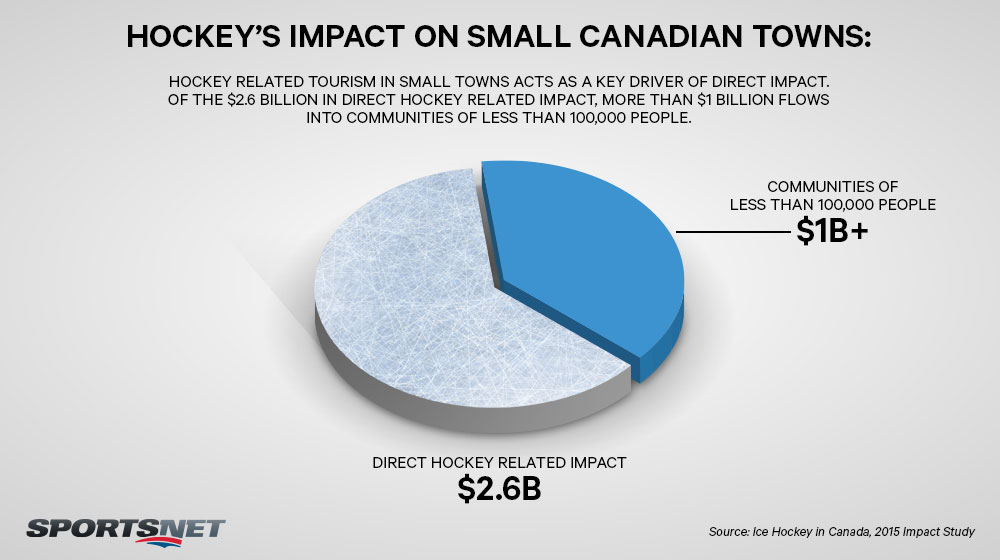 Citing an accepted industry multiplier, the study extrapolates to estimate that $5.1 billion is the direct plus indirect impact between Canadian communities. Although the study's specific objective was to measure impact and not economic activity, additional activities were reported in the analysis.
Although it is not to be considered direct impact (or incremental benefit), the study reports that Canadian economic activity related to hockey is in excess of $11.2 billion annually and comes from the following sources:
· Tourism (Inter-community related and international related): 47.1%
· Spectator related (all levels): merchandise, events, souvenirs, fantasy, tickets, pperations, season passes, concessions, parking, etc.: 40.5%
· Participation: minor hockey (registration, equipment, etc.): 3.4%
· Professional players/coaches related: 2.5%
· Corporate activity (sponsorship, activation, marketing): 2.1%
· Federations (national and branch): 1.7%
· Facility (arena) operations: 1.1%
· Capital investments: 0.9%
Other results identify a number of additional intangible benefits/value of hockey in Canada, according to the study.
1. Hockey related tourism in small towns acts as a key driver of direct impact. Of the $2.6 billion in direct hockey related impact, more than $1 billion flows into communities of less than 100,000 people.
2. Volunteerism in hockey in Canada is extensive with more than 150,000 Canadians volunteering for hockey (coaching, administration, tournaments) at an average of 5 hours/week
3. Hockey rinks are part of the landscape in Canada, with nearly 2,500 rinks reported in the country, led by Ontario (898), Alberta (420), and Quebec (358), and Manitoba (203); British Columbia (186); Saskatchewan (165); New Brunswick (85); Nova Scotia (75); Prince Edward Island (27); Newfoundland (26); NW Territories/Nunavut (10); and the Yukon (7).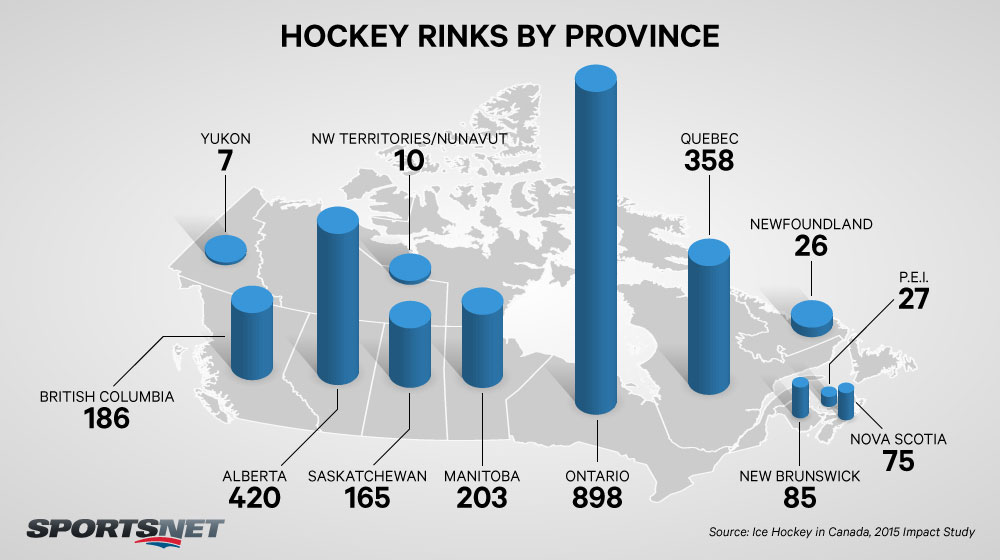 4. Canadians spend an average of 7 hours per week engaging with hockey during the season.
5. Five to 10 years after moving to Canada, NHL becomes most followed sport (68% as fans) for new Canadians and 10+ years after, 80% are fans of the NHL.
6. More than 180 Canadian media outlets provided in excess of 52,000 hours of "NHL hockey talk."
7. Ninety per cent of Canadians believe hockey is part of our cultural fabric.
8. Many communities have hockey events linked to remote First Nation communities.
9. Learn to Play Hockey Programs are common in hockey with more than 5,000 programs and 100,000 participants each year.