Which road teams get the most support in enemy arenas?
Besides looking around and saying, "My, there sure are a lot of loud people in red sweaters in this Tampa arena," there is a more scientific way to figure that out.
Examining how resale prices of NHL tickets in 2014-15 fluctuated with each visiting team, SeatGeek — a New York-based online ticket marketplace and aggregator — ranked all 30 NHL clubs and determined which ones "travel" the best.
And the league-champion Chicago Blackhawks come out on top — a finding that should come as no surprise to anyone who tried to book a hotel in Tampa during the Stanley Cup Final (or anyone who picks the NHL's marquee outdoor game matchups).
Calculating an "Away Price Bump" for every team, SeatGeek discovered Chicago spurred a 57 per cent increase in ticket prices as the visiting team.
Well-established franchises with widespread fan bases — New York Rangers (39 per cent), Pittsburgh Penguins (38), Montreal Canadiens (29), and Detroit Red Wings (26) — round out the top five.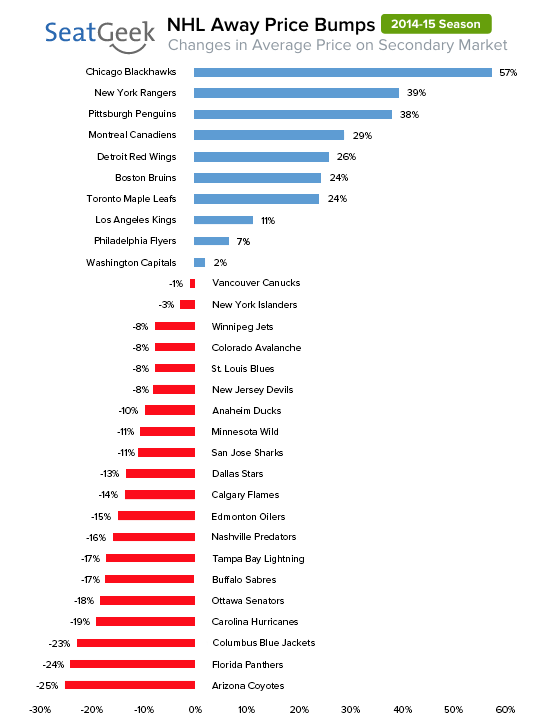 The world's richest hockey team, the Toronto Maple Leafs, had the most expensive average resale home tickets at $177, more than double last season's NHL-wide average ticket price of $84.
The Columbus Blue Jackets had the cheapest average tickets at $44.
The toughest ticket to sell at a profit in 2014-15 belonged to the 29th-place Arizona Coyotes, who carried a negative 25 per cent Away Price Bump. Away tickets for the Florida Panthers (-24 per cent), Blue Jackets (-23), Carolina Hurricanes (-19) and Ottawa Senators (-18) can also be scooped for below face value.
We would expect the Edmonton Oilers (-15 per cent in 2014-15) and Buffalo Sabres (-17 per cent) to see their rankings improve this season with the acquisition of Connor McDavid and Jack Eichel, respectively.