Early this season, the Columbus Blue Jackets were piling up goals while getting pretty severely outplayed most nights, and a lot of folks had raised eyebrows and concluding they probably weren't very good. As the season has gone on, the Blue Jackets have continued to pile up goals against opponents, while taking it to them in shot attempt differentials as well. Now eyebrows are being raised for different reasons: Columbus might be a legitimately good team after all.
The Blue Jackets were a consistently terrible team last season. After the first 12 games of 2015-16, they didn't have a single 10-game stretch where they were above 50 per cent in score-adjusted Corsi. That's a special kind of bad.
This season started the same way, with most of the Jackets' success coming on the power play, but now they're on a 10-game stretch where they have a 57.21% score-adjusted Corsi, the kind of numbers you see out of the Los Angeles Kings. It's unlikely the Blue Jackets will sustain that, but where is it coming from?
Their younger players are certainly improving, but I think the biggest factor in their success right now has been rookie defenceman Zach Werenski. Say what you will about John Tortorella's conservative approach to hockey, but the rookie is second on the team in ice time behind Seth Jones, and over the past month they've been getting almost exactly the same amount.
Lots of people who pay attention to analytics have been pumping Werenski's tires, but I think he might be even better than his biggest boosters believe. Looking at his percentages relative to his teammates, he is shockingly good.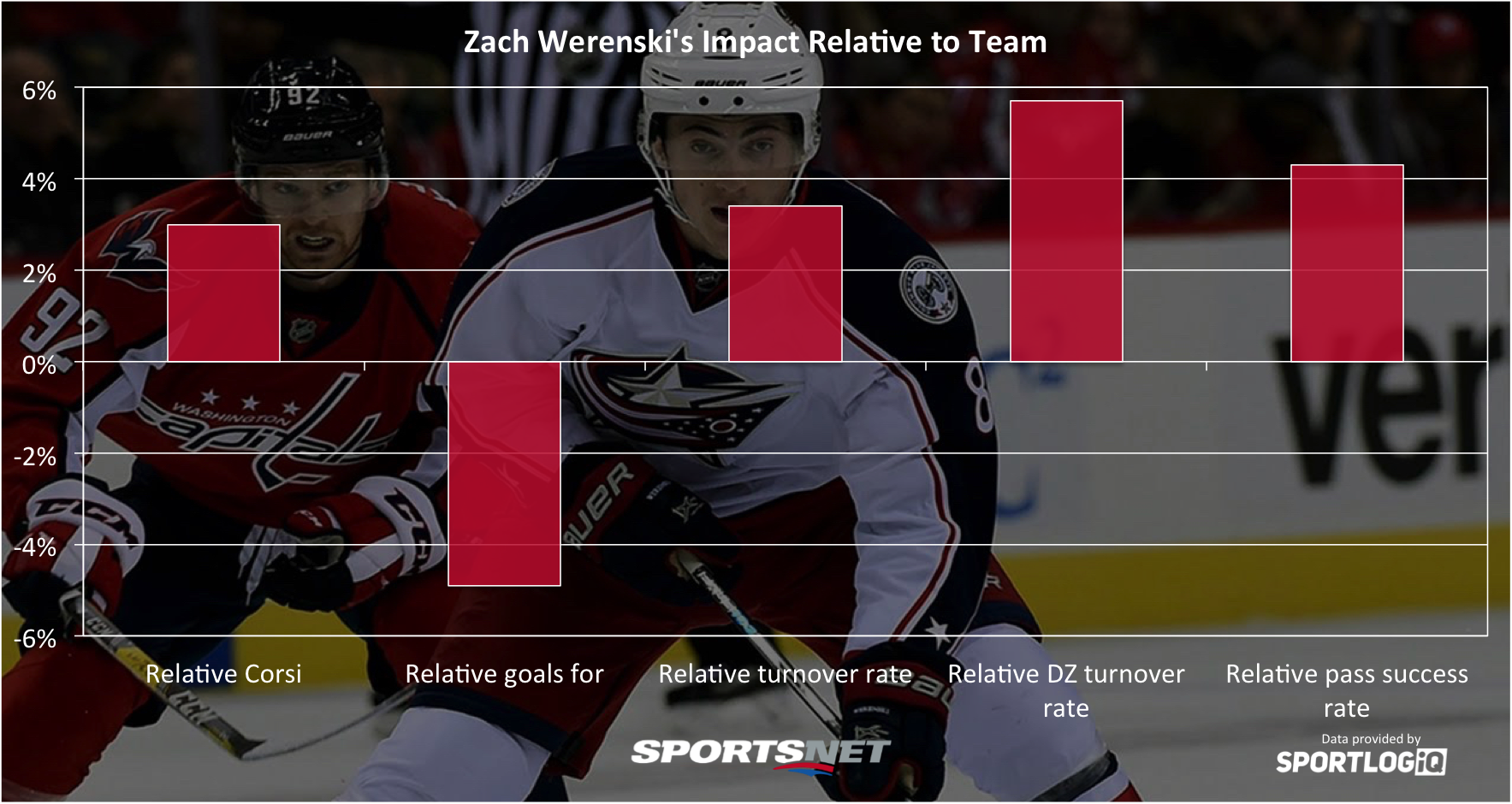 When I looked at turnovers from defencemen for Sportsnet recently, I was surprised to see Werenski rank as the seventh-safest blue liner with the puck on his stick in the NHL. That's a very rare thing for a rookie and he was the least experienced defenceman in the top-20 by five seasons.
My first thought was that maybe he was just incredible in the offensive zone and that was enough to boost his numbers, but in reality the defensive zone is where he's been most effective relative to his teammates. In the graph above, the relative turnover rates are inverted, so positive numbers mean you're turning it over less.
His relative goals for percentage isn't matching his other areas of dominance yet, but while he's on the ice the Blue Jackets are getting 55.6% of the goals at 5-vs-5, and his PDO is just 100.6. What's driving his low relative goals for numbers is the extreme luck his teammates have been experiencing early in the season. I'm confident Werenski will be the Jackets' top defenceman in relative goals for by the end of the season.
The question you're left with after looking at his percentages is how much is Werenski driving play? Is he riding others to possession success while making simple plays like D-to-D passes? Nope.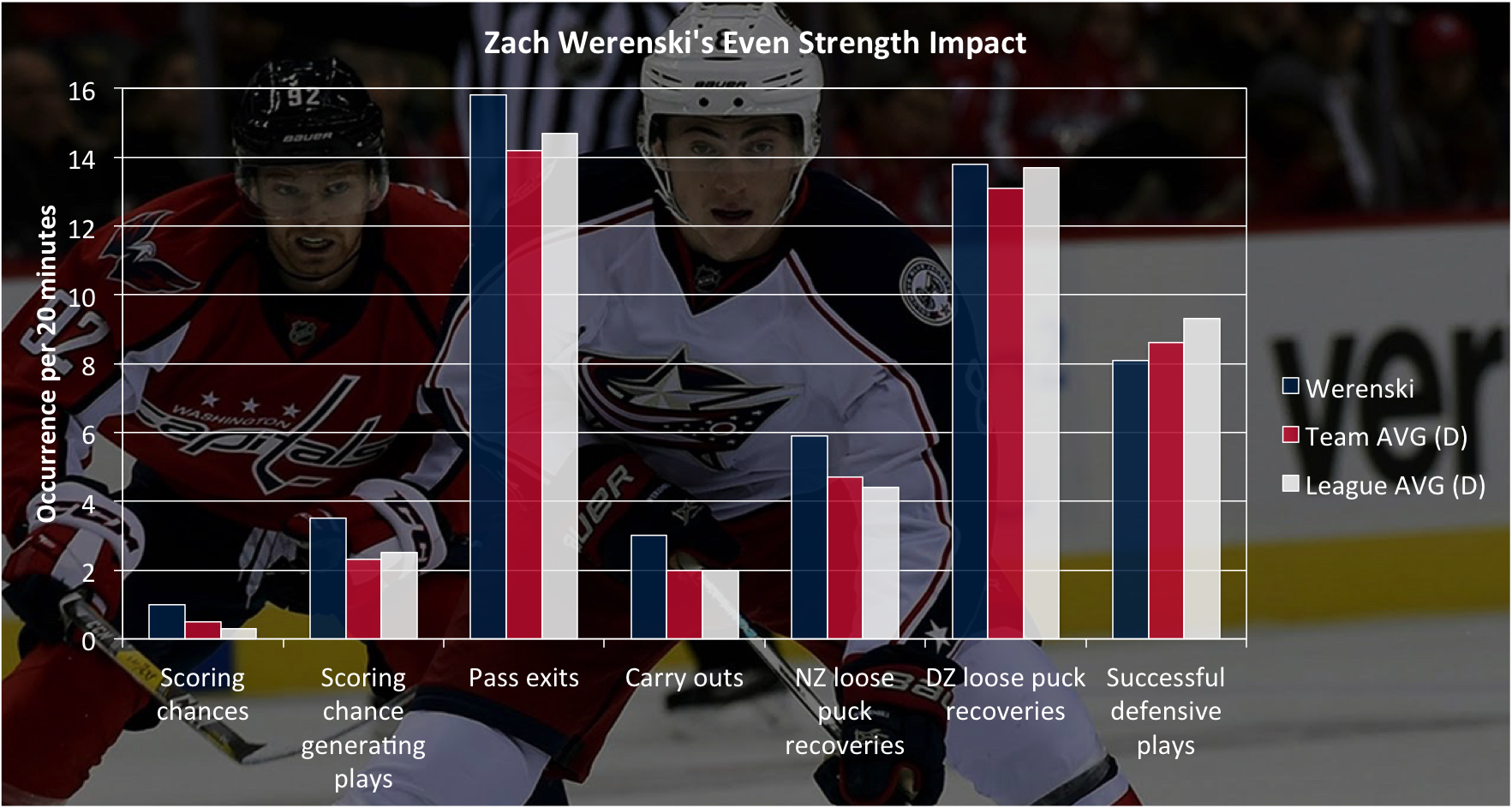 In the first four categories in the graph above, Werenski leads all Blue Jackets defencemen and in the next two, he ranks second. Werenski is the Blue Jackets' most involved defenceman overall, making 82.6 plays with the puck every 20 minutes at even strength, and 86.1 plays every 20 minutes in all situations, yet he maintains the lowest turnover rate on the team by far.
The ability to dominate all over the ice both with and without the puck, while being his team's most involved and safest player, puts Werenski into an elite category of defencemen with the likes of P.K. Subban, Drew Doughty, and Duncan Keith.
Werenski still needs to work on taking the puck away from his opponents with successful defensive plays, but at 19 years old he looks like a potential franchise defenceman, even if it is a small sample.