The Tampa Bay Lightning approached the trade deadline in an uncertain position. Short-term and long-term concerns needed to be addressed, but the solutions appeared to be mutually contradictory. Only a creative strategy and adroit execution could possibly handle such competing interests.
Fortunately for the Lightning, general manager Steve Yzerman has a knack for both.
On Feb. 25 the Bolts were six points out of the post-season in a hypercompetitive East, far enough back to make the playoffs unlikely but also close enough to keep them from being ruled out entirely. That gap has since closed to four points. A complete fire sale was obviously undesirable, particularly given the possibility of a Steven Stamkos return prior to the end of the year.
And yet there were so many other pressures.
Entry-level bonuses for Jonathan Drouin, Andrei Vasilevskiy and the unlikely Brayden Point made a tight financial situation even more difficult, and with a slew of players (including the aforementioned Drouin) in need of new contracts this summer the timing was terrible.
The expansion draft threatened to rob the club of a significant player up front, too. The draft will not affect all teams equally, and entering the deadline it looked like the Bolts might be forced to expose someone like Alex Killorn thanks to their surplus of eligible forwards.
Finally, there was Ben Bishop. Financially, retaining him would obviously not be possible past this season. Yet to trade him away would be to turn the top job over to 22-year-old Vasilevskiy without a safety net behind him. That's assuming a trade would even be possible; the goalie market was not robust at this deadline and a starter with a .911 save percentage rarely generates excitement.
Here's what Yzerman chose to do:
• Feb. 26: Lightning trade Bishop and a fifth-round pick to Los Angeles for Peter Budaj, Erik Cernak, a seventh-round pick and a very conditional second-round pick.
• Feb. 27: Lightning trade Brian Boyle to the Maple Leafs for a second-round pick and Byron Froese.
• March 1: Lightning trade Valtteri Filppula and fourth- and seventh-round picks to the Flyers for Mark Streit
• March 1: Lightning trade Streit to the Penguins for a fourth-round pick
The valuation on Bishop was panned in some quarters, but other than St. Louis losing its mind over Ryan Miller a few years back goalies just don't command substantial returns. That trade simultaneously a) cleared lots of money b) added some significant futures to the organization and c) brought in a plausible partner for Vasilevskiy.
The return on Boyle was not as good as what might have been hoped, given what Martin Hanzal went for, but again cleared money.
The real artistry came on deadline day, with those two quick trades involving Streit. Filppula is a useful player, but dumping his contract freed the Lightning of both an expansion draft obligation (Filppula has a no-move clause) and moved money off the books both this year and next. Flipping Streit to Pittsburgh made the deal almost neutral from a draft pick perspective, meaning that Yzerman made two pricey years and an expansion problem disappear at almost no cost to the Lightning.
According to CapFriendly.com, prior to Yzerman's moves the Lightning had a projected cap hit of $73 million at the end of the season. Now that number is down to $71.3 million, which is more impressive than it sounds because the salary had already been paid out for three-quarters of the season. It buys the club a bit of room for entry-level bonuses, which should make signing Drouin, Ondrej Palat, Tyler Johnson and others easier next year.
These would have been difficult trades to make if Tampa Bay looked like a contender this year. That's the silver lining to a tough season: It created an opportunity to get prepared for expansion and gave management a chance to do some financial maintenance.
Also of note is the way that Yzerman's deals reset the age of the team's core. Filppula was the team's oldest player, with Boyle and Bishop not far behind. Despite the Lightning's
success in the last few years this is still a very young team: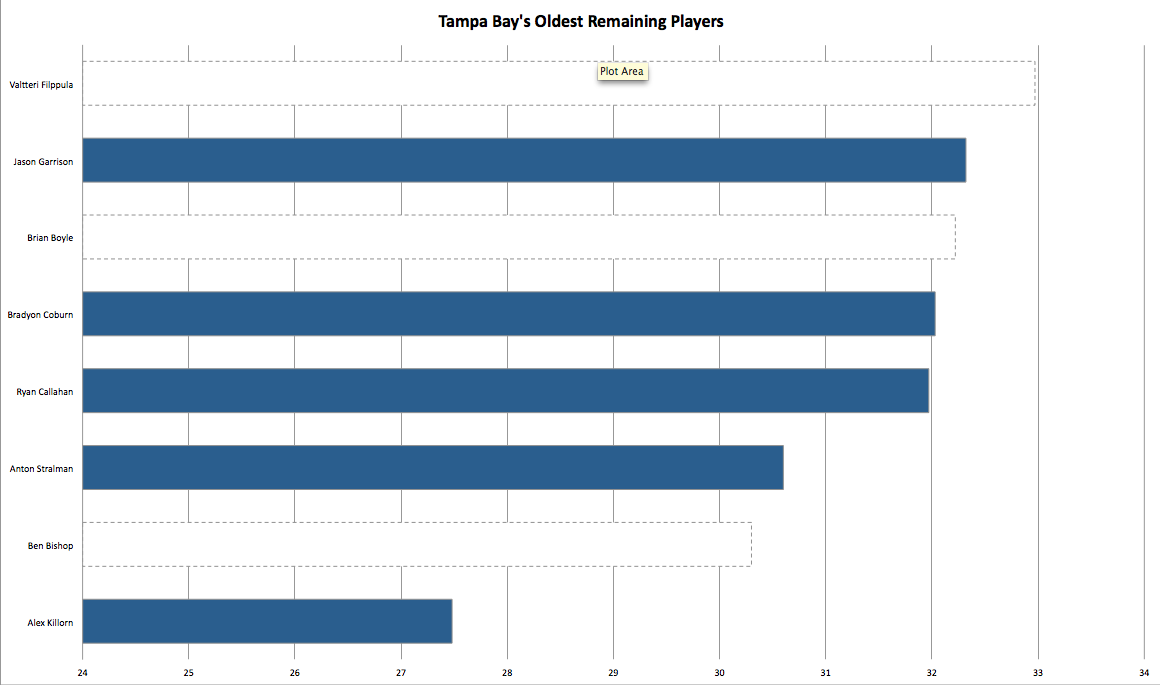 Tampa Bay comes out of the deadline younger, cheaper, and better prepared for both expansion and for contract negotiations this summer. The team is a little weaker as it fights for a playoff spot, but not so gutted as to make that task impossible either, especially if Stamkos is able to return from injury with some time left in the year.
No fan of the Lightning is going to look back at 2016-17 as their favourite season for this current iteration of the franchise. However, Yzerman's trade deadline work did much to ensure that this season represents a momentary lull rather than the new normal for the franchise.