With the Tampa Bay Lightning just one win away from advancing into the second round of the Stanley Cup Playoffs, it's difficult to say how much of the credit they've earned, and how much they owe to the luck of the draw.
While it's true you can only play the team you've been matched up against, Tampa has certainly benefitted from a wonky playoff system. Despite finishing fifth in their conference and 12th overall, they drew a very pedestrian Red Wings team. And if the Lightning advance, they could even hold on to home-ice advantage if they run into the New York Islanders. All of this sets up nicely for them, especially considering they could get both Anton Stralman and Steven Stamkos back at some point.
The reason they've been winning is because the top line is playing so well. And regardless of whether Jonathan Drouin or Alex Killorn has been playing on the left side of the top unit, the common denominator behind this success is Nikita Kucherov and Tyler Johnson. At least one of those two players has factored into 10 of the 11 goals Tampa has scored so far.
In the backdrop of all this is the uncertainty surrounding the roster this summer. Steven Stamkos, one of the most prolific scorers of his generation, is a pending UFA so his future may lie with a different franchise.
It's impossible to view the Stamkos situation as an isolated decision, though. Looking at their salary structure through a big picture lens, however they proceed with their captain will trigger a cascade effect down the lineup.
Over the next 14 months, they'll need to deal with new contracts for restricted free agents Nikita Kucherov, Tyler Johnson, Jonathan Drouin, Alex Killorn, Ondrej Palat, Vlad Namestnikov, and Andrei Vasilevskiy. Victor Hedman is also due for a rather sizeable pay bump from the measly (for a player of his stature) $4 million he's making right now. Ben Bishop has been remarkably consistent for three years now, but he could become a luxury item they can't afford anymore.
While we could go on about the merits of each of these players, we're going to narrow down the scope of this discussion to Kucherov, who has been terrorizing the Red Wings. While his stock skyrockets, he's actually been an immensely productive player for some time now. Look at the impressive company he's kept since becoming a lineup fixture as a 21-year old at the start of last season: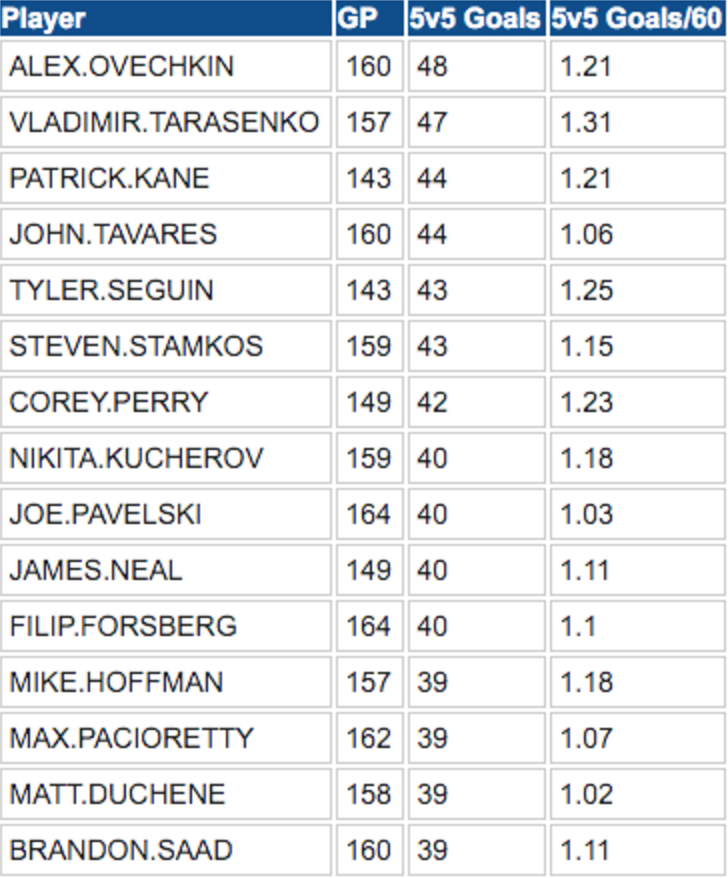 Only seven players have scored more goals at five-on-five than Kucherov over the past two seasons, and only six have done so at a more efficient rate when accounting for ice time.
His exploits aren't limited to just goal scoring or even strength situations, either. After scrubbing some of the noise of second assists Kucherov is 14th in the league in primary points at all situations. Aside from maybe Blake Wheeler, every one of the players in his vicinity are already universally regarded as bona fide superstars.
Whenever Kucherov has been on the ice, his team tends to get a markedly larger percentage of shot attempts and scoring chances than when he's on the bench. In roughly 1,000 minutes of five-on-five action next to Johnson and Palat, the line has the 10th-best possession rate (56.4%) of any trio that's spent at least 500 minutes together over the past two seasons. Each of those other combinations involves one of Sidney Crosby, Patrice Bergeron, Jonathan Toews, Filip Forsberg, Joe Thornton, or Max Pacioretty. And Tampa's chances have been going in, as 63 per cent of all 5v5 goals they score come with Kucherov on the ice.
So what is Kucherov worth? Thanks to the help of General Fanager's invaluable service, I've put together a list of comparables from recent years (dating back to 2008). The players included are ones who a) play on the wing and b) received a contract extension spanning at least five seasons after the end of their entry-level contract:
It's a mixed bag. Some of these contracts have been misses, some have yet to be determined, but there's a healthy amount of success stories who provided tremendous value to the teams that bought in early.
The Lightning would do well to get ahead of the curve by making Kucherov the latest addition to this group. He's got four years left of restricted free agent eligibility, which means a deal of six or seven years in length would both eat into his UFA years and encompass a significant portion of his peak.
---
STANLEY CUP PLAYOFFS:
First Round Series Previews | Broadcast Schedule
Stanley Cup Playoffs Fantasy Hockey
---
While every long-term deal carries a certain amount of risk, Kucherov checks all of the boxes you'd like to see from a player you're betting on. His rate stats the past two seasons are a good indicator that he's ready for a larger workload. Just 23 years old in June, he's on a collision course with his prime as a scorer. He's only going to get more productive in the coming seasons.
There's a legitimate possibility the Lightning will see one of the league's most lethal goal scorers walk this summer as a free agent. There's no question that would be a tough pill to swallow for a team that figures to be chasing Stanley Cups for at least a few years to come.
As strange as it may seem, I don't think it's particularly outlandish to suggest Tampa will be fine without Stamkos. In fact, there's a completely reasonable argument that the money needed to keep Stamkos would be better spent on other openings in the lineup.
Tampa Bay will definitely need to make a long-term commitment to a high-end goal scorer this summer. It's just not the one you might expect.