UNIONDALE, N.Y. — John Tavares can be excused if the Islanders captain doesn't recall the previous time New York won a playoff game in overtime.
"I was only 3 years old then," Tavares said, when informed it's been 22 years since that happened.
He'll certainly remember this one.
After winning the overtime-opening faceoff, Tavares scored 15 seconds into the extra period to seal a 2-1 win over the Washington Capitals in Game 3 of their first-round playoff series on Sunday.
With the crowd chanting "MVP! MVP" Tavares provided the Islanders a 2-1 series lead.
STANLEY CUP PLAYOFFS: | Broadcast Schedule
Rogers GameCentre LIVE | Stanley Cup Playoffs Fantasy Hockey
New Sportsnet app: iTunes | Google Play
And he became the first Islanders player to score a playoff overtime goal since David Volek did in Game 7 of a second-round 4-3 win over Pittsburgh on May 14, 1993.
New York had lost its previous six overtime playoff games.
Tavares' score was the second-fastest playoff overtime goal in Islanders history. J.P. Parise scored in 11 seconds on April 11, 1975, in the franchise's first post-season game decided in OT.
Game 4 is at Long Island on Tuesday.
"The best players have to be your best players if you're going to have a chance to win a Stanley Cup," Islanders coach Jack Capuano said of Tavares.
"Tonight, 91, was 91. He did a lot of good things for us on the ice but on the bench, too, to calm things down."
The Islanders won by avoiding blowing a lead for a second straight game after giving up three straight goals in a 4-3 loss in Game 2 at Washington on Friday.
This time, New York gave up the tying goal with 6:06 left in regulation, when Nicklas Backstrom snapped in a shot off the crossbar.
"It happens," Tavares said. "You have to deal with each and every shift, the adversity you face. You have to move on."
The Islanders controlled the play from the start of overtime.
Off the faceoff, Nikolay Kulemin fired the puck at the net from centre. Capitals goalie Braden Holtby played it and gloved the puck to defenceman John Carlson, who quickly sent it up the boards.
Islanders defenceman Nick Leddy intercepted the puck at the left point and shot it toward the net, where Kulemin redirected it in the circle.
Holtby made a pad save and then attempted to poke the puck into the right corner. Tavares was already racing in and shovelled the shot in before Holtby could cover the post.
"It happened pretty quick, obviously," Holtby said. "Another rebound and it's in the net. We need to start off an overtime in a more defensive way. It's something we need to learn from."
Holtby was otherwise solid in stopping 40 shots, while showing no effects of an illness that forced him to miss Game 2.
"Tough one to swallow right now," Holtby said. "But playoffs is all about having a short memory and make sure we're a lot better next game."
Kyle Okposo also scored for the Islanders.
"We just wanted to get back to playing the way we needed to," Okposo said. "After they scored that goal to tie it up, we got back to playing on our toes."
The Islanders were outshooting the Capitals 33-13 through 40 minutes. They went ahead on Okposo's goal 12:37 into the second period, when he deflected in Lubomir Visnovsky's shot from the top of the right circle.
New York then spent much of the third period on its heels.
Islanders goalie Jaroslav Halak stopped the first 23 shots he faced — and 10 in the third period — before getting beaten by Backstrom, and with Alex Ovechkin providing a screen in front.
"We spent way too much time in our own end," Capitals coach Barry Trotz said. "We'll pout about the loss for an hour and then let it go."
---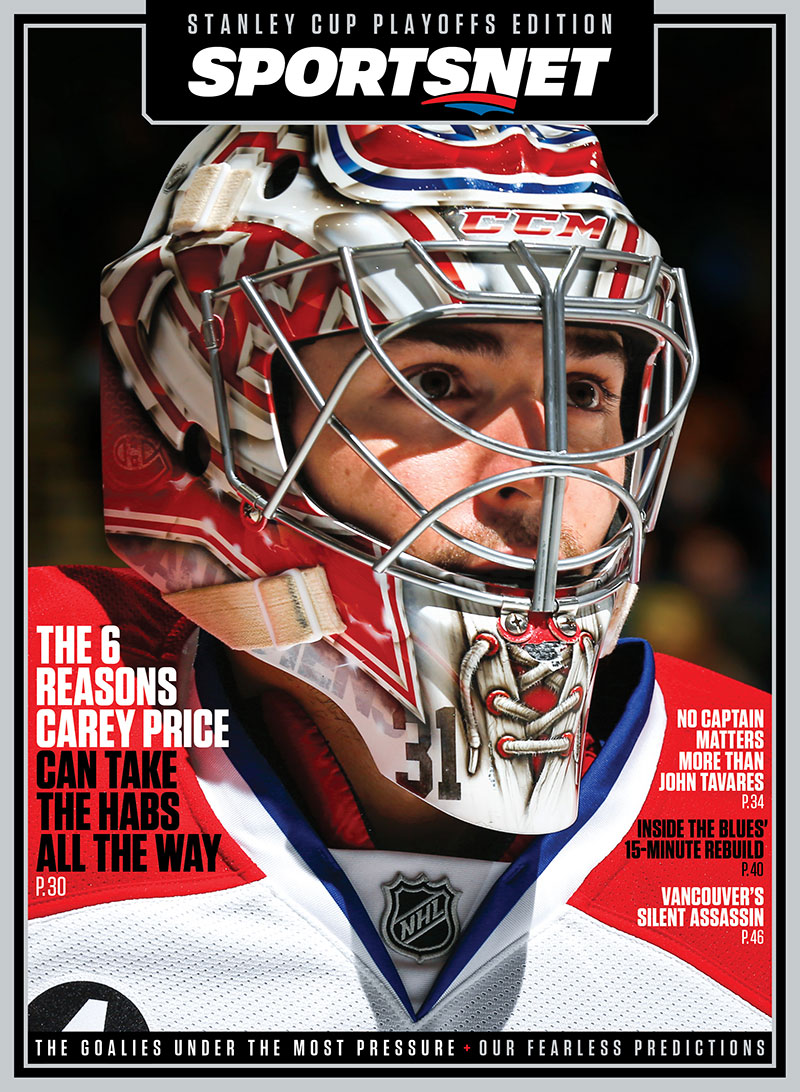 Sportsnet Magazine Stanley Cup Playoffs
Edition: The six reasons why Carey Price can take the Montreal Canadiens all the way. Download it right now on your iOS or Android device, free to Sportsnet ONE subscribers.
---

The Nassau Veterans Memorial Coliseum was rocking an hour before the pre-game skate, with many fans chanting, cheering and booing anyone with a Capitals jersey. Even TV broadcaster Pierre McGuire got a loud cheer to greet him as he made his way along the ice to the bench.
This is the Isles final season on Long Island, with the franchise moving to the Barclays Center in Brooklyn. Before the game, the team had orange towels placed on each seat with the words, "Let's Make History. One More Time," printed on them.
One fan was spotted holding up a placard which read: "The old barn will stay open till Isles win the Cup."
NOTES: Capitals C Eric Fehr did not return after sustaining what the team called an upper body injury three minutes after being checked by Okposo left of the Capitals net. … After filling in for Holtby in Game 2, rookie goalie Philipp Grubauer served as the backup, ahead of Justin Peters. … Capuano made one roster switch, playing Tyler Kennedy and benching Michael Grabner.