TORONTO – The tinkering continued right up until the eleventh hour.
Even after spending the last week and a half together preparing for the World Cup, it was a different-looking Team Canada that went through the final practice at Air Canada Centre before the tournament begins.
Some of the changes have been made because of injury issues, others due to a search for the right chemistry. Essentially, the only forward line that has remained untouched is the Brad Marchand-Sidney Crosby- Patrice Bergeron trio – a departure from tournaments past when the search for No. 87's wingers was a frequent storyline.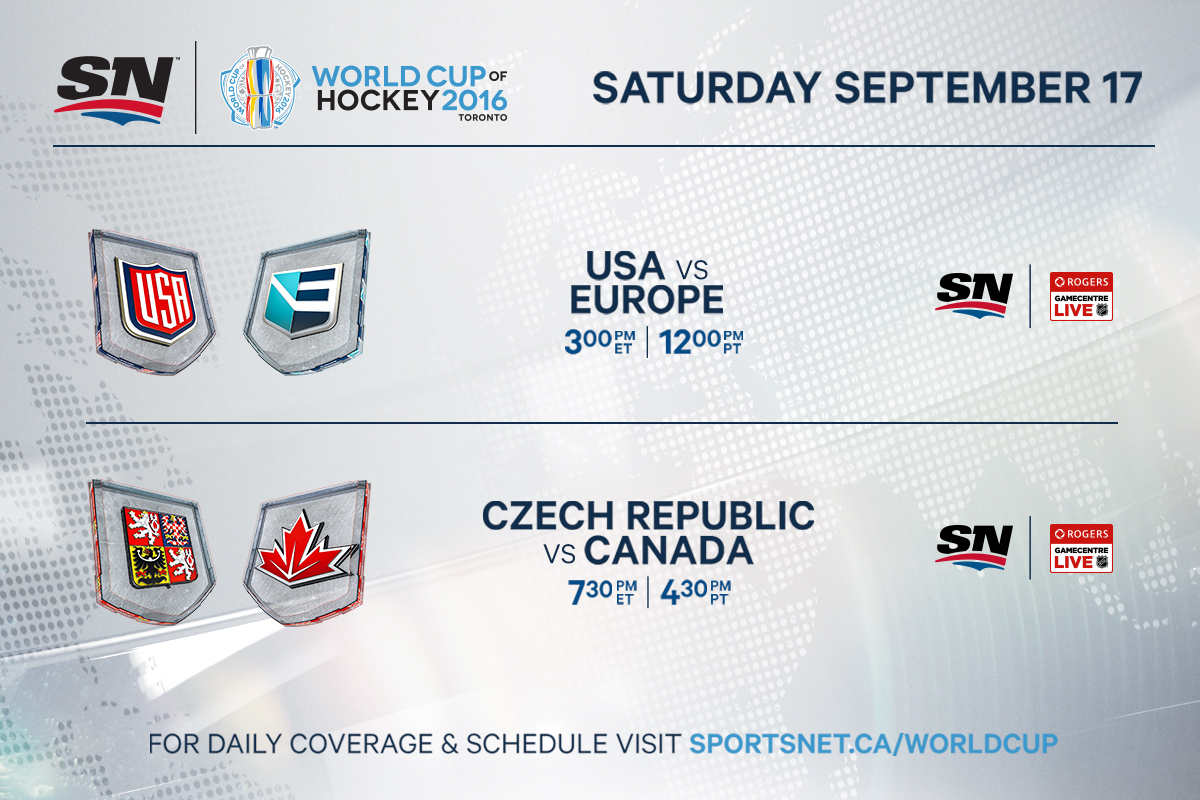 "We've liked Sid's line so we're just kind of working the rest out," coach Mike Babcock explained Friday.
Heading into the tournament-opener against the Czech Republic on Saturday night, Babcock flipped right-wingers on his second and third lines. That saw Corey Perry join Jonathan Toews and Logan Couture on what might best be described as a shutdown unit, while Steven Stamkos landed with John Tavares and Ryan Getzlaf.
Babcock wouldn't commit to keeping the latest incarnation intact, but would like to see Stamkos use his lethal shot more than he did in the three pre-tournament games.
"We'd like everyone to shoot the puck more," he said. "They're so busy passing."
Top pairing defenceman Shea Weber wasn't on the ice for Friday's practice because of a "maintenance day," but was expected to play against the Czechs. That would leave Jake Muzzin, Claude Giroux and Braden Holtby as the healthy scratches to start the event.
Carey Price starts in goal on Saturday with Corey Crawford backing him up.
Beyond the Crosby unit, Babcock has found comfort by using offensive pairs.
He's kept Getzlaf-Tavares and Toews-Couture together since the first day of training camp – tasking the later two with playing tough minutes.
"We expect ourselves to spend time in the offensive zone, but throughout the first three games we've been playing against the other team's top line," said Couture. "If that's our job going forward, I'm sure we'll gladly go out there and defend first.
"If you defend well, usually it leads to offence."
Of joining the shutdown line, Perry said: "You've just got to be responsible."
The tinkering and fine-tuning is to be expected in this type of event, where you're trying to get a group of players ready to face the equivalent of a Game 7 by the time it arrives in a crossover semifinal next week.
After a long wait the World Cup will unfold fast.
The Canadian players arrived in Ottawa on Sept. 4 and are finally in position to play a game that carries some consequences.
"It's going to be nice," said Perry. "We were talking about that the other day – we just want to get this thing started, and start going. It's been a long two weeks, but at the same time you get to prepare and bond with your teammates and get to know them.
"So it's been fun that way."