Long-time and legendary head coach of the Alabama Crimson Tide, Paul "Bear" Bryant, once said: "Offence sells tickets, defence wins championships." He might as well have been talking about winning in the NHL, where long-term success, particularly in the playoffs, is driven by team defence.
With a solid five-game winning streak and a 7-3-0 run backstopped by some excellent results in net for starter Ondrej Pavelec, the Winnipeg Jets are pressing for a playoff spot. The question is: Is this a smoke-and-mirrors situation that will result in a vanishing act down the line. Fortunately for long-suffering Jets fans, it appears the answer is no thanks to GM Kevin Cheveldayoff having built a capable defensive side.
---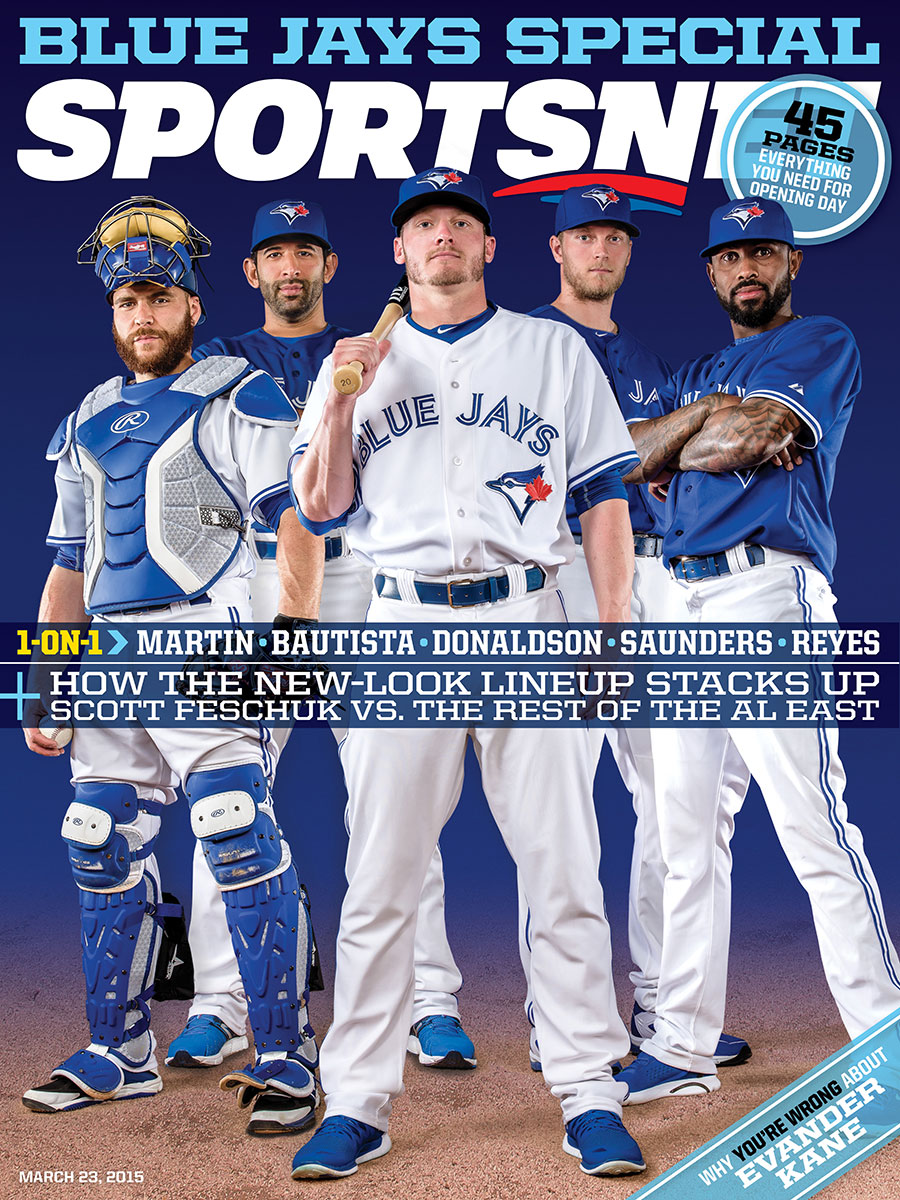 Sportsnet Magazine's Toronto
Blue Jays Special: From the heart of the order to the bottom of the bullpen, we've got this team covered in our preview issue. Download it right now on your iOS or Android device, free to Sportsnet ONE subscribers.
---
As the game has been broken down in more detail by analysts, greater focus has been placed on separating the impact of different positions on defence. Suppressing opposition shot attempts has taken on greater prominence as a component of team defence. It's become clear that shot differentials correlate to sustainable long-term NHL success and perennial playoff teams like Detroit have led by example. In more recent years, Los Angeles and Chicago have dominated in the same fashion.
In fact beginning in 2008, the Stanley Cup final has featured one of the regular season's three top shot-suppression teams on seven occasions, with that team winning the Cup five times. The two finals the trend didn't hold were 2009 when Pittsburgh (20th, but 10th in the final 25 percent of the season after Dan Bylsma was hired) knocked off Detroit (1st) in a rematch of the 2008 final and 2012 when Los Angeles (4th) beat New Jersey (1st).
All of this is good news for Jets fans because Winnipeg has steadily been building itself into a shot-suppression machine. The pattern for elite clubs in recent NHL history is a slow roster build that culminates in consistent defensive performances. Over the past eight seasons, the best 25 percent of NHL teams defensively allow fewer than 50 score-adjusted opposition shot attempts for every 60 minutes of 5v5 play. Winnipeg is allowing 48, fourth-best in the NHL this season.
The most impressive aspect is Winnipeg's methodical improvement is that it's happened despite a roster that has been in flux for much of this season. Between injury problems on the blueline and the internal conflict that led to shipping Evander Kane and Zach Bogosian to Buffalo, it is amazingly impressive that coach Paul Maurice has the Jets playing this well defensively.
By comparing the number of shot-attempts usage suggests players should be on the ice for to the number of attempts they actually are on the ice for shows which Jets are driving defensive impact. Negative shot-attempts against impact indicates suppressed shots. Basically, this is the only time in hockey you want a minus.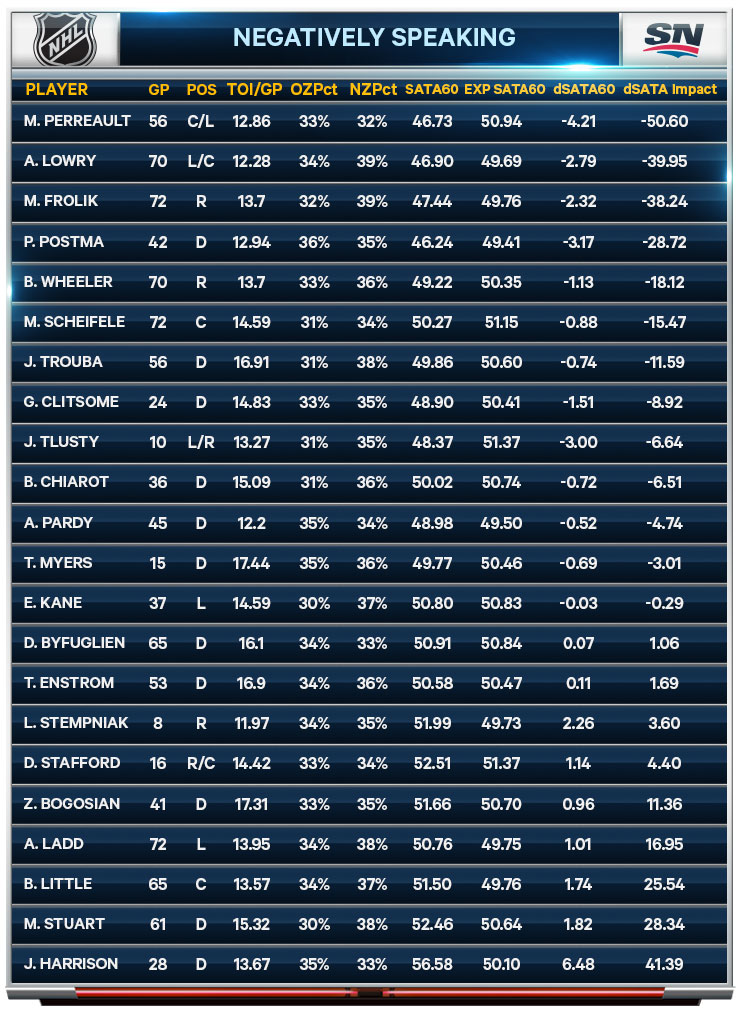 So far, Tyler Myers has been an upgrade defensively over Zach Bogosian. And while Drew Stafford is making less of an impact defensively than Evander Kane did, Jiri Tlusty has made a larger impact than either of them in only 10 games since being reunited with Maurice. Assuming these shot-suppression results last and the Jets can return to full health and Winnipeg can get respectable performances out of Pavelec going forward, there is a lot to like about this Jets club if they do make the cut for the playoffs. The underlying numbers definitely provide some hope that the Jets can do some damage in the post-season.