TORONTO — For all the roster building meetings held by Team North America's brass— calls that featured GMs Peter Chiarelli and Stan Bowman, then grew to include Stan's father Scotty, Chris Pronger and Darren Pang with the goalie intel — it was the U-24 team's head coach that set the track for Wednesday's selections.
"At one point," Stan Bowman recalled, "Todd McLellan says, 'Hey guys — somebody has got to kill a penalty here. Someone's got to do the dirty work.' You can pick all the flashy players you want, but…"
Surely, the Connor McDavids, Jack Eichels and Johnny Gaudreaus are shoe-ins, and they were named to the 16-man roster announced Wednesday by the league and Players' Association. But as Chiarelli reckoned, "Eventually we're going to take a penalty, I think."
The problem being that, on most NHL teams, the kids don't kill penalties. Or do much of the heavy lifting defensively.
So among the opening 16 selections Team North America named their veteran-most candidate, Philadelphia's Sean Couturier and his 331 NHL games. Then came Columbus' Brandon Saad, whose 271 NHL games rank third among Canadian and American players who will still be 23 years old on Sept. 1.
"Couturier has a strong, two-way component to his game. He's a good match up guy," Chiarelli said. "Saad is a big, strong power forward who can play both sides. Net drive, has some leadership… And both have good size."
The player with the most career NHL points (218) in this age group is Edmonton centre Ryan Nugent-Hopkins, who wasn't named Wednesday as he is out from the Edmonton Oilers lineup with a broken hand. Nugent-Hopkins would trail only Couturier in career games (304) on this team.
"I would expect him to be part of this team at the end of the day," Chiarelli said, "but he's got to come back and play. I expect he will."
On another exclusion of interest, American Auston Matthews, Chiarelli did not close the door, but stated: "He's got an uphill road." Matthews hasn't played an NHL game nor even been drafted yet, and likely a short tournament like this one is no place to start.
As for the rest of the 16 names unveiled Wednesday, the GMs picked eight Americans and eight Canadians — by pure fluke, they said. The goalies gave us the fewest surprises: Anaheim's John Gibson ranks as the No. 1, Winnipeg's Connor Hellebuyck No. 2, and Pittsburgh's Matt Murray ranks third.
On defence, the easy four were named, with two right-handed shots and two left-handed. Toronto's Morgan Rielly, Florida's Aaron Ekblad, and Columbus teammates Seth Jones and Ryan Murray eat up four of the seven spots reserved for defencemen.
"We have five, six, seven names for the final (three) D spots. Maybe 10 guys," Chiarelli said. "We need time: the playoffs, the World Championships. We need as much time a we can get."
Philadelphia defenceman Shayne Gostisbehere is likely to be named on June 1 with the remaining seven players on Team North America's 23-man roster. Carolina's Noah Hanifin, Winnipeg's Jacob Trouba, Ottawa's Cody Ceci, Calgary's Dougie Hamilton and St. Louis' Colton Parayko — maybe even Carolina's Jaccob Slavin — will audition for the final couple of blue-line spots over the rest of the season, the playoffs and World Championships.
Among the forwards, New York Ranger J.T. Miller made a late charge to gain entry into the World Cup. (He's the only name that slipped past this writer's radar when predicting the team, thus far.)
"He might have been the player of the most discussion in the last few weeks," Chiarelli said. "His uptick has been good. He's making more plays, driving the net… He's getting stronger and making plays using his strength."
Dylan Larkin, Nathan MacKinnon and Sean Monahan are here too, no surprises, on a team that Chiarelli thinks can win the whole thing come September here in Toronto.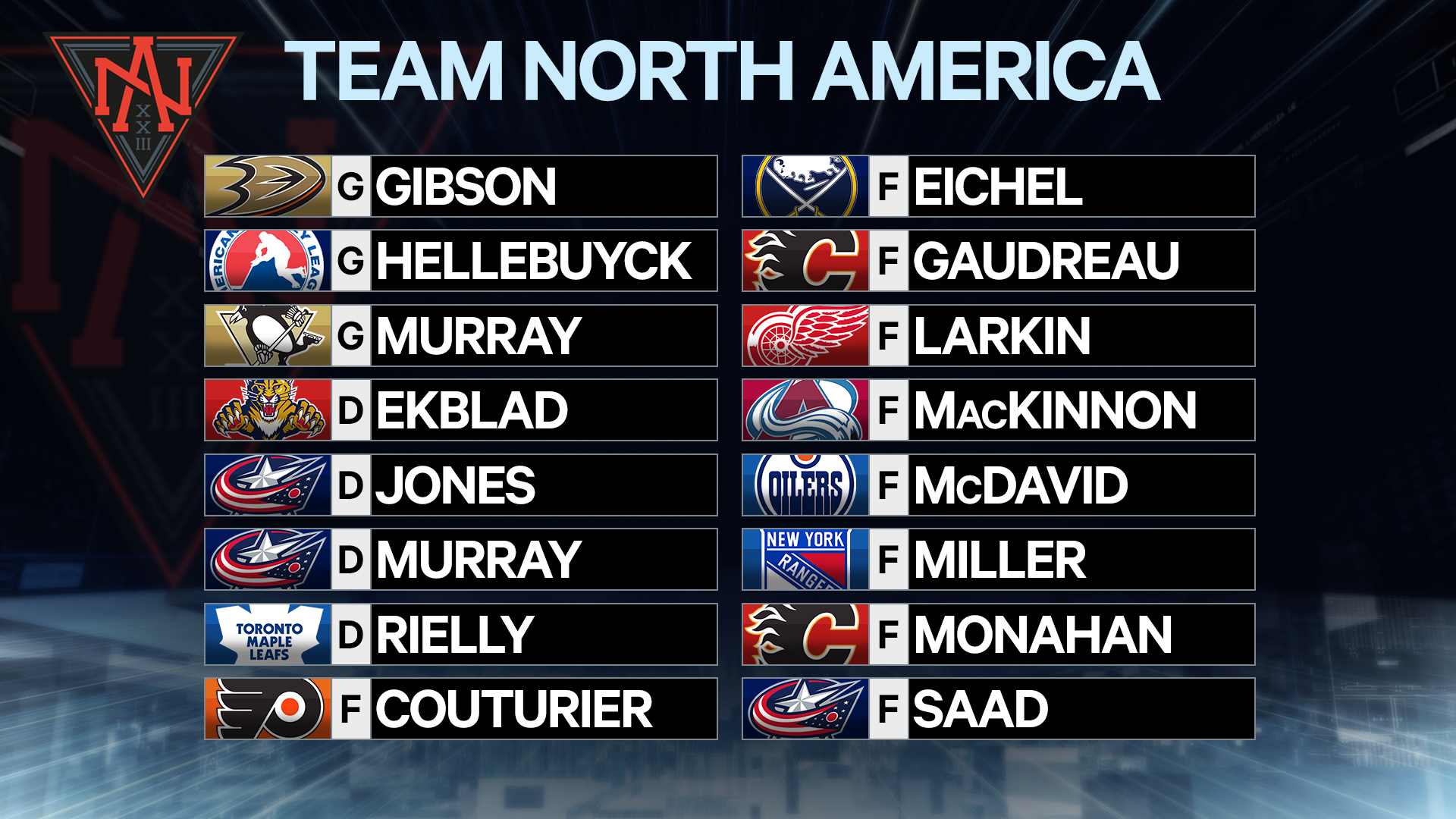 "We're going to have the best skaters in the tournament," the Oilers GM said. "I think we can (win). Our goaltending, the margins are going to be thin. But you have to make three or four plays at this level to win a game, and you have to prevent three or four plays. We're capable of doing that, yes."
This team's biggest challenge as the youngest of eight teams in the tournament?
"It'll be gaining respect," Ekblad said. "We're a young team and we don't really have a lot of expectation going in, but we do have a chance to win it. We've got quite a few players who can do damage."
Who is he most excited about playing with?
"Connor McDavid," Ekblad said.
"I've only played against a couple of guys that have been named," McDavid said, one day after his two-goal effort to take Round 1 against Eichel in Buffalo. "This might be the only time (he and Eichel) get to play with each other. That will be pretty cool."
Pretty cool indeed.
Team North America, we predict, will be can't miss hockey come September.