One of the best things about working in the media is the people you get to meet. A few years back in Edmonton, thanks to Edmonton radio host Bob Stauffer, I got to meet Terry Ryan.
Long story short, I was on for my usual Tuesday appearance with Bob one day, when we took a call from a listener named "Terry." Bob put two and two together, and figured out that "Terry" was former Montreal Canadiens first-rounder Terry Ryan.
Stauffer, being a great radio mind, asked "TR" to come on with us every Tuesday and "Train Wreck Tuesdays" was born. The three of us would start talking about hockey, but would rarely end the hour talking about hockey. Anything was up for discussion. We had a great time and from what we could gather, people seemed to enjoy it.
TR and I kept in contact after we both left Edmonton, and now Terry is an author. His story is not your typical hockey tale. He was a first round pick, taken eighth overall by the Montreal Canadiens in 1995. He ended up playing in a grand total of eight NHL regular season games.
So I know what you're thinking: Terry's Book, "Tales of a First-Round Nothing," is going to be a bunch of stories about what went wrong. Incorrect. It is a bunch of stories about what went right.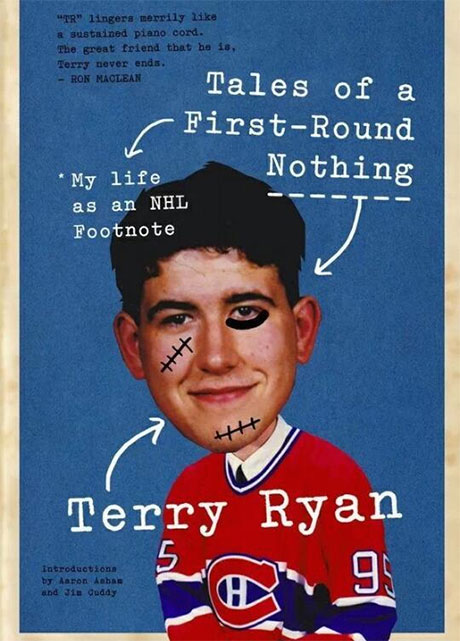 Terry is one of the best storytellers I know. His stories are legendary. This book is about as close as you can actually get to sitting down with TR and listening to him spin a few tales while tipping back a few pops. Give this book a read and you'll never look at Terry's smile quite the same way again (that's a strong hint to enjoy his legendary "teeth" story. Think one man, several broken teeth, and a hammer)
This book is also, at least to me, a bit of a love story. TR loves the game. He loves the game immensely. He loves the game for the things you can't measure with stats. He is not a numbers guy; he is a story guy.
"Tales of a First-Round Nothing" is not what you would call PG-rated. It goes there and beyond.
It is really nice to see my buddy enjoying this ride, just like he continues to enjoy the game. Look up Terry on hockeydb.com and you'll see that he hasn't played since 02-03. Not true. As I said, the man loves the game. He has spent the last decade or so playing senior hockey in Newfoundland, with a cameo in Bentley, Alta., a few years back. Just last week TR's Clarenville Caribous lost in the Allan Cup final to the Dundas Real McCoys. TR didn't suit up at the tournament. He was suspended for the first game, and since the Caribous won their opener, he sat out the next game as well. He didn't want to mess with the team's chemistry. That trend continued all the way through the finals. That's a team move by TR, typical stuff from him really, only fitting because you'd never read about that in the game's scoring summary.