SUNRISE, FLA— Jaromir Jagr's hands are out in front of him. His palms are facing one another, and the gap between those palms is narrowing as he talks.
For the last minute or so, Jagr's been sitting here in the Florida Panthers locker room explaining why he's still playing pro hockey. No one would ever argue he needs to justify his presence, obviously; in a few hours, he'll score the game-winner against Calgary, and he leads the Panthers in scoring.
It's just that this is something he thinks about at age 43. And after going through all the reasons he's still playing—his love of the game, how he doesn't want to start another career, how it's more fun than your usual 9-to-5—Jagr reaches what he explains is the "most important thing."
"The time between when I quit hockey and I die," he says, looking at the gap between his hands, which is now only a couple inches wide, "I want it to be the shortest."
Jagr continues: "If I can play till I die, that's what I will do. What else are you gonna do? Even if you retire, you still will have to go work out, and maybe harder than you do when you play hockey because you don't wanna look ugly and fat. At least I don't want to."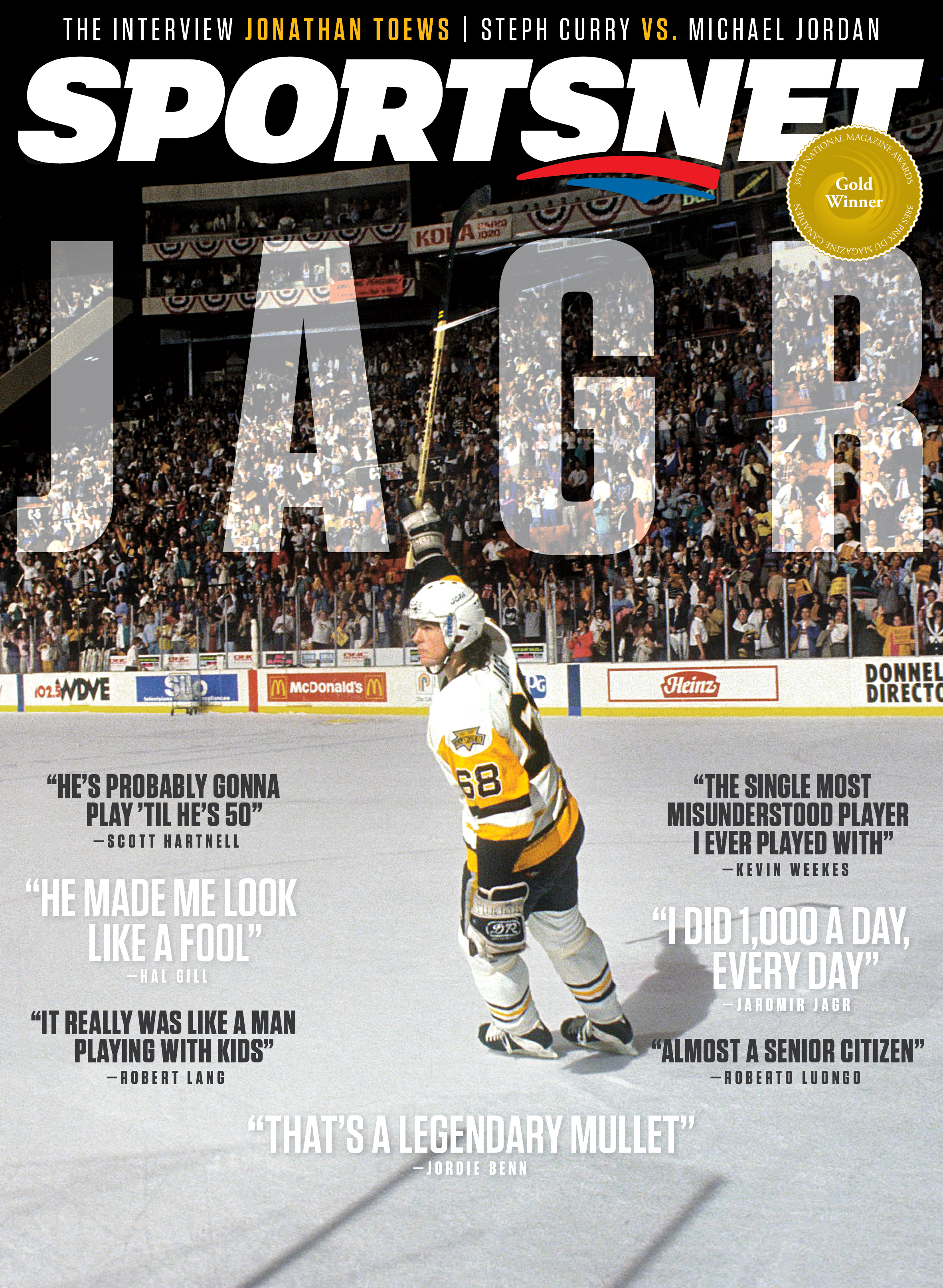 One thing is clear: There's nobody in hockey quite like Jaromir Jagr.
He's drawing from 25 years of experience playing pro, he grew up in a communist country, he's one of the best ever, he's won everything there is to win in hockey, he's been called both a sulk and misunderstood, he basically invented hockey hair, he left the NHL and came back at age 39 and he's still producing like an elite player. And that's just scratching the surface.
We revisit Jagr's career in the latest issue of Sportsnet magazine, talking to more than 15 people—teammates, coaches and friends, past and present—and to Jagr himself, about his incomparable career.
Among those who weigh in are Hall of Famer and Hurricanes GM Ron Francis, fellow Kladno native Tomas Plekanec, former Penguins coach Kevin Constantine, teammate Roberto Luongo, former linemate Scott Hartnell, countryman Robert Lang, and Panthers GM Dale Tallon. They make fun of the size of his butt, they talk about how he's always smiling, how they're excited about the return of the mullet, how Jagr can't skate backwards, about his incredible work ethic, and more.
And here's the thing about Jagr: People want to talk about him. Henrik Lundqvist called us up to tell stories about his three seasons alongside No. 68 in New York. "I'm just glad I got to see that," Lundqvist says.
Jagr's role has changed over the years. (Luongo calls him "almost a senior citizen.") In his prime, with the Rangers, Jagr says he could almost do whatever he wanted on the ice. "Back then, I said to myself, 'Oh f–k, I gotta score a goal.' I did it. Well, not exactly that way, but close enough. And then if the coach saw it, he said, 'Hey, do whatever you want.' Because he knew I was gonna win the game for him."
Today, in Florida, on a line with two kids who weren't born yet when he was drafted to the NHL, Jagr has accepted a different role. "If somebody gives you freedom, you have to know you're the man and you can make the difference," he says. "I don't need that freedom right now because I'm not the guy who can make a difference like I was in New York."
Sportsnet magazine, featuring an oral history of Jagr's career, is on newsstands now.